AudioControl AVR-7 & AVR-9 Dolby Atmos Receivers Preview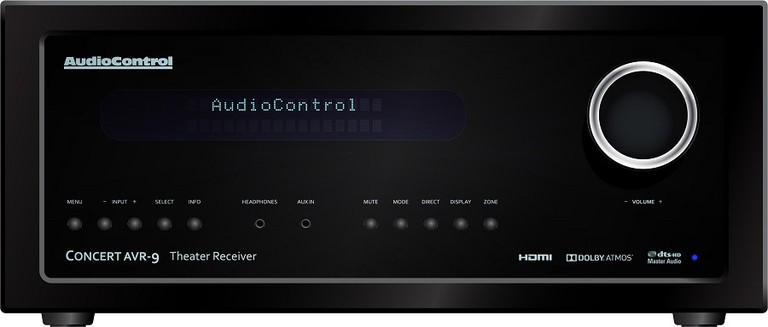 Summary
100wpc x 7 for AV-7 / 200wpcx9 for AV-9

7 HDMI 2.0a inputs
4 x COAX SPDIF and 2 x Toslink digital audio inputs
6 x stereo analog inputs
USB Input
Ethernet Client
2nd Zone HDMI outputs (ARC compatible)
Dolby ATMOS
Dolby True HD
Dolby Digital Plus
Dolby Digital EX
Dolby Digital 5.1
Dolby Pro Logic IIx
DTS-HD Master Audio
DTS-X ready
Executive Overview
With all the hype over new receivers coming out this fall with Dolby ATMOS, 4K and HDMI 2.0a audio companies everywhere are looking for a way for their products to stand out at CEDIA.  AudioControl may have found their niche with their new Concert AVR-7 and AVR-9 receivers. Today they announced the release of these two new 7.1.4 models all with the features you would expect out of the most popular brands PLUS they have added a room calibration system rarely seen on their contemporaries.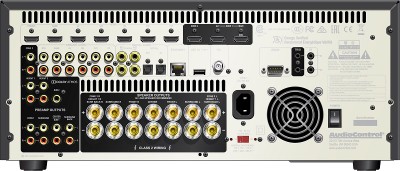 AVR-9 Rear Inputs
The new AVR-7 and AVR-9 come with Dolby ATMOS, 4K and HDMI 2.0a.  And should have the ability to scale to any resolution standard or high definition source where required. The AVR-9's boasts a 7 x 200 watts per channel to create a platform for 3-D sound in home theater systems.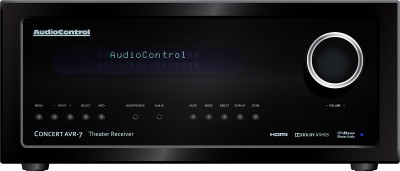 AVR - 7 Front Panel
The Concert AVR-7 also benefits from the same audio and video platform as the Concert AVR-9, powering its seven-channel amplifier at 100 watts per channel into 8 ohms. Both the AVR-7 and AVR-9 feature pre-amp outputs in case you want more power for your front channels or if you want to add height channels for a full fledged 7.1.4 immersive surround configuration. AudioControl says that the new Concert AVR's can drive the Dolby ATMOS channels using the high-power amplification contained inside the receivers, but also recommends matching these receivers with an AudioControl high-power 2-channel Bijou 600 or Rialto 600 amplifier to boost power as needed.
But the stand out feature of AudioControl's new Concert receivers is the addition of  'DIRAC LIVE for AudioControl's room correction on to all of its home theater products.  A feature rarely seen on higher priced and better known receivers.  From past experiences we've seen that DIRAC LIVE provides one of the most effective and flexible room calibration systems available today.
For custom installers, the Concert AVR receivers  feature Ethernet connectivity and RS232, and are compatible with leading control systems like Control4, Crestron, RTI and Savant, and as mentioned above, are supported by one of the best in room correction systems available through DIRAC LIVE.
Upon first look, we noticed these new AudioControl AV receivers share many common features (Class G amplifiers, DIRAC room correction) and layout of the new Atmos receivers announced by Arcam.  We can't help but wonder if they use the same basic architecture and simply build upon it for each particular brands needs.  We will have to explore this further in the coming months.
AudioControl will begin shipping in Q4, 2015 direct from AudioControl's design, engineering and manufacturing facilities located in Seattle, USA and come with a 5-year warranty.

Confused about what AV Gear to buy or how to set it up? Join our Exclusive Audioholics E-Book Membership Program!
Recent Forum Posts:
sunPin posts on May 03, 2016 22:36
@gene , ever get those Concerta2 F36 speakers in for review? I demoed them and thought they sounded great at low volume, but they broke up at moderate volumes in a largish room. I'd love to hear what you guys think of their depth imaging compared to the GoldenEar Triton Two+ with the folded ribbon tweeter since the F36 started breaking up before I could really get a gauge on how they performed; the GE Triton Two+ depth imaging was very good to my ears.
AKK posts on January 30, 2016 10:23
Hi Gene

Did you get a chance to review these receivers? Am unable to to take a call between Denon X6200 vs Anthem MRX720. You deeper insights into this will certainly aid me into proper conclusions.
Curtis9 posts on January 23, 2016 12:22
Any thoughts on Anthem vs Arcam for us audio guys who also want a good video experience? And would the Receiver or Pre/Pro work best with an Oppo 105? Thanl\ks!
little wing posts on December 08, 2015 09:12
Hello Gene,

Any chance you will get one of these new Anthem receivers for review? When they came out with the MRX 310, 510 and 710 you did a preview as well, but no in-depth review. I think a lot of readers here, including myself are very curious as to how these receivers stack up soundwise to the more mainstream offerings from say Denon, Yamaha, Onkyo, etc. Since Anthem's receivers typically don't have the same feature set as the usual suspects I'm sure some people are wondering if they go with Anthem will they be happy giving up features for the sound quality of the Anthem.

You wrote an article a while back likening today's receivers as a computer with an amp thrown in. Anthem seems to deviate from this thinking, is that a good decision?
Thanks
Tao1 posts on December 02, 2015 00:27
gene, post: 1105720, member: 4348
I believe they are taking orders now. The page is up on their website. WE get review samples in about 2 weeks. WooHoo!
Nice to know. I really look forward to the review
I am a bit surprised though that they didn't have the samples out to have reviews coincide with the launch, especially this close to gift season.
Post Reply