Fluance AV5HTB 5.0 HTIB Speaker Bundle for under $200!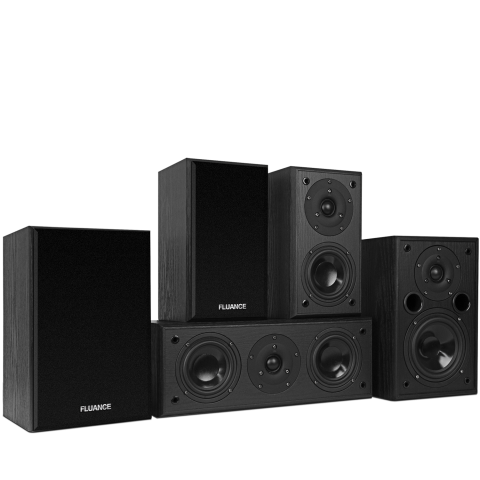 Fluance AV5HTB Home Theater Surround Sound Speaker System
Summary
5.0 speaker system
1" soft dome ferrofluid cooled tweeters
Butyl rubber surrounds
System Frequency response 70Hz - 20kHz
Sensitivity: 87dB
Impedance: 8 Ohm
Weight: 9lbs for front monitors and center channel and 5.25lbs for surrounds
Center Channel Dimensions: 6.0 X 16.2 X 6.6 inches
Surround Dimensions: 9.7 x 5.9 x 6.2 inch
Bookshelf Speaker Dimensions: 11 x 7.5 x 8.5 inches
Home Theater fans on an extremely tight budget are sometimes forced to turn to home theater in a box systems to satisfy their desire for serious surround sound.  Sadly, these all-in-one solutions oftentimes fall short of delivering a satisfying surround experience.  Entry level products are frequently made cheaply and just don't sound all that great.  In fact, the included subwoofers in these all-in-one solutions tend to be nothing short of terrible.  It's the classic case of trying to do it all while not even delivering on the basics. 
Veteran Canadian speaker manufacturer, Fluance, recently caught our eye with the announcement of their new AV5HTB Dynamic Home Theater Surround Speaker System. Frequent readers of Audioholics will know that we've been continuously impressed with Fluance's product offerings.  From floor standing speakers to bluetooth speakers, Fluance has traditionally delivered high value products with great build quality that simply sound really good. 
So, when Fluance made the recent announcement about the AV5HTB it piqued our curiosity. There are a few things about the Fluance AV5HTB that are worth noting.   First, is the price.  It's only $199.99 shipped!  Let's say it outright, that's simply a crazy price point for a 5.0 speaker system that isn't just cheap plastic and cheap parts.  
Second, the AV5HTB isn't a completely new product line.  Instead, it is a bundling of existing Fluance speakers.  That's actually good news for the budget-minded consumer because you're getting an established product and not some one-off.  The bundling helps simplify things for novice home theater loves when it comes to choosing which speakers to buy. 
The third, and perhaps most notable item, is the absence of a subwoofer.  That's right, there's no subwoofer included.  Frankly, we're relieved that Fluance didn't bundle a subwoofer at that price point with the system.  Let's face it, we've never heard a decent subwoofer in a home-theater bundle at this price point or anywhere near it.  At this price, you're better off having a speaker system without a sub (as Fluance has bundled) instead of having a sub that's junk.  One thing that we've noted about Fluance's approach over the years is that they look to deliver value within real-world, realistic parameters.  They continue that philosophy again here.
The absence of a sub gives you flexibility.  You have the choice of purchasing either Fluance's own DB150 10 inch powered subwoofer or mate the AV5HTB with a more powerful subwoofer from another vendor such as SVS, HSU or Rythmik Audio to name a few.  Given that the system's low frequency response is only rated to go down to 70Hz, you'll definitely need a subwoofer at some point to get the most out of this package for a movie watching.
The AB5HTB is a 5.0 system that is comprised two AV5 bookshelf speakers, the AVC center channel and a pair of AVS surround sound speakers.  All speakers are timbre-matched to ensure that dialogue and sound effects are all properly timbre-matched across the entire sound-field.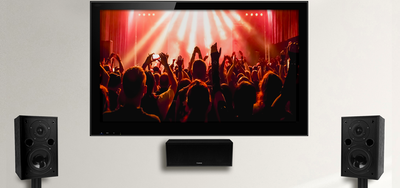 Fluance's 5.0 home theater in a box speaker system has five timbre-matched speakers but no subwoofer.
It's worth noting that one of the single biggest mistakes that novices or budget strapped home theater lovers make is piecing together speakers from different manufacturers just because they got a good deal or because they pieced the system together over time.  That's usually the wrong approach and you'll pay for it sonically.  To make the most of a multichannel system, like a home theater setup, you want all the speakers to have the same tonal signature, which is called timbre.  Having a timbre-matched system makes a world of difference in creating the sonic magic of multichannel audio.
The front anchor of the system is the AV5 bookshelf speakers.  The AV5 bookshelf speakers are a two-way, dual-ported design.  They have a 1 inch soft dome ferrofluid cooled tweeter and a 5 inch poly-coated driver.  There is a built-in keyhole slot that provides you with the option of wall-mounting the speakers.  They weigh in at a respectable 9 pounds each.
The AVC center channel is a two-way, three driver, horizontal MTM design with a 1" soft dome ferrofluid cooled tweeter and dual 4 inch poly-coated drivers.  An MTM design does not mean it's a D'Apolito design and Fluance does not adhere to D'Apolito designs in their other MTM speakers.  Regardless, as a general rule, we prefer to see center channel speakers with a tweeter positioned above a midrange driver and flanked by two woofers in order to deliver the best off-axis dispersion.  However, at this price point, I can't think of a single manufacturer that incorporates this higher end design because it increases the price point of the product.  As long as your seats are less than 30 degrees off axis, you will likely not experience and significant lobing effects inherent in horizontally oriented MTM designs.
Rounding out the 5.0 channel bundle is a pair of AVS surround speakers.  These two-way speakers are not ported like their larger siblings.  They do, however feature the same 1 inch soft dome ferrofluid cooled tweeter but have only a 4 inch woofer.  These surrounds naturally don't have deep, extended bass.  Their rated frequency response only goes down to 120Hz.  If you add a subwoofer later on, you'll need to forego the THX's 80Hz crossover and bump the crossover up to 120Hz (at least for the surround channels) so that you don't have any noticeable gaps in the sound-field.
True to Fluance's tradition, the inexpensive price point doesn't translate into cheap products. The cabinets of the AB5HTP are made of MDF wood construction.  The drivers are made from a woven glass fiber composite and they are all surrounded by Butyl Rubber.
If Fluance's legacy is any indication, the AB5HTB bundle should provide the budget-strapped home theater lover with an excellent entry-level solution that will get you set up with a 5.0 system.  Why Fluance's didn't offer an upgrade package to include their own subwoofer is a bit of a head scratcher, but it does give the frugal consumer flexibility to add the sub at a later time or get another subwoofer of their choice. 
Go Get 'Em!
One of the best things about Fluance is how they stand behind the customer and make it easy to try their products.  You can try the AB5HTB in your own home and in your own setup with Fluance's 30-day risk free trial. One thing that is very unique to Fluance is that they also offer a lifetime parts and labor warranty on their speakers.  That's something you almost never see in really high end speakers and at the entry level, that's just unheard of.  At this price point, and with their liberal return policy, we unreservedly recommend buying and trying.  Please let us know in our forum how you like these speakers when you get them.

Unless otherwise indicated, this is a preview article for the featured product. A formal review may or may not follow in the future.