Marantz MODEL 40n: The perfect Integrated Amplifier for a Streaming World?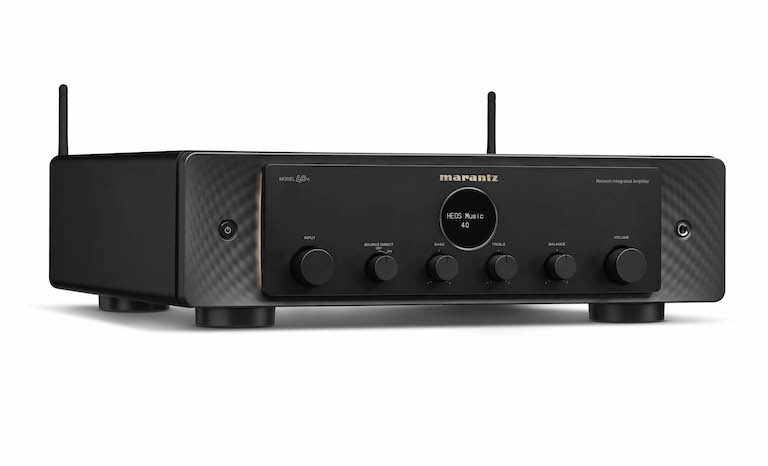 Marantz MODEL 40n is built for today's streaming media
Summary
Rated Output Power: 70W + 70W (8ohm) 100W + 100W (4ohm)
Power Amplier Circuit: HDAM-SA3
Power Transformer: Double Shielded Toroidal
Frequency Response: 5Hz - 50kHz
Total Harmonic Distortion: 0.02% (20Hz-20kHz, 8Ω)
Damping Factor: 100
Input Sensitivity: Phono Input: 2 mV / 47 kohm
Input Sensitivity: CD/LINE/RECORDER: 220 mV / 20 kohm
Input Sensitivity: Power Amplifier Input: 1.6 V / 15 kohm
SN Ratio: PHONO (MM): 87dB CD: 106dB
Product Dimensions (W x H x D in inches): 17.4" x 5.1" x 17"
Weight in lbs: 36 lbs 13 Oz
Power Consumption: 220W, 0.3W (Standby)
Executive Overview
Marantz has thrown down the gauntlet. Today's introduction of the MODEL 40n Integrated Amplifier puts the audiophile world on notice that you can have pristine two-channel audio, vinyl, streaming media, and an earth-shaking movie experience all from a single, drop-dead gorgeous integrated amplifier worthy of the Marantz name and heritage.
Integrated amplifiers have been the darling of two-channel audiophiles. In case you're unaware, integrated amplifiers marry a pre-amplifier (with analog, phono preamp, and digital inputs), and amplifier to drive your speakers all in a single box. The advantage of an integrated amplifier has traditionally been the manufacturer's ability to design the product end to end and select just the right components to achieve that goal. All that holds true with the Marantz MODEL 40n
Model 40n front view in silver
"I strongly believe you don't have to be an audiophile to enjoy rich, warm sound," said Joel Sietsema, Marantz president.  "With our MODEL 40n we've further perfected the balance between what we're known for – our sound – with added simplicity, gorgeous design, modern upgrades, and power.  This product is truly ideal for those who require excellent performance yet find elegance in simplicity and ease of use." 
Let's see what makes the MODEL 40n special.
A beefed up Class A/B amplifier stage
Power is the foundation of any integrated amp's chops and the MODEL 40n more than holds its own. Marantz says they started with the amp section found in the PM8006 and beefed up the power supply and doubled the number of output transistors per channel for increased current capability. The result is a Class AB power amp section that exceeds the performance of earlier models with similar power ratings, namely the PM8006. At the heart of the MODEL 40n's power is a double-shielded Toroidal. On paper the Class A/B amp is slated to deliver 70 watts per channel into 8Ω and 100 watts per channel into 4Ω. Given Marantz's history of spec vs. performance measurements it's fair to assume it will measure at or exceed this in real world output.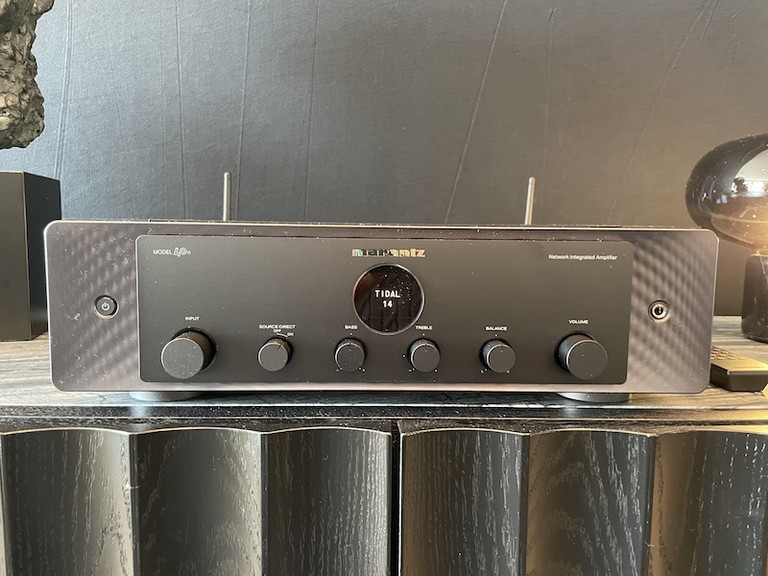 Front view of the MODEL 40n in black with the illuminated, dimpled front panel.
The amplifier's performance has been achieved through a larger power supply transformer, four output transistors per channel, heavy copper bus bars, and very short power pathways to lower internal impedance and deliver high instant current capability. Marantz says that you'll experience outstanding dynamics and that the amplifier design will make the MODEL 40n an excellent match for even difficult to drive loudspeakers. There is no preamp output on the MODEL 40n but it does have a home theater bypass mode that allows you to bypass the internal preamp if you wish to integrate this amplifier into a home theater system.
Marantz says that for the MODEL 40n, the Company's Sound Masters utilized the finest components to maximize performance. The MODEL 40n leverages the company's proprietary Hyper-Dynamic Amplifier Modules (HDAMs) that Marantz loves to laud as delivering the "most musical sound possible." Marantz says that the the HDAMs inside the MODEL 40n have been engineered with the shortest possible signal paths by leveraging curated, discrete, surface mount components. 
What sets the MODEL 40n apart from the crowd
Following the lineage of a traditional integrated amplifier, the MODEL 40n offers a full complement of analog and digital inputs to accommodate any source. You'll find S/PDIF coaxial and Toslink optical digital inputs and CD, line, and recorder analog stereo inputs. The included USB-A port is for power or music playback from a USB mass storage device, which is how Marantz's PM7000n integrated amplifier also functions. The model does not support a USB DAC function (USB-B) like Marantz's other dedicated source player such as the SACD 30n. However, with streaming and local playback built-in, Marantz doesn't anticipate many people adding a source requiring a USB DAC. The MODEL 40n includes a Marantz Musical Phono EQ—a moving magnet phono stage for vinyl playback. The phono preamp's sensitivity is 2mV.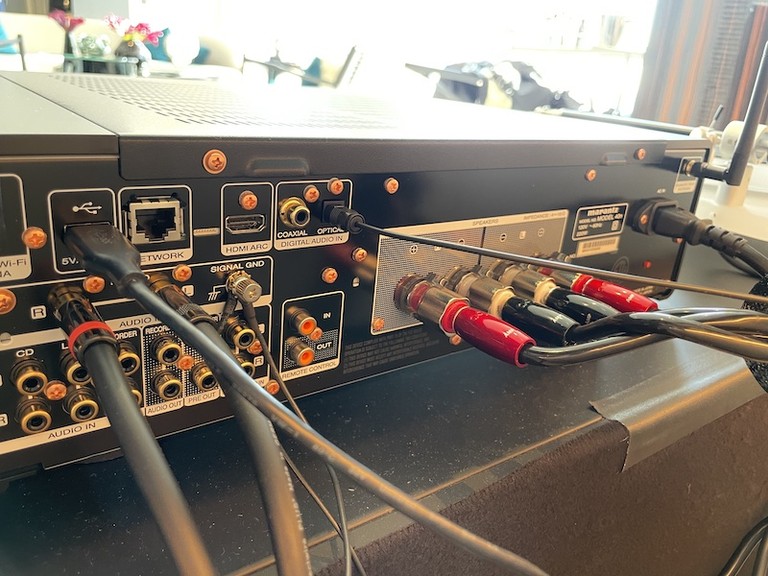 Marantz Model 40n rear panel
What really differentiates the MODEL 40n from the crowd is Marantz's all-in approach to the networked and streaming entertainment world. With the exception of the PM7000N, Marantz has typically eschewed any such options in their flagship integrated amplifier models. According to Marantz, they incorporated a very extensive shielding strategy to make it possible to include streaming in the MODEL 40n and still achieve a high level of performance. With the MODEL 40n, there's an HDMI input, wireless connectivity, built in-streaming services, and the assumption that the MODEL 40n will serve as the hub for any connected entertainment. Let's dig a bit deeper.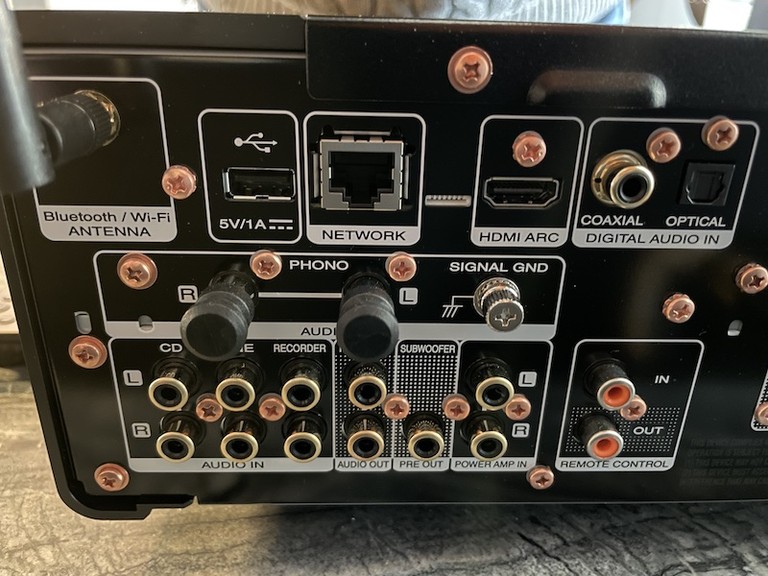 Detail view of the Marantz rear panel inputs and outputs
Extensive Connectivity — HDMI, Streaming, and Wireless Music
The MODEL 40n features an HDMI input with ARC (Audio Return Channel) making audio playback from a TV possible. No more fooling with junky analog connections from the TV or being relegated to Toslink or coax connections. Bravo Marantz. Moreover, you can use any HDMI source—think music servers with HDMI output—and connect them to the MODEL 40n. The HDMI port is intended as an ARC input from a TV but mileage may vary when using a traditional HDMI output. Marantz recommends to use one of the SPDIF inputs instead of HDMI if you connect an outboard digital media player.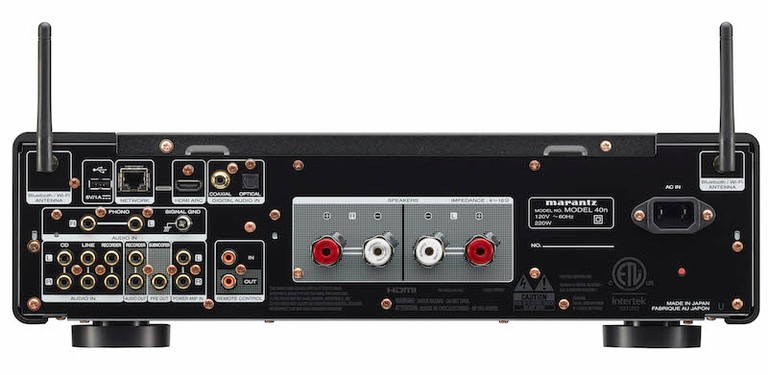 Full view of the rear panel including Wi-Fi and Bluetooth Antennas.
But Marantz didn't stop there. The MODEL 40n has been designed to work as the primary hub for one or multiple rooms. The MODEL 40n gives you built-in access to music streaming music services from Spotify (full Spotify Connect support), Apple Music (via AirPlay2), Pandora, Tidal, to name just a few. 
The MODEL 40n comes Roon Tested. The MODEL 40n will show up on a Roon server as an AirPlay2 device or you can connect a Roon Core directly to the MODEL 40n via HDMI or other digital input. The MODEL 40n provides access to hi-res file libraries up to PCM 192 kHz/24-bit as well as DSD up to 5.6 MHz. Wireless connectivity options include Apple AirPlay2, Bluetooth, and full support for the HEOS streaming ecosystem.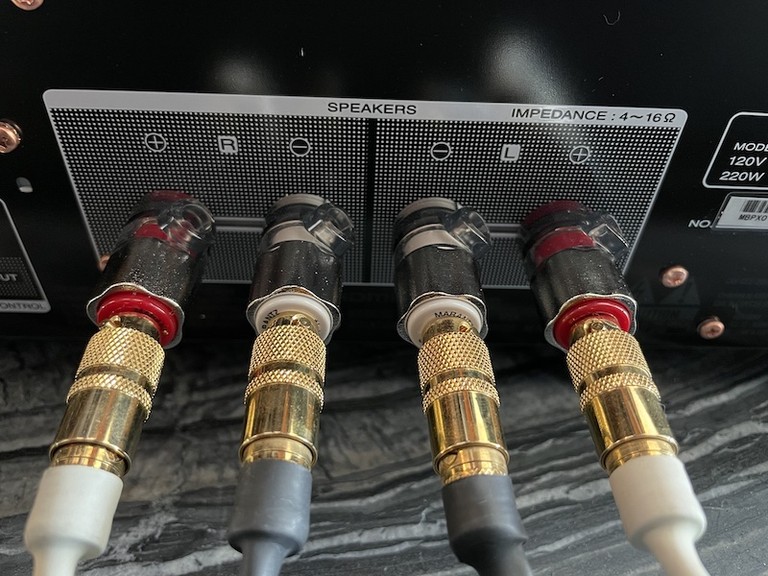 Everything about the MODEL 40n screams premium build and flagship—all the way to the binding posts.
With HEOS built-in, you can play the same song in every room to or select different songs for each connected room by adding HEOS-capable speakers or HEOS compatible products throughout your home. The MODEL 40n has flexible connection options, supporting both wired Ethernet and Wi-Fi for integrating into your home network. The MODEL 40n sports high-speed 802.11ac Wi-Fi, which is backwards compatible with a/b/g/n legacy devices.
The MODEL 40n comes with a beautiful, physical remote control, and conveniently works with Siri, Alexa, Google and Josh.ai voice command systems as well as the Control4 smart home ecosystem. 
Connect a subwoofer
Now here's where things get even more special: The MODEL 40n sports a dedicated subwoofer output with crossover adjustments that enable you to optimize bass response for any listening room. A representative from Marantz said that you have a Low Pass Filter from 40-120Hz, which is the same as the PM7000n. The MODEL 40n does not feature any on-board room correction or parametric EQ. To really dial in the bass, you'll want to look closely at a subwoofer that has onboard PEQ filter options (like SVS subs) or built-in auto-EQ (like Paradigm, Martin Logan, and JL Audio subs). Otherwise, you'll need to add external devices like a mini-DSP to dial things in fully.
A first-hand look
Marantz invited me to an exclusive event so that I could see and hear the MODEL 40n first-hand. 
The first thing I'll tell you is that the MODEL 40n's design is drop-dead gorgeous. The MODEL 40n's entire design screams audio jewelry in the best sense of the word.  It's intended to be a show and conversation piece for your guests.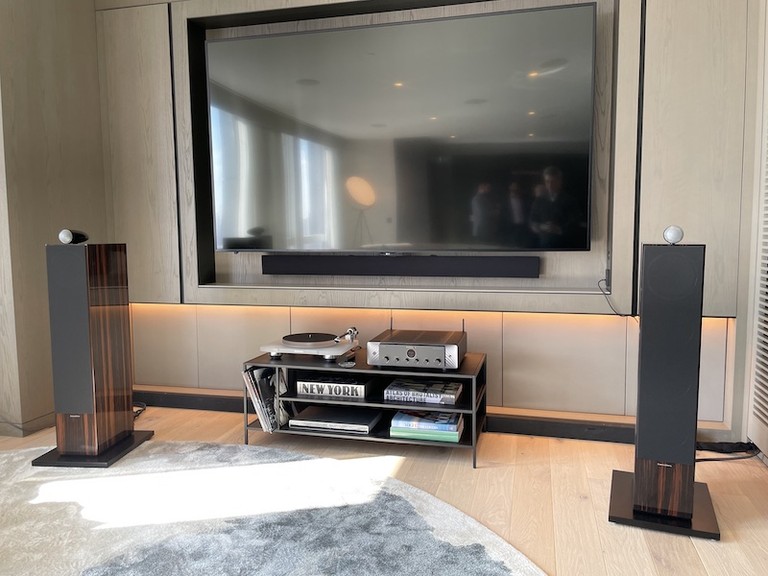 Marantz gave me an exclusive look at the MODEL 40n in various setups
There were three black MODEL 40n available for me to look at. The front panel's protruding metal plate has a discrete LED light behind it. The light reflects off the dimpled aluminum face to create this interplay of light and shadows. 
The hallmark porthole, which has served many purposes on Marantz products over the decades is used to display source and volume. The front panel buttons, sporting a matte black finish, are laid out with exacting symmetry. Input, source direct mode, bass and treble controls, balance, and volume are all available at your fingertips. The rear panel is decked in Marantz's copper-accented screws and gold-plated inputs/outputs. The speaker binding posts are beefy and equally stunning. 
A representative for Marantz had one MODEL 40n connected to a pair of Bowers and Wilkins Signature 702s floor standing speakers.  (Bowers and Wilkins and Marantz now have the same parent company, Sound United).  Demo material was played from a Kaleidescape server and included scenes from Jurassic World, Ford vs. Ferrari (the epic scene when Shelby takes Ford in the car), and A Star is Born. The MODEL 40n was articulate, dynamic, and demonstrated in no uncertain terms that this two channel setup will readily trounce any sound bar. I had the opportunity to listen to some vinyl through the MODEL 40n paired with Marantz's own TT-15S1 $1,799 turntable.
A second MODEL 40n was mated with a pair of Bowers and Wilkins Signature 705s bookshelves for a more mellow experience featuring a curated selection of streamed music. The point with this setup was that the MODEL 40n is perfectly at home taking center stage or situating itself in the background to conjure up a stunning ambiance of engaging background music. It's truly amazing what a mood a high quality setup can create.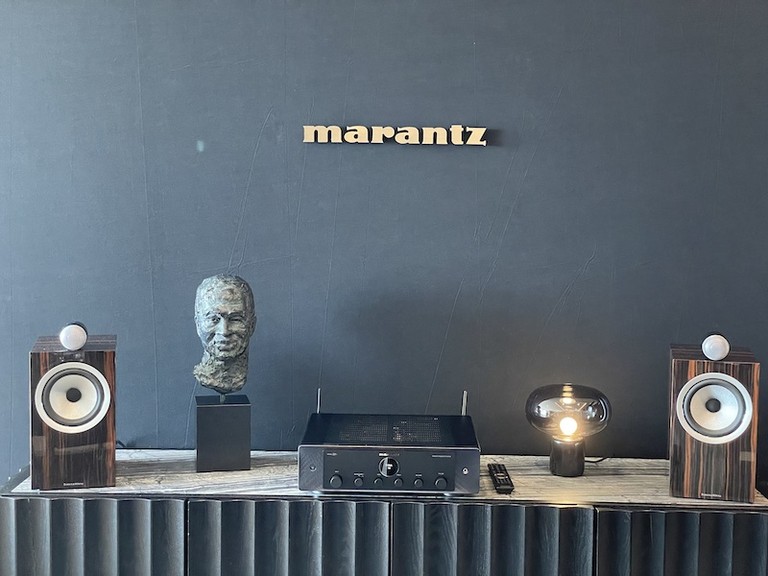 The MODEL 40n mated with a pair of Bowers and Wilkins Signature 705s bookshelves
Marantz says its simple: Just Add Speakers
Marantz says that the MODEL 40n has been "engineered for those who appreciate excellence in craftsmanship and performance in all aspects of their lives. MODEL 40n is constructed from the finest materials, adding elegance and refinement to any room." 
For me, the MODEL 40n means three things:
It's the marriage of the sonic purity of a flagship two-channel integrated amplifier with all its simplicity, elegance, performance, and advantages plus the richness of today's streaming content. 
The inclusion of an HDMI port with ARC means you can enjoy movies and TV content with high performance two-channel audio without needing to resort to an inferior sound bar or spending on an AVR and buying channels you won't need or use.
You don't need to worry about the cost and footprint of a whole stack of equipment to perform the functions now found in the MODEL 40n.
Without question, the Marantz MODEL 40n is a gorgeous looking, beautiful sounding, all-in-one showpiece that's designed to serve as a two-channel-focused center of today's connected, modern entertainment and a bridge to traditional analog, digital, and vinyl sources with two-channels front and center.
The MODEL 40n promises to provides listeners with wonderfully rich and satisfying sound without the cost and footprint brought about by stacks of complicated equipment.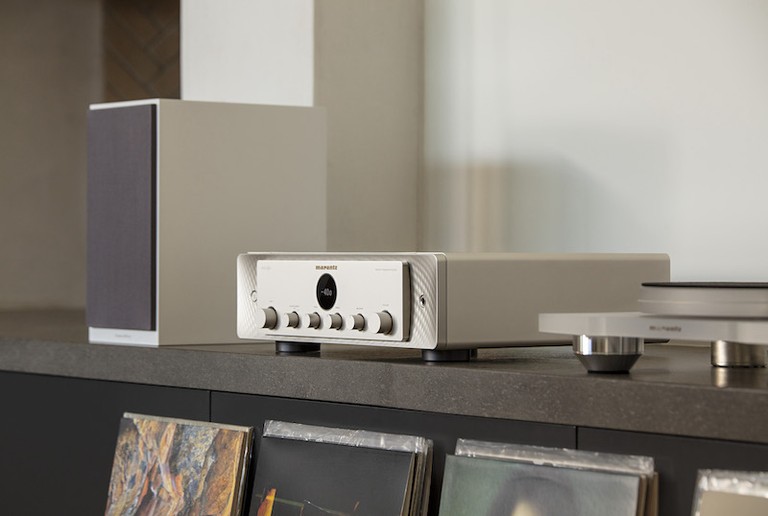 Model 40n: Just add speakers
Price and Availability
The Marantz MODEL 40n Integrated Amplifier will be available in two finishes: Marantz Black and Silver Gold. MSRP is $2,499 and is available at authorized Marantz retailers and online at www.marantz.com in March 2022.

Unless otherwise indicated, this is a preview article for the featured product. A formal review may or may not follow in the future.
Confused about what AV Gear to buy or how to set it up? Join our Exclusive Audioholics E-Book Membership Program!
Recent Forum Posts:
sterling shoote posts on March 21, 2022 18:37
PENG, post: 1546155, member: 6097
Hopefully someone who bought one wouldn't tell us. It is 4 ohm rated, but no pre-out.

Yeah, the absence of preouts takes me out of the market for one.
PENG posts on March 15, 2022 12:42
WookieGR, post: 1546125, member: 85276
No one is able to explain why one would spend more money on a Model 40n or similar vs any standard AVR with all the same features at half the price or better? Is it because there actually is no good reason?

Hopefully someone who bought one wouldn't tell us. It is 4 ohm rated, but no pre-out.
highfigh posts on March 15, 2022 12:42
lovinthehd, post: 1542171, member: 61636
No, but I've experienced better gear, an integrated amp is just a compromise for a single box to an extent, and depends what it does particularly and how well…..as a simple category rather meaningless. Still a compromise in any case housing both amps and other electronics in a single box. As far as that relative nonsense goes in any case, all depends on design/execution. I just can't imagine such a limited 2ch unit like this being very interesting to begin with unless you have some weird 2ch fetish perhaps.

Integrated amplifiers started as a way to have the controls and amplification and leave the other sources as options or for choosing something that may better fit the budget. If someone doesn't listen to the radio, why include a tuner and if the stock tuner isn't very good, an integrated amp allowed choosing a better one. The current choices in integrated amps are pretty pale when compared to what was offered in the '70s and '80s WRT inputs/outputs but it's mainly because people don't use as many. Look at preamps and integrated amps- none have as many analog OR digital inputs as an AVR, but I would bet that more people who might use an integrated amp have at least one more digital source than the number of inputs would allow.
I'm not very impressed by most integrated amps for this reason. Obviously, there are ways around this but it seems that the manufacturers don't ask many users about their needs for the systems they have.
WookieGR posts on March 15, 2022 11:21
No one is able to explain why one would spend more money on a Model 40n or similar vs any standard AVR with all the same features at half the price or better? Is it because there actually is no good reason?
WookieGR posts on March 14, 2022 15:57
I got a total boner for the MODEL 40n and want to get it for the new music room I am putting together. Then I had a brain fart looking at the features/specs. Why would I spend $2500 on the Model 40 when I could get the SR5015 AVR for $1299? Is there that big a difference in sound quality if only 2 channels and a sub are in use? Even the Denon DRA-800H AV Receiver offers up the same stuff. Seriously, someone set me straight with facts on this.
Post Reply