Marantz SA-10 SACD/CD Player/DAC and PM-10 Integrated Amplifier Preview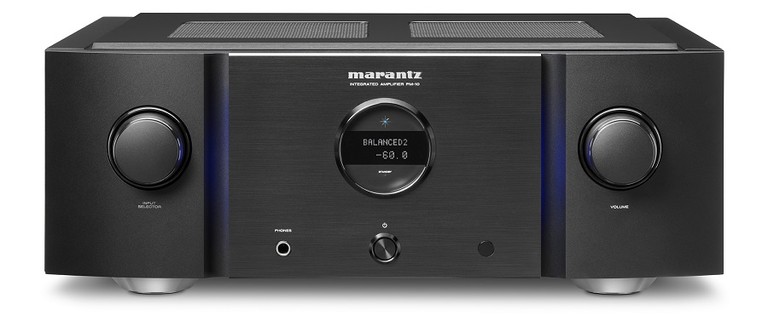 Summary
SA-10 SACD/CD Player/DAC

Analog Audio out: Balanced / Unbalanced 1/1
Digital Audio out: Coaxial / Optical 1/1
Digital Audio in: Coaxial / Optical 1/1
USB-A 1
USB-B 1
Super Audio CD
Frequency Response 2 Hz ~ 60 kHz (-3 dB) 2 Hz ~ 20 kHz (±1 dB)
S/N Ratio 112 dB 104 dB
Dynamic Range 109 dB 98 dB
Total Harmonic Distortion 0.0008 % (1 kHz) 0.0015 % (1 kHz)
Maximum Dimensions (W x H x D): 17.3 x 5 x 16.5 inches
Weight: 40.9 lbs
PM-10 Amplifier

Channels: 2
HDAM version: SA3, SA2
Power Transformer: Toroidal and 2 x SMPS
Audio Inputs: 7
Audio Outputs: 1
Power Output: (8 / 4 Ohm RMS) 200 W / 400 W
Frequency Response: 5 Hz - 50 kHz
Maximum Dimensions (W x D x H) in inches: 17.3 x 17.8 x 6.6
Weight in lbs: 47.4
Executive Overview
Hi-Fi company Marantz released information on their new audio products in preparation for the Consumer Electronic Show in Las Vegas, Nevada.  Their Premium 10 series is their most advanced hi-fi combination to date and includes the SA-10 SACD/CD player/DAC and PM-10 amplifier.  This duo features Marantz' renowned audio technologies designed to deliver great sound from high-resolution audio formats and CDs alike.
Marantz SA-10 SACD/CD Player/DAC
MSRP: $6,999
The idea for the Marantz SA-10 was simple: build the best disc player/DAC the company has ever made. Marantz looked at every detail, from the disc transport, to the way the digital signals are processed when designing this new model.  Marantz even looked to the future by providing an asynchronous USB-B input for the connection of a computer.
The SA-10 replaces the SA-7, the previous Marantz  Reference disc player. Although widely acclaimed, the SA-7 was purely a disc player, but with the changing audio landscape and the rise of high-resolution audio and computer-stored music, change was inevitable. Beyond it being a disc player for CDs, SACDs and high-resolution music burned on recordable media, the SA-10 is a digital-to-analog converter.  Using a combination of tried and true Marantz technology along with new technology developed specifically for this model the SA-10 should be a great addition to you sound system.
There is nothing ordinary about the DAC built into the SA-10.  Today's digital technology has made it possible to replace conventional digital-to-analog conversion with something much more advanced, allowing the SA-10 to become the first player/USB-DAC that they claim doesn't actually have a DAC.  A two-stage process of the SA-10, MMM-Conversion and MMM-Stream, draws on Marantz expertise and history in both SACD and the DSD formats.

The digital-to-analog conversion process, available to both discs and external sources connected to the player's digital inputs (which include asynchronous USB for the connection of a computer), is equally innovative. Rather than down-converting ultra-high-resolution files to suit a conventional digital to analog converter, the SA-10 upconverts everything to DSD256, in a process known as Marantz Musical Mastering Conversion.
Two dedicated master clocks are used to ensure all digital signals are upsampled directly to DSD 256 – or four times the SACD standard – without any need for sample rate conversion. And there's a choice of two filter settings to allow the listener to shape the sound.

The other half of the Marantz Musical Mastering package – MMM-Stream – is what prepares this DSD256 signal for analog output to an amplifier. Based on technology going back to early days of Bitstream conversion, this enables an ultra-simple conversion process. The output from the MMM-Conversion process is, in effect, already an analog signal, being a very high-frequency stream of single pulses. With all the hard digital work done, this stream needs nothing more than a very high-quality low-pass filter to deliver the purest possible analog audio output. For all its apparent complexity, this is actually a very simple, very elegant solution to digital processing – and it's unique to the Marantz SA-10. That's why Marantz says it's the first player/USB converter "without a DAC" – it doesn't need one.

Rather than using an "off the shelf" DVD-ROM to play SACD, CD, DVD-R/RW and CD-R/RW discs, Marantz decided to build their own: the new SACD-M3 is their latest technology built for Marantz players and is unique to the SA-10. Not only can it play CDs and SACDs, but also high-resolution audio stored on either CD or DVD recordable media.

"From the time of CD players the transport was one of our strengths, and with SACD it's the same. Of course doing things this way is expensive, but if we want something special we have to do it. And besides, there aren't many SACD mechanisms available today. However, there really is no way of making this kind of mechanism cheaply, so it's limited to our top-of-the-range model."


Marantz Brand Ambassador Ken Ishiwata
Marantz PM-10 Integrated Amplifier
MSRP: $7,999
Marantz started as an amplifier company with its famous original Audio Consolette pre-amplifier back in the 1950s.  Since then it has made many classic products, from the Model 7/8 preamp/power amp all the way through to the massive Project T1 valve amplifiers of the 1990s.
Now they have released their PM-10 Amplifier, which Marantz considers the best integrated amplifier they have ever produced. The previous Reference amplifier, the SC-7/MA-9, was a pre/power amplifier combination, but Marantz wanted to deliver even better performance from an integrated amplifier. Effectively a preamplifier and a pair of monobloc power amps in a single unit, the PM-10 uses switching power amplification to deliver huge power – 200Wpc into 8ohms, and 400Wpc into 4ohms.  This should allow it to drive a wide range of speakers.  
The PM-10 utilizes dual-mono construction with differential amplification rated at 2x400W. Even the continued interest in vinyl has a place in this new reference system since the PM-10 has a discrete phono stage for both moving coil and moving magnet cartridges. The PM-10 has separate supplies for the preamplifier and each of the power amplifier channels.  There's also a dedicated supply for the microprocessor controlling volume adjustment, input selection and other components.

It has two sets of balanced inputs, and also conventional unbalanced line-level inputs (plus the high-quality phono stage); the signal from these inputs being converted to balanced working before being passed through the amplifier.  The preamp uses Marantz Hyper-Dynamic Amplifier Modules (or HDAMs) which are tiny amplifiers in miniature, built from discrete components rather than using the 'chip-amps' found in other designs.  In fact the layout of the PM-10 is fully balanced, from the input section all the way through to the final power amplifier section. This really demonstrates that Marantz is serious about performance.  A fully balanced and differential design is superior for reducing distortion and noise.  The only reasons most audio electronics aren't designed this way are due to circuit complexity and expense. Marantz has spared no expense in this uncompromising design.

The PM-10 is also designed with the option of working in 'Purest Mode': when engaged, this deactivates any superfluous circuits.  There's also a Power Amp Direct input, taking the signal straight from the input section to the power stage to allow the PM-10 to work as a pure power amplifier.

Even the speaker terminals here are special: the PM-10 has newly-designed and exclusive Marantz SPKT-100+ terminals, made from high-purity solid copper.
Like the SA-10, the PM-10 is constructed of high quality components, including a layered copper-plated chassis which should ensure an excellent rejection of mechanical and electrical interference, and the casework is constructed from thick, heavy, non-magnetic aluminum panels. Both products also sit on custom-made die-cast aluminum feet.

Conclusion
Both units will be available in January 2017.  They're not cheap with the SA-10 coming in at a dollar short of $7,000 and the PM-10 coming in at 100 pennies short of $8,000, but if you're looking for a great new SACD/CD player and amplifier pair, the Marantz SA and PM-10 might be right for you.  We are gearing up to take the PM-10 for a test ride to see how it improves upon the already solid PM-11S3 Integrated Amplifier we use in our reference system.  We love high end audio that is engineered to be excellent.  These two pieces from Marantz appear to live up to their heritage so if you've got the coin, they've got the two-channel gear for you.
Unless otherwise indicated, this is a preview article for the featured product. A formal review may or may not follow in the future.
John (David) posts on February 22, 2022 00:05
Thanks Sterling for taking the time for the great info. I'll check into these. Who knows how long it will take, 'cause it seems I research things to death. Just thinking about making a giant leap into the big time and finding that "Live Sound".
sterling shoote posts on February 21, 2022 06:00
John (David), post: 1540242, member: 94825
I am looking for a really good disk player, but there is not much verifiable information on the SA-10 here. Nobody has listened to it first hand.

I have 3 SACD Players, Sony DVP-S9000ES, OPPO-205, and a Sony UBP-X800Mk2. The most satisfying of these for stereo pleasure is the least expensive unit, the Sony UBP-X800Mk2, even adding the cost of a Marantz NR1200 2.1 Receiver which is used in preamp/DAC role to decode the Sony's stereo DSD output. At any rate, I have no experience with the SA-10. Maybe it would please you, maybe not, thus you might want to listen for yourself before buying or buy from a seller who will accept returns. Buying on a contributor's recommendation here will get you a product that someone else likes for sure, but for you, who knows. One more thing, the SA-10 is stereo only, so no multi-channel SACD play is possible from the unit. This means if multi-channel is important to you the only new player out there today which will accommodate is the Sony UBP-X800Mk2. This player has no internal DAC, instead it connects to an external DSD DAC via HDMI connection. My unit is connected to the aforementioned 2.1 Marantz NR1200's DSD DAC, which delivers a very lifelike sound. In fact, I can't imagine better sound.
John (David) posts on February 16, 2022 18:11
I am looking for a really good disk player, but there is not much verifiable information on the SA-10 here. Nobody has listened to it first hand.
jusbe posts on May 03, 2021 21:14
Not seeking to persuade the poster of anything. Merely present another point of view.

Frankly, telling people that spending money on something that poster doesn't like is a "waste of money" is just as offensive. And you repeating that you find a choice alternate to your own to be a nonsense equally so. What ideas have been shared? That you don't like the player? Who's illuminated by that?

Presumably anything not multi-channel is a poor second for you. That the vast majority of audiophilia is in stereo must truly grate then. All of us chumps listening to inferior systems and DSD. I rest assured that the intended buyer of such a deck will take into account the many sources of critical praise for it and see criticism of functions it doesn't support for the straw-man argument it is.
sterling shoote posts on April 08, 2021 16:29
jusbe, post: 1473751, member: 95450
What nonsense! These are some of the best items around in their class. Moreover, SACD sounds great in stereo as well as surround - it's simply silly and illogical to state that the encoding method is better experienced with more than one channel as a function of its design. It's either good, or it's not.

I have the PM-10 and it's not going anywhere (I come from a background of high end triodes and tube amps). Will be getting the SA-10 shortly too, as it's vastly superior to much out there - including the Sony XA5400ES.

Nonsense could describe spending a lot of money for a stereo only SACD Player. After experiencing multi-channel SACD, listening to stereo SACD is like drinking a Coke gone flat, no fizz. But, please, don't begin a post with the word "nonsense" as it demeans the poster who has other ideas on it all. It's not at all persuasive; and, it alienates and thwarts cordial conversation with those who are here to share ideas on it all, not engage in adolescent banter.
Post Reply
Confused about what AV Gear to buy or how to set it up? Join our Exclusive Audioholics E-Book Membership Program!