Marantz PM-11S3 Integrated Amplifier Review
Marantz PM-11S3 Integrated Amplifier Review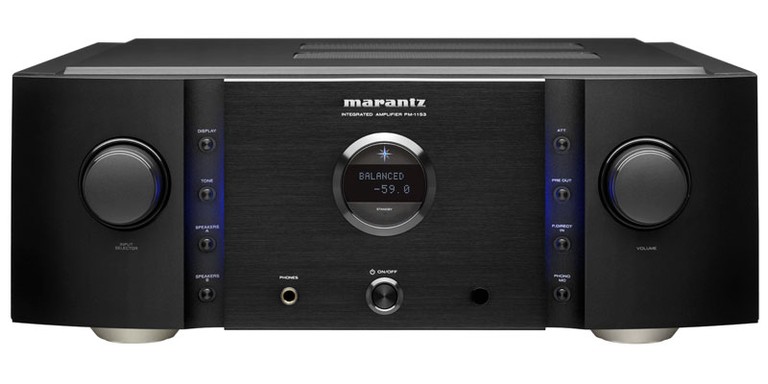 Continuous Power Output: 100 wpc x 2 @ 8 ohms; 200 wpc x 2 @ 4 ohms (20Hz-20kHz, 8-ohms) Both channels driven, continuous
THD: < 0.01% (20Hz – 20kHz, 8-ohms
Input Sensitivity/Impedance: 240mV/20k (unbal); 480mV/40k (Bal)
Frequency Response: 5Hz – 120kHz (+/-3dB)
Speaker Impedance: 4-ohms, minimum
Inputs: 1 balanced XLR, 7 unbalanced RCA (1 phono)
SNR: 108dB (CD Input 2Vrms)
Bridged Mono Mode: Can Bi-amp
Transformer Type: toroidal
Control: RS-232C, D-Bus Remote (RC-5) In/Out (to sync multiple units)
Power Requirements: 115V, 60Hz; 300W consumption
Dimensions: 17 5/16" (W) x 6 1/2" (H) x 17 1/2" (D)
Weight: 59 lbs
Pros
Looks that could kill
Excellent fidelity
Unparalleled build quality
Cons
Pricey
No balanced preamp outputs
Marantz has been an audiophile favorite for more than half a century.  Though they've had some ups and downs over the years, they've been focused in delivering high quality audio components that look as good as they sound since we started reviewing their gear almost a decade ago.  As a fellow user of their PM-11S2 Integrated Amplifier, I wanted to see firsthand what improvements were made with their latest iteration; the PM-11S3.  At the 2012 CEDIA show, the Marantz rep told me the 11S3 model had an improved phono stage and "other" refinements.  Let's take a look.
Design Overview
The Marantz PM-11S3, like its predecessors, is as much of a work of art as it is a high-end component.  It features a good ole fashion Class AB amplifier design with a linear power supply.  It features an honestly rated amplifier section capable of doubling power into a halving load impedance as you will see in my test results.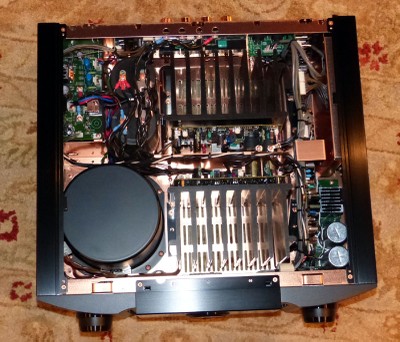 Marantz PM-11S3 Top View with cover removed
 Only top shelf parts are used throughout the design including an oversized 950 VA toroidal transformer wound with OFC (Oxygen Free Copper), thick extruded aluminum heatsinks to cool the output devices, huge power supply capacitors hand wired with thick twisted pair cabling rather than soldered into a PCB board and trace routed, 5mm thick solid aluminum top panel for increased rigidity.  The chassis also features a dual layer bottom panel for additional strengthening, while all internal chassis surfaces are copper plated for maximum resistance to RF and electrically induced interference.
Marantz makes a big deal out of the redesigned phono stage.  They claim the MM/MC phono section incorporates their latest Constant Current Feedback gain stage which features DC Servo equalization that eliminates the discontinuities in tonal balance caused by conventional RIAA equalization using ordinary dual band negative feedback topology.  I measured the phono stage of the PM-11S3 using SMPTE distortion tests and found it was a bit higher than its predecessor but the shape of the EQ curve seemed very similar.  I did extensive listening with the phono stage which is discussed in detail in the listening tests.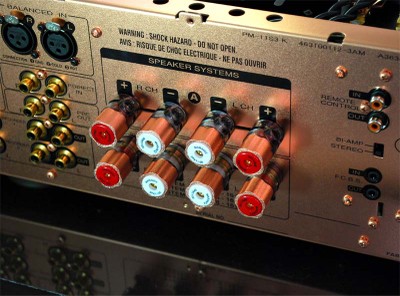 Marantz PM-11S3 Backview
The PM11-S3 sports six selectable analog RCA inputs and one balanced input.  I was mildly disappointed that the preamp outs are only RCA level but even if they were balanced, the design topology from input to output is only single ended like most integrated amps and preamps on the market these days.   The PM-11S3 comes with a detachable two-prong power cord.
Perhaps the most striking feature of the PM-11S3 is the newly revamped reference grade multi-way speaker binding posts which feature pure copper contoured knobs.  Marantz claims these are designed for optimum connectivity with a wide variety of speaker cable terminations but I think the real reason they use them is they look so cool.  This product just screams high end from its build quality to its aesthetics.  If I were an evil transforming robot that consumed electronics as food, I'd want to ingest this product.  You can connect two pairs of speakers in parallel and run them independently or simultaneously.  This is selectable on the front panel.
Key Features
The Marantz PM-11S3 is a pretty straightforward integrated analog amplifier.  Very few bells and whistles, but the key features it has makes it stand apart from some competitor products on the market. There is a preamp out feature which activates the analog pre-outs of the PM-11S3 in case you decide to hook up a more powerful dedicated amplifier to use the 11S3 as a dedicated preamp only.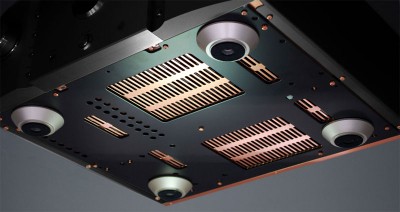 Bottom View of Marantz PM-11S3

Marantz provisions the ability to chain multiple PM-11S3's together to bi-amp or run a complete multi-channel system through the F.C.B.S system that allows up to 4 PM-11S3's to be ganged together under single control.
A feature new to the PM-11S3 that wasn't on its predecessors is the "Power Amp In" mode that allows you to connect this unit to an AV Receiver to use the PM-11S3 as a dedicated power amp.  You can switch the feature on/off on the front panel.  This is a great way to improve the sound of an anemic multi-channel AV receiver by giving your front main speakers some clean honest amplification while at the same time having the ability to switch the PM-11S3 back to integrated amp mode for dedicated two-channel listening.  Now you can have your audiophile two-channel and multi-channel cake and eat it too!
Another new feature of the PM-11S3 is the ability to turn the power on/off via the remote control.  This was lacking on prior models which was a bit of a nuisance in this day and age.
Set-Up
Setting up the Marantz PM-11S3 wa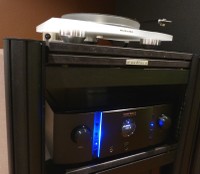 s a breeze.  No need to configure an OSD, bass management, etc.  This is just a plain two-channel analog integrated amp meant to do one thing, deliver pristine analog audio.  As such, I connected up my Marantz TT-15S1 turntable and Oppo BDP-105 Blu-ray player via the balanced analog connections.  Oddly, Marantz still uses the old balanced connection scheme that reverses the hot/cold polarity so I simply flipped the configuration in the Oppo OSD setup to accommodate this to avoid a polarity shift.  I didn't have any full range speakers on hand to evaluate the PM-11S3 other than my $50k/pair of Status Acoustics 8T reference set.  I was a bit apprehensive about making this connection since the 8T's dip down to high 2 ohm region and are quite a difficult load to drive.  The PM-11S2 had a very sensitive overload protection circuit that would trip at high listening levels on virtually all 4 ohm speakers I've tested in my reference room.  I was interested to see how the 11S3 behaved in this regard.  I wired up the speakers with Kimber 8TC cables and Bluejeans interconnects were used for the balanced cables fed to my Oppo BDP-105.

Confused about what AV Gear to buy or how to set it up? Join our Exclusive Audioholics E-Book Membership Program!
See also:
Recent Forum Posts:
AcuDefTechGuy posts on April 23, 2016 10:37
johnny fed, post: 1134445, member: 78329
can anyone tell me how vinyl sounds through a VPI classic turntable.
Hmmm……like……….vinyl………..crackles and pops.
johnny fed posts on April 22, 2016 20:36
can anyone tell me how vinyl sounds through a VPI classic turntable.
irishnutter posts on May 08, 2014 21:03
Hi…to anyone that owns the PM-11S3, can you comment if you compared it to any other highly rated integrateds in the same general price range? I'd be particularly interested in any thoughts of the 11S3 vs. the Coda CSI-b, LSA Statement, or MF 6500i. Thanks!
Vlasto posts on April 28, 2014 16:57
I believe that is a great machine, but I'm not very amazed by construction and ''bowels' inside…as the photo reveals it …
gotoma8 posts on March 15, 2014 16:35
Thanks Gene, I look forward to it.

So, do you still have the PM11S3?

Tuan
Post Reply