Marantz PM-11S1 Integrated Amplifier Review
Marantz PM-11S1 Integrated Amplifier Review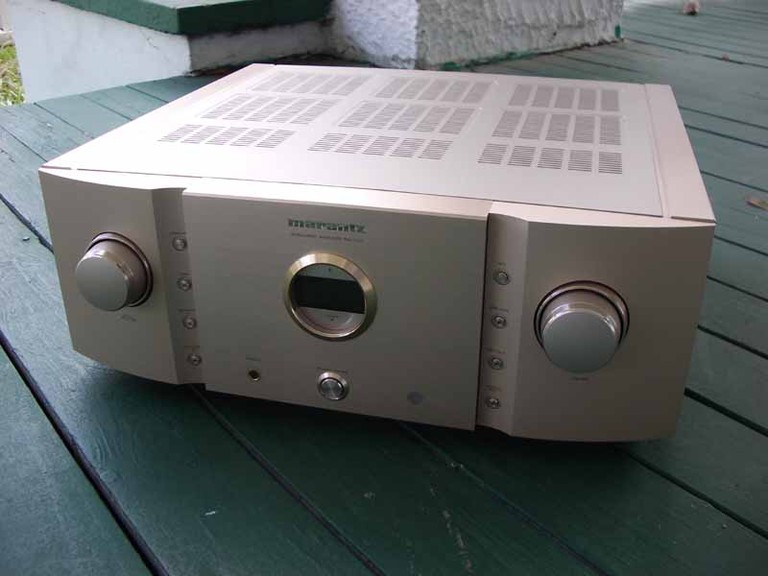 PM-11S1 Integrated Amplifier
Product Name: PM-11S1 Reference Integrated Amplifier
Manufacturer: Marantz
Performance Rating:
Value Rating:
Review Date: June 14, 2007 23:00
MSRP: $ 4399
Continuous Power Output: 100 wpc x 2 (20Hz-20kHz, 8-ohms) Both channels driven, continuous
THD: < 0.01% (20Hz – 20kHz, 8-ohms
Input Sensitivity/Impdance: 240mV/20k
Frequency Response: 5Hz – 120kHz (+/-3dB)
Speaker Impedance: 4-ohms, minimum
Inputs: 1 balanced XLR, 6 unbalanced RCA (1 phono)
SNR: 96dB (CD, Line)


Bridged Mono Mode: Can Bi-amp
Transformer Type: toroidal
Control: RS-232C, D-Bus Remote (RC-5) In/Out (to sync multiple units)
Power Requirements: 115V, 60Hz; 380W consumption
Dimensions: 17 5/16" (W) x 6 1/2" (H) x 17 1/2" (D)
Weight: 57.2 lbs (26 kg)
Pros
Best-in-Class Performance
Elegant look and feel
Balanced inputs
Superb chassis and component shielding
Hi-end binding posts
Stereo and Bi-amp mode
Preamp outputs for expandability
Far exceeds its power spec
Cons
Not inexpensive
No DACs - analogue inputs only
Remote not backlit
Marantz PM-11S2 Introduction
I drive a simple vehicle. It's a 2003 Jeep Liberty and I like it a lot. If I were offered the opportunity, however, to test drive a Hummer or Porsche Carrera - I'd do it in a heartbeat. Why? Because I'm not likely to fork out that kind of money in my lifetime and it's occasionally nice to see "how the other guy lives". The Marantz PM-11S1 is my Porsche Carrera this month. At a price tag of over $4k I'm not going to be able to afford to keep this baby in my reference system for long, but it is a superb machine with all the styling of a European sports car. It's the kind of product you don't want to leave fingerprints on and will find yourself taking extra time to install it into your system - not because it can't be manhandled or take the abuse, but because - like a fine work of art - you don't want to diminish its beauty in any way.
Confused about what AV Gear to buy or how to set it up? Join our Exclusive Audioholics E-Book Membership Program!
Recent Forum Posts:
cosmin.batica posts on July 08, 2011 07:44
Marantz amplifier

I always admired Marantz gears. I listen to PM-11S1 and it's indeed a very good amplifier.
But I recently own the PM-15 model (the original one - 1994, not current PM-15S1 or PM-15S2 model) and I must say it's a truly high-end masterpiece. Far better than any of other integrated that Marantz ever made.
cornelius posts on June 23, 2007 09:34
Great review! Thanks!
I liked the amp comparison, really helps appreciate the quality of a great piece of gear.
mattburk posts on June 22, 2007 22:52
So, moderator. what would you pick: 1. Parasound jc-2 and mono blocks or 2. Marantz ma-9s2 & SC-7s2.
mattburk posts on June 20, 2007 00:01
great read. I have been eyeing the high end marantz gear for a while but I have yet to see a review. I hope you review there separates next & compare them with the likes of classe, parasound, plinius and ps audio.
Post Reply