RBH Sound Signature SE/R Series Review
RBH Sound Signature SE/R Series Review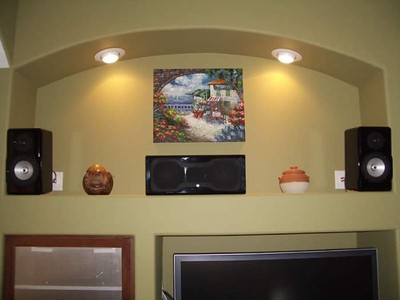 Signature SE/R
61-SE/R
Drive Units (1) 1.1" Fabric-Dome Tweeter, (2) 6.5" Metal-cone Mid-woofer
Frequency Response: 45Hz - 20kHz (± 3dB)
Sensitivity: 88dB (1 Watt/1 Meter)
Power Handling: 170 Watts
Impedance: 8 Ohm
Crossover Frequency: 2700Hz
Bi-amp/wireable
Dimensions: 8.25" W x 15" H x 10.5" D
Weight: 22 Lbs (each)

44-SE
Drive Units: (2) 4" Aluminum Woofer, (2) 1" Silk Dome Tweeters
Frequency Response: 55Hz-20kHz (+3dB)
Sensitivity: 88dB (2.83V @ 1 Meter)
Power Handling: 150 Watts
Impedance: 4 Ohms
Crossover Frequency: 3000Hz
Dimensions: 11 1/2"H x 12"W x 6 1/4"W
Weight: 20lbs (each)

661-SE/R
Drive Units: (1) 1.1" Fabric-Dome Tweeter, (2) 6.5" Metal-cone Mid-woofers
Frequency Response: 45Hz - 20kHz (± 3dB)
Sensitivity: 91dB (1 Watt/1 Meter)
Power Handling: 250 Watts
Impedance: 4 Ohm
Crossover Frequency: 2700Hz
Bi-amp/wireable
Dimensions: 8.25" W x 22" H x 12.5" D
Weight: 34 lbs (each)

Detailed Price Breakdown
System includes 2 x 61s, 1 x 661, 2x 44-SEs

| | |
| --- | --- |
| Std Black SE | $2,747 |
| Prem Finish SE | $3,437 |
| Std Black SE/R | $3,547 |
| Prem Finish SE/R | $4,177 |
Pros
Phenomenal performance
SE/R Upgrade to Status Acoustics Drivers
Excellent System Synergy
Over 30 Custom Veneer Finishes
Cons
4 ohm (except 61-SE/R), moderate efficiency
Binding post / cup plate proximity
Sets your expectations too high
There are a lot of great speaker companies on the market today. I sympathize with consumers when trying to make the tough choice between all the great brands, especially when not always being able to directly compare them in a listening test. We always tell our readers to choose the product that is right for their application and make sure the company or retailer you buy from offers exceptional customer service and product support.
Besides RBH Sound's solid product line offering, we have found them to be one class act to deal with both professionally and socially. Over the years we have received rave feedback from our readers whom have purchased RBH product through authorized dealers. We have noted they are some of the most loyal customers not just because of their excellent sound quality, but because RBH Sound stands behind their products, and they sell though a network of well-trained dealers who are fully qualified to do the highest caliber home theater systems in the industry.
RBH Sound's Signature Series represents their "cream of the crop" in loudspeaker design. You may recall my personal reference system used the Signature T-2P System ; and to this date I still use their Status Acoustics Decimo as my reference bookshelf speaker. I was so enamored with this product that I pleaded with RBH to offer Status Acoustics driver upgrades to compatible products in their Signature lineup and sure enough they did!
Back in 2002 I reviewed the Signature 61-SE two-way bookshelf speaker system. Shortly afterwards I had RBH send me the Status Acoustic driver and crossover upgrades to do a comparison. The upgraded speakers were called the Signature 61-LSE (as in limited) and for a short time were sold to the public until they discontinued offering this upgrade. The 61-LSE offered about 90% of the performance of the venerable Status Acoustics Decimos, but at less than ½ the cost. It was an audiophile's dream come true, and brought this level of performance to a larger audience.
Now RBH is back at it with SE/R version of their Signature Series products (limited to products with 6.5" midranges only such as 61-SE, 661-SE, 1266-SE). The difference between the LSE and SE/R is the latter contains the standard Signature crossover while the LSE had the Status Acoustics upgrades. Hey, I told you guys to get LSE when they were offered - nothing lasts forever. Don't sweat it though as you will see in this review SE/R is pretty darn close to the LSE series in performance and only an Audioholic with an excellent room and discerning ear will likely hear a difference in a Double Blind Test (DBT) between the two.
Confused about what AV Gear to buy or how to set it up? Join our Exclusive Audioholics E-Book Membership Program!