Anthem STR Preamp and Power Amplifier Review
Anthem STR Preamp and Power Amplifier Review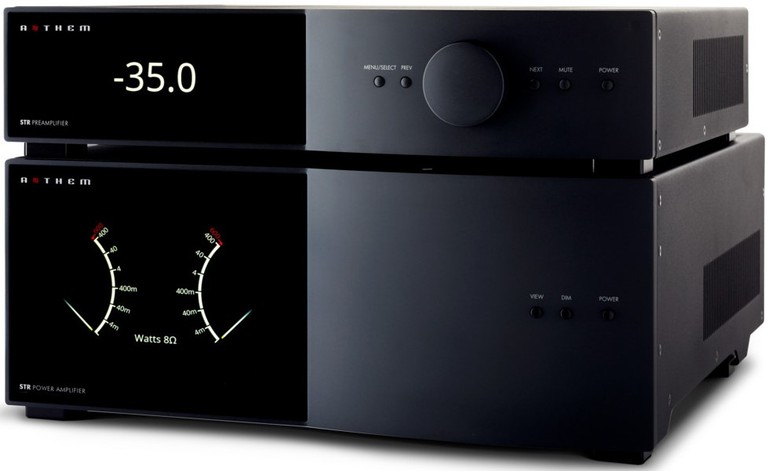 Anthem STR Preamp and Power Amp
STR Preamplifier
High-resolution stereo preamplifier
Anthem Room Correction (ARC) to optimize in-room response
Bass management for two subwoofers, in mono or stereo
Up-sampling of lower-resolution sources to 32-bit / 192 kHz
Asynchronous USB Audio Input supports 32-bit / 384 kHz PCM, and DSD 2.8 / 5.6 MHz sources
S/PDIF coaxial and optical, and balanced AES/EBU inputs
MM and MC phono, balanced XLR, and single-ended analog inputs
Analog Direct mode
Graphic front panel display for easy setup navigation
Controllable via Ethernet, RS-232, or supplied IR remote
Balanced output for all channels including the two subs
Home Theater Bypass Mode works without having to turn power on and includes RCA/XLR input for two subs
Dimensions: 3 8/9" H x 17" W x 14 5/6" D
Weight: 16.8 lbs
STR Stereo Power Amplifier
400W/600W/800W continuous into 8/4/2 Ohms, both channels driven
Cascoded Complementary Feedback Input Stage
Sixteen Bipolar Output Devices Per Channel
Multi-Mono Design
Massive Toroidal Transformers
Soft Turn-On
Four Power On/Off Options
No Rail Fuses
Advanced Load Monitoring Technology
Graphic front panel display for the power meter, status, and easy setup navigation
Dimensions: 6 3/4" H x 17" W x 18 1/2" D
Weight: 60 lbs
Pros
Sublime audiophile performance
Awesome feature-set in STR preamp
Anthem ARC is a must-have feature
Excellent bench test results
Cons
Pricey
Ho-hum remote control (STR preamp)
Anthem STR Series Introduction
In today's day and age, with the focus on convenience often overruling quality, it's rare to find products that emphasize fidelity first above all else.  Anthem is a company whose origins started in two-channel and thus they created the STR series of products to remind audiophiles of that. The STR line of products comes in an STR integrated amplifier ($4,499), preamp ($3,999) and power amp ($5,999). Wanting to better understand Anthem's best foot forward approach to two-channel audio, I requested their STR preamp and power amp separates stack to take a deeper look. These products are ALL handcrafted in Canada and built from their highest standard of engineering and are available in silver and black. I requested black review samples to match the decor of my equipment rack and also because I thought they looked more bad ass in that color option. Let's see if the STR products live up to the hype and get my two-channel mojo flowing.
Check out our Anthem STR Preamp and Power Amp YouTube Overview video to get more familiarized with the products before reading our comprehensive written review.
Anthem STR Overview YouTube Interview

STR Preamp Build Quality & Features
As we saw in my STR unboxing video on our YouTube channel, the STR series of components is built of sterner stuff. Anthem claims the STR preamp has a "high resolution" preamp section, something we will look at in further detail in our measurement section of this review.

Anthem STR Preamp Back Panel
The Anthem STR Preamp has a wide array of I/O connectivity for a two-channel preamp. A full complement of balanced and unbalanced inputs and outputs, Toslink and coax, as well as a USB DAC and balanced digital input (rare option) are bestowed upon this product. A network connection is included, which is there for firmware updates but more importantly it makes Anthem ARC room correction setup a breeze by allowing you to network to it without having to connect the calibration microphone directly to the unit. Very slick.  The top plate is more rigid than it looks. This thing just spews great build quality with no details left unturned including the radiused edges on the front panel.
Anthem STR Brushed Aluminum Remote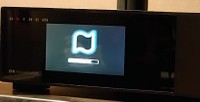 The user interface is accessible via the 4-inch TFT display that boots up with the Anthem logo during power up that is akin to watching Window 95 boot up on a PC, although much quicker in Anthem's favor. The menu options are extensive, allowing virtually endless configurations for speaker and bass management settings including level and delay control, and tone control. You can customize inputs source levels and assignments, as well as create virtual inputs (for a total of 32), to enable ARC on/off allowing for easy on-the-fly comparisons. The remote control has no backlight or display, but has all of necessary buttons to navigate the front panel OSD. It's small enough to be mistaken for an Amazon FireTV remote which I've done in my theater room several times while reaching for it in the dark.
Some features that stood out to me as unique in this genre of product include:
Advanced bass management options to accommodate 2 subwoofer outputs with independent level and delay adjustments (something not even their AV processor or receivers offer).
Anthem ARC room correction.
High-resolution ADC and DAC convertors with upsampling to 32 bit / 192 kHz resolution.
Asynchronous USB Audio Input supports 32-bit/384kHz PCM, and DSD 2.8 / 5.6 MHz sources
Six pre-RIAA curves plus adjustable settings for playing older records accurately.
Home Theater Bypass Mode works without having to turn power on and includes RCA/XLR input for two subs.
STR Power Amplifier Build Quality & Features
The STR amplifier is a brute. Upon first look one wouldn't think so but as Scotty used to say "She packs quite a wallop." It's rated at 400 watts/ch (8 ohms, 2ch driven) and 600 watts/ch (4 ohms, 2ch driven) with a conditional rating (more on that later) of 800 watts/ch (2 ohms). It's a traditional Class AB design with a linear power supply featuring dual 600VA toroid transformers (one for each channel).
Note: Anthem claims that this is a long-term temperature rating for the transformers (a thermal switch is built-in). They can deliver substantially more than that continuously for several minutes.
There are two independent capacitor banks, one for each amplifier. Each amplifier channel has 4 x 8,200 uF (32,800uF total) 100V power supply capacitors (so each +/- rail has two in parallel). This is just shy of 100uF/watt (40,000uF for 400 watts) that is a rule of thumb many amplifier designers employ in no compromise designs. Anthem doesn't employ rail fuses on this design, which would increase ESR. That's a fancy term for resistance, which is an undesirable attribute.  Instead, they employ two 10A slow blow fuses (for the 120 V product), one for each transformer. Anthem takes things one step further by employing a soft turn on circuit. Power is first applied through NTC thermistor in-rush current limiters. Then the NTC's are bypassed. This associated circuitry eliminates a pop on sound you get with many amplifiers during initial power up while the NTC reduces the power sag on an outlet when all gear turns on simultaneously.
The output stage essentially combines two amplifiers per channel (8 output devices each for a total of 16 per channel) in a bridged tied load configuration which allows for double the output power. Anthem claims the STR amplifier "benefits from their proprietary input topology—a unique departure from the classic differential input stage," but no elaboration on that point is provided. Anthem employed a cascoded complementary feedback input stage on the STR amplifier which is said to reproduce the sound that approximates the linearity of Class A operation without the inefficiency. Anthem uses no rail fuses on this amplifier but instead employs a sophisticated DSP for "advanced load monitoring" the outputs and protect from fault conditions or over temperature.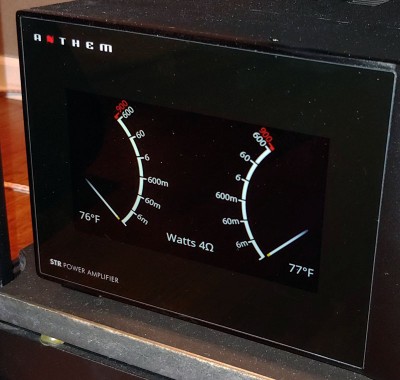 Anthem STR Amplifier TFT Power Meter Display
Note you can set the meters to properly read power into 8, 4 and even 2 ohm loads!
In fact, perhaps the coolest thing about the STR amplifier that you won't find elsewhere is their 7-inch TFT graphic control display that not only provides a posh power meter for both channels, but also shows the status of the amplifier including the ability to monitor heatsink temperature and load condition. The STR amplifier will actually warn you if the line voltage drops below nominal operation (108Vrms, domestic) or if excessive high frequency content is detected on the output. These are great countermeasures to ensure you protect your equipment, especially those delicate tweeters in your speakers.
I've always wanted an amplifier with big power meters on the faceplate but short of spending 10k+ on a McIntosh, there are few options on the market. Anthem decided to put a modern twist on the power meter by going digital. They are quick responding meters unlike predecessors of lesser design. This means you get to see real-time power usage and can even specify if the nominal impedance of your speakers is 8, 4 or 2 ohms to get accurate power readings.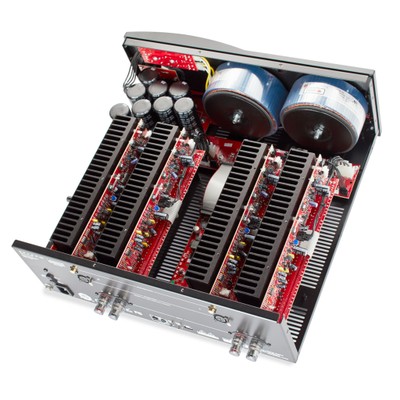 Anthem STR Power Ampilfier
Notice the dual heatsinks per channel and Dual Toroidal Power Supplies
The STR amplifier has both unbalanced and balanced inputs along with dual triggers, which can trigger off the STR preamp and a secondary preamp should you use the HT Bypass Mode of the STR preamp.
STR Set Up & Calibration
The Anthem STR stack was wired up with Bluejeans Cable balanced XLR's and Kimber 8TC speaker cables connected to my Status Acoustics 8T reference speakers. The sources include a Marantz TT-15S1 turntable, Oppo BDP-205 UHD Blu-ray player, and a 4TB HDD with high resolution FLAC files connected via USB.
I connected the STR Preamp to my Yamaha CX-A5100 11.2CH AV processor using the HT Bypass balanced connections. I was also able to trigger the STR amplifier off the STR preamp and Yamaha CX-A5100 by using both trigger contacts on the STR amplifier. The HT Bypass mode is really awesome on the STR preamp. Once configured, you don't have to power up the preamp in order to bypass it directly to your AV processor like you do on some dedicated preamps with this feature.  When the STR preamp is turned off, a series of relays click over to HT bypass mode making a direct connection between your STR power amp and mating AV processor. Turn the STR Preamp on if you want it directly connected to your STR amplifier and your AV processor is out of the loop.
Anthem ARC is a new room correction software to me so I wanted to really dive in deep to see how it performed. I found the system was quite intuitive and plan on doing a dedicated YouTube video on it in the near future to better illustrate.
Anthem ARC can be used in 3 different ways:
included microphone plugged directly into the PC via USB with STR on the same network.
included microphone plugged into a tablet or smartphone (3.5mm or USB depending on IOS or Android).

using tablet or smartphone built-in mic.

The mobile app is likely most convenient but for best results you really should load the Anthem ARC software on your PC and use the included calibrated microphone. I chose this route along with the USB connection so I didn't have to worry about the cable not being long enough between the STR preamp and my seating area. I found it incredibly ingenious that Anthem allows for networking their preamps with ARC since this is especially useful if you're calibrating a system where the processor is NOT in the same room as the speakers.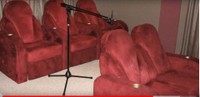 When placing the microphone for calibration, it's important to consider the following for best results:
place the microphone pointing straight up, seated ear level position at the primary money seat with a clear line of sight path to ALL speakers.
don't place the microphone in outlier seated areas of the room. Instead stick within a 3 ft radius from the primary seat for best results.
Note:  I must point out that the test sweeps are extremely LOUD. You can't lower the level with the master volume while the calibration is running. ARC attempts to calibrate at 75dB at the listening position. If this is too loud for you, either wear some earplugs during the setup, or go into the software and lower the level before initiating the calibration.
After running 6 positions, with ARC default calibration settings engaged, I was ready to roll.  ARC allows for adjustment of the HPF slope and frequency, and range of correction (up to 5kHz) but it does NOT let you alter the curves in any other way like some of their competitor room correction systems do. ARC also set's speaker level but surprisingly does NOT adjust speaker distance. If you want to fine tune distances, you will have to do this in the STR preamp speaker settings menu.
ARC Calibration Results
I did some initial listening to compare ARC on/off via digital sources and found the bass was a bit too lean and the upper midrange energy was a tad lowered compared to 'off' for my liking. So, I went back in and limited the correction to 500Hz and adjusted the HPF from 20Hz, 4th order to 15Hz, 1st order and bumped the room gain up from the default setting of 3dB to 5dB. Voila! This was MUCH better!  Bass was slightly deeper, and tighter than ARC disabled, and the mid frequencies were similarly good with ARC turned on or off.  
Editorial Note about ARC Calibration Levels vs. Analog Direct:

When I enabled ARC for analog sources, I found I initially preferred ARC off which was due to a level drop of 3dB ARC made to calibrate my system to a 75dB reference. This was only noted on analog sources when compared to analog direct which does NOT retain level calibration settings. The simple fix to allow me to compare apples to apples was to zero out the speaker trim settings to rerun my comparisons.
One thing that's important to note, is if you start with really good speakers and have good room acoustics, a room correction system worth its salt should alter the sound above the room transition frequency (the point where the room no longer dominates speaker behavior, usually 300-500Hz in small rooms) very little. That's because at lower frequencies, the room dominates the sound but at higher frequencies (above the room transition frequency) the speakers dominate the sound. ARC was doing exactly what it was supposed to be doing which was NO harm, something I've not found to be true with some competing room correction systems. In fact, when I sent the calibration file to Anthem, they were quite taken with the little amount of correction ARC was doing above a 500Hz before I limited the bandwidth of correction. Again, if you've got a very linear speaker system such as mine with lots of midrange surface area to radiate a higher proportion of direct sound to the listening area, you just don't need or want much EQ correction.
I was impressed with the measurement reporting ARC provides in their software. Many competing room correction systems give a very pretty before and after graph that has no basis in reality but instead is often just a target curve. This was not the case with ARC. Instead, ARC measures at 48kHz sampling rate, post processes, then smoothes to 1/12th octave resolution for individual measurements and 1/6th octave for combined measurements. These are actual useful graphs and I was able to replicate their results with my own measurement software. It was reassuring to know ARC was basing its corrections on the acoustical reality of my speaker to room interface instead of some sci-fi fantasy that you often get with competing systems. They even offer the option to PDF the results so you can have them for your records or a calibrator can hand them to their customer to prove that he or she has earned his pay for the day by proving your system NOT only sounds better with ARC but it also measures better too!
Anthem ARC Calibration Measurements of my Reference Speakers at the Primary Listening Seats
Anthem ARC Calibration Before/After Results with some Tweaking
As you can see, my left and right speakers measure very similarly above the room transition frequency at my listening position despite the fact that I don't have a symmetric room (right wall further away than left). With the bass tweaks I previously mentioned, my after-calibration response actually has better extension below 20Hz and ARC did a great job correcting a gap in the 100-300Hz for both speakers which was an audible improvement.
In-Room Measurements Averaged (1/6th Octave Smoothed)
No ARC - red traces ; ARC engaged - green traces
This is the averaged response across all 6 points approximately located where I ran ARC calibration. The measurements were taken from 10Hz to 500Hz where I limited ARC room correction. As you can see, they track pretty closely to what the Anthem measurement system measured. ARC improved a suckout in the 100-200Hz range that I've struggled with in my room. The room mode at 25Hz was also flattened a bit while a good boost was added below 20Hz. I of course could have further reduced bass energy below 25Hz but this sounded so good like this, I didn't want to thin the bass out.
Note: Only apply very low frequency bass boost if your speakers have true low-end extension at high SPL. My reference speakers each have (3) high excursion 10" drivers that exceed our Extreme Bassaholics room size rating. It's usually not advisable to be bass boosting a small tower speaker with a couple of 6" or 8" mid-bass drivers.
Both Speakers at Primary Listening Seat (1/12th Octave Smoothed)
No ARC - red traces ; ARC engaged - green traces
Unfortunately ARC doesn't allow you to see the combined measured response of both speakers so I did this myself using my LMS system to see how much bass response was improved in the system as a whole at the primary listening seat. With no ARC, my speakers measured +/-8dB from 18Hz to 500 Hz. With ARC engaged, this not only increased my low-end bass extension but also tightened the response to +-5dB from 12Hz to 500Hz. This is an excellent measurement and explains why things sounded so tight and accurate in my listening tests.
Listening Tests
I threw a variety of sources at the Anthem STR system ranging from vinyl to high-resolution Blu-ray music to gauge the dynamic capabilities and finesse the system offered.
LP: Richard Marx - Debut Album
Richard Marx is one of those underrated artists that is mostly known for his pop, but he'd got some depth to his music if you listen to the B-side. Track #5 "Have Mercy" starts out with some great drumming and a catchy hard rock guitar theme and the STR stack had plenty of muscle to flex on this track. Richard's voice sounded as good as I ever remembered on my reference gear but with the added bonus of slightly tightened up bass thanks to ARC. I felt like I was thrust into a live performance with the music enveloping me, despite the fact that I was listening in two-channel. Track #6 "Remember Manhattan" produced a big WOW effect for me with chest pounding bass that laid the framework for this awesome song. Energetic, bold, lifelike, was what I was hearing from my reference speakers with the Anthem STR separates at the helm. If you're not a Richard Marx fan, I can assure you will be after hearing the entire second side of this album. Check it out!
CD: Levin Brothers
I've been a big fan of Tony Levin's bass work since the days of King Crimson, Peter Gabriel, and ABWH. His style is both unique and recognizable just after a few notes which isn't an easy task to pull off on bass. I had no idea he has a brother who is also an accomplished musician on both piano and organ. Teamed up with legendary Steve Gadd on drums, this is a must have CD for those fans that grew up listening to these legendary musicians in their heyday during the 70's and 80's. I carefully listened to select tracks on this album to compare the Anthem STR preamp DAC vs my Oppo UDP-205 along with and without ARC. The Oppo UDP-205 has the top of the line ES9038PRO DAC and is one of the best UHD Blu-ray players on the market (RIP OPPO). The STR Preamp utilizes top of the line 192kHz/32-bit DAC's from AKM so both units are heavy hitters pushing the envelope of performance. 
Track #1 "Bassics" has Tony on the upright bass with his brother tickling the ivories. Piano was dead center and the bass was vibrant and resonant. I couldn't discern much audible difference between the DAC's or with Anthem ARC on/off for this track. Instead, I was just digging the tune. Track #2 "Brothers" sounded a bit more cohesive with ARC engaged. I heard a subtle difference in bass tightness and depth compared to no ARC. Both DAC's sounded similarly good on this track.  The triangle pinned on the left speaker in Track #3 "Not So Square Dance" sounded pristine on both DAC's with and without ARC. Tony's upright bass was dead center and the saxophone sounded very lifelike. At times I thought I preferred the Anthem DAC over the Oppo but it was almost a coin toss as there wasn't a mode I could put the STR in that sounded bad here. In fact, closing my eyes, I was immediately transported into a small jazz club sipping an Old Fashion listening to great sounding jazz with a nice swing to it. Track #7 "Havana" is my favorite on the album. Steve Gadd proves he still has the chops to play some great percussion with his usual impeccable timing and rhythm. ARC added nice body to the recording that was a bit more subdued with it off. I suspect the 100Hz-200Hz problem area that ARC fixed was most responsible for what I was hearing here. The vocals were anchored between the speakers and sounded natural and clean regardless of ARC on/off. The organs sounded sublime here and the track was just a pure joygasm to my ears.  
SACD/ Blu-ray:  Jienat - Mira
Jienat – Mira is a sonic marvel whether you listen to the two-channel or multi-channel recording.  Imagine limitless dynamic range and bass so deep and powerful that it could rattle your spinal column if you've got speakers with enough extension and output and a capable amplifier to take advantage of those capabilities. I reservedly focused my listening on the two-channel recording, a bit concerned I may breach the limits of the STR amplifier that although very powerful, put out less than half the power of my former Emotiva XPR-1 reference amplifiers.
Note: I caution anyone to use the volume control sparingly when playing this disc on their systems since it has extreme dynamic range that most speakers (and amplifiers for that matter) are incapable of reproducing at reference volume levels. 
The vocals were pinned dead center in Track #1 "Sissel" as if I had my center channel engaged like I remembered it to be on my reference gear.  The bass was thunderous and the stereo separation seemed to extend well beyond the width of the speakers.  Track #6 "Fredrik Albert" showed off the fabulous transient response of STR amplifier.  The immediacy of the percussion and depth of the bass was simply spectacular and it's not something that can fully be conveyed in writing without actually hearing for yourself.   I was loving it! I did feel that the STR amplifier had a bit of a more forward sound to it than I remembered on my reference amplifier, but this was in no way objectionable. Detailed, and vibrant is what I wrote in my notebook while listening.
Track #4 "DanceHall", can expose any weaknesses in your system, such as your speakers not being up for the challenge (most aren't) or your amplifier running out of gas as you keep cranking it up to satisfy your adrenaline fix for the day. Towards the end of the recording, the electric bass kicked in which literally blew me away as I was belted with sustained tactile bass that was not only heard but rattled the core of my bones.  At extremely loud levels, I was able to nearly peg the meters on the STR amplifier, but I didn't hear the amplifier go into distress. It seems the STR amplifier is capable of driving my big 350+lbs Status 8T towers to sustained and uncomfortable levels in my reference room without loss of composure or shutting down. I was pleased that I didn't smoke the amplifier.  After about 30 minutes of constant punishment with this disc, I checked the temperature gauge of the STR amplifier which measured 125 def F or 52 deg C. According to Anthem, the STR amplifier will thermally shut down when the heat sinks reach about 176 deg F or 80 deg C (and come back on their own after a 18 deg F or 10 deg C drop). This indicated to me that I had a good deal of margin left for the amplifier, but definitely NOT for my ears.
See also:
Confused about what AV Gear to buy or how to set it up? Join our Exclusive Audioholics E-Book Membership Program!