Marantz 30 Series Integrated Amp & Network SACD Audio Streamer Tantalizes Audiophiles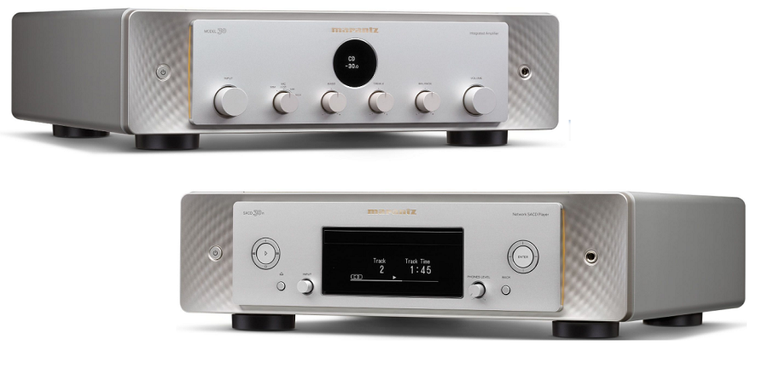 Marantz MODEL 30 and 30n
Summary
Executive Overview
Electronics company Marantz is not holding back in a time of uncertainty.  This summer Marantz released their first 8K receiver line, the SR series. We got a chance to do a full bench test on the Flagship SR8015 model. Audioholics President Gene DellaSala posted a YouTube video on the SR8015 saying "It is probably the best measuring receiver that I have done since the super receivers of 2004!"
Now, Marantz is releasing a pair of products the likes of which we haven't seen from them since 2016. The MODEL 30 Integrated Amplifier and SACD 30n Network Audio Streamer and SACD Player have been in the works for the last three years. The new products from Marantz embrace elements of classic Marantz design and combine a modern approach to construction and materials.
Our main goal in updating Marantz was to effectively capture the timelessness, musicality, and passion the brand has brought to the world for nearly 70 years.  This is why we dove into the brand's history first to design MODEL 30 and SACD 30n. We knew these new products and their successors had to continue refining that classic Marantz sound, but also deliver fresh new aesthetics and build quality contemporary enthusiasts could love. The result is a familiar, yet entirely new Marantz ID and an exciting listening experience that delivers on the Marantz promise of the most musical sound.
--Joel Sietsema, President Classé and Marantz
Marantz 30 Series Integrated Amp and Streaming SACD Player Virtual Press Event

The MODEL 30 Integrated Amplifier
To create MODEL 30, Marantz Sound Masters blended contemporary technical innovation with Marantz Hi-Fi traditions to pay homage to the brand's roots while offering the best possible sound. The all-analog design features a fully discrete two-stage build, with independent power supplies for the pre-amplifier and power amplifier. The power supply circuit, designed exclusively for the preamplifier, enables a stable power supply that Marantz says will be "unaffected by fluctuations from power demanded by the power amplifier stage." An oversized toroidal transformer is dedicated exclusively for the preamp while a double shield steel case is mounted around the transformer to suppress the leakage flux that could generate noise in peripheral circuits.
The Model 30 Integrated Amplifier uses a SOTA Hypex Class D module, the same one used in their PM-10 but in this case, it's just 1 module per channel instead of two bridged modules from the more expensive PM-10 which has 2X the output power.
--Gene DelaSala, President- Audioholics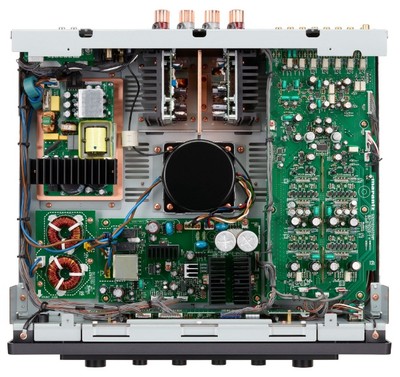 The power supply for the power amplifier stage delivers high current to the switching mode amplifier. This helps ensure control over any connected speakers to follow hard bass attacks and should provide clean power. In addition, the amplifier is load invariant meaning the frequency response remains the same regardless of the speaker load it drives similar to the very best linear Class AB designs. The amplifier also features a moving coil and moving magnet phono stage—complete with Marantz Musical Premium Phono EQ circuit and Marantz HDAM technology—for top-of-the-line performance. The Phono EQ stage in the MODEL 30 amplifier can be used with both moving magnet and low-output moving coil cartridges, thanks to a built-in MC head amplifier. Distortion should be reduced since it uses two-stage amplification in the phono stage, plus the Marantz HDAMs are combined with JFETs (junction gate field-effect transistors) in the input stage, which should give high input impedance.

The exclusion of coupling capacitors further simplifies the design, reducing signal distortion, and enhancing signal purity. Further, the MODEL 30 is equipped with an input impedance selector, which can be adjusted to three different settings "MC Low (33 Ohm), MC MID (100 ohm) and MC HIGH (390 ohm)," which should further help with sound performance when using a moving coil or magnetic moving cartridge.
To further hone Marantz's classic musical sonic signature, the MODEL 30 benefits from a new phono EQ stage, a new impedance selector, independent power supplies, an advanced headphone circuit, and a switching amplification design. In addition to this, the SACD 30n leverages Marantz proprietary SACDM-3L Transport Mechanism, USB-DAC, HEOS Built-in platform for music streaming, and a premium pre-amplifier, making it the ultimate digital music player.
--Emmanuel Millot, Senior Director, Technical Category Management at Marantz.
The SACD 30n Network Audio Streamer & SACD Player


Leveraging the HEOS Built-in platform, the SACD 30n combines a premium CD/SACD player with a modern digital source's hub, a USB-DAC, and a built-in preamplifier. With HEOS Built-in, SACD 30n can stream FLAC files from 44.1kHz to 192kHz at up to 24-bit resolution, DSD2.8MHz, and DSD 5.6MHz, ALAC (Apple Lossless), AIFF, and MP3 files from major streaming providers, including Amazon Music HD, Tidal and others. HEOS Built-in also allows for greater listening flexibility and access, including a variety of voice-enabled technologies, including Amazon Alexa, Google Assistant, Apple Siri, and Josh.ai to easily play music, skip tracks, and more.
The new SACD 30n draws on the Marantz SACDM-3L transport mechanism, engineered solely for the best possible performance when playing SA-CDs, CDs, and music stored on data discs. It is also built to meet the requirements of the modern music enthusiast who wants access to existing file collections or to the leading streaming services.
--Marantz

The SACD 30n also relies on Marantz's "Marantz Musical Mastering" (MMM-Stream converter and MMM-Conversion stage) for optimal digital audio conversion. PCM inputs are up-converted to DSD at 11.2MHz using the MMM-Stream converter within the player. The high-frequency signal produced is processed by the MMM-Conversion stage (used in place of a conventional DAC) to produce the analog output. Two system clocks ensure the most accurate up-conversion of the incoming signal, whether it's from the disc or digital inputs, ranging from 44.1kHz to 384kHz.The design of the DSD-to-analog converter feeds into the familiar Marantz HDAM in the output stage for optimal sound quality.

The headphone amplifier used in the SACD 30n features a dedicated amplifier module using exclusive Marantz HDAM-SA2 circuitry with exceptional signal-to-noise ratio. To work with a wider variety of headphones, the gain factor can be adjusted to three established presets—low, mid, and high—making it possible to drive high impedance headphones.
Conclusion
Marantz is putting out some amazing products in 2020 with their SR series receivers.  If this is any indication of what products like the MODEL 30 and SACD 30n are going to be like then Marantz should have a spectacular year full of products for us. The MODEL 30 is constructed on one of the best Class D amplification platforms and should be able to pump up the volume in smaller listening spaces like their flagship PM-10 from four years ago. Considering it comes in a less than a third the cost ($2,500 vs $8000!), that seems to be one helluva deal. 
The Marantz 30 series products build on decades of passion for music reproduction in a package fit for a new generation of music lovers. The Marantz MODEL 30 Integrated Amplifier ($2,500) and SACD 30n Network Audio Streamer & SACD Player ($2,500) will be available at authorized Marantz retailers and online at us.marantz.com in September 2020.
Confused about what AV Gear to buy or how to set it up? Join our Exclusive Audioholics E-Book Membership Program!