Bowers & Wilkins 700 Series 2 Debut and Demo Report
Bowers & Wilkins 703 S2 Lifestyle
Summary
702 S2
$2,250 / each
Floor stander
3-way vented-box
Tweeter on Top
3 x 165mm Aerofoil Profile bass
1 x 150mm Continuum FST midrange, decoupled
1 x 25mm Carbon Dome tweeter in Solid Body Tweeter-on-top
705 S2
$1,250 / each
Stand-mount
2-way vented-box
Tweeter on top
1 x 165mm Continuum bass/midrange
1 x 25mm Carbon Dome tweeter in Solid Body Tweeter-on-top
703 S2
$1,750 / each
Floor stander
3-way vented-box
2 x 165mm Aerofoil Profile bass
1 x 150mm Continuum FST midrange, decoupled
1 x 25mm Carbon Dome tweeter
704 S2
$1,250 each
Floor stander
3-way vented-box
2 x 130mm Aerofoil Profile bass
1 x 130mm Continuum FST midrange, decoupled
1 x 25mm Carbon Dome tweeter
706 S2
$900 / each
Stand-mount
2-way vented-box
1 x 165mm Continuum bass/midrange
1 x 25mm Carbon Dome tweeter
707 S2
$600 / each
Stand-mount
2-way vented box
1 x 130mm Continuum bass/mid
1 x 25mm Carbon Dome tweeter
HTM72 S2
$800 / each
2-way vented-box
2 x 130mm Continuum bass/mid
1 x 25mm Carbon Dome tweeter
HTM71 S2
$1,350 / each
3-way vented-box
2 x 165mm Aerofoil Profile bass
1 x 100mm Continuum FST midrange
1 x 25mm Carbon Dome tweeter
FS-700 S2
$250 / each
Speaker stand for use with 707 S2, 706 S2 and 705 S2, available in Black or Silver finishes.
DB4S
$1,600 / each
Single 10in forward-firing drive unit
Carbon Aerofoil cone
1000w Hypex amplifier
DB-D digital pre-amp technology plus App control
Executive Overview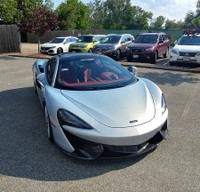 While still in awe from last year's visit to Bowers & Wilkins to celebrate their 50th anniversary and the unveiling of their new 800 D3 series speakers, I was invited yet again back to their lovely headquarters near Boston Massachusetts. Another unveiling of a new speaker series was about to commence but they kept a tight lid on it until we arrived.  I was curious but more concerned about getting my lobster fix which is exactly what I did that morning for breakfast. "I'll have the lobster omelet please!"  That's not something I utter too often in Florida, especially since Florida lobsters are quite unpalatable, but I digress.
When we arrived, we were greeted with the latest round of super vehicles equipped with B&W audio systems. This time a BMW 740i, Volvo SC90 and of course a McLaren, which admittedly I wasn't even sure how to turn on, nor was my associate Mark Henninger from AVS Forum. 
With the hot Boston summer day upon us, I was eager to get inside to air conditioning and something cold to drink. 
In one of their executive rooms, we were greeted by the B&W staff where Andy Kerr (Director of Product Marketing & Communications) resided at the front of the room to present B&W's latest offerings.  It was a show and tell PowerPoint presentation where he not only gave us detailed technical information of their new 700 Series loudspeakers but also showed us Finite Element Analysis (FEA) engineering simulations of the improvements new materials made for the series. He also handed us sample drivers and housing assemblies to show off their engineering excellence.  Nothing is more striking to an Audioholic than to actually feel and touch the parts to truly comprehend what is involved in the design.
Saying Goodbye to the CM Series: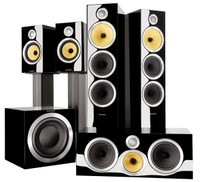 Bowers & Wilkins have sold over 150k speakers from the CM series since its introduction in 2014. The CM series product line represented 16% of their revenues. All good things must come to an end but in this case, B&W has phased this series out from a position of strength.  Replacing the CM series represented quite an undertaking, but with the resources recently developed for their new 800 D3 Series, the engineers at B&W were equal to the challenge.
B&W's trickle-down technology from the 800 D3 Series is quite apparent in the new 700 Series 2 speakers. Although the new 700 Series doesn't incorporate the matrix bracing system or curved cabinet design for lower cabinet diffraction found in the 800 Series Diamond, it does incorporate many of the driver enhancements found in that range. Specifically, that includes the Continuum cone material used for both midrange and mid/bass drive units. Alongside that, the new range introduces Aerofoil Profile low-frequency drivers – evolutions of the Aerofoil cones used in 800 Series Diamond loudspeakers – plus an all-new tweeter technology, which Bowers & Wilkins refers to as the Carbon Dome.
Using Finite Element Analysis (FEA), B&W demonstrated many benefits of their new drive technology, mostly pertaining to elimination of resonances and pushing break-up modes of the drivers well beyond their usable bandwidths.  A higher breakup mode ensures true pistonic behavior within the audio bandwidth (20kHz).
700 S2 Series Driver and Housing Improvement Details
The 705 S2 and 702 S2 B&W have adopted Solid Body Tweeter technology for their tweeter-on-top designs offering the same performance benefits found in comparable 800 series models.
Instead of using a hollow zinc housing, the 705 S2 and 702 S2 use an inert shape milled from a solid mass of aluminum (weighing > 1kg!) to provide a stiffer and less resonant structure.
This design enables B&W to use the mass of the tweeter body as a heatsink. It also means they can use the same decoupling mechanism, grille design and tweeter removal tool as the 800 Series Diamond.
The first breakup mode of their new carbon tweeter is 47kHz, which is quite an improvement from 38kHz of the Aluminium Double Dome of the CM series and closer to their holy grail of 70kHz of the Diamond Dome in the 800 D3 series.
B&W Aluminum Basket with Damper (left pic) ; B&W Bass Driver with Aerofoil cone (right pic)

The Continuum cone (borrowed from the 800 series) design is based on the concept of optimized and controlled flexibility with a highly controlled break-up mode beyond its usable bandwidth.
B&W claims it helps it avoid the abrupt transition from pistonic to break-up mode behavior that drastically impairs the openness and neutrality of a conventional drive unit.
Continuum is a triumph for experimental work, with more than 70 iterations and eight years of development prior to launch.
These midrange drive units use a new FEA-optimized aluminum chassis that is stiffer than the zinc chassis of the outgoing CM Series.
This optimized form is further enhanced with the addition of a tuned mass damper on the front face of the chassis. This dampens any remaining resonance in the structure, which is said to result in a cleaner, less colored midrange presentation.
B&W developed a new midrange decoupling system that simplifies the design used in the 800 Series Diamond and replaces the drawbar design employed in the previous CM 10 S2. It is used in ALL floorstanding models in the 700 series.
For the bass drivers, B&W developed a more affordable implementation of the Aerofoil cone used in the 800 Series by using paper rather than costly fiber skins.
This is the first range of loudspeakers to be mass-produced in their new purpose-made factory in Zhuhai, China.
B&W Carbon Dome Tweeter (Left pic) ; Solid Body Housing for 702 S2 & 705 S2 models (right pic)

B&W made the following statement which sums up the design goal of their new700 series:
We don't just want to beat our rivals: we want to blow them away.
Introducing the 700 Series 2 Loudspeakers
Bookshelf Models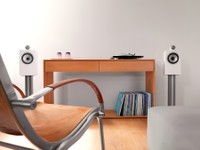 The lineup contains three ported bookshelf speakers beginning with the 707 S2 ($1,200/pr) which is a compact 2-way bookshelf speaker featuring a 5" midbass driver and 1" dome tweeter, 8-ohm nominal impedance, a -3dB points of 50Hz and 28kHz and sensitivity of 84dB at 1 meter/2.83V and recommended amplifier power of 30 - 100 watts.  It's pretty hefty at 13lbs for such a small cabinet enclosure 11" x 6.5" x 11" (HxWxD).
Next up is the 706 S2 ($1,800/pr) which steps you up to a 6.5" woofer for increased sensitivity of 88dB at 1 meter/2.83V but maintains a similar low frequency -3dB pt to its smaller sibling, which seemed a bit odd initially considering they did sound bassier to us in comparative listening tests.  While the -3dB points appear to be very similar between the two models, the 706s had a greater sense of perceived bass  because of their larger drive unit/cabinet combination and higher sensitivity making them more linear at bass frequencies. With a bigger woofer comes a bigger and heavier enclosure measuring 13" x 8" x 12" and weighing 17lbs.
The 705 S2 ($2,500/pr) is the top bookshelf speaker in the series, identical in driver compliment and output to the 706 model but it places the tweeter on top of the cabinet in its own isolated and decoupled chamber for a more refined and open soundstage.
A bookshelf speaker needs a great stand to provide a solid foundation and proper acoustical height of the speaker with respect to the listener. The FS-700 S2 ($250/ea) is such a stand.  While it doesn't come cheap, it is built incredibly well and is very inert when sand-loaded and it looks great to boot. It's the ideal speaker stand for use with 707 S2, 706 S2 and 705 S2, models and is available in Black or Silver finishes. Incidentally, when the 705 S2 is mounted on these stands, the tweeters are at the same height as the 702 S2 floorstanding model, which was a deliberate and intelligent design consideration by B&W. Attention to detail counts for a lot. 
Floorstanding Models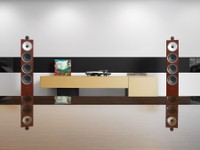 The 700 S2 series offers three ported floorstanding models with the first in the series being the 704 S2 ($2,500/pr).  The 704 S2 is a four driver, 3-way design with dual 5" bass drivers, one 5" midrange and 1" dome tweeter. The speaker is rated at 8 ohms, with a sensitivity rating of 88dB at 1 meter/2.83V and a -3dB points of 48Hz, and 28kHz, with a recommended amplifier of 30-150 watts.  It's a rather slim tower measuring 38" x 10" x 12" (with plinth) and weighing 41 lbs.  With the same retail price as the 705 S2, one has to really ponder should they opt for a tower or the best bookshelf in the series.  The answer depends on how you plan on using the speakers.  If you're running a system with powered subs, then the 705 S2 bookshelf on stands may be the way to go.  If, however, you're running a dedicated two-channel system in a medium-sized room, then the 704 S2 is your ticket.
If you want more output, more bass, and more sensitivity, than look hard at the 703 S2 ($3,500/pr).  The 703 S2 has the same number of drivers as the 704 S2 model but the bass and midrange drivers are each upsized to 6.5" and 6" respectively.  The cabinet volume is increased by about 53% measuring 40" x 12.6" x 14.6" (with Plinth) weighing 55.2 lbs. The speaker is rated at 8 ohms, with a sensitivity rating of 89dB at 1 meter/2.83V and a -3dB points of 46Hz and a recommended amplifier power of 30-200 watts. 
Finally, the flagship model 702 S2 ($4,500/pr) sports the same driver compliment of the 703 S2 but places the tweeter on top of the cabinet in its own isolated and decoupled chamber for a more refined and open soundstage.  Crossover components are upgraded and the cabinet is slightly deeper (13.3" vs 11.8" of 703 S2) allowing for a deeper bass extension of 45 Hz and a higher sensitivity rating of 90dB at 1 meter/2.83V with a recommended power amplifier usage of 30-300 watts. 
Center Channel Speakers
B&W offers two center channel speakers in the 700 S2 series.  Both models employ similar drive technology and are sonically matched to the rest of the 700 S2 lineup.
The HTM72 S2 ($800/ea) is a 2-way, 3-driver design with dual 5" midbass drivers, and 1" dome tweeter in a MTM configuration with a raised tweeter to improve off-axis performance.  The speaker is rated at 8 ohms, with a sensitivity rating of 87dB at 1 meter/2.83V and a -3dB points of 70Hz and 29kHz and a recommended amplifier power of 30-120 watts.  It's a compact center channel speaker measuring 18.9" x 6.6" x 10.8" (WxHxD) and weighing a hefty 20.1 lbs.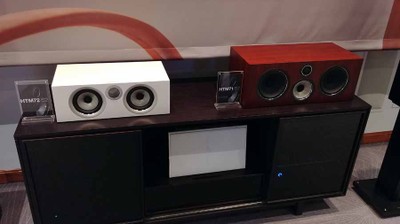 B&W HTM72 S2 (left pic) and HTM71 S2 (right pic) Center Channels

The HTM71 S2 ($1,350/ea) is a 3-way, 4-driver design with dual 6.5" bass drivers, 5" midrange, and 1" dome tweeter in a W(T/M)W configuration for optimized on and off-axis performance.  The speaker is rated at 8 ohms, with a sensitivity rating of 89dB at 1 meter/2.83V and a -3dB points of 50Hz and 28kHz, and a recommended amplifier power of 30-200 watts.  It's relatively large center channel speaker, measuring 23.2" x 8.6" x 12" (WxHxD) and weighing a whopping 39.7 lbs.
For smaller installations utilizing 700 S2 bookshelf speakers as main left/right speakers, the HTM72 S2 is the ideal solution.  For larger installs where 700 S2 towers are utilized in rooms with wide seating area, the HTM71 S2 is the better choice for wider coverage and more output. In addition, the HTM71 S2 matches the driver compliment of the 703 and 702 S2 models for the most ideal acoustical blend.
A Special Note about Amplifier Matching:
It should be noted that NONE of the 700 S2 series speakers meet the IEC 26-8 spec for 8 ohms with a minimum impedance of 80% of the nominal rating. In fact, most of the 700 S2 series spec dips down in the 3-ohm range making them really appear more like 4-ohm loads to an amplifier. With that said, do try to match any of these speakers of your choice with stout, honest amplification.  We caution the user on pairing these speakers with a low-priced AV receiver, especially the latest Atmos variants with shrunken power supplies to stuff more features and amplifiers into a same sized chassis while trying to hit the bottom of the barrel pricing at the local department store or internet retailer.
Subwoofer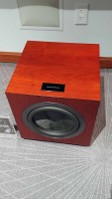 To round out the system, B&W introduced their new DB4S ($1,600/ea) 10" sealed subwoofer based on the technology of its bigger brother dual driver designs (DB1D, DB2D, and DB3D models).  The DB4S shares its drive unit technology, amplification, and preamp section with the dual-driver DB2D. It has a single 10in Carbon Aerofoil driver in a forward-firing configuration powered by a 1000 watt Hypex Class D amplifier and a digital preamp section with Dynamic EQ, Room EQ.  It offers an App-based configuration system which is very handy for those wanting to fine tune the performance of their subs using their smartphone or tablet device.
Finish Options
All 700 S2 series products (including the DB4S subwoofer) come in three finish options: Satin White, Rosenut, or Gloss Black.  There is no additional cost regardless of what finish you choose.
Listening Tests Results
Andy Kerr took us into a dedicated demo room that was fitted for immersive surround sound (with discrete height speakers, no bouncy house reflection kind).  However, the focus of our demos was two-channel, particularly the improvements the new 700 Series 2 have over the comparable outgoing CM models.
We started off with entry level models from both series, specifically the 707s vs the old CM1s.  The sensitivity of comparable models was similar so the levels were well matched when switching between speakers. This wasn't a blind test or even an instantaneous switch over between the two models. However, in my experience I've always found if differences were significant enough between audio stimuli and the comparison switch times is relatively short enough, the listener can usually discern differences with a good degree of accuracy.  If this wasn't the case, how could one compare driving dynamics between two cars or the palatability between burgers from two different restaurants? 
The comparison between the 707 S2 vs the old CM1 demo revealed how much more effortless and less colored the 707s sounded, especially in the upper midrange.  They just sounded much more open.  I've always had my reservations about Kevlar cones and they were really confirmed once I heard the difference of their new Continuum cones.  On a track by Ryan Adams - Stars Go Blue, the bass was tight, and the speakers just sounded very musical with good imaging.  I felt as if the 707s sounded like a larger speaker than the CM1s.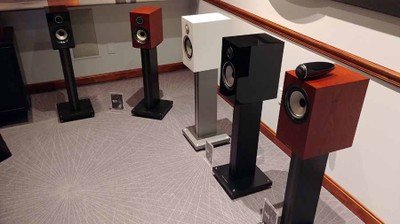 Next up was a track from deadmau5 feat - Seeya which starts off as a gritty analog sounding vinyl record until the bass kicks in. The 5" woofers of the 707s tried their best to convey the bass in the track but it was evident a powered sub would have really helped here. Despite that, the bass was tight and punchy even when playing close to the dynamic limits of the speaker. The 706s did a better job at belting out the bass on this track thanks to the larger 6.5" woofer.  I noticed the mids were a tad more recessed in comparison but that's likely due to perception caused by hearing more of the bass.
A high-resolution recording of a blues tune from Macy Grey called Annabelle was used to showcase the 705's sonic improvements over the 706 model due to the tweeter being completely decoupled from the cabinet and located above it in its own enclosure.  The improvements I heard were subtle but noticeable. The 705s simply sounded more open and the resonance of the strings from the standup bass had more pronounced sustain and decay. I must admit I was surprised to hear a difference as I always felt that top mounted tweeter was more for show than for a real performance advantage.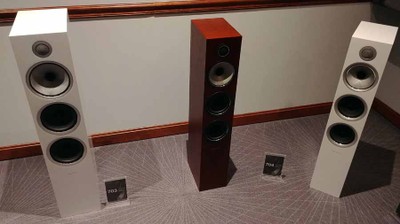 It was time to move on to floorstanding speakers. We compared the CM8s to the new 704s using a jazz track from Hiromi called Dreamer.   The CM8 sounded a bit boxy with a forwardly biased sound.  It wasn't bad per se but these speakers portrayed a sound signature I often equate as "the British sound."   When we flipped to the 704s, that all disappeared.  Instead, I heard a much more open soundstage, as if the box was taken away from the speaker.  The highs were more detailed and the sound was just more effortless.
A track called Electrified by Boris Blank (Yello) was used next to demonstrate bass capabilities. I never heard this song but it had a very Bondesque sound to it initially but then turned more into a nightclub mix to showcase bass capabilities of a speaker system.  I was mighty impressed with the clarity of the synthesizer and tightness of the bass the little 5" woofers were able to muster.  Switching over to the 703s proved the 6.5" woofers were more up to the task of delivering deeper bass and a more impactful soundstage.
In our final listening session, we got a chance to hear their flagship 702 model.  I heard the same opening up of soundstage like I did going from the 706 to 705 bookshelf versions thanks to the fully decoupled top mounted tweeter. A rather odd track from Scout Niblet called "Gun" made the benefits of the decoupled tweeter very apparent, especially with the hits of the very pronounced pop of the snare drum.
Conclusion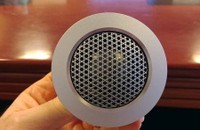 It was clear to us in our brief demo time that B&W's design goals were achieved with their new 700 S2 series.  Improved materials, optimized computer FEA modeling, and analysis have lead to a speaker line with significant reduction in resonances from the driver baskets, housings, and cone materials.  What's left is a much purer reproduction of sound, truer to the source.  This was clearly demonstrated between outgoing CM models and similar 700 S2 counterparts.  
If I had to pick a personal favorite or speaker I'd be most interested in reviewing from what I heard at this unveiling, it would probably be the 705s.  I'd really like to hear a set with a pair of their new DB4S subwoofers in my own listening room.  I suspect the sonic results would be nothing short of stellar and quite frankly the look of these speakers inspires pride of ownership which adds immeasurable value to a true Audioholic. 

Unless otherwise indicated, this is a preview article for the featured product. A formal review may or may not follow in the future.
Confused about what AV Gear to buy or how to set it up? Join our Exclusive Audioholics E-Book Membership Program!
seiferflo posts on October 03, 2017 16:14
Hi Gene, Hi all, good to be here.

What stereo integrated amp would you recommend to drive a pair of 702s2 without spending as much as the speakers for it, but making sure the amp won't restrain them?
Ideally, I'd prefer a musical one even if I have to sacrifice some power initially, as I would save for a power amp later on.

Thanks for your help.
Pogre posts on September 14, 2017 12:35
Step away from the trash can and slowly turn around…
AcuDefTechGuy posts on September 14, 2017 11:13
Anthony Fiorella, post: 1210361, member: 83629
Shoot, guess I need to throw my CMs in the trash, now that the 700 line is coming out…
You have absolutely nothing to worry about.
Keep them away from the trash can.
NINaudio posts on September 14, 2017 10:00
Anthony Fiorella, post: 1210361, member: 83629
Shoot, guess I need to throw my CMs in the trash, now that the 700 line is coming out…
How about you throw them my way instead?
Anthony Fiorella posts on September 14, 2017 09:04
Shoot, guess I need to throw my CMs in the trash, now that the 700 line is coming out…
Post Reply