Legacy Audio Powerbloc2 Dual Mono Class D Amplifier Preview

Legacy's PowerBloc2 Stereo Power Amplifier
Summary
Power per side: 325 watts per channel x 2 @ 8 ohms, 650 watts per channel x 2 @ 4 ohms
Inputs: 2 balanced XLR, 2 unbalanced RCA
Outputs: 2 pair gold plated safety approved five-way binding posts
Damping factor: 1,000< 1kHz
Voltage Gain: 27.4 dB
Dynamic Range: 117 dB
Peak Current: 30 amps/channel
THD:0.005% at rated output
TIM:0.0045% at rated output
Dimensions: 3" H x 17" W x 14" D
Weight: 20 lbs
Executive Overview
Just five years ago, if you had mentioned Class D in the same breath as "audiophile amplifier," you'd rightfully be laughed out of the room.  From the way Class D amplifiers sounded to their inability to handle low impedance loads, they weren't anywhere close to playing in the major leagues.  
Today, all that's changed.  Here at Audioholics, we feel that Class D designs have finally reached a level of performance that can't be overlooked, especially in closed loop designs.  Some of the venerable, high-end brands are seemingly in agreement. They too have started to roll out Class D technology in their amplifiers, the latest of which is Legacy Audio with their Powerblock² Dual Mono Amplifier. While Legacy Audio is perhaps best known as a high-end speaker manufacturer, amplification has been an integral part of the company's DNA since they have been building studio-grade powered speakers for years.
As its name implies, the Powerblock² is a dual mono design, which is the preferred design in a stereo amplifier.  In a dual mono design, both of the amplifier channels are completely independent of each other including having independent power supplies.  This eliminates any possibility of cross-talk between channels.  If there is also any problem or failure in one of the channels, the other remains unaffected. 
ICEpower to the rescue
At the heart of the new Powerblock² is the 700ASC2 ICEpower module.  The 700ASC2 is the latest ICEpower module and integrates essential features, such as a comprehensive protection scheme against over-current or over temperature.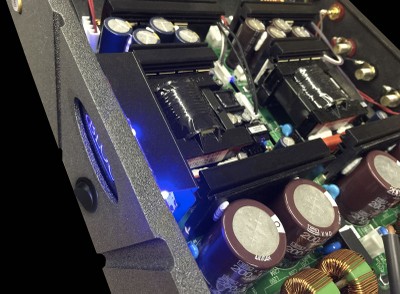 The Powerblock² utilizes two 700ASC2 modules with a heavy 1/4-inch aluminum heatsink plate strapped across the units
The 700ASC2 combines a high-performance Class D amplifier with a universal mains switch mode power supply.  Legacy Audio says that the regulated power supply ensures that the audio application obtains the same power regardless of AC mains voltage.  The Powerblock² utilizes two 700ASC2 modules with a heavy 1/4-inch aluminum heatsink plate strapped across the units. 
Legacy told me that before deciding on ICEpower, they experimented with numerous full range designs from other manufacturers.  Of all the different options they looked at, Legacy Audio was consistently impressed with the ICEpower ASC 700's quality, reliability and overall sonic character. 
Two of the ICEpower technologies that were of particular interest to Legacy Audio were the Controlled Oscillating Modular (COM) and Multivariable Enhanced Cascade Control (MECC).  
COM is a self-oscillating, closed loop system.  Legacy Audio says that this architecture offered a host of advantages over other feedback designs.  COM is said to surpass non-linearities in the output stage, and delivers a high power supply rejection ratio of 60dB which is touted as a great improvement over conventional Class D design.   
MECC applies a secondary feedback loop after the output filter in order to compensate for non-linearities introduced by the output filter. The inner loop compensates for non-linearities related to the modulator and power stage.  Legacy Audio says that when used together, COM and MECC produce very low amplifier output impedance that gives highly precise bass control that can surpass common linear Class AB amplifier designs.  At the very minimum, this type of compensation should reduce sonic variability of this amplifier under various loading conditions which has plagued previous Class D amplifier designs.
Because of the efficiency of the ICEpower Class D design, far less power is wasted both during use and at idle.  But efficiency isn't just about reducing your electric bill.  Legacy says that increased efficiency (aka, less wasted heat) helps extend the life of the amplifier because it doesn't build up heat on the circuitry. 
Efficiency Improves Raw Amplifier Power Delivery

Those who wonder about Class D's ability to deliver raw power need not worry.  True to their high-end speaker pedigree, Legacy says that the Powerblock² Dual Mono Amplifier will give power-hungry speakers up to 30 amps of peak current per channel and can drive a wide range of speaker loads.  
In simple terms, the Powerblock² is rated to deliver an output power of 2 x 325 W into  8 Ω and doubling down to deliver 2 x 650 W in 4 Ω. Legacy Audio told me that the amplifier utilizes ICEpower's patented HCOM modulation and control technique to produce audiophile sound quality with very low total harmonic distortion (THD) and noise levels.  Just looking at the specs you'll see a high damping factor (1,000 <1 kHz), low distortion (THD 0.005%), and high dynamic range (117dB).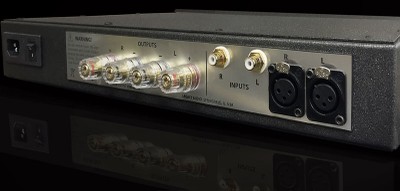 The Powerblock²'s rear panel is spartan but has just about everything you need.
Unlike previous Class D designs that were limited to a 20kHz frequency extension due to aggressive brickwall filtering, the Powerblock² is designed to reproduce an ultra-wide bandwidth of 1.5Hz to 70kHz.  This should  ensure excellent linearity right to the limits of human hearing and again reduce variability based on speaker load.
A New Amplifier for a New Frontier
In addition to supporting traditional speakers, Legacy Audio speaker owners will appreciate the fact that the Powerblock² can be used in pairs with Legacy Audio's DSP based processors/crossovers, such as the Wavelaunch or Wavelet that Legacy Audio says helps improve the overall system performance, but doesn't specify in what areas that performance increase takes place.
On the physical front, the new Legacy amp is incredibly slim and functional at only 3-inches tall and 14-inches deep.  If you're working in custom installations or need high rack density, this Legacy Audio amplifier is a superb solution. There are two balanced (XLR) and two unbalanced RCA inputs plus high quality five-way binding posts which offer you all the flexibility you need.
Legacy Audio stated  that the goal of the Powerblock² was to "supply a quality amplifier that is budget friendly enough to be utilized for multi-amplification and home theater."   It looks like they have succeeded.  Given the pedigree and power, the Powerblock² is very reasonably priced at $1,600. If the Powerblock² meets its potential, it has a very high likelihood of becoming one of high end audio's super values.  When we get one in for testing, we will report back and let you know.

Unless otherwise indicated, this is a preview article for the featured product. A formal review may or may not follow in the future.
Confused about what AV Gear to buy or how to set it up? Join our Exclusive Audioholics E-Book Membership Program!