Red Dragon M500MKII & M1000MKII MonoBlock Amplifier Review
Red Dragon M500MKII & M1000MKII MonoBlock Amplifier Review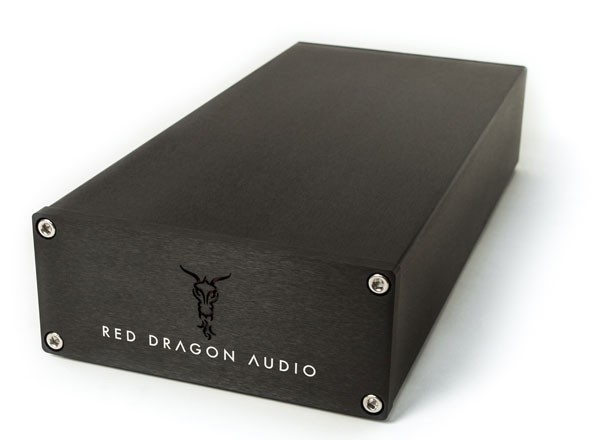 The 1000 watt Red Dragon M1000 MkII Monoblock Amp: Power in a small package
M1000 MkII Ampifier:
550 watts at 8Ω, 1100 watts at 4Ω

Peak Output Current: >50amps
Dynamic Range: 120dB
Nominal Voltage Gain: 27.2dB
Sensitivity: 2Volts
Minimum Load: 2Ω
Short circuit, Thermal & Over-current protection
RoHS compliant
Frequency Response: 20Hz-20kHz ± 0.3db
Typical THD+N 8Ω (10W out) 0.0045%
Dimensions: 16" x 7" x 3"
Weight: 12 lbs
M500 MkII Amplifier
250 watts at 8Ω, 500 watts at 4Ω

Max Current Output: 30amps
Dynamic Range: 121dB
Nominal Voltage Gain: 30.7dB
Sensitivity: 1.4Volts
Minimum Load: 3Ω
Short circuit, Thermal & Over-current protection
RoHS compliant
Frequency Response: 20Hz-20kHz ± 0.3db
Typical THD+N 8Ω (10W out) 0.0045%
Selectable Mains: 115V or 230V
Pros
Lots of power in a small footprint
Light and cool to the touch
Solid build quality
45-day in-home trial
Cons
Amps (especially M1000) may not mate well with low impedance speakers
If you've ever been to a high-end audio show, then one of the first things you'll notice is the wide variety of manufacturers you've never heard of.  Even though these companies and their products may not be "household names" you'd be taken aback by the audio quality and craftsmanship.  They often compete with and even exceed what you'd normally find in the more mass-market, audiophile products.   
Unfortunately, many of these boutique vendors don't have an extensive dealer network.  Some simply sell direct to the consumer.  Did you know that particular audio magazines won't even conduct reviews on equipment unless it's sold at a minimum number of dealers?  Consequently, you won't run into some of these boutique brands outside of an audio show. I think it's a good thing when some of these passionate, smaller companies have the opportunity to be given the spotlight.  Red Dragon Audio is one such company.
About Red Dragon Audio
Red Dragon Audio was founded in 2005 by Ryan Tew and is based in Utah.  For those of you who may be unaware, Utah is home to many audio companies including Wilson Speakers and Kimber Cable.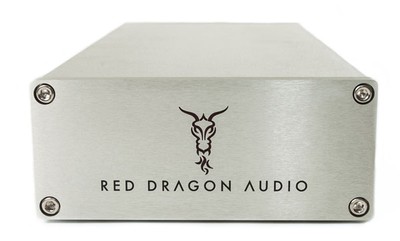 If you ever get a chance to speak with Ryan, his passion for music will become immediately evident.  He attributes his love for music to his maternal grandfather and his mother—both of whom were lovers of music.  Music, he will tell you, is in his blood. 
Ryan used to work for a speaker manufacturer in Utah.  However, when Ryan saw that they didn't want to move into the electronics end of the market (something he wanted to see happen) Ryan's wife encouraged him to pursue his dream and start his own audio company.  How often do we hear about that kind of support from wives in audiophile circles?!
Ryan Started selling his first product, the $6,000 Red Dragon Leviathans, through a small dealer network. He has now started selling the current generation of amplifiers—the M1000 MkII and M500 MkII—directly to consumers.  Selling direct has allowed Ryan to reduce the price of his current line of amplifiers substantially and offer consumers much better value.  At the same time, it's enabled Ryan to be in direct contact with his customers.  Personalized customer service is important to him and his philosophy.  It's one of the things that Ryan prides himself in.
You can't audition the amplifiers at a local dealer, but you can demo them at home.  In fact, Red Dragon Audio has a fantastic in-home trial policy.  You can demo any of the amplifiers in your own home with your own equipment for 45 days with free shipping.  If at the end of that 45 day trial period, you don't like the amps for whatever reason, Red Dragon will take the amps back—and even pay for the return shipping.  It literally costs you nothing to try the amps.
Why Class D Amplifiers?
Ryan started making amplifiers based on Class D technology using ICEpower amplifier modules from Bang & Olufsen.  Red Dragon amps aren't alone in using the B&O amplifier modules.  In fact, many high-end amplifier manufacturers of Class D amps such as Bel Canto, Wyred4Sound, and others use the exact same B&O ICEpower modules in their amps.  We covered the widespread use of the B&O amplifier modules in our articles, "Attack of the Clone Amplifiers" and "Switching Amplifier (Class D) Basics".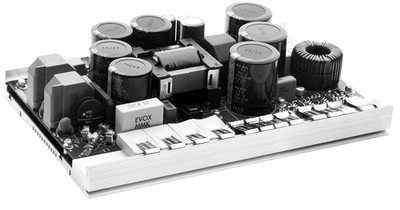 The B&O ICEpower 1000ASP amplifier module is used by many Class D amplifier manufacturers puts out 550w into 8 ohms and doubles to 1100 watts into 4 ohms.
I asked Ryan why he chose Class D as opposed to typical Class AB or Class A amplifier technologies.  His answer wasn't what I expected: he saw regulations from the European Union and other governing entities looking at the power consumption of electronic equipment while at idle.  If the regulations started becoming more stringent or hitting the audio market, then Class D would be the wiser design choice.
Much has been written about the Class D topology so I won't go in lots of detail.  All you need to know is that there are two clear benefits of Class D:
First is its high efficiency when compared to traditional Class A or Class AB designs.  This translates into less electrical use. 

Secondly, because of its high efficiency Class D amplifiers don't give off anywhere near the waste heat as Class A and Class AB designs.  As a result, you can have incredibly powerful amps that are relatively small in size, light in weight, and don't have massive heat sinks. 
When I asked Ryan about some of the bias against Class D amplifiers over the years from some audiophile circles, Ryan simply said that people should test out the amps in their own setup and let their own ears decide.  Fair enough.
Agreeing on the Testing Parameters
Red Dragon currently makes two amplifier models: the M500MkIIand the M1000MkII.  Both are monoblock amplifiers.  The M500MkII is based on the B&O 125ASX2 ICEpower module.  The MK1000MkII is based on the B&O 1000ASP ICEpower module.
Detail of the B&O 125ASX2 amplifier module.
The names are based on their 4 ohm rated power. The M500MkII model is really a 250w into 8 ohms and 500w into 4 ohms monoblock.  The M1000MkII is a 550w into 8 ohms and 1100w into 4 ohms.  Ryan suggested that I take both models out for a spin.  That way, I could compare and contrast differences between the power capabilities of the two amps. 
Because I'd have the review samples right in the middle of all the holidays (Thanksgiving, Christmas, and possibly New Year) it created a bit of a logistical challenge.  Typically, we like to have detailed measurements of any amps we review; however in this case, it wouldn't be logistically possible with the time constraints. 
Gene DellaSala (Audioholics president) and I discussed what the alternative options might be.  Gene suggested that I try and get the Red Dragons connected to a setup that featured power hungry and fairly difficult to drive speakers.  Using such a setup would likely expose any issues the amplifiers might have. 
When we've tested some Class D amps at Audioholics, we've found that some ICEpower modules struggle with speakers that dip into 4 ohms or lower at higher frequencies. Additionally, some Class D amplifiers have had some issues delivering their rated power at full bandwidth and haven't exhibited a linear phase response to 20kHz. 
My SVS Ultra Towers are relatively easy to drive speakers and likely wouldn't have made the Red Dragon amps sweat all that much.  Fortunately, I have several audiophile friends and colleagues in my area.  I had a variety of speakers we could have paired with the Red Dragons.  My initial instinct was to hook them up to a pair of Magnepans. I decided against it when Ryan told me he had another individual running the Red Dragons on a pair of Magnepans without issue.
After exploring some other speaker possibilities Gene and I agreed that I'd test the Red Dragon amplifiers on a pair of Revel Ultima2 Salons.  In case you're not familiar with the Revel Ultima2 Salons, since their introduction circa 2007, the Ultima2 Salons have won dozens of industry accolades and several "Speaker of the Year" awards.  The Salons are wonderful speakers, but, they need a lot of good clean power to sound their best.  The Ultima2 Salon's impedance drops to between 3 and 5 ohms in the 17Hz to 600Hz range.  And, the speakers exhibit some pretty drastic phase changes above 1kHz (you can check out measurements of the Ultima2 Salons at both SoundStage and  at Stereophile if you're interested).  If the Red Dragons amps had any issues, then the Salon2s would likely expose them since they are incredibly accurate and revealing speakers. 
Having listened to the Revel Ultima2 Salons over the years in various settings, I was very familiar with their sound and they met our criteria of being power hungry and presenting difficult load and phase challenges to the amps—especially at those lower and higher frequencies.  Much to his credit, Ryan was completely agreeable to whatever setup Gene and I decided upon.  Ryan wasn't aware of another customer running the Red Dragons on Salon2s so that settled it.
We tested the Red Dragon amps with Revel Ultima2 Salons and SVS Ultra Towers.  Both models are full range speakers.

I want to mention specifically that on his own Ryan offered to ship amplifiers down to Florida for measurement at a later date.  He wasn't shy about putting the amps through any tests we wanted.  He told me flatly that he was a numbers guy too and welcomed any in-depth scrutiny of the amps.  Ryan's unabashed willingness and openness were wonderfully refreshing.

Confused about what AV Gear to buy or how to set it up? Join our Exclusive Audioholics E-Book Membership Program!
See also:
Recent Forum Posts:
TheoN posts on January 28, 2014 22:48
AcuDefTechGuy, post: 1013828
All I can say is, that dragon picture on the front of the amp looks timid and it isn't even red.
I know! Trying to capture the actual color of the "red" in the Red dragons just was beyond the capabilities of the camera. The red LED either came out magenta or a light red. I borrowed an SLR digital camera and that was the best I could capture. I can vouch that it is red
AcuDefTechGuy posts on January 28, 2014 20:29
All I can say is, that dragon picture on the front of the amp looks timid and it isn't even red.
jliedeka posts on January 28, 2014 15:37
+1 for Power Cube, it makes the performance easy to see at a glance.

I live in a medium sized city. We used to have at least three specialty audio shops. Now we're down to one.

Jim
RichB posts on January 28, 2014 13:07
Hi Theo,

Thanks for the reply.
I would love to see AH measure the M500 or the M1000s.

I like the PowerCube (or something like it) that gives an insight into an amp ability to drive speakers with difficult impedance and phase angle loads.
If an amp can drive difficult loads, has sufficient power and low distortion, then I would think pairing is less complicated.

I have the Salon1's which appear to be a bit more difficult to drive than the Salon2's.
Trying amps is no simple task, but at least the new Class-D amps are easier to handle.

Unfortunately, high-end audio shops are endangered species.
I went into one on Saturday, and all the salesmen appeared to be in their 60's
It makes me wonder if it will be there 10 years from now. It is in a location where the real estate is valuable.
At some point, the labor of love may end…

- Rich
TheoN posts on January 28, 2014 11:36
Hi Rich,

I can't say for sure, but if those were 400wpc into 4ohms then those were probably older ICEpower modules. The newer ICEpower modules in the Mk500s had no problems with the Salon2s.

Now here's the interesting thing. The M1000s are rated into 2ohm loads and the M500s are rated into 3ohm loads. The real issue, as Gene had pointed out in our many conversations, was really the load at a specific frequency or frequencies.

Based on my experience with these amps and that two sets of speakers—one of which was a Salon2—my hunch would be that if you tried the current M500 MkIIs you'd have no issue with your Salons—I don't know whether you have the Ultima1 or Ultima2, but I don't think it would make a difference.

Talking about amps always seems to stir up some great, healthy conversation. But one of the take-aways continues to be how important listening, pairing, and measuring all are. To me personally, that pairing is really important and sometimes you really need to see how a particular amp will react to a particular set of speakers. The SVS Ultra Towers are by no means slouchy speakers and they loved both amps and I found them to be a very capable match.

Thanks for your comments! It's much appreciated.

Theo
Post Reply