B&W C5 In-Ear Headphones Review
B&W C5 In-Ear Headphones Review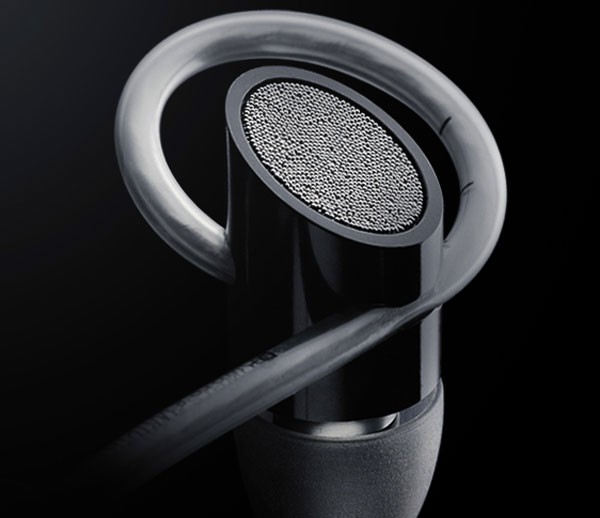 B&W C5 in-ear monitors
Technical features:
Secure Loop design
Micro Porous Filter Neodymium magnets
CCAW coil
Ultra light 9um thick diaphragm
Transparent twisted cable (OFC)
iPhone compatible remote control
Description:
Intra aural (ear canal) headphone with noise isolation
Drive units: 2x Ø9mm
Impedance: 32 ohms
Frequency range: 10Hz to 20kHz
Distortion (THD): <1%
Sensitivity: 118dB/V at 1kHz
Inputs 3.5mm stereo mini jack (on cable)
Cable length: 1.2m Weight: 20g
Finish Enclosure: Aluminium and tungsten
Apple compatibility: The remote and mic are supported only by iPod nano (4th generation and later), iPod classic (120GB, 160GB), iPod touch (2nd generation and later), iPhone 3GS, iPhone4 or later and iPad. The remote is supported by iPod shuffle (3rd generation or later). Audio is support by all iPod models. Audio will work with most computers, phones and music player with a standard headphone output.
Pros
Solid build quality
Great audiophile sound
Good rejection of audio transfer when cord is rubbed
Ear loop works great to keep monitors in-ear
Excellent passive noise canceling without isolating you completely from the outside world
Cons
Microphone is so-so
Frustratingly useless carrying case
Introduction
Venerable high-end speaker maker Bowers and Wilkins, affectionately known as B&W, entered into the consumer marketplace years ago with several stand-alone speaker systems designed to support Apple's iOS devices and AirPlay technology.  Just as they established a name for themselves with their high end speakers, B&W has quickly earned similar praise for their iOS-compatible systems.  
Continuing their foray into the consumer electronics market, B&W has now released an entire headphone lineup consisting of the P7 over the ear headphones, the P5 on-ear headphones, the P3 foldable on-ear headphones, and the C5 in-ear monitor, which are the subject of this review.  
Unique Features
Even though the C5 are B&W's first-ever in ear-monitor design, the monitors aren't a copy of what's been previously done.  Instead, B&W has come up with some truly unique and stylish approaches to the challenges of traditional in-ear monitor designs.
The first and arguably most distinctive design element of the C5 monitors is what B&W calls the "secure loop design".  The secure loop design looks like an extension of the earphone that literally "loops" into the inner ridge of your ear.  This design innovation is said to help keep the headphones in place so that they don't fall out during activities.  
The second immediately noticeable design feature is the Micro Porous Filter that B&W claims acts as a diffuser for a more spacious sound than you traditionally get in an in-ear design.  Cosmetically, the Micro Porous Filter gives a sleek look to the earphones.  It looks like the tips of a thousand tiny silver strands at the back of the ear phones.  
The third, but not outwardly visible design feature is the weighting of the earphones with Tungsten.  B&W states that they have included the Tungsten weight in the inner casing of the earphones that gives both a more balanced feel to the headphones and also helps prevent them from falling out from your ears.  When you pickup the headphones in your hands, the Tungsten balancing is immediately noticeable.
The fourth, but not necessarily unique feature is the snug bullet-shaped design that can accommodate different sized plugs for a secure fit, helping isolate outside noise.  Reducing ambient noise will help you hear the music clearer at lower volumes—your long-term hearing will thank you for.
The C5s also include an MFI Apple-compliant remote control stick.  This control stick is located on the cord of the left earpiece and will allow you to pause, play, skip forward, skip backward, and launch Siri.  Like most controls sticks, it also doubles as a microphone for your phone or video chats.
The C5 terminates in a standard, 3.5mm plug that has an high barrel collar.  On top of the barrel collar, there's an additional, flexible stress tube where the collar ends and meets the cable.  The extra stress tube prevents the rigid collar from cutting into the cord or having the cord bend at a 90 degree angle. 
On the plus side of things, the collar design is extremely rigid and well done.  For the cable to loosen, you will need to apply some darn excessive pulling and bending force or abuse.   Thankfully, the collar is thin enough to fit through most mobile phone or tablet cases.  I tested the C5s with  Apple's own iPhone 5s case, whose design is unforgiving to any bloated 3.5mm plug.  Thankfully, the C5's tubed collar is designed to absolute perfection and it fit through the case's headphone hole perfectly.  On the minus side, the collar is long and extremely rigid.  I worry about a person accidentally snapping the collar or bending the 3.5mm plug if they tend to have their phone in their back pocket.  It's simply something to be aware of.
Similar to most headphones, the C5s come with a "Y" protector where the left and right earpiece cords join with the main cord.  The Y collar on the C5s is a hard-cased barrel that will provide ample protection in case one of the cords is pulled with force.  Once again, it's a well executed design.
Purchasing Note:
Like B&W's other consumer offerings, the C5 in-ear monitors are available at select retailers like the Apple Store and Magnolia centers at Best Buy in addition to certified B&W dealers.  Even though you can buy the C5s at some consumer outlets, buyer beware: this doesn't mean you can just go to Amazon and purchase a pair.  You should still check B&W's web site for a listing of authorized dealers.  If you decide to purchase a pair of C5s from an unauthorized dealer, you will be out of luck with any warranty.
Confused about what AV Gear to buy or how to set it up? Join our Exclusive Audioholics E-Book Membership Program!
See also:
Recent Forum Posts: