Audio-technica ATH-CKS99 Solid Bass In-ear Headphones Review
Summary
Type: Dynamic
Driver Diameter: 13 mm
Frequency Response: 5 - 25,000 Hz
Maximum Input Power: 100 mW
Sensitivity: 106 dB/mW
Impedance: 16 ohms
Weight: 6 g
Cable: 1.2 m (3.9'), Y-type
Connector: 3.5 mm (1/8") L-type, mini-stereo, gold-plated
Accessories Included: Pouch, ear tips (XS/S/M/L)
Executive Overview
This review is about an experiment. Can consumer-level in-ear headphones be used as live in-ear monitors? We thought so, so we acquired a dozen of them from audio-technica and set them to work at a local church. You see, the worship band was converting from on-stage monitoring to in-ear monitors. Here's what happens—you throw a bunch of guitarists, four singers, a bassist, a keyboardist, a pianist, and a drummer on stage. Now give them each a monitor that fires up at them so they can hear when they need to perform well.
You get a LOT of stage volume. Switching to in-ear monitors means that, not only do you reduce stage noise by getting rid of a bunch of monitor speakers, you also allow each musician to customize their own individual monitor mix.
We went all out on this, so we replaced every monitor on stage with an eight-channel Ethernet-based monitoring system. We left the guitar amps on stage because we mic them up for live sound, and of course the drums were still acoustic. The difference, though, was staggering. But let me get back to the earphones.
What was immediately apparent was that the Audio-technica ATH-CKS99's really worked well for most of our musicians. The Solid Bass mechanism afforded by utilizing a dual chamber in the earphone itself meant that our bassist and drummer in particular didn't feel like they were giving up much. They were just as able to get into the groove of what they were doing, and both reported that the bass was tangible, like it had a real punch to it.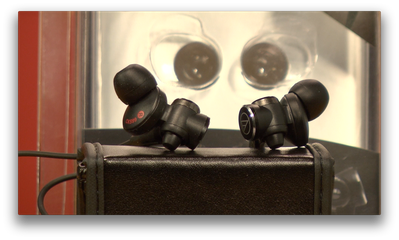 ATH-CKS99 headphones and case

I have to also mention that we simultaneously tried some actual pro-level in-ear monitors. In the end, half went with the audio-technica's and half with the other brand. Singers tended to prefer the enhanced midrange of the studio in-ear phones, while the bass-heads loved the AT's. Guitarists, we found, could go either way.
I listened to the headphones as well. They're incredibly stable in your ear, so they're easy to use even when you move around quite a bit. Bass was indeed accentuated, but it had more authority than boom, and I didn't feel like the midrange was sacrificed entirely, just slightly recessed. This was most apparent in songs featuring saxophone solos and anything with intimate female vocals. The highs were clear, and cymbals had a nice natural decay with very little distortion—even when you cranked up the volume -- which is precisely what happens on stage. Overall, I really like how these sound—and they're extremely comfortable to wear. That's two for two.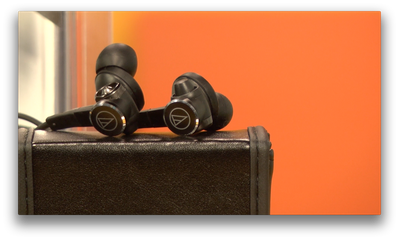 ATH-CKS99 headphones

As in-ear monitors, one thing you need to be aware of is the way the cord lays. These drop straight down like a traditional earphone, while monitoring earphones are typically designed to hide the cord around the top of your ear and drop down the back of your neck. Feedback was that it wasn't a big issue, and audio-technical makes its M2 and M3 wireless in-ear monitors for those who want to go full-out with a true monitoring system.
So our experiment worked—at least partially. If you want to use consumer-level earphones like the ATH-CKS99's, you can pull it off with great success. And the $115 street price will save you a bunch of money over specialty in-ear monitoring products. For those looking to step up into the world of in-ear monitors this is a great option, and one that opens up a lot of doors to getting better sound on stage within a smaller budget. And if you just want a great pair of earphones, these are one of the more well-rounded products I've listened to. For satisfying bass that doesn't compromise or take over, you have got to give the ATH-CKS99's a listen.
Our question for this video is: Do you like to "feel" your bass when listening to headphones? Are you able to get that from the in-ear models you currently use? Let us know by commenting here or on our Facebook page at facebook.com/audioholics. And visit us on our Youtube channel at youtube.com/audioholicslive. I'm going to go listen to some tunes… and maybe learn to play guitar...
Confused about what AV Gear to buy or how to set it up? Join our Exclusive Audioholics E-Book Membership Program!
Recent Forum Posts: