Marantz SR7012 9.2CH AV Receiver Review
Marantz SR7012 9.2CH AV Receiver Review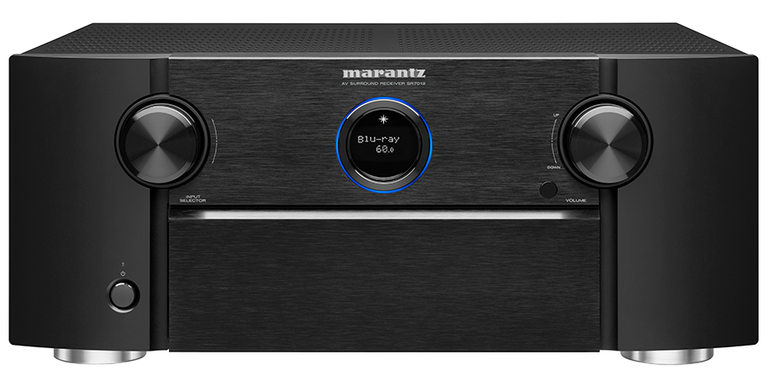 Marantz SR7012 AV receiver with Alexa voice control
9.2 channel AV Receiver with 9-channels of built-in amplification.

125wpc (with two channels driven into 8 ohms)

Support for 11.2 channel configurations including Dolby Atmos, DTS:X 7.1.4 configurations and Auro-3D 10.1 with voice of God.
Alexa voice control along with IP, IR, and RS-232.
4K/60Hz full-rate passthrough, 4:4:4 color resolution, HDR (HDR10, Dolby Vision, and HLG), BT.2020.
8 HDMI inputs with full HDCP 2.2 support.
Assignable amplification channels.
Three HDMI outputs. Two parallel and independently switchable Zone 2 HDMI.
Support for eARC (via forthcoming firmware update)
Dual-band 2.4GHz and 5GHz Wi-Fi.
Support for every hi-res audio format that matters including DSD (2.8/5.6-MHz), FLAC, and ALAC.
Built-in Heos multi-room audio streaming.
AirPlay, AirPlay 2 (via future firmware update), Bluetooth, Internet Radio, Spotify Connect, Tidal, Deezer, and other streaming services.
Three independent audio zones.
11.2 channel pre-outs.
Solid build quality and bullet-proof performance.

Sleek design and footprint.
Audyssey MultEQ XT32, LFC, Sub EQ HT, Dynamic Volume and Dynamic EQ



Colour-coded speaker terminals, Setup Assistant, Marantz 2016 AVR Remote App

Intelligent ECO mode with off/on/auto setting

Advanced multiroom options; 11.2-channel processing with pre-outs for all channels; RS232 Control; Crestron Connected
Weight: 31.3lbs

Pros
Support for 11.2 channel configurations including Dolby Atmos, DTS:X 7.1.4 configurations and Auro-3D 10.1 with voice of God.
Alexa voice control along with IP, IR, and RS-232.
AirPlay 2 support via forthcoming firmware update.
4K/60Hz full-rate passthrough, 4:4:4 color resolution, HDR (HDR10, Dolby Vision, and HLG), BT.2020.
Assignable amplification channels.
Three HDMI outputs. Two parallel and independently switchable Zone 2 HDMI.
Support for eARC and DTS Virtual:X (via forthcoming firmware update) add future-proofing value.
32-bit AKM D/A converters on all channels and support for hi-res audio formats.
Built-in Heos multi-room audio streaming
Audyssey MultEQ XT32 including support for the Audyssey MultiEQ Editor app.
Cons
Full 7.1.4 Dolby Atmos and DTS:X setups requires external stereo amplifier.
Audyssey MultiEQ editing app isn't free.
Auro-3D 10.1 voice of God speaker takes up second subwoofer output.
Alexa voice control has limitations.
No Google Home integration.
Marantz's SR7012 AVR is a powerhouse 9.2 channel receiver packed with the latest and greatest audio, video, streaming, and smart home technologies. The SR7012 will stand toe-to-toe with the competition at the $2k price-point.
The SR7012 sits just below Marantz's flagship SR8012 AVR. Marantz's SR8012 commands an $800 premium due to several differences such as a substantially larger power supply, which uses a Toroid vs ecore; a copper plated chassis; and two more on-board amplification channels (a total of 11). Whether or not Marantz's SR7012 or SR8012 is a better value will depend on your specific performance and installation needs.
The SR7012 is billed as a 9.2-Channel receiver, reflecting its on-board amplifier channels. The Marantz can natively power a 7.1.2 or 5.1.4 Dolby Atmos/DTS:X and 9.1 Auro-3D immersive audio setups. However, the SR7012 has a cool little secret. It has an 11.2-channel preamp section capable of driving a full 7.1.4 Dolby Atmos/DTS:X setup or 10.1 Auro-3D if you add an additional two-channel amplifier.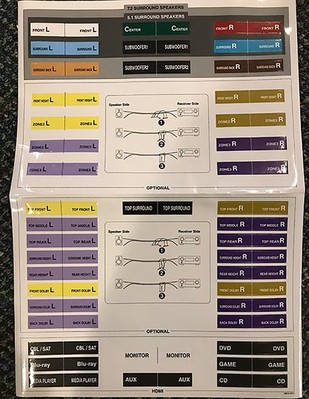 The SR7012 comes with a complete set of speaker cable labels that are color coded to the rear terminals to help you keep your connections organized.
The SR7012's nine channels of on-board amplification are rated at 125w (with two channels driven into 8 ohms).  It's worth pausing and noting that Marantz, like many AV receiver companies, doesn't rate the receiver with All Channels Driven (ACD). Consumers, therefore, don't always truly know what performance they are getting from an AVR's amplification section. Here at Audioholics, we've called out manufacturers as you can see on our YouTube video, The A/V Receiver Power Ratings Game and advocated that all AVR manufacturers should provide power specs with all channels driven into 8 ohms for a true comparison.
Further, some companies cheat the specs by giving their power numbers into 6 ohms at 1kHz with 10% THD and only 1CH driven! Here at Audioholics we at least want a full bandwidth, two-channels driven into 8 ohms under 0.1% THD+N. It's good to see Marantz list the 2CH full bandwidth power rating first on their spec sheet and they also offer a 70% guarantee.
When we pressed Marantz on the meaning of their 70% guarantee, they reported the following:
SR7012 Rated Power Output: 90.5W x5ch (72.4% of 125W) at THD+N = 0.05%
S&V Magazine bench tested the SR7010 predecessor model and found it to deliver 83.2Wx7ch @ 0.1% THD or 103.4Wx7ch @ 1% THD, 8 ohms, 1kHz so there is no doubt that the SR7012 has quite a capable amp section for a receiver of this price class.
 AV Receiver Power Ratings Game YouTube Video Discussion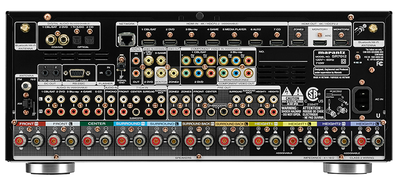 Detail of the Marantz SR7012's rear panel. The built-in amplification channels are assignable.

For added flexibility, the amp channels are assignable via the unit's amp assign feature. In other words, you can assign certain amplification channels to power channels other than those labeled on the unit's back panel. Height channels, for example, can be used to power another zone and you can biamp your front speakers. You can change channel assignments via the Marantz's setup menu. Amp assign is a handy feature if you aren't using all channels as intended or adding external amplification to the SR7012 and don't want the internal amp channels to go to waste.
With a number of speaker layout options; the flexibility of assigning internal amps; the ability to add external amplification via pre-outs for all channels; and support for three independent audio zones, the SR7012 is flexible and scalable enough for everything from a high end home theater to a fully networked home.
Robust 4K/UHD video support 

The SR7012 supports the latest and greatest 4K/UHD standards with 4K 60Hz full-rate pass-through, 4:4:4 color resolution, HDR10, Dolby Vision, and HLG pass-through, and support for the BT.2020 color gamut. It should be noted that previous generation AVRs didn't support Dolby Vision and didn't necessarily include HLG support. With LG, Oppo, and others now supporting Dolby Vision HDR and HLG HDR, this is an important feature update.
In my conversations with a representative from Marantz about the SR7012 and HDR support, they told me that Marantz is one of the few brands to offer firmware updates to older models with the various HDR formats going back three years. It's very rare indeed for a mainstream electronics company to offer that kind of firmware support. I felt it important to note and tip my hat to Marantz. Consumers can rest assured that they are getting a product that will have a longer lifespan in today's rapidly changing market.
You might recall from previous Audioholics articles that unlike HDR10 (which uses a single HDR grading for the entire film) Dolby Vision uses metadata. Thanks to the metadata, Dolby Vision HDR can be graded on a scene-by-scene or even down to a frame by frame basis.
In case you haven't yet heard of it, HLG HDR is the standard for forthcoming 4K/UHD TV broadcasts. We are seeing almost all newly released products offering HLG HDR.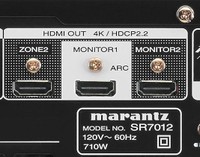 We are now at the point in the technology curve where HDR support has matured to encompass emerging standards. The end result is that you'll get a bit more mileage out of your AVR than just a few years ago.
There are a total of eight HDMI inputs. Seven are on the back and one on the front. All support 4K/UHD and HDCP 2.2.  There are three HDMI outputs on the rear. The first two are parallel outputs, meaning they output the same signal. The third is an independently switched Zone 2 HDMI output. There's no Zone 3 HDMI output even though the unit has three independent audio zones.
The SR7012 will support Enhanced Audio Return Channel or eARC via a future firmware update. eARC is a new standard that will support high bitrate audio and object-based 3D audio from your TV over a single HDMI cable. We'll see more of eARC once HDMI 2.1 starts getting rolled out en masse. Note that if you want to use any audio return channel features with your TV, you must enable CEC support on both your TV and the Marantz. Otherwise, this feature will not work.
Rich support for lossless and streaming audio.
The SR7012's audio support is robust. You're better off looking at the unit's spec sheet than a review for everything this AVR can do. Nevertheless, let's look at some of the highlights.
HEOS multi-room streaming
The Marantz comes standard with HEOS. HEOS provides whole-home streaming to any HEOS-enabled speaker and is slowly becoming a standard offering for many of the AV brands under Sound United (which owns Marantz and Denon). HEOS is a direct competitor to Sonos and Yamaha's MusicCast.
There's a wide ecosystem of HEOS-enabled products available (https://usa.denon.com/us/heos). You can create speaker groups and individual zones with independent source and volume control for a true whole-home streaming solution. What's really neat about the Marantz is that you can stream any of its inputs to a HEOS speaker or zone. Want to spin up some vinyl and stream it wirelessly around your house? You bet. Now that's cool.
The HEOS app supports nearly a dozen of the most popular music services including Spotify, Pandora, Tidal, Deezer, SoundCloud, and Napster, and will connect to any DLNA server. HEOS supports all major hi-res audio formats such as DSD 2.8 and 5.6, FLAC, ALAC, and WAV.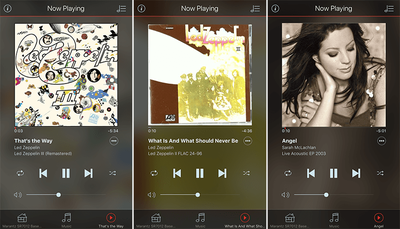 The Heos app and musical interface were well designed and a pleasure to use.
I tested HEOS with Tidal, iHeartRadio and Amazon Music. I also used my Plex and Twonky music servers.  If you have a large digital music library on DLNA servers like I do, you'll love the fact that the HEOS app is fast. It's a refreshing change from DTS' Play-Fi, which I use on my Anthem AVM 60. Comparatively speaking, DTS Play-Fi is painfully slow finding network servers.
The HEOS implementation provides advanced functionality if your DLNA server environment supports it. For example, loading my Twonky DLNA server on the HEOS app gave me full search capability. I could search by artists, albums, or tracks. Typically, you're stuck with a hierarchical navigation menu that becomes time-consuming to scroll through. I don't get any search capability with my Twonky server through DTS Play-Fi.
Whatever music I played via Heos appeared on the Marantz's larger display. Only the Heos input and volume displays in the smaller, watch-face display.
As much as I love the HEOS interface and functionality, it's not perfect. My biggest beef stems from its Amazon music support. The HEOS app is geared towards Amazon Music Unlimited—a paid subscription service on top of Amazon Prime.  If you're an Amazon Prime subscriber and have a large music library, you can't access any of your personal music through the HEOS app. This support is supposedly coming in a future update.
Nonetheless, HEOS is among my favorite hi-res streaming technologies out there. It's slick, fast, intuitive, and has broad audio codec support.
SR7012 to Support AirPlay 2 via Firmware Update

AirPlay is a convenient technology for iOS-based devices.  Apple made a big splash last year with the announcement of AirPlay 2. AirPlay 2 will bring this long-in-the-tooth streaming technology up to snuff with today's heavyweights. AirPlay 2 will sport whole home, multi-room streaming; HomeKit and Siri integration; multi-device control; improved buffering; and of course compatibility with Apple's own HomePod speaker. Marantz was named by Apple as an AirPlay 2 partner.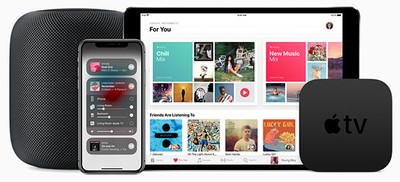 The SR7012 will support Apple's AirPlay 2 via firmware update.

According to Apple, AirPlay 2 controls are available across iOS within any app and in Control Center for quick access to what's playing in every room, on every speaker. Apple Music subscribers can also ask Siri to play different songs in different rooms or the same song everywhere, without ever leaving the room. This fact now makes AirPlay 2 a center piece for a multi-vendor ecosystem.  Siri will be able to control music playing on speakers from Bang & Olufsen, Bluesound, Bose, Bowers & Wilkins, Denon, Libratone, Marantz, Marshall, Naim, Pioneer and Sonos.
The SR7012 is on the list of AVRs that will be upgradable to AirPlay 2 via a free firmware update. This is a big deal.  That makes the SR7012 among the first crop of AVRs that will be able to support Apple's new AirPlay 2 technology. Exactly when this update will be made available remains unclear. This news makes the SR7012 an even more compelling and flexible product, instantly adding Siri-style capability to the SR7012. You'll have the choice of building out a whole-home ecosystem centered around HEOS, AirPlay 2, or both. It's going to be exciting to take AirPlay 2 for a spin on the Marantz AVRs.
DTS Virtual:X
The SR7012 is one of the first AVRs on the market to support DTS' Virtual:X technology. DTS Virtual:X will be available as a free firmware update sometime soon.
Virtual:X takes any floor-level 2.x, 5.x, or 7.x setup and creates complete surround and virtual height effects. Virtual:X will work on any stereo PCM, DTS multichannel, or DTS:X-based content. While many competitors claim to perform such psychoacoustic magic, DTS Virtual:X promises to do so even when you don't have the perfect room.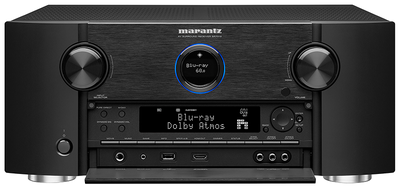 The Marantz SR7012's front panel pull down has convenient front panel inputs and a larger display screen that you can see from a distance and provides far more information about the incoming audio signal and channel configurations.
I had the opportunity last year to test out Virtual:X on a sound bar. I'm a believer. DTS Virtual:X was some of the best virtual processing technology I've experienced on a two-channel sound bar. For those who can't install discrete height or surround speakers, this might be an alternative worth exploring.
Strong support for Dolby Atmos, DTS:X, and Auro-3D
Virtual technologies aside, if you want a true immersive audio experience, the SR7012 has you covered. As I mentioned at the beginning of the review, the SR7012 has the potential to support a full-blown 7.1.4 Dolby Atmos and DTS:X or 10.1 Auro-3D speaker layout. Using the Auro-3D Voice of God speaker requires both an external amplifier and taking up the subwoofer 2 output. If you use the VOG setup and have two subwoofers, you cannot independently EQ the second sub through the AVR.  That isn't a big deal. We have always said here at Audioholics that subwoofers should have EQ applied as a sum.
Dolby Atmos and Auro-3D have incompatible speaker layouts (DTS:X can work on top of either). Therefore, if you want to have a single speaker setup in your home that will support all three immersive audio formats, then you'll be happy to know that the Marantz SR7012 supports the so-called unified immersive audio speaker layout where you specify the front height and rear height speakers. Front and rear height speakers (as opposed to top front and rear height) provide compatibility with Dolby Atmos, DTS:X, and Auro-3D.
Hey Alexa
Amazon Alexa voice control is built in. An in-depth overview of Amazon Alexa is beyond the scope of this review. Suffice to say, with Alexa support, you'll be able to use spoken words to execute basic commands such as power, volume, input switching. You can even call up songs and artists from streaming services.
I'm very familiar with Amazon Alexa. I've been using Amazon Alexa to voice-control my home theater via the iOS-based IP control system Simple Control. I've also set up Alexa support via Logitech's Harmony Elite remote.
Using spoken commands is natural and liberating. Best of all, I didn't need to reach for my iPhone or iPad to perform automated actions. Once I got accustomed to using voice commands with the SR7012, going back to the included remote control made me feel like Scotty in Star Trek IV sitting in front of a 1980s computer!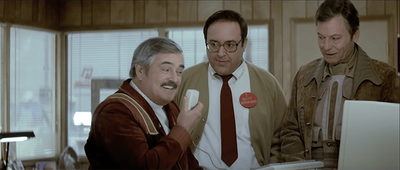 After using Alexa going back to your remote will make you feel like Scotty in Star Trek IV.

Unfortunately, Alexa isn't perfect. Syntax issues will frustrate some users. You have to learn the order of commands properly or they won't execute. Heed my advice: Don't throw away that remote control just yet.
To control the SR7012, you'll need an Alexa-enabled speaker. The cheapest entry-point is the $39.99 Amazon Echo Dot, which you can sometimes find on sale for as low as $29.99. Wherever you have an Alexa-based speaker in your home, you'll be able to issue voice commands to the Marantz.
Setting up Alexa
Alexa doesn't "just work" with the Marantz. There are several steps involved to set up Alexa control. First, you need to make sure that you have the HEOS app installed on your mobile device with a HEOS account. The HEOS app will automatically find the Marantz SR7012 on your network. I connected the SR7012 via Ethernet to my network and it appeared instantly in my HEOS app.
Note: As a technology professional, I strongly recommend that enthusiasts connect all their AV gear with Ethernet to eliminate potential Wi-Fi quirks).
The default name for the Marantz lists its full model number. Change it to something like, "Theater" or "Living Room" because you'll need to use that name for voice control.  There's a suggested list of Alexa-friendly names to use. I used "Marantz" and it worked just fine.

Once you have the Marantz connected to the HEOS app, you'll need to set up Alexa control. Go to the skills menu in the Alexa mobile app or point your web browser to https://www.amazon.com/skills add the Marantz skill to your Alexa account.  You need to load the Marantz skill to let Alexa know how to execute specific voice commands on the SR7012.
The Alexa skills that worked exceptionally well were commands related to power, volume, and input selection. I felt very comfortable using them. Commands calling up songs or services were more hit or miss and I went back to my iOS app.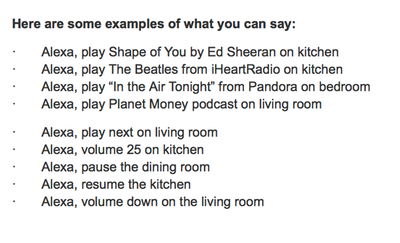 A sample of some of the Alexa commands you can use with the SR7012. 

Basic commands for volume, power, etc. worked best. More complex commands calling up music services and songs were hit or miss.
If you want to expand Alexa control to other devices in your home, you'll need a smart home control solution such as Crestron, Simple Control, or Logitech Harmony.  Once you integrate a smart home controller, you can issue a command like, "Alexa, turn on living room television" and it will control both the Marantz and every other device in your AV setup with a basic command set.
In short, Amazon Alexa is a superb addition to the Marantz's feature set. However, we're not quite living Star Trek yet. You should think of Alexa as a substitute for basic commands and not a total remote control replacement.
Support for Audyssey Mobile App
The SR7012 comes with the Audyssey MultEQ XT32 suite of room correction technologies. We've covered Audyssey extensively in the past including an interview with Audyssey's Chris Kyriakakis. I won't go into additional detail here.
What's worth mentioning is that the Marantz 7012 is compatible with Audyssey's mobile app. I received a copy of the mobile app for iOS towards the end of my review period, so I'll only briefly touch upon it. I'll have an expanded review in my forthcoming review of Denon's 8500H 13.2CH AV receiver.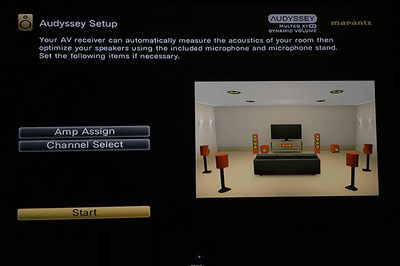 The SR7012 comes with the Audyssey MultiEQ XT32 suite of room correction products.

From this menu, you can use the Marantz's "Amp Assign" feature to designate the channel function of certain amp modules.

The Audyssey mobile app is almost a complete substitute for the on-screen Audyssey calibration process. I first selected my speaker layout from the setup menu. Once in the app, I was able to turn speaker pairs on or off.
I liked using the mobile app far better than the on-screen interface. Audyssey communicates with the Marantz after each sweep and exchanges data. Be sure you have a strong Wi-Fi signal to speed up that process.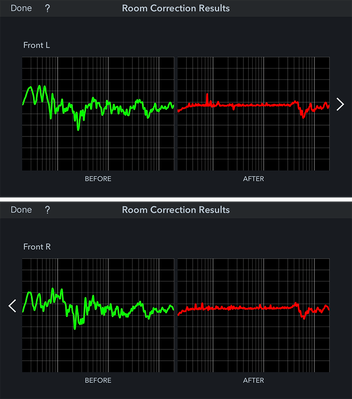 A sample of the before and after graphs that the Audyssey Mobile App produces.
Unlike Anthem's ARC, which allows you to use your mobile device's built-in microphone, you still need to use the include Audyssey calibration microphone for your measurements. The Audyssey app features several key features that the on-screen Audyssey either doesn't have or doesn't do all that well.
For example, you can see your before and after results as a clean, clear graph via the app. You can now edit your correction curve—something you were unable to do previously via the receiver's OSD. The app also allows you to set a maximum EQ frequency, which in my opinion is one of the biggest features of the app. We know from Floyd Toole's work that EQ is most effective at lower frequencies.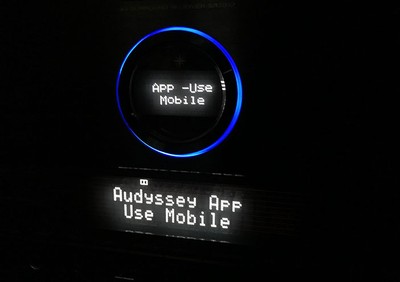 When I connected the Audyssey Mobile app, the Marantz's front display showed me that the mobile app was in use.
Some people like to EQ only up to their room's Schroeder frequency, which is typically between 200Hz and 250Hz in most residential rooms (and falls in line with Floyd Toole's recommendations by the way). The Schroeder frequency, named after German Physicist Dr. Manfred Schroeder, is the crossover frequency at which your room stops resonating sound and starts reflecting/diffusing it. For the purposes of this review, I kept Audyssey at its default setting.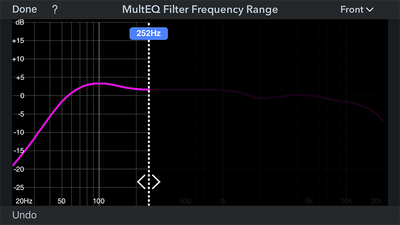 Through the mobile app, you can set a limit to the EQ frequency. Some users prefer to limit EQ below 5000Hz while others prefer to limit EQ to their room's Schroeder frequency.

The Audyssey app will allow you to save different measurements on your mobile device so you can call them up at a later time. I can't tell you what a great feature this is having done countless measurements with different room correction systems.
The one area that I feel Audyssey still needs to address better is situations where you need to measure and recall different calibrations. For example, the most obvious and common scenario is when rooms have retractable screens. The room sonics with a screen up are typically different than with the screen down.  The audible differences can be significant.
Another such scenario is when you want to have an input dedicated to pure two-channel stereo with no subs. Of course, the potential use cases are many but rarely go above three or four. Marantz does have a pure-direct 2CH mode to bypass all processing (including room-EQ) for purists.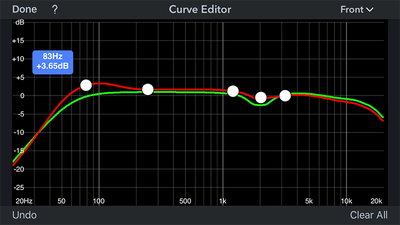 An example of how the Audyssey EQ editor allows you to make adjustments to the EQ results.
Anthem's ARC has this process down to a science. Anthem's AVRs and pre-pros allow for virtual inputs. ARC allows you so save up to four different EQ profiles and assign them to different inputs. You could, therefore, have a "Blu-ray with Screen Up" Input and "Blu-ray with the screen down" input. You can also assign one input dedicated to running your font speakers full-range for two channel stereo. Switch to the appropriate input and you're done. You have the right EQ setting every time.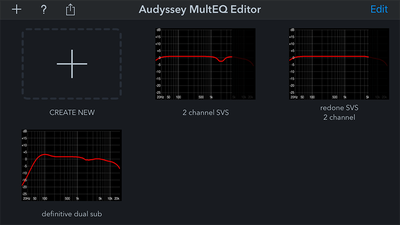 The Audyssey MultiEQ Editor app allows you to store and easily load multiple EQ profiles into the AVR in about 90 seconds.

The Marantz-Audyssey combo isn't as elegant—though it's functional. You can perform different measurements and save them to your mobile device. You then need to upload those settings manually to the AVR every time you want to use them. The process takes about 90 seconds. Audyssey had a previous process for uploading saved configuration files but it took about 15 minutes to do and required a computer.  The current Audyssey solution is a huge leap forward, but it still needs work in my opinion. I hope that Marantz can work with Audyssey to implement a feature similar to Anthem's in the future.
Marantz SR7012 Listening Tests and Conclusion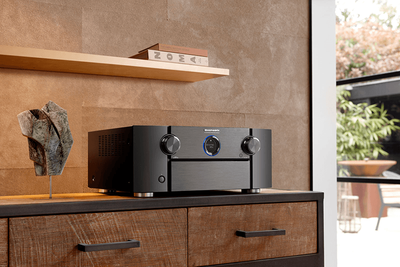 The Marantz's sleek styling makes it a great fit for any decor.
Easy setup
The SR7012 may be a multichannel stalwart, but it can certainly stand in as a two-channel maestro.
Setting up the SR7012 was straightforward. Marantz and Denon now have identical setup menus between their AVRs and pre-pros. Those options are exceptionally well done with clear graphics and explanations that will cater to both novice and professional installers. I would caution that before you select a speaker layout, look at the diagram and text carefully.
Unlike my Denon AVR-X7200WA, where the speaker layouts are clearly labeled as Dolby Atmos or Auro-3D, the Marantz's menu has been simplified. You'll need to read the text at the bottom of the screen to see the list of supported formats.
Take special note that some speaker layouts show more channels than the Marantz is capable of powering and are actually labeled auto-switching. If you're only looking at the illustrations, then you might make a mistake and think that the AVR is misbehaving with real-world content.
Associated Equipment
I set up the Marantz SR7012 in my Dolby Atmos and Auro-3D compliant theater, substituting it for my stalwart Denon X7200WA AVR. My associated equipment was an Oppo UDP-203 Ultra HD Blu-ray player, AppleTV 4K, and JVC e-shift DLA-X570 projector.
To round out a full 7.1.4 setup, I added my Monoprice Monolith 7, to power the rear height channels. Those channels are assigned the default pre-out. For purposes of this review, I chose to run the Marantz SR7012 with a canonical Dolby Atmos and DTS:X speaker layout using top front and top rear in-ceiling height speakers.
I installed the Marantz SR7012 with two different speaker setups. The first was my standard 7.1.4 Dolby Atmos and DTS:X setup featuring SVS Ultra Towers, Ultra Center, and Ultra Bookshelf for the side and rear surrounds. Beale Street in-ceiling speakers handled top front and top rear height duties. Dual SVS SB13-Ultra subs anchored the system.
The second setup was a Definitive Technology 5.0.4 full-range system comprised of BP9080X towers with the built-in Dolby Atmos speaker modules for the fronts, the CS9060 center, and BP9060 full range speakers with the A90 Dolby Atmos speaker elevation modules.  I'm finishing up a separate review of these superb Definitive Technology speakers. Look for that review in the coming weeks.
Music Performance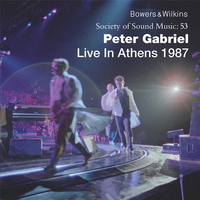 Any system evaluation has to start with two-channel music and the SR7012 was up to the task. Music listening didn't disappoint. I performed two-channel listening with both the SVS Ultra and the Definitive Technology BP9080X full range towers without any subwoofers, Audyssey, or DSP modes engaged.
I love the hi-res 48kHz/24-bit ALAC version of Peter Gabriel's Live in Athens, which I've downloaded from Bower's and Wilkins' Society of Sound. Gabriel's characteristically raspy vocals had excellent timbre. The live soundstage was expansive and the music came across with ample energy. Imaging was stable and precise.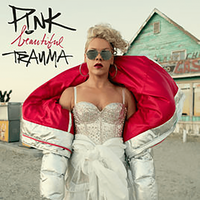 Playing the 24-bit/48kHz LSO live recording of Mozart's Requiem conducted by Sir Colin Davis was divine. Track 4, "Rex Tremendae," which was also featured in the movie Amadeus, is one of my favorite movements from this masterful work. The Marantz and SVS Ultra combo did a superb job of creating a deep and wide soundstage. The chorus' vocal richness, energy, and dynamics came across, in spine-tingling beauty. Stringed instruments, which dominate this movement, were appropriately warm and controlled.
The Marantz had no trouble digging down deep when called upon. Bass lines on P!nk's "Secrets" from Beautiful Trauma were articulate and controlled. For fun, I threw in the Trolls motion picture soundtrack and reveled in the deep, pulsating bass of the Justin Timberlake track, "Hair Up."
The SR7012 may be a multichannel stalwart, but it can certainly stand in as a two-channel maestro.
 4K/Ultra HD Movies
Warner Brothers sent me copies of the recently released Harry Potter movies on 4K Ultra HD with the DTS:X soundtrack. What a spectacle! The Harry Potter movies provided a good opportunity to showcase the Marantz's DTS:X immersive audio prowess. Chapter 18 of the Goblet of Fire opens with a bell ringing, scaring black birds perched nearby. The bell's gong scatters the birds, which fly towards the screen. The DTS:X mix beautifully tracked the wisps of avian wings from the screen in front to the soundstage behind me.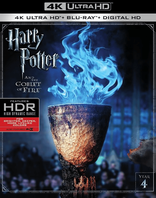 At about the movie's one hour mark, a dragon breaks its chains and chases Harry on his broom as part of the Tri-wizard Tournament trials. As Harry tries to outrace the dragon sounds seamlessly panned to the side. Then, perched on top of Hogwarts' spires, the dragon roars. The effect is eerily cool. The roar echoed above and behind me.
X-Men Age of Apocalypse is a demo-worthy 4K/Ultra HD Blu-ray. And the sonic spectacle begins right from the start with the opening 20th Century Fox logo. The SR7012 and SVS combo let the drum beats burst out with impact, weight, and depth and above all clean texture and detail. I loved the sensation of the flipping Marvel pages within the studio's logo behind and around me. The sound then moved into focus to the front of the screen.
The Marantz SR7012 was a consummate maestro, commanding each musical note or sound object with exacting precision. The SR7012 created a vast, open soundstage as its canvas that perfectly reflected the ancient Egyptian outdoor procession at the movie's onset. When the scene shifts to the inner recesses of Apocalypse's pyramid, glorious choral voices formed the backdrop against which I could hear the microdynamics of the ceremony transferring Apocalypse's conscience.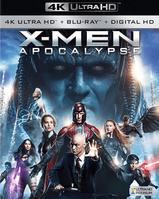 When Egyptian guards rise up against Apocalypse, they break wooden poles supporting massive limestone blocks. When those blocks crash down into the pyramid, the unadulterated power of the SVS SB13-Ultra subs shook my theater space.
When Apocalypse's pyramid temple collapses, the SR7012 demonstrated an uncanny ability to create controlled chaos. Sound objects were coming from all around and above, creating the sensation that my own ceiling was going to start collapsing! As the pyramid's debris falls into a deep, rocky cavern, Death, one of Apocalypse's four horsemen, transfers Apocalypse's armor to his new body and protects him with a telekinetic shield from falling rocks. The SR7012 didn't miss a single beat in any of the action. But the sonic ear candy was Chapter 14. With the Eurythmics "Sweet Dreams (Are Made of This)" playing, Quicksilver rescues the students in Professor Xavier's academy from a massive explosion.  Sharp, fleeting sounds panned realistically and effortlessly all around me.  The SR7012 did an outstanding job making this scene live up to its sonic potential.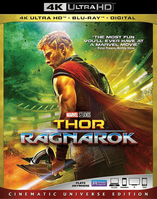 Thor Ragnarok came out on 4K/Ultra HD Blu-ray just prior to submitting this article. I couldn't resist throwing in this great Marvel treat. The Marantz consistently created a seamless, soundstage from the Thor Ragnarok Dolby Atmos track. For example, in Chapter Four, "Goddess of Death" storm clouds gather after Odin's passing. Thunder peals across the sky just before Hela appears. The SR7012 conjured up a believable, enveloping experience as the thunder crackled overhead. Then, when the Bifrost opens, pulling up Loki and Thor with Hela trailing in pursuit, the sonic action panned to the side as Thor struggles with Hela.
Later on in Chapter 17, when the Hulk climbs out of the Asgardian waters after his fight with Fenris and jumps over Thor to attack the fire demon Surtur, I could clearly track the Hulk's leap as the sound passed over and behind me. You can only experience these enthralling effects with a true immersive audio system.
The SR7012 did a superb job of reproducing discrete sound objects—even within large and chaotic soundscapes. For example, when Thor and the Hulk clash in the middle of the arena on Sakaar, you hear both the roar of the crowd along with discrete voices and effects.
Chapter 16, "What were you the God of Again?" was among my favorites as Led Zeppelin's "Immigrant Song" opens the scene. The SR7012 captured the song's raw energy. Even among the clash of Hela's troops and Asgardians with Zeppelin's classic in the background, I could clearly make out the nuanced clangs of swords and armor. What I want to impress is that these sounds had clear texture, placement, dimensionality, and definition. On lesser AVRs, these are just sounds. As Thor lands on the Bifrost bridge with a slam, I could distinctly make out each crisp, detailed crackle of lightning dancing around his hands and arms. This is the kind of elevated, controlled performance that high-end gear can deliver.
Conclusion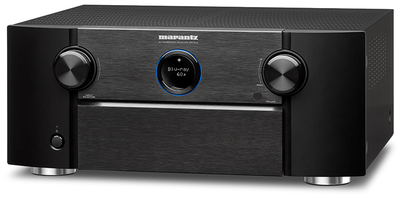 The Marantz SR7012 commanded each musical note or sound object with exacting precision.
The age of immersive audio is upon us. If you're a home theater enthusiast, you'd do well to put together the best immersive setup you can. If you have the means, then the Marantz SR7012 should be on your short list to drive that setup. The SR7012 is among the first crop of Marantz receivers to offer Amazon Alexa voice control. Along with robust HDR support and the latest HDMI 2.0 specifications, the SR7012 is at home in both smart homes and those wanting cutting-edge tech. Add to all that, eleven channels of processing; nine on-board, assignable amplification modules; HEOS multi-room streaming; hi-res audio playback; and support for every major consumer 3D audio format on the market today make this an incredible package. You'll be hard-pressed to find a better value-laden Immersive Surround AVR.
But it's not just in the specs department that the Marantz delivers. It's at home with either music or movies and can fly like a butterfly or sting like a bee. In other words, the Marantz SR7012 is a power-packed AV receiver that can manage the slam of Thor's Hammer or the finesse of orchestral violins. This is one darn fun and flexible receiver and easily captures my strong recommendation.

The Score Card
The scoring below is based on each piece of equipment doing the duty it is designed for. The numbers are weighed heavily with respect to the individual cost of each unit, thus giving a rating roughly equal to:
Performance × Price Factor/Value = Rating
Audioholics.com note: The ratings indicated below are based on subjective listening and objective testing of the product in question. The rating scale is based on performance/value ratio. If you notice better performing products in future reviews that have lower numbers in certain areas, be aware that the value factor is most likely the culprit. Other Audioholics reviewers may rate products solely based on performance, and each reviewer has his/her own system for ratings.
Audioholics Rating Scale
— Excellent
— Very Good
— Good
— Fair
— Poor
| Metric | Rating |
| --- | --- |
| Multi-channel Audio Performance | |
| Two-channel Audio Performance | |
| Network Features | |
| Video Processing | |
| Bass Management | |
| Build Quality | |
| Fit and Finish | |
| Ergonomics & Usability | |
| Ease of Setup | |
| Features | |
| Remote Control | |
| Performance | |
| Value | |