Definitive Technology BP9000 Series "Atmos-Enabled" Speakers Preview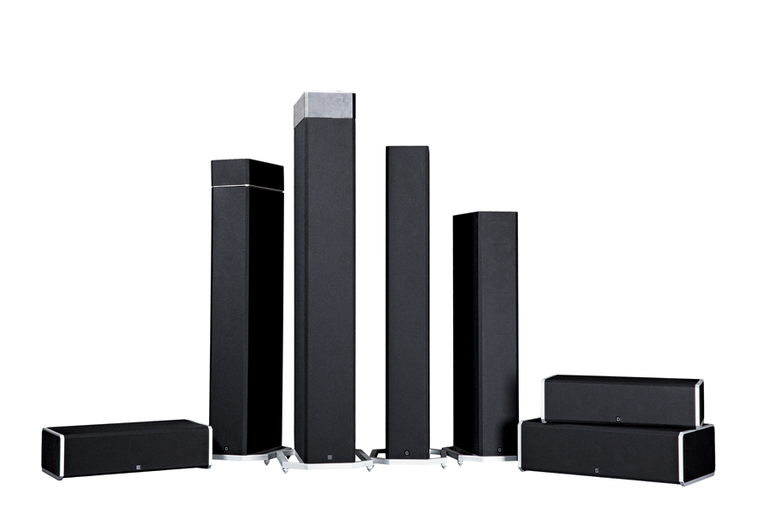 Definitive Technology 9000 Series Atmos Speakers
Summary
Executive Overview
Definitive Technology Re-Imagines Legendary Sound with New Performance Audio Speaker Line
Next-Generation Bipolar Speaker Series, BP9000, Offers the Latest in High-End Audio Reproduction with Support for Dolby Atmos® and DTS:X™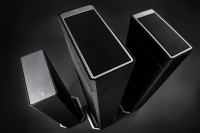 Definitive Technology announced the launch of the BP9000 series loudspeakers—its 4th generation of Bipolar tower speakers, matching center channels, surrounds, and a height speaker module, designed to offer true, full-range performance for listeners seeking the highest quality audio reproduction. The BP9000 lineup pays homage to Definitive Technology's lineage of award-winning Bipolar speakers—which radiate sound from drivers placed on the front and back panels of the speaker—with a completely modified design and user experience that integrate powered subwoofers and the latest audio technologies. The new collection consists of the BP9020, BP9040, BP9060 and flagship BP9080X floor standing Bipolar tower speakers; the CS9040, CS9060 and CS9080 center channel speakers; the SR9040 and SR9080 surround speakers; and the A90 height speaker module supporting Dolby Atmos® and DTS:X™ compatibility.
Conveying Definitive Technology's minimalist design philosophy, the BP9000 series is wrapped in premium materials such as brushed natural aluminum top plates that disguise the height module connector port, universally accepted acoustically transparent grille wraps, a totally inert resonance-free one-piece cabinet construction, and a cast aluminum base on each of the towers. The range features advanced audio reproduction technologies, including aluminum dome tweeters for crystal clear highs, an integrated powered subwoofer for full-range audio reproduction, the new Intelligent Bass Control technology for improved sub-bass performance, and the patented Forward-Focused Bipolar technology for a broader, room-filling soundstage. Additionally, with the available Dolby Atmos and DTS:X A90 module that easily integrates into the BP9020, BP9040, BP9060 tower speakers, modern listeners will have the latest technology at their disposal for an immersive home theater experience. Dolby Atmos and DTS:X height functionality is built-into the BP9080X tower speaker.
"Definitive Technology engineers and designers have always taken an obsessive approach to developing the best-performing products for the home theater, and the BP9000 series is a perfect example of that," said Joel Sietsema, Senior Director of Brand Management, Sound United. "The BP10 series, introduced in 1991, was our first speaker that led the way in elevating Definitive Technology as one of the best-known brands in performance audio. This new collection is a testament to our meticulous eye for detail, use of new object-oriented audio technologies, stunning design, and a breadth of new audio technologies. We know the best speaker successfully reproduces sound across the entire audible frequency range in the most balanced way possible, and the BP9000 series does just that."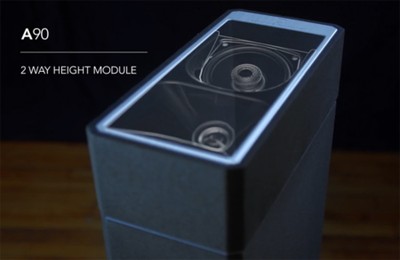 Definitive Technology A90 Atmos  Module Speaker
Can the A90 Atmos Module Really Be An Improvement?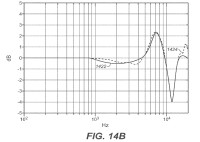 Regular readers of this website know how critical I've been with Dolby Atmos, particularly their Atmos-enabled speaker technology and the claims Dolby and most of the audio press was making when they were first introduced such as "the greatest breakthrough in audio in 20 years" and "Atmos-enabled speakers are preferred over discrete ceiling speakers".  To add salt to the wound, we were treated to lousy speaker designs by the handful of loudspeaker manufacturers that did nothing more than employ a cheap 3" paper cone "Atmos certified" driver and the overly complex and mostly useless HRTF analog crossover required by Dolby in order to stamp the Atmos moniker on the speaker.  The Defintive Technology A60 Atmos module (MSRP: $499/pr) was such a speaker that performed very poorly in our objective and subjective listening tests.  It sounded NOTHING like its companion speaker, nor did it have high enough sensitivity or properly controlled dispersion to pull off the "elevated" effect convincingly.   The A60 was quite a disappointing product for us to review as we've always been big fans of Definitive Technology speakers.  We heard similar experiences from our readers that bought these speakers and watched them get heavily discounted just months after they were introduced before they were ultimately discontinued.  Good riddance. 

Well the folks at Definitive Technology are no fools and they went back to the drawing boards.  This time they ditched the lousy "Atmos certified" paper driver and went with a 2-way design employing Definitive drive technology. If you look carefully at the photo above you will notice a very similar midwoofer and tweeter to the ones found on their BP9000 towers.  However, the tweeter is recessed into a horn/waveguide to control dispersion. Remarkably the A90 module has the same retail price of its A60 predecessor.  This makes us wonder if Definitive Technology ditched the HRTF Dolby-Atmos  crossover and instead went with their own design NOT only to improve performance but cut the cost. This is something we plan on digging into deeper when we check them out later this year.
While we are still of the opinion that Atmos-reflection speakers will ALWAYS be a compromise to discretely located speakers, we do recognize that some folks simply don't have the option of adding speakers on the ceiling.  The A90 seems to be a much improved design and we could only imagine it will not only pull off the height effect more convincingly, but it will also be more tonally matched to its BP9000 companion speaker.

The BP9000 Series Tower Speakers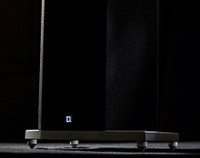 Serving as the flagship member of the BP9000 series, the BP9080X floor standing tower speaker features a patented forward-focused Bipolar driver array that is said to offer a balance between room-filling sound and a precise center image for an incredibly accurate, immersive sound stage. With integrated, powered 12-inch subwoofers and dual bass radiators, the BP9080X delivers impactful low-frequencies without the need for a separate subwoofer and offers Intelligent Bass Control™ that allows users to modulate deep bass up or down while simultaneously maintaining precise mid-range tonal balance. The BP9080X's three 5.25-inch mid-range drivers with patented Balanced Double Surround Sound technology improve driver excursion. The result is a driver that produces bass output normally associated with a larger driver, while retaining the improved dispersion and midrange definition of a smaller driver for perfectly balanced sound. Additionally, with two 1-inch aluminum dome tweeters for crystal-clear highs, an acoustically transparent grille, as well as an inert, resonance-free cabinet, listeners enjoy natural, accurate, yet powerful sound. The BP9080X also includes an integrated 2-way height speaker for Dolby Atmos and DTS:X use, that delivers object-oriented audio so listeners experience multi-dimensional sound for a home theater experience like never before.
We love the lighted logo on their towers.  What a cool touch to let you know your subs are working and to remind your envious friends that you own Definitive Technology speakers!  In addition, this light signifies the speaker is receiving a signal from the AV receiver.
Rounding out the BP9000 tower speaker options, the BP9020, BP9040 and BP9060 offer the same level of performance as the BP9080X speaker for those in smaller rooms that don't need the sheer output that the BP9080X offers. Each tower speaker features an integrated, powered 8-inch (BP9020 and 9040) or 10-inch (BP9060) subwoofer and dual-bass radiators, multiple 3.5-inch (BP9020) or 4.5-inch (BP9040 and BP9060) mid-range drivers and 1-inch aluminum dome tweeters for a perfectly balanced sound stage. All of these towers are also Dolby Atmos and DTS:X compatible, each with a hidden connector port that fits the universal A90 height speaker module (sold separately). Users simply remove the magnetically-sealed, acoustically treated aluminum top panel from the speaker and firmly align and place the A90 elevation speaker module atop the corresponding speaker to hear and feel multi-dimensional sound. Additionally, the BP9000 series tower speakers all include a cast aluminum base with precision cut, knurled carpet spikes and hard-floor glides for maximum speaker stability and a LED back-lit Definitive Technology logo for timeless design and sophistication.
Pricing & Availability:
BP9080X - $1,749/each (available late summer)
BP9060 - $1,099/each (available end of May)
BP9040 - $899/each (available end of May)
BP9020 - $649/each (available end of May)
A90 Module - $499/pair (available end of May)
Center Channels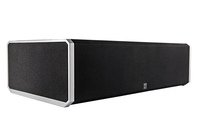 In support of home theaters, the BP9000 series offers three high performance center channel options, the CS9040, CS9060 and CS9080. All feature integrated bass-technologies including an 8-inch subwoofer (CS9060 and CS9080) or bass radiators (CS9040 and CS9080), 1-inch aluminum dome tweeters and dual mid-range drivers (4.5-inch for the CS9040 and 9060 and 5.25-inch for the CS9080) to accurately reproduce even the most demanding audio content. The CS9060 and CS9080 (powered subwoofer) also feature Intelligent Bass Control for precise bass modulation and a LED backlit Definitive Technology logo.
Pricing & Availability:
CS9080 - $999/each (available late summer)
CS9060 - $699/each (available end of May)
CS9040 - $499/each (available end of May)
Surround Speakers
To provide every detail of pure home theater, the BP9000 series also includes two surround speaker options, the SR9040 and SR9080. Both feature two 1-inch aluminum dome tweeters and two mid-range drivers—the SR9040 offers 3.5-inch mid-range drivers while the SR9080 offers 4.5-inch mid-range drivers with patented Balanced Double Surround System technology for improved dispersion and mid-range definition. Both also feature powerful left/right bipolar speaker dispersion patterns for completely enveloping, high-definition sound quality that results in total sound field immersion.
Pricing & Availability:
 SR9080 - $349/each (available late summer)
 SR9040 - $249/each (available end of May)
Initial Impressions - WOW!

I have to admit that I am completely enamored with this new lineup of speakers that Definitive Technology just unveiled.  Not only do they look fabulous, but the component quality and execution looks superb.  Definitive Technology offered to fly us out to the demo press event in NYC and California unveiling this new speaker system last month, but sadly their show dates did not coincide with our schedules.  This is all the more reason why we need to get some samples in for review so we can hear them first hand in our sound rooms as well as doing some objective analysis to see if they measure as good as they look.  We love the enhancements they've made to the integrated subwoofers as research has shown that getting the bass right is at least 30% of the sonic experience.  The fact that you can integrate multi-sub in the convenience of these slimline towers is just icing on the cake to improve WAF while simultaneously ensuring you get your Bassaholic fix.   The 9000 series truly appears to have transcended previous designs from Definitive Technology.  The added Atmos support is just icing on this very tasting looking cake.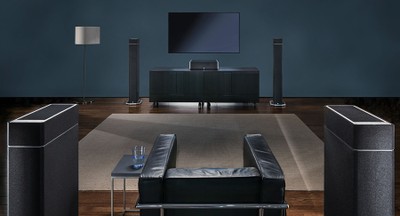 Just look at how gorgeous this Defintive Technology speaker system looks integrated into a room. 

Who wouldn't want that?!?
The BP9000 series loudspeakers will be available at the end of May, while the BP9080X, CS9080, and SR9080 will be available late summer at national retailers including Magnolia Home Theater and Magnolia Design Center locations inside Best Buy, Amazon, Crutchfield and other fine retailers nationwide and regionally.  For more information about the BP9000 range or the Definitive Technology brand and its high-performance audio offerings, please visit www.definitivetech.com/innovation.
About Definitive Technology
Definitive Technology is what obsession sounds like. Definitive Technology has been building beautifully designed, superior sounding home audio and home theater loudspeakers since 1990. Definitive Technology loudspeakers are among the most positively reviewed and honored high performance loudspeakers on the market. Definitive Technology is part of the Sound United family of consumer electronics brands. Audio/video specialty retailers throughout the United States and more than 40 countries around the world proudly sell Definitive Technology loudspeakers. For more information about Definitive Technology please visit http://www.definitivetech.com; for Sound United please visit http://www.soundunited.com.

Confused about what AV Gear to buy or how to set it up? Join our Exclusive Audioholics E-Book Membership Program!
Recent Forum Posts:
Spock posts on May 27, 2016 13:35
slipperybidness, post: 1138197, member: 56559
Meh.

The real story here is probably that the 8000 series will likely be deeply discounted!
They already are - BestBuy and OneCall (both authorized dealers) are taking 50% Off the 8000 series speakers right now.
slipperybidness posts on May 22, 2016 12:23
Sheep, post: 1138409, member: 9970
Yeah, but who wants deftechs?

SheepStar
DT are decent, especially if you can get them at deep discounts. I've been pretty happy with my SM350, they sound pretty good and dig fairly deep, and match well on my Dynaco ST70.
I paid $200 for them. Granted, the Wavecrests nor the AA were on the market back then and either of those are almost certainly better.
My 2 cents on DT– Don't pay anything near MSRP, and don't even bother looking at those inflated specs. And, I wouldn't use them as my critical 2 channel listening rig.
Sheep posts on May 22, 2016 11:48
slipperybidness, post: 1138197, member: 56559
Meh.

The real story here is probably that the 8000 series will likely be deeply discounted!
Yeah, but who wants deftechs?
SheepStar
slipperybidness posts on May 20, 2016 07:20
Meh.

The real story here is probably that the 8000 series will likely be deeply discounted!
Kane posts on May 19, 2016 20:19
I'm kinda glad you folks didn't make the plane to go see the speakers demo'd by the DT company. I can't wait to see what you think of them after you get them back to your own listening environment and testing facility.
Post Reply