Denon AVR-X8500H World's First 13.2CH AV Receiver Preview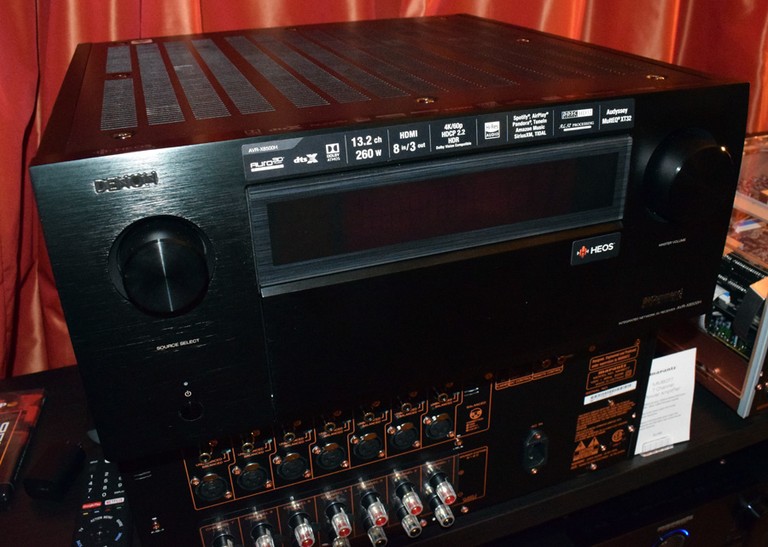 Denon AVR-X8500H 13.2CH AV Receiver
Summary
Executive Overview
The AVR-X8500H 13.2 Channel Flagship Receiver Supports Amazon Alexa, Dolby Atmos, DTS:X, Auro 3D and the Latest UHD Video Formats
The world's first 13.2CH Immersive Surround Receiver is what Denon is calling their new AVR-X8500H. After the launch of their highly successful 11CH AVR-X6400H receiver last year, Denon decisively decided to take it up a notch to support an additional pair of height channels and make it easier to switch between speaker layouts for Dolby Atmos/DTS:X and Auro 3D (which ALL recent immersive surround receivers from Denon now support).
If you like the features found in the AVR-X6400H, and AVR-X7200WA, then you'll love the AVR-X8500H. Like its predecessors, the AVR-X8500H supports all three immersive surround formats, 4K Ultra HD with HDR, and Dolby Vision, but takes it up a notch with 13 channels of built-in amplification to enable premium surround sound without external amplification required.
Adding to the brand's legendary AV receiver line, custom installation offerings, and acknowledging the emergence and evolution of the smart home, the AVR-X8500H brings the future of home theater to present day with Amazon Alexa's Smart Home Skill for Entertainment Devices, Apple AirPlay™ and whole-house wireless music compatibility.
"Denon is deeply immersed in the industry and investing in future technology to deliver best-in-class, first-of-its-kind innovations for installers and consumers. As more home theater enthusiasts integrate object-oriented audio into their builds, we identified a missing need and designed the industry's first true 13-channel AVR with plenty of muscle on tap to power formats like Dolby Atmos, DTS:X and Auro 3D,"
said Richard Velazquez, global head of brand management at Denon.
"In addition to our monolithic amplifier design with our custom-made transistors and compatibility with nearly every advanced AV format, the AVR-X8500H is incredibly easy to setup. Owners can use voice commands with Alexa's Smart Home Skill to control the unit and leverage whole-home audio integration to experience the future of home theater."
CES 2018 Recap: Best New AV Processors and Receivers YouTube Discussion
A salute to Denon's nearly 110 year legacy, the Denon AVR-X8500H is said to be one of the most technologically advanced and capable AV receivers ever introduced. The 13.2 channel receiver incorporates custom-made DHCT (Denon High Current Transistors)—discrete monolithic amplifiers rated at 150 watts per channel1 (@8 ohms, 20 – 20 kHz, THD 0.05%, 2 channel driven), enabling premium surround sound from object-oriented formats, such as Dolby Atmos or DTS:X, without any external amplification. The AVR-X8500H also supports Auro 3D surround sound decoding via a firmware update, up to Auro 13.1 channel, three-layered speaker layout including top and height center channels. Further, the receiver is hand-assembled in small batch form in Japan. This is unusual for Denon and other Japanese receiver companies these days most of whom have their production done in Malaysia or Vietnam though Denon claims ALL of their receivers at $2k and up are still manufactured in Japan at the same facility their venerable AVR-5805 was produced at.
The AVR-X8500H does have a significant upgrade in power supply and current capability over the AVR-X7200WA as we confirmed with Denon.
Power supply weight difference (+2.1kg vs X7200)
Additional transistors and PCBs to accommodate the extra 2 amps
Additional 2mm copper plate attached to both heat syncs to help heat dissipation
Expanded heat sync fins by (+5mm)
Additional +2 fans (vs X7200)
+.2mm thickness of main chasis metal
+2mm thickness of chassis bottom plate
Increase overall depth of the chassis (482mm vs X7200/437mm)
This makes for the most robust Denon receiver to hit the market since the venerable AVR-5308CI.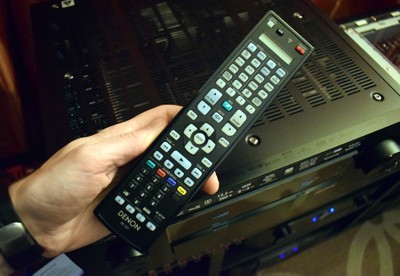 Denon AVR-X8500H Remote Control
Effortless Connectivity and Control
The AVR-X8500H is at the center of a whole-home wireless music network, boasting full wireless connectivity via Wi-Fi and Bluetooth™ and streaming capabilities with Apple AirPlay and wireless multi-room audio technology. Users can explore, browse and play music in every room from a variety of sources, including high-resolution DSD (2.8 and 5.6 MHz), FLAC, ALAC and WAV files.
Equipped with Amazon's Alexa Smart Home Skill for Entertainment Devices, consumers can utter voice commands to a connected Amazon Alexa device to natively control a variety of functions, including power on/off, volume, mute/unmute, music play/pause, external input switching and playback of supported streaming services.
As part of Denon's range of IN-Command series of custom-integration friendly AV components, the AVR-X8500H comes equipped with a range of features to provide enhanced control capabilities and compatibility with third-party and custom integration solutions. It features IP control capability for integration with major third-party control devices and Control4™ SDDP (Simple Device Detection Protocol) certification. An RS-232C serial port is available to directly connect to external home automation and control equipment, and an IR remote control input on the rear panel enables remote control compatibility with other components in your home theater system. Denon's newly invented "HDMI diagnostics" mode will be available to help custom integrators troubleshoot HDMI related audio and video issues at the time of installation using only the front panel of the receivers along with Denon's trouble-shooting guide.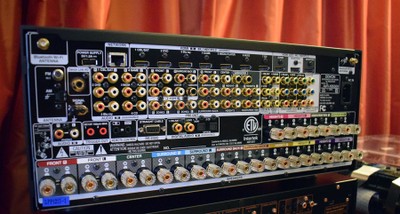 Denon AVR-X8500H Backpanel View - note 3 HDMI outputs!
HDMI 2.1 Ready
Ushering in the future of home theater, the AVR-X8500H boasts advanced video capability and is fully compatible with the latest HDMI connectivity and HDCP 2.2 specifications on all eight HDMI inputs and triple HDMI outputs. The receiver also supports 4K Ultra HD 60Hz video, 4:4:4 Pure Color sub-sampling, High Dynamic Range (HDR), 21:9 video, 3D and BT.2020 pass-through support. As such, the AVR-X8500H is prepared for 4K Ultra HD Blu-ray disc players, set-top boxes and other 4K Ultra HD sources. Additionally, it can support legacy systems by upscaling standard and high definition analog and digital video content to 4K Ultra HD. Dolby Vision, eARC (Enhanced Audio Return Channel) and HLG (Hybrid Log Gamma) compatibility are also supported. eARC will be enabled via a firmware update in 2018. Further, Denon plans to support the owners of the AVR-X8500H with both hardware and software upgradability to the HDMI 2.1 specification, namely 8K pass-through capability when the solution becomes available. It will be a charged upgrade service though the price has yet to be announced.
Audyssey Editor App
The AV receiver also comes with the most advanced Audyssey Room correction suite available. Equipped with the full Audyssey Platinum suite of advanced DSP algorithms, the AVR-X8500H features Audyssey MultEQ XT32 automatic room acoustic correction. MultEQ XT32 is able to analyze each speaker's output at up to eight measurement locations and generates precision digital filters that optimize each channel for the correct frequency and time domain response. With the addition of Audyssey Dynamic Volume and Dynamic EQ, installers and users will have maximum control to optimize their audio set up for the absolute best fidelity. Audyssey Low Frequency Containment uses advanced psychoacoustic algorithms to deliver a full range tonal balance, including deep bass, but without disturbing those in other rooms. Additionally, the AVR-X8500H supports the new Audyssey MultEQ Editor App compatibility. The MultEQ Editor App allows users to view and customize the sound more precisely to the specific problems in the room, and tailor the sound to your personal preferences.
Denon AVR-X8500H Sneak Peek YouTube Video

What does the AVR-X8500H Offer Over the AVR-X6400H?
13 amp channels vs. 11, and 13.1ch processing vs 11.1ch max on the X6400H.
Higher power rating (150W vs 140W into 8ohms, 2CH driven).
Physically larger (about an inch taller, two inches deeper, and quite a bit heavier).  The user manual states it weighs a whopping 51.4lbs despite the website error showing 39lbs. we confirmed with Denon at CES the correct weight is stated in the user manual.

15.2ch RCA pre-outs vs. only 11.2 on the X6400H.
15 pairs of speaker binding posts vs only 11 on the X6400H.
The above facilitates the ability to run BOTH a 13ch Auro3D setup and a 13ch (9.1.4 / 7.1.6) Atmos setup without having to ruin positioning for one or the other.  Because there are FOUR pairs of height speaker outputs (pre-out and speaker posts), with flexible assignment (including being able to assign Height4 to Front Wide output) you can do a complete Auro3D setup with five heights + VOG and still have another pair of height outputs for Top Middle or Front Wide use with Atmos.

The X6400H, of course, can only do 7.1.4 (no wides) and is limited to 10.1ch Auro3D (5.1 + 4 heights + VOG).  And the only way to practically mix Auro + Atmos is to use a Front Height + Rear Height layout.  Plus the X6400H requires you to sacrifice the Sub2 output for VOG if you want to do 10.1ch Auro3D, whereas the X8500H has dedicated outputs for Center Height and Top Surround (VOG).
X8500H also has a "Custom" amp assign setting which allows you to map virtually any speaker binding post to any channel of output.  For example, if you're using a 5ch amp to power LCR+Surrounds in the main zone, you can repurpose the unused FL/FR and SL/SR amps in the AVR to power Zone 2/3 speakers (the X6400H only has predefined templates for amp assign).
The X8500H also has a "pre-amp mode" which disconnects the amp section.
7.1ch multi-ch analog audio inputs, extra (3 vs. 2) component video inputs.
Future HDMI 2.1 hardware upgrade to increase lifespan by supporting 8K resolution and more (the same way they offered the "A" upgrade to the 7200/8802 for HDMI 2.0 in the last generation).
The X8500H has different DAC's specified, it lists the AKM AK4490EQ for the X8500H and the AKM AK4458VN for the X6400H. A quick check shows 5dB increase in SNR for the DAC in the X8500H
The X8500H can do a vertical stretch for use with anamorphic lenses.
X8500H has a rear USB input in addition to the front USB, the rear port is rated to power devices so more practical for a streaming stick or cooling fan etc.
The X8500H has a nicer remote with "learning" capabilities to copy IR commands, macro capabilities, and also a "Remote ID" setting so you can prevent conflicts with other Denon device remotes accidentally changing it.

Here's the back panel pre-out layout, there are FOUR pairs of height outputs and Height4 which can be reassigned to Front Wide.

This allows for a 13.1ch Auro3D layout combined with a 9.1.4 or 7.1.6 Atmos layout.
Initial Impressions

We like the trend Sound United is setting with both Denon and Marantz by reintroducing flagship level AV receivers into the marketplace again. Although the AVR-X8500H is NOT quite the super receiver of the monstrous AVR-5803 or AVR-5805 flagship products from yesteryear, it still offers the most advanced processing currently available with future expandability to extend life and reduce the fear of obsolescence.  We don't know of ANY other AV receiver on the market at this time that supports ALL 3 immersive surround formats, 3 pairs of height channels, and a HDMI 2.1 upgradability path. While it's asking price may seem a bit spendy, it's really not when you consider the arsenal of processing power this baby has and how flexible it will be for even the most upscale home theater installations.
The new receiver in currently on display at CES 2018 at Central Hall Booth 15036. The AVR-X8500H ($3,999) will be available in January 2018 through authorized Denon retailers. The AVR-X8500H will be available both in black and silver for the first time in a decade for North American Denon customers.
The availability of silver version will be limited. For more information please visit www.usa.denon.com/us.
*Many thanks to Eitan Altman of Audiophiles on a Budget Facebook group for tabulating comparison of features for X6400H vs X8500H

Confused about what AV Gear to buy or how to set it up? Join our Exclusive Audioholics E-Book Membership Program!
Recent Forum Posts:
surveyor posts on October 06, 2019 17:06
Thanks Peng!
PENG posts on October 06, 2019 08:18
surveyor, post: 1343224, member: 3762
What is the filter capacitance size ?
22,000 uf X2, 80 V
surveyor posts on October 03, 2019 16:58
What is the filter capacitance size ?
WookieGR posts on March 18, 2018 23:01
Any reports on if it's true the Denon AVR-X8500H will not process wide channels unless the Atmos track specifically includes them? I thought for the outrageous asking price of this AVR, you could install 9 surround channels with wides between the front and side speakers along with 4 channels above for Atmos and have all speakers do their job whether there is discreet front wide channel support in the stream or not.

The reason I ask this is because the folks over at the AVS Forum owners thread for this AVR claim that to be the case and are very upset about it.
Davor Apollonio posts on March 02, 2018 02:38
Will replace the SR801223653
Post Reply