Denon AVR-X8500H 13.2CH IMAX Enhanced AV Receiver Review
Denon AVR-X8500H 13.2CH IMAX Enhanced AV Receiver Review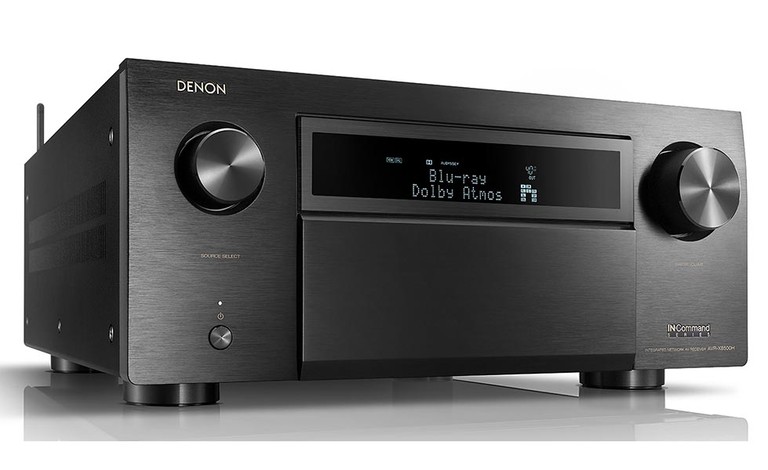 Denon's Flagship AVR-X8500H 13.2-channel receiver
Specs and Features
13.2 channel processing
13-channel amplifier with 15 auto-switching speaker outputs (Front L/R, Center, Surround L/R, Surround Back L/R, Height 1 L/R, Height 2 L/R, Height 3 L/R, Height 4 L/R). Receiver can power a maximum of 13 channels at once with either internal amplification or pre-outs.

150 watts per channel into 8 ohms (20-20,000 Hz) at 0.05% THD, with 2-channels driven.
Will drive 4 ohm loads.

Dolby® and DTS® surround sound decoding.

Dolby Atmos processing for use with in-ceiling or "height" speakers for more enveloping surround sound.
supports a range of Atmos configurations, including 9.2.4 and 7.2.6.
DTS:X for an immersive, 3-dimensional soundstage.

Auro-3D® built-in for three-dimensional soundfields with Auro-3D soundtrack mixes (supports up to a 13.1-channel configuration; future firmware update required).
IMAX Enhanced certification for improved performance with IMAX Enhanced content (via firmware update)
analog-to-HDMI video conversion.
upscales standard-definition video signals to HD and Ultra HD (up to 4K).
Audyssey Platinum speaker calibration and system optimization includes:

MultEQ® XT32 auto setup and room calibration delivers balanced, dynamic sound with enhanced surround performance for as many as eight seating positions.
Dynamic Volume anticipates loud sounds to keep volume levels even.
Dynamic EQ improves dialogue, bass response, and surround channel levels at lower volumes.
Sub EQ HT provides individual calibration for dual subwoofers, for even bass response throughout the room
Low Frequency Containment reduces the amount of bass that bleeds into other rooms.
Audyssey MultEQ Editor app for further audio customization (paid app; not included)

Digital and Streaming Music Options:

built-in Wi-Fi for listening to music from a networked PC and free internet radio.

includes support for TuneIn.

built-in HEOS technology wirelessly connects compatible HEOS components for whole home audio

includes support for Pandora®, SiriusXM, and Spotify® (subscription required for some services).
free HEOS app offers easy Wi-Fi control, settings adjustments, and music selection and playback.
works with smart Amazon Alexa, Google Assistant, and Josh.ai.


Apple AirPlay 2 lets you stream directly from an iPhone® or iPad® and ask Siri to play Apple Music

supports multi-room audio with compatible wireless speakers

built-in Bluetooth® for wireless music listening with smartphones, tablets, and compatible computers.
plays high-resolution digital music files via USB storage device or a networked computer (PCM up to 24-bit/192kHz resolution; DSD up to 5.6 MHz).
Denon's Compressed Audio Restorer improves sound quality of MP3s and other digital music files.

Multi-room Audio/Video:

three-room/three-source output

powered stereo outputs for second and third rooms allow playback in three rooms at once.
amp assign feature lets you reassign extra surround channels to second and third zones.
line-level outputs for Zones 2 and 3 for use with additional receiver, amplifier, or powered speakers.
independent HDMI outputs for watching video content from different sources in two zones simultaneously.
supports 2nd/3rd zone playback of digital sources.
composite video output can be assigned to Zone 2.
Connections:
HDMI audio/video switching: 8 in (includes 1 front-panel input), 3 out

HDCP 2.2 technology ensures compatibility with 4K Ultra HD sources and TVs (all HDMI inputs and outputs)
HDR-compatible for extended picture contrast and brightness with compatible 4K TVs and HDR-encoded content
supports Dolby Vision™

supports eARC with firmware update
component video switching: 3 in, 1 out (Zone 2)
composite video switching: 4 in, 2 out

digital audio inputs: 2 optical, 2 coaxial
6 analog stereo RCA audio inputs
MM (moving magnet) phono input for connecting a turntable
7.1-channel preamp inputs
13.2-channel preamp outputs
two discrete line-level subwoofer outputs for more precise multi-subwoofer setups
front-panel USB port for audio playback from USB flash drives
Denon Link HD creates a jitter-free connection to compatible Denon Blu-ray players; requires HDMI connection and proprietary Denon Link RCA-style cable
Ethernet port for network connection
RS-232C port for use with external controllers.
IR in/out and 12-volt triggers.
1/4" headphone jack.
removable power cord.
Other Features:
Announced paid upgrade path to HDMI 2.1 specification.
4K/60p and 3D video pass-through.
Setup Assistant guides you through the initial connection process and settings.
4 quick select function buttons for one-touch power-up, source selection and recall of volume and Audyssey configuration.
HDMI standby pass-through allows HDMI switching without powering up receiver.
support for third-party control systems by Control4 for home automation.
intuitive, full-color on-screen guide.
bi-amp compatible front left and right speakers by reassigning Surround Back or Height channels.
AM/FM tuner.
backlit remote control.
17-1/8"W x 7-3/4"H x 18-3/4"D.
weight: 51.6 lbs.
warranty: 3 years.
Pros
Pristine sound for reference two channel and multi-channel environments.
13.2 channel processing; 15 assignable amplifier channels; and 15.2 pre-outs for external amplification.
Support for Dolby Atmos, DTS:X, Auro-3D, and IMAX Enhanced to their maximum speaker configurations.
Supports 7.2.6 or 9.2.4 Dolby Atmos configurations without any external amplifiers.
Upgrade path to HDMI 2.1 (paid).
BT.2020 deep color, HDR10, Dolby Vision and HLG HDR support.
8 HDMI inputs and 3 HDMI outputs with HDMI 2.0 and HDCP2.2 on all HDMI inputs/outputs with eARC.
Pure pre-amp mode disconnects amplification section.
Rich streaming support including: DLNA certification, Heos, AirPlay 2, Tidal, Spotify Connect, Amazon Music, Deezer, and more.
Supports every hi-res music format that matters.
Smart home integration with Amazon Alexa, Google Assistant, Siri (via AirPlay 2), and josh.ai.
A dizzying array of options for custom installers including HDMI debugging.
Cons
Lack of native Roon support
Nothing else significant
Denon AVR-X8500H Introduction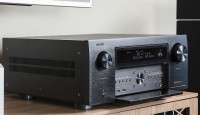 Denon's AVR-X8500H is the most technologically advanced receiver the venerable company has ever built. It is arguably the most advanced AVR available today. It's the best AVR I've ever reviewed. It's the most audiophile-worthy AVR Denon has built since the legendary AVR-5308CI and AVR-5805 and it just won our 2018 AVR of the year award. How's that for an opening salvo?
Denon AVR-X8500HA Unboxing Overview
The X8500H can flex its ample amp muscles—all 13 of them—with ease. This monstrous AVR will put competitors to shame with its robust, modern feature-set.  The Denon supports every major immersive audio format (Dolby Atmos, DTS:X, Auro-3D, and the new IMAX Enhanced); it will play them to the maximum supported configurations available today—out of the box—without any outboard amplifiers needed. The X8500H will pass through all 4K/UHD specs that matter, including BT.2020 deep color, HDR10, HLG, and Dolby Vision HDR. And, perhaps best of all, the X8500H has an announced upgrade path to the HDMI 2.1 spec. Reference performance, incredible flexibility, rich features, high value, and future-proof(ish) in a single package? That's Denon's AVR-X8500H in a nutshell. But read on because there's so much more
A statement AVR hand built in Japan
This is a statement piece. How much does Denon revere the AVR-X8500H's status? Each unit is hand-built in small batch form in Japan at same facility where their venerable AVR-5805 was produced. That's a big deal.
Upgraded Features and Performance
Denon's AVR-X8500H looks very similar to company's previous flagship that I review, the AVR-X7200WA. I've been using the X7200WA as my reference AVR for my Dolby Atmos, DTS:X, and Auro-3D setup ever since. But don't dare confuse the two. As good as the X7200WA is, the X8500H is in a league of its own. 
Cosmetic Refinement
I placed the X7200WA next to the X8500H. It was impressive how much attention to detail Denon paid. I immediately saw refinement in seemingly every area.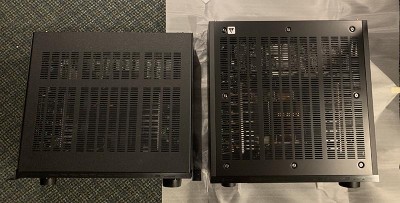 I appreciated the upgrades and enhancements made on the AVR-X8500H when I placed it next to the X7200WA.

The Denon AVR-X8500H (right) is physically larger and heaver than the previous flagship, AVR-X7200WA (left)

The front access panel has gone from plastic to solid aluminum. Physical buttons are upgraded with a premium feel. Edges here and there have a slight bevel. Even the darn screws are upgraded with a knurled finish that makes light dance off them.  How's that for aesthetic flair?
Denon's industrial design team scoured every millimeter of this unit. The end results? The X8500H screams premium build and design. And you can choose your finish: Black or silver.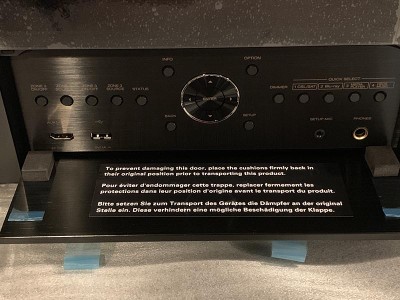 The Denon's front panel is a heavy aluminum and all the buttons have been upgraded with a premium feel and finish.

Internal Upgrades
DSP Upgrades
Denon's cosmetic refinements tell only part of the story. Denon says the The AVR-X8500H owns a sophisticated DSP audio processing system that incorporates 2x new quad core SHARC DSP processors instead of 4x single core DSPs in the X7200WA. The new 2x quad core processors have a combined continuous processing capability of 10 GFLOPS (10 billion floating point numerical computations per second)! These are the key components that allow the X8500H to process 13 channels.
You'll also find that the AVR-X8500H:
Has increased DSP clock frequency from to 450MHz (previously 400MHz in the X7200WA).
Uses DDR3 SDRAM at 450MHz (previously you had SDRAM at  133MHz in the X7200WA).
Look at the difference with the AVR-X8500H! At the top is Denon's X7200WA with 11 speaker terminals vs. the X8500H (below) with 15 speaker terminals.

Notice the cosmetic refinements and higher caliber binding posts on the speaker terminals on the AVR-X8500H.


Power upgrades

The AVR-X8500H has been designed with significant power and current upgrades compared to the AVR-X7200WA including:
Beefier power supply adding 2.1kg over the X7200WA.
Additional transistors and PCBs to accommodate the four additional power amplifiers (the X7200WA has 9 on-board amps vs. the 13 amps on the X8500H).
An additional 2mm copper plate attached to both heat syncs to help heat dissipation.
Heat sync fins expanded by +5mm.
Two additional fans (I never heard the fans during my review period).
Additional +.2mm thickness of main chassis metal.
Additional +2mm thickness of chassis bottom plate.
Additional +45mm Increase in chassis depth (482mm vs X7200WA's 437mm).
This makes for the most robust Denon receiver to hit the market since the venerable AVR-5308CI!
Additional upgrades compared to the AVR-X6400H:
There isn't another AVR comparable to the X8500H. The X8500H is also in another league compared to the AVR-X6400H:
13 amplifiers and 13.2 channel processing vs. 11 amplifiers and 11.2 channel processing on the X6400H.

Higher power output rating (150W vs 140W into 8ohms, 2CH driven).
15.2ch RCA pre-outs vs. only 11.2 on the X6400H.
The X8500H uses a more advanced DAC: The AKM AK4490EQ with a 5dB SNR improvement.
The X8500H can do a vertical stretch with anamorphic lenses.
X8500H has a rear USB input in addition to the front USB. The rear port is rated to power devices such as a smart assistant or cooling fan etc.
The X8500H has a nicer remote with "learning" capabilities to copy IR commands, macro capabilities, and also a "Remote ID" setting so you can prevent conflicts with other Denon device remotes accidentally changing it.
The X8500H can assign amp channels independently.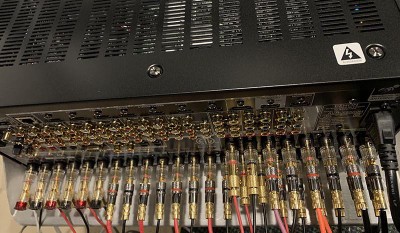 The Denon AVR-X8500H sports 15 auto-switching speaker terminals allowing you to run full 13.2 immersive audio setups of every flavor with the unit's built-in amplification.
Upgraded Performance
Every upgrade leads to one goal: Reference performance. In that regard, the X8500H succeeds in spades.
Audiophile performance with separate volume, input, and output ICs.
We audiophiles and cinemaphiles relentlessly pursue the purity of high performance audio. Sometimes, we don't think AVRs fall into that category and like to point to the glorious audiophile-grade AVRs of yesteryear.
After this initial review was completed, veteran Audioholics forum member, Peng, sent me some messages asking about the X8500H. I had been posting some of my initial, positive impressions about the unit in the forums—especially its audio performance. Peng was asking some very technical questions about Denon's upgrade claims in the preamp section. He asked if the X8500H did indeed get away from an integrated LSI chip and had now gone with dedicated chips (implying MSI/SSI) for volume control. If so, this would make Denon's X8500H a real flagship and statement piece that followed in the tradition of Denon's AVR-5308CI and AVR-5805.
Peng is a professional engineer. His technical questions gave me the opportunity to go back to Denon. I felt that the answers to Peng's questions were so important that we delayed publication of the review and integrated Denon's answers into the paragraphs below:
Denon's X8500H is an audiophile-grade AVR whose designers paid meticulous attention to the preamp and especially the volume control stages.
Let me say outright that the X8500H is an audiophile-grade AVR whose designers paid meticulous attention to the preamp and especially the volume control stages. The AVR-X8500H (and Marantz's AV8805 preamp) now sport separate volume, input, and output ICs instead of integrated ICs. I had the opportunity to speak with Yoshinori Yamada, Denon's Technical Category Manager for AVRs. Sound United is the parent company of both Denon, Marantz, Classé and Definitive Technology. I'd like to thank Mr. Yamada for his time and answers.
"Denon aimed to go back to the original audio-like design that prioritizes sound quality. We worked with JRC semiconductor, [who developed] the new customized ICs for 2 years."
—Yoshinori Yamada, Denon's Technical Category Manager
Mr Yamada also told me that the new design provided Denon with the flexibility/expandability to adopt it across the lineup, greatly improving THD+N characteristics. The X8500H specifically uses two volume ICs (8 channel x 2) and 7 input and output selector ICs.
The Denon X7200WA, by contrast used a single, integrated Renesas LSI chip. The X8500H's use of separate volume and selector IC's make this a worthy successor to the legendary tradition of the AVR-5308CI and AVR-5805. Peng, thanks for asking these key questions!
Upgraded Amplifiers: 13 Built-In and 15 Assignable Speaker Outputs
The X8500H is 51.6-pounds of brute force. Denon needed the larger chassis for the extra amp channels and upgrades. Some sites incorrectly list the X8500H weighs 39-pounds, reproducing an online typo when the unit first launched. Denon has since corrected this typo. This baby absolutely weighs 51.6 pounds! If you think that AVRs have wimpy amplification sections and design compromises, the X8500H will disabuse you of any such misconceptions.
Once again, I spoke with Mr. Yamada about the choice of an E-I core as opposed to a toroidal transformer and technical aspects. He told me for the best price/performance, Denon chose a new 8.2kg, 18-pound customized power transformer that the company felt would provide enough quality and performance to meet their requirements for a flagship 13-channel receiver. He also said that Denon's engineers have the "know-how and experience to suppress negative effects such as leakage flux, beat, and vibrations to optimize the performance."
The receiver incorporates custom-made DHCT (Denon High Current Transistors)—discrete monolithic amplifiers rated at 150 watts per channel (@8 ohms, 20Hz – 20 kHz, THD 0.05%, 2 channels driven) and 190 watts per channel (@6 ohms, 20Hz – 20 kHz, THD 0.7% 2 channels driven). The X8500H will also drive 4 ohm speaker loads with no problems. Let me reiterate: This AVR will drive most speakers on the market natively—including those rated at 4 ohms. And don't gloss over this important note: Be sure to connect this AVR to a 20A circuit for maximum performance. If you connect this AVR to a 15A circuit you may get as much as a 10% reduction in power output! I tested the X8500H on a dedicated 20A circuit dedicated solely for my audio equipment.
AC Power Considerations for your Home Theater YouTube Video
We want to remind our readers that you should NOT set an AVR's impedance switch to 4 ohms regardless of speaker impedance used.  I'll also point you to Gene DellaSala's video below and his measurements of the Marantz SR8012 (Gene tested this on a 15A line instead of 20A so the actual output should be another 10% higher or so in reality).  Note how that receiver handled 4-ohm speakers well. The Denon will perform even better with its larger power supply.
Marantz SR8012 Benchtest Results
The left and right channels are physically isolated from each other, eliminating the possibility of crosstalk. You'll get pristine sound from stereo or object-oriented formats, such as Dolby Atmos or DTS:X.
Equally important, there are 15 assignable speaker terminals which means you can drive a full Dolby Atmos 7.2.6 or 9.2.4 plus an Auro-3D 13.2 setup without ever once needing to touch a single configuration, plug, or speaker terminal. You don't need any additional amplifiers to run the maximum configuration available for every immersive audio format!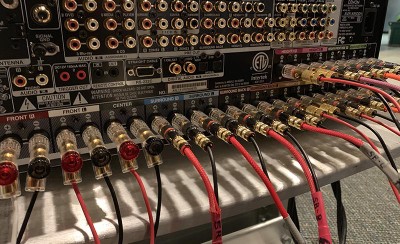 Eco Mode and Amp Mode

Worried about your electric bill? The amplification section has an eco mode, which runs the Class AB amplification section like a Class H amplifier. Class H uses rail switching to reduce power and increase efficiency. A note of caution: We suggest setting eco mode to "auto" or "off." Never force eco mode into "on" or you'll starve your speakers of power! 
If you choose to use an external amplifier, you can even run it in pre-amp mode, which disconnects the amp section. The X8500 will shut off the signal flow to the power amp section with pre-amp mode but it will not shut off the amplifier section. The pre-amp mode mechanism remains the same as the X7200WA.  Preamp mode is a useful feature that will keep the noise and distortion down when cranking the volume up and leaving the internal unused amps in idle with no loads attached. The only time we recommend forcing eco-mode is if you're running the X8500H in pre-amp mode.This will cut down significantly on heat dissipation of 13 amplifier channels sitting in idle by lowering their bias.
You're probably wondering how hot this guy gets. I had the X8500H on a shelf in my 19-inch rack. With open ventilation, the top of the chassis ran very warm but not "cook an egg" burning hot. Not once did the fans kick on. However, all that might change if you put this unit in a more confined space. Be sure to leave plenty of ventilation around this AVR. This is a very expensive piece of equipment and you want to make sure you will enjoy it for the long haul.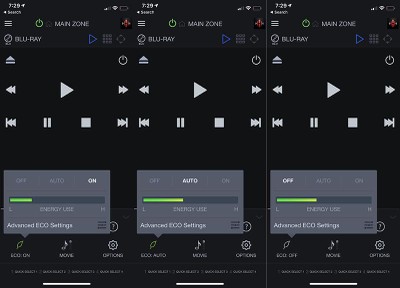 We recommend keeping Eco mode on auto so the Denon can intelligently detect when to apply power conservation.. Putting eco mode to on will rob your speakers of power.
Upgraded Immersive Audio Support
Immersive audio fans, this is the AVR you've been waiting for. The X8500H will support every major immersive audio format at their maximum home configurations available today: Dolby Atmos up to 7.2.6 or 9.2.4; Auro-3D up to 13.2; DTS:X—up to 11 channels; and the newly announced variant of DTS:X called IMAX Enhanced up to 11 channels. As a reminder, DTS:X can use either Dolby Atmos or Auro-3D's speaker layouts but can only support a maximum of 11 speakers as of today.  DTS:X does not take advantage of the middle height channels.
Of course, to run all these formats concurrently, you need to use the so-called "unified" speaker layout that uses front height and rear height channels. The unified layout more closely mimics the Auro-3D speaker layout.  In my testing I found that any perceived limitations of the unified speaker layout with Dolby Atmos are gone thanks to native support for middle height channels.
Note: The AVR will automatically switch to the proper speaker outputs depending on the type of 3D audio format that's being played. In previous AVR iterations, you would have to take up the Sub2 output for the Auro-3D Voice of God speaker or use external amps. All hassle is gone! You run one calibration, one setup, and won't need to touch things again.
IMAX Enhanced
Denon's X8500H comes certified as IMAX Enhanced. It will play IMAX Enhanced content. From an AVR perspective, IMAX Enhanced uses a variant of the DTS:X codec. The codec knows how to handle reference volumes that the filmmaker released originally in IMAX theaters; it's optimized to render IMAX's signature sound; and can reproduce the full dynamic range of IMAX theatrical sound mixes and other elements to meet IMAX's standards. Unsurprisingly, IMAX Enhanced also promises a pristine picture. The IMAX Enhanced descriptions are comparative; they don't offer detailed specs.

The Denon X8500H recognized IMAX enhanced content
IMAX's discrete sound system utilizes a 12-track system. The recommended speaker layout for an IMAX Enhanced home system is eleven channels as a 7.2.4 setup—the maximum configuration that DTS:X can support today. 5.1.4 is the minimum layout for IMAX Enhanced AV receivers and processors.
If you have fewer speakers, then DTS:X's Neural:X will render and remap the audio to your available speakers. IMAX has a speaker layout guide on their web site for content playback. The layout guidelines will be familiar to enthusiasts.
There are only two IMAX Enhanced 4K/Ultra-HD Blu-rays available on the market as of this writing. Sony recently announced that the first two IMAX Enhanced blockbuster movies will be Venom and Alpha. You'll see my notes on IMAX enhanced further on in the review.
Editorial Note: Installing Immersive Audio Height Channels

Given my years of experience with immersive audio formats, if you're installing a home theater today plan for seven or eight height channels to future-proof your setup. Prioritize the six height channels (front, middle, rear), then the overhead height (Voice of God) and finally the front center height when you do your installations. Remember, it's cheaper to do all your speaker cable runs in one installation and then add the speakers as your budget and needs change over time. 
Upgraded Video support and HDMI 2.1 upgrade path
AVR-X8500H is fully compatible with the latest HDMI connectivity and HDCP 2.2 specifications on all eight HDMI inputs and its three HDMI outputs. You'll get 4K/UHD 60Hz video, 4:4:4 Pure Color sub-sampling, High Dynamic Range (HDR) with HDR10, Dolby Vision HDR, and HLG HDR, 21:9 video, 3D and BT.2020 pass-through support. The unit is ISF-certified. An ISF calibrator can calibrate separate day and night modes in the unit.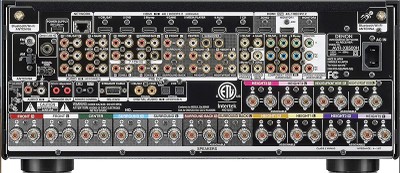 You can only appreciate the Denon AVR-X8500H by looking at the 15 speaker terminals and plethora of inputs, outputs and custom-installer options.

The robust video section will scale older HD analog and digital video content to 4K/UHD. Denon will offer a hardware and software upgrade to the HDMI 2.1 specification. That will enable 8K pass-through among other features. There will be a service charge (price to be determined) for that upgrade.
Upgraded streaming features and power
A Hi-Res, Network Streaming Powerhouse

Denon has outdone itself on the X8500H's streaming feature set. You have your choice of wired Ethernet or Wi-Fi and Bluetooth for serving up music from your network.
The Denon supports all of today's dominant hi-res codecs: FLAC, ALAC, WAV (up to 24-bit/192kHz) and DSD (2.8 and 5.6MHz). I connected the Denon with Ethernet and had flawless network performance. I recommend wired connections for any installation.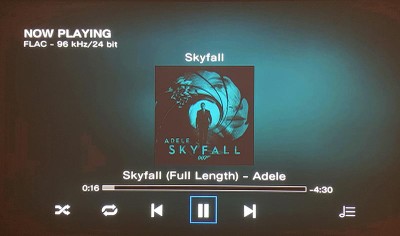 I had no problem playing hi-res audio files via DLNA. Here, I played Aldele's 24-bit/96-kHz version of "Skyfall"
The X8500H is a streaming powerhouse. Take your pick from Amazon Music, Tidal, Deezer, iHeart Radio, Napster, SoundCloud, Mood Mix, Pandora, SiriusXM, or Spotify connect. Internet Radio via TuneIn is built-in. I tested Tidal and Amazon music.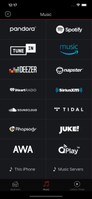 If you have your own network music server, the X8500H is DLNA certified. You can use any compatible DLNA server. I used my DLNA streaming server to play FLAC, ALAC, and AAC-encoded tracks. The Denon's interface is functional. I liked the fact that I could search my DLNA server's library right from the Denon's GUI.
The X8500H supports Apple's new AirPlay 2. If you have an Apple-centric ecosystem, you'll love AirPlay 2 support. The Denon appears as an AirPlay speaker. You can group multiple AirPlay 2 speakers/endpoints together and control volume independently or as a group. AirPlay support was flawless from my iPhone XS.
The X8500H lacks native support for Roon—I would like to make a plea that Denon add native Roon support. If you haven't experienced Roon first-hand, you're missing what is arguably the best music server available on the market today. Native Roon support is the only thing missing to an otherwise stellar hi-res offering and would put the Denon on-part with reference two-channel and multi-channel systems at the four and five figure price point. I hope that Denon can offer Roon support as a firmware update. You can, however, send music from Roon via AirPlay 2, but AirPlay 2 only supports 16-bit/44.1-kHz. I did that and it worked fine. However, for Roon fans who want to stream music at full resolution, you'll need to use a third-party Roon certified end point (like I did via the Oppo UDP-203).
Finally, Denon's outstanding Heos multi-room streaming platform is built-in. Heos is one of the best streaming platforms available on the market today. It gives you full app-based control of the Denon's three zones and all its inputs.
I'll only scratch the surface here. With Heos the X8500H can serve as a true control center for your entire home. All the aforementioned streaming services and features are available through the Heos App. You can link any Heos-compatible wireless/wired speaker or sound bar. You can create separate music zones throughout your home. You can play the same or different music on every speaker and control the volume universally or independently. Heos integration is ideal when you have multiple family members who want to control their own music in different rooms.
Connections and Custom Installation Features
The X8500H will support today's bleeding edge devices and legacy equipment. And with its custom installer-friendly feature set, this baby is ready to serve as the center for home entertainment.
Inputs and Outputs Galore
There are a total of 8 HDMI inputs (7 rear and 1 behind the front panel) and three HDMI outputs. Look at the photos of the Denon's back panel if you want a full inventory of all the other dizzying input and output options available to you—including legacy component video. All inputs can be renamed, and custom assigned via the Denon's excellent GUI.
Monitor 2 can be used as a mirror for Monitor 1. The parallel HDMI output is ideal for installations that have both a flat panel display and projector in the same room. Zone 2 HDMI is independently switched.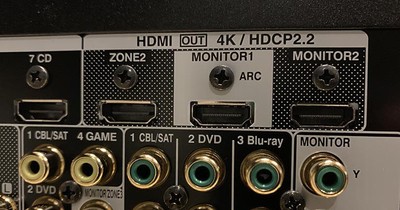 Denon's AVR-X8500H sports three HDMI outputs with full 4K/UHD and HDCP 2.2 support. Monitor 1 and Monitor 2 can be used in parallel.

Since HDMI connections are technically networks, custom installers and enthusiasts will want to take note of the user manual's HDMI observations. For example, if you're connecting multiple Dolby Vision TVs, the signal will only be optimal for one TV with priority given to the display connected to HDMI Monitor 1. It's helpful to remember that HDMI will often negotiate to the lowest common configuration among connected devices.
I have one wish for Denon's engineers: I wish the X8500H allowed me to create virtual inputs (like my Anthem AVM 60 pre-pro does). There are instances where I need slightly different settings for the same source input. For example, when I'm using my Roon media server or playing CDs via my Oppo UDP-203, I want stereo playing with the front tower speakers; however, when I'm playing 2.0 or multichannel content from the Oppo, I want speakers and subs with Audyssey engaged on all channels. The same input also cannot be shared, so in the previous scenario, if I want to use analog outputs for the UDP-203 for music with the Oppo's HDMI video and use HDMI audio and video for Blu-ray content, I can't do that. I know I'm being nitpicky here, but there are many use cases out there that could only enhance the Denon's custom installation value proposition.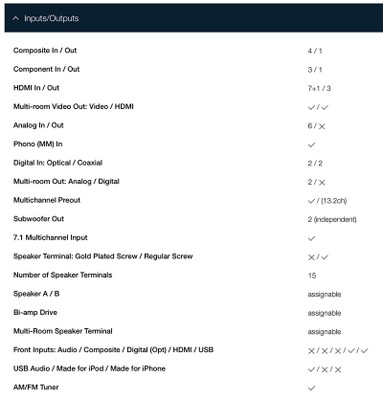 A list of the Denon's dizzying array of inputs and outputs

Perfect for Custom Installers and Complex Installations
Custom installers and consumers with complex home installations will salivate at the X8500H's feature set. Pump up the music with Denon's three independent, switchable zones. Use wired speakers or further expand the system with Heos. Using the All Zone stereo function, music played in the main zone can be fed to all zones at the same time.  Couple this with AirPlay 2 and Heos support and you have the basis for a robust, whole home music center.
An extensive RS-232, IP, and IR control set is at your fingertips. IP control integrates with all major third-party control systems like Crestron and Control4's SDDP (Simple Device Detection Protocol) certification. There are two assignable trigger outputs that can be set on a zone-by-zone or per input basis. Have an outboard amp for Zone 2 and Zone 3? You can power them on only when needed.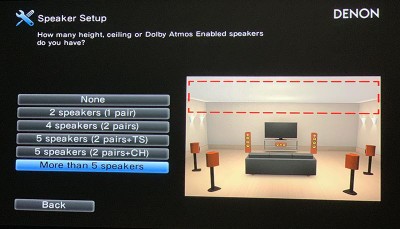 Denon's setup and configuration process is supported by clear menus and outstanding graphics
I integrated the X8500H into my Simple Control IP-based setup. I got graphical feedback of the Denon's current volume and input. Simple Control also integrates with Apple's Siri. Even though the Denon itself doesn't support Siri, with Simple Control, I could activate basic activities with any iOS device.
Denon offers an iOS and Android app that gives you full smart-device remote control of all major functions and zones.
The AVR is said to sport Denon's new "HDMI diagnostics" mode to help custom integrators troubleshoot HDMI-related audio and video issues at the time of installation using only the front panel of the receiver along with Denon's trouble-shooting guide. It's a slick feature but I didn't try and test this during my review period.
This AVR's assignable amplification channels and complete set of pre-outs give you lots of flexibility. The X8500H provides multiple standard speaker configurations and setups to choose from. You can use the system's amp assign template and manually configure how each channel should behave.  There's also an amp assign feature where you can assign a channel to play from the internal amps or pre-outs. And, depending on the number of speakers in your main zone, you can power both a 7.2.2 or 9.2.0 setup plus a second and third zone without ever needing any additional amplification.

Confused about what AV Gear to buy or how to set it up? Join our Exclusive Audioholics E-Book Membership Program!
PENG posts on April 18, 2022 08:06
Verdinut, post: 1353439, member: 80194
@PENG,
So, on any AVR without disconnection of internal amps, when an internal amplifier starts clipping, since it would also affect the performance of the preamp section driving that power amp, doesn't that impairment of the preamp circuit performance add to the power amp's THD and stability? But I've never heard of a reference to that preamp effect. I guess that it would be almost impossible to measure it?

I may be wrong but I would guess the answer is Yes and no.. By the time the preamp's distortion would increase to that level, any more distortions due to the power amp clipping should be insignificant relative to the power amp's distortions resulted from severe clipping. This, imo can be fixed easily and we already know the SR8015 preamp is not affected by the power amp clipping effects any more. Also, keep in mind whatever the power amp's distortions is, only a small portion would be fed back to the amp's input, that is obviously connected to the preamp output.
I am not an amplifier designer but the feedback principle should be easy to understand. Take a look of the linked article below that I just Googled:
Note: I am not saying that this is exactly how the pre outs of the D+M AVRs distortions happened due to the power amp clipping, but you can see that it could happen this way.
Amplifiers Feedback (tutorialspoint.com)
Principle of Feedback Amplifier
A feedback amplifier generally consists of two parts. They are the
amplifier
and the
feedback circuit
. The feedback circuit usually consists of resistors. The concept of feedback amplifier can be understood from the following figure.
https://www.tutorialspoint.com/amplifiers/images/feedback.jpg
From the above figure, the gain of the amplifier is represented as A. the gain of the amplifier is the ratio of output voltage Vo to the input voltage Vi. the feedback network extracts a voltage Vf = ? Vo from the output Vo of the amplifier.
This voltage is added for positive feedback and subtracted for negative feedback, from the signal voltage Vs. Now,
Vi=Vs+Vf=Vs+?VoVi=Vs+Vf=Vs+?Vo
Vi=Vs?Vf=Vs??VoVi=Vs?Vf=Vs??Vo
The quantity ? = Vf/Vo is called as feedback ratio or feedback fraction.
scottyb70 posts on April 17, 2022 18:24
Can I use my Pioneer Elite plasma with this unit?
anthonyrizzo84 posts on December 08, 2019 09:24
Hi there, got this amp as well and love it.
I have the audyssey app as well and i am not to sure how to set it up like you explain in your review.
Could you help?
lovinthehd posts on December 03, 2019 16:02
anthonyrizzo84, post: 1353918, member: 89233
Hi Guys, any tips on how to set up audyssey properly on this amp, i have the app as well.

Thanks for your help

Lots of good setup guides out there if you do a search, including a decent one in the manual. Basically place mic at ear height, use all 8 positions with the first being your MLP-main listening position and group the other positions around that (I use about a 2ft radius from MLP using a mic boom). I'd recommend turning off Dynamic Volume if enabled at the end but would suggest you do experiment with using DynamicEQ and Reference Level Offset for various content. It may also set some speakers to full range rather than use a crossover, but that's Denon rather than Audyssey's recommendation when using subs.
anthonyrizzo84 posts on December 03, 2019 15:43
Hi Guys, any tips on how to set up audyssey properly on this amp, i have the app as well.

Thanks for your help
Post Reply