Marantz SR6011 9.2 Channel 4K Ultra HD AV Receiver Preview
Summary
Built-in Wi-Fi with 2.4GHz/5GHz dual band support
Built-in Bluetooth
9ch discrete power amplifier rated at 110W per channel (8 ohms, 0.08%, 20Hz~20kHz
4K/60 Hz full-rate pass-through, 4:4:4 color resolution, HDR and BT.2020
8 HDMI inputs (incl. 1 front) with full HDCP 2.2 support; 2 HDMI outputs
Analogue to HDMI conversion and full SD/HD to 4K Upscaling for legacy video sources
Dolby Atmos (up to 7.1.4) and DTS:X
AirPlay, Bluetooth, Internet Radio, Spotify Connect, Pandora, SiriusXM, Network Audio Streaming
DSD (2.8/5.6MHz), FLAC, ALAC, AIFF and WAV support
11.2ch pre-out with 11.2ch processing; RS232 Control
Audyssey MultEQ XT32, LFC, SubEQ HT, Dynamic Volume and Dynamic EQ
ISF video calibration
Dimensions: 17.3 x 15.7 x 6.3
Weight: 28 lbs
Executive Overview
Let's face it, most audio companies either release new products in January for the Consumer Electronics Show in Las Vegas, or in September for the CEDIA show. With CEDIA approaching, the audio companies are scrambling to get their newest products ready for the floor.  Marantz is up to the challenge releasing a slew of new receivers including the SR6011 featured here. With 9 power amplifiers rated at 110 watts each and 3D sound setups for $1,399, the Marantz SR6011 may be the AV receiver to beat at this years show. 
Of course Marantz packed their newest receiver with all the latest audio and video technologies like Dolby Atmos and DTS:X compatibility for object-based surround sound and the ability to drive overhead speakers for a 3D audio experience. Along with DTS:X decoding, the SR6011 features DTS-HD Master Audio decoding and other DTS audio technologies. In addition, the SR6011 offers both Dolby Surround and Neural:X upmixing, enabling users with a full '3D' sound speaker set-up to get an enhanced experience from conventional Dolby- or DTS-encoded content, or even from music in stereo.
The SR6011 has an 11.2CH pre-out section which is unheard of at this price point.
The SR6011 also features Dolby TrueHD lossless decoding and other Dolby Digital technologies, and of course also supports conventional 5.1- or 7.1-channel speaker set-ups. The amplifier section of the receiver is designed for discrete high current output devices on all 9 channels, and all amp channels are configured identically. The receiver is rated at 110 watts per channel (8 ohms, 0.08%, 20Hz~20kHz), and has the ability to drive lower impedance 4 ohm speakers on all channels.With 9 built in amplifier channels, the SR6011 will support a 7.1.2 or 5.1.4 speaker 3D experience without the need of an external amplifier. Plus, if you use an external amplifier, the setup can be extended to 7.1.4 because the SR6011 features 11.2 channel processing. This is a rare feature found in current Atmos/DTS:X AV receivers at this price point and kudos to Marantz for stepping up their game and raising the bar.  Between the 11.2 channel pre-out section, the RS232 port, IP control and support for Crestron Connected, the SR6011 should be a very appealing receiver for advanced custom installation purposes.
The SR6011 should have enough power to fill large rooms, and thanks to advanced Audyssey MultEQ XT32 the receiver should be able to correct sound imperfections from the room environment. The automatic room acoustic correction algorithms from Audyssey MultEQ XT32 along with the supplied measurement microphone will allow the receiver to analyze each speaker's output (including the subwoofers) at up to 8 measurement locations and generate a precision digital filter that optimizes each channel for the correct frequency and time domain response.
For the home theater the SR6011 features an advanced video section that's compatible with the latest HDMI 2.0a and HDCP 2.2 specifications on all 8 HDMI inputs. With 4K Ultra HD 60Hz video, 4:4:4 Pure Color sub-sampling, High Dynamic Range (HDR), 21:9 video, 3D, and BT.2020 pass-through support on every input, the SR6011 should be ready for 4K Ultra HD Blu-ray disc players, set-top boxes and other 4K Ultra HD sources. In addition, the SR6011 can upscale standard and high definition analog and digital video content to 4K Ultra HD. Because the SR6011 features a full suite of video calibration controls (for use by an ISF technician) it is certified by the Imaging Science Foundation. 

Full wireless connectivity is provided by both Wi-Fi and Bluetooth, with dual antennas that should help ensure a strong signal transmission and reception. The receiver can stream music through AirPlay, network attached storage devices (NAS), Internet Radio, Pandora, SiriusXM, and Spotify Connect. High resolution audio formats and playback are fully supported. The SR6011 can decode AIFF, FLAC and WAV lossless files at up to 24-bit/192-kHz, plus ALAC/Apple Lossless at up to 96kHz/24bit, as well as SACD-quality DSD2.8MHz and 'Double DSD' 5.6MHz. You can play these files via the front panel USB port or stream them to the SR6011 from network sources.
The receiver also comes with an Eco mode which should provide energy savings.  A cool feature of this is an on-screen Eco meter, while makes it possible to use the receiver in power-saving mode which reduces the maximum output power or adopts low-power strategies at more modest settings.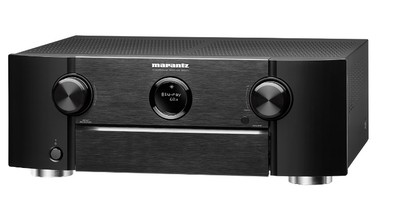 Other features include:
Audyssey Dynamic Volume smoothes out annoying jumps in volume (such as TV commercials), letting you listen at lower levels and still enjoy clear dialogue, music and sound effects. Audyssey Dynamic EQ provides precision tonal tailoring for full range clarity at any listening level.
Audyssey Low Frequency Containment uses advanced psychoacoustic algorithms to deliver a full range tonal balance, including deep bass, but without disturbing close-by neighbors or family members in other rooms, and features a multi-step adjustment that lets you dial in the amount of containment to your preference.
Audyssey Sub EQ HT provides individual DSP tailoring of each subwoofer in a dual subwoofer setup, for deeper bass with improved definition, compared to a single subwoofer configuration.
Speaking of bass, The SR6011 supports two subwoofers with independent delays and trim settings for optimal setup. Used in different locations, these will even out the low-frequency response for more accurate bass anywhere in the listening area.
The SR6011 will be available in September for a price of $1,399.  With all these features you know we can't wait to get our hands on one and put it through our technical tests, measurements and analysis to see if it lives up to all the hype we created in this preview article.  What do you think?  Share your thoughts in the related forum thread below.

Unless otherwise indicated, this is a preview article for the featured product. A formal review may or may not follow in the future.