HDMI is Dead. Introducing HDBaseT Networking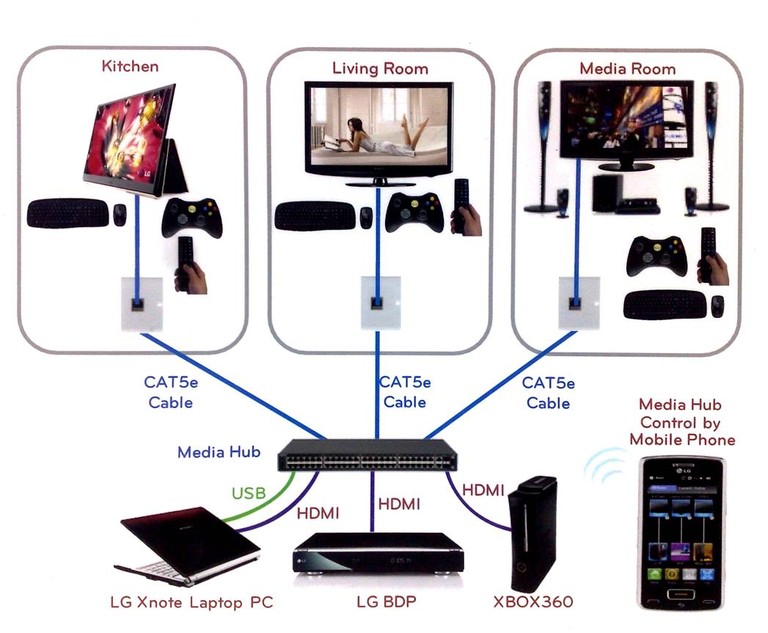 HDBaseT to replace HDMI as the new A/V/control standard
HDMI is dead. How can we say this? Because we have seen the future and it is HDBaseT. HDBaseT technology runs over STANDARD Cat5e/6 cable and implements something it calls 5Play, an unrivaled feature-set that converges full uncompressed HD video, audio, 100BaseT Ethernet, and various control signals. Oh, it also transmits up to 100W of power - that's enough to drive a 37-inch TV. And it can extend up to 100 meters passively. HDBaseT has the bandwidth to support the highest video resolutions such as full HD 1080p as well as 3D and 2Kx4K formats. HDBaseT is the first to provide all-in-one connectivity, making it possible for a single-connector TV to receive power, video/audio, Internet and control signals from the same cable.
Think HDMI has a chance? Think again.
We were fortunate enough tp speak first hand with Ariel Sobelman, President of the HDBaset Alliance. He filled us in on the missing details and answered our questions regarding the future of HD BaseT. 
What makes HDBaseT so odd is that it is sending more info than HDMI over a set of 8 wires within a standard Cat5e or Cat6 cable. How can it do this? Well, it uses much lower frequency modulated packets. These are not IP packets like you find in Gigabit Ethernet. Since they run on such low frequency, they are not subjected to typical EM (electromagnetic) interference. That means you can sit the cables in front of microwave or a cell phone and there are no problems with signal degradation.
5Play - Why You Should Be Impressed
Sure, HDBaseT replaces HDMI with a standard Cat5e or Cat6 cable... but is that really impressive? No, what's REALLY impressive is that HDBaseT's protocol allows you to literally NETWORK your sources and displays just like you do your home data network. They call it 5Play. Want to watch your living room Blu-ray in your bedroom? Check. How about your bedroom's cable box in your theater room? Check. Theater room's Xbox 360 in your children's room? Check? How about allowing three televisions to watch the Superbowl from your single Dish Network set top box at the same time? Check. Check. Check.
HDBaseT enables a network of sources - such as digital video recorders (DVR), Blu-ray disc players, game consoles, PCs and mobile devices — to be connected directly to displays in multiple locations. It allows users an independent yet fully compatible experience. HDBaseT LAN-based technology makes it possible to cut out the assortment of cables for audio, video, connecting CE devices. IR, networking... it's all there. At this year's CES show, LG did a demo where they sent three different sources to three different displays and switched them at will using an HDBaseT hub (and remember, when A/V receivers pick this up everything will be switched via GUI software).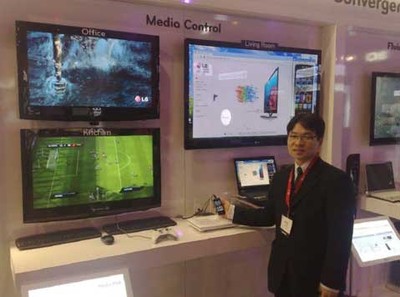 Remember, 5Play is concurrent in its ability to send all of these different types of data. It converges full uncompressed HD video, audio, 100BaseT Ethernet, high power over cable and various control signals through a single 100m/328ft CAT5e/6 LAN cable. HDBaseT has the bandwidth to support the highest video resolutions such as full HD 1080p as well as 3D and 4K x 2K formats. HDBaseT is the first to provide all-in-one connectivity, making it possible for a single-connector TV to receive power, video/audio, Internet and control signals from the same cable. Here's a quick comparison against other existing technologies:
Feature
HDMI 1.4a

DiiVA
DisplayPort 1.2

HDBaseT 1.0

Uncompressed Video/Audio

10.2Gbps

13.5Gbps

21.6 Gbps
(17Gbps data)

10.2Gbps
(can scale to 20Gbps)

Max Passive Cable Length

~5-7m
26m

15m for 5Gbps
3m for 5-21.6Gbps

100m
(plus 8x multiple hops)

Cable type

HDMI

DiiVA

DisplayPort
Cat5e/6
Connector type

HDMI
DiiVA

DisplayPort

RJ-45

Charging power

No
5W

No

100W

Ethernet

100 Mbps

Gigabit

720Mbps

100 Mbps
(can scale to Gigabit)

Daisy chainable

No

Yes

Yes

Yes

Installation-friendly

Heck No

No

No

Yes
(can use existing wiring)

USB

No

Yes

Yes

Yes

Networking methods

None

Daisy & Star

Daisy & Star
Daisy & Star
(with extended-range)

But why do we believe HDBaseT is more than just a simple new spec that shouldn't be taken with more than a grain of salt? Simple. They founded the group with heavyweights like LG, Samsung, Valens Semiconductor and Sony Pictures and installed members from each company as their board of directors. Next, they waited to announce and promote the new incorporation until the HDBaseT 1.0 specification was finished. That's right, the 1.0 spec is COMPLETED, not just announced as some vague vaporware never to be finished.
There is also silicon for it RIGHT NOW and the first products to support it are hitting the market. Last year we covered Gefen's HDMI v1.3 CAT-5/6 ELR Future Proof Extender which used HDBaseT to send HD video, audio, networking, IR and more over a single Ethernet cable.
The development of this cohesive specification is nothing short of mind-blowing. As we've mentioned in other articles dealing with the failings of HDMI, HDBaseT is exactly what the industry needs - a unified and simplified protocol, not a new cable.
"HDBaseT Alliance's creation of a unified specification based on HDBaseT technology will raise the bar as the most technologically advanced, unmatched solution for optimum digital media distribution. HDBaseT technology is poised to become the unrivaled next-generation home networking transport to meet the ever-changing trends in the digital media market."
- Ariel Sobelman, president and chairman of the HDBaseT Alliance
This form of networking, whether it is done by daisy chaining devices or through star topology, can be applied in both the consumer home and in B2B cases such as digital signage networking.
Power Over Cat5e/6? You Betcha
Since HDBaseT is capable of sending 100W of POWER over a single Cat5e/6 cable, this means that many smaller televisions (figure 37-inch TVs at the most right now) are going to be able to receive literally everything they need from a single cable - even without an electrical outlet nearby. 
Remember, this is over a standard Cat5e/6 (Ethernet) cable. It doesn't need to be shielded and there's no danger involved in sending power within. HDBaseT is working with UL right now on certification for this, but there are no warning signs or inherent problems with it passing. At this point, it's just going though the proper motions & channels.
So What's Next?
The demand for in-home converged distribution of HD multimedia content and the lack of adequate existing technologies are driving the industry toward an HD digital connectivity standard such as HDBaseT. Put plainly, HDMI, with its myriad of internal wires and impossibly difficult terminations, simply can't cut it. You really can't terminate it in the field and the more they add to the spec, the shorter the cable runs become until they need active components on either side just to make it work. Installers, in general, can't stand HDMI and are going to latch onto HDBaseT like you can't believe.
Consumers, on the other hand are familiar with Cat5e and more and more are running the lines in their houses for networking. At the very least they've all plugged in a desktop, laptop, or router to get onto the Internet. It;s comfortable, it's familiar.
It's lightweight and locks into a jack without falling out for heaven's sake!
Through development of the HDBaseT 1.0 digital connectivity specification, the HDBaseT Alliance addresses consumer needs and high market demand. HDBaseT increases the transfer distance of uncompressed HD multimedia content, expanding distribution, simplifying installation and ultimately lowering overall system cost.
"Today, there is an abundance of content in the home, including video, images and data. As HDTVs and HDTV services proliferate throughout the world, the amount of content, and the ability to move it around the home, becomes much more complicated. The next frontier in networking is the ability to control and distribute this content. HDBaseT technology is well-positioned to offer a simple solution throughout the home to meet consumers' needs."
- Brian O'Rourke, principal analyst, In-Stat
The finalization of the HDBaseT specification paves the way for HDBaseT embedded products to hit the market. The HDBaseT Alliance anticipates products with embedded HDBaseT technology to be available in the second half of 2010, with the majority of adoption taking place in 2011. Let's hope it pops up everywhere, concurrent with HDMI - and that in a short amount of time, it quickly supplants it. Think about the recent disappearance of S-Video connectors on the backs of A/V receivers. That's what we hope to see happen to HDMI in the not-so-distant future. The specification will be available for licensing within the second half of 2010.
Development and preparation for an HDBaseT Alliance Compliance Program is currently underway. The Alliance plans to formulate a logo usage and licensing program to ensure consistency and consumers' ability to recognize interoperable HDBaseT devices in the market.
Version 2.0 of the spec is already in the works, though no formal dates for its release have been given. At that time the video bandwidth is expected to go up (exceeding 10.2Gbps). Version 2.0 will continue to use, of course, the same cabling and physical format of version 1.0, being completely backwards compatible. We can also look forward to HDBaseT quickly bringing on new partners as their incorporation paperwork is now finalized and can be reviewed by manufacturers and content providers.
For more information about HDBaseT Alliance and membership, please visit the HDBaseT Alliance website at www.HDBaseT.org.
About HDBaseT Alliance
The HDBaseT Alliance is comprised of leading cross-industry companies formed to promote and standardize the HDBaseT™ technology for whole-home distribution of uncompressed HD multimedia content. The cornerstone of HDBaseT technology is 5Play™, a feature set that converges uncompressed full HD digital video, audio, 100BaseT Ethernet, power over cable and various control signals through a single LAN cable. Members supporting HDBaseT technology will play a pivotal role in defining the future of multimedia transmission and data communication in the consumer electronics and content provider industries. For additional information on HDBaseT Alliance and membership benefits, please visit www.HDBaseT.org.
ZeosPantera posts on September 11, 2011 15:40
Well Cedia 2011 is here. Any news on HDbaseT?
zacjones posts on August 21, 2011 01:45
HDMI - quite possibly the worst thing to happen to HT in the last 20 years.
Charapito posts on August 20, 2011 13:58
My question is "Why did they ever come up with HDMI in the first place?" A Cat5/6 connection was possible all the time. $$$$$, ¿No?
res6jya6 posts on September 27, 2010 21:47
res6jya6 posts on September 27, 2010 21:44
It's exciting to hear that technology is taking another advancement forward, but it's kind of disheartening at the same time…

When Home Theatres first came to the foray, it was Coaxial and Composite.
Then Component and SVideo.
Then DVI and HDMI.
Now HDbaseT (?)

In another year, they will be bragging up an even better technology.

And with the new ruling of the FCC to permit PC vendors to meddle with Super WiFi on the now-unused analog TV airwaves, it is likely that that meddling will open up the doors to numerous other advances in wireless technology.

(Ie. wireless power, wireless video signals, etc…) And by wireless power, I mean on a larger scale than those little Energizer power station things.
Post Reply