2014 Audioholics Sound Bar Roundup
2014 Audioholics Sound Bar Roundup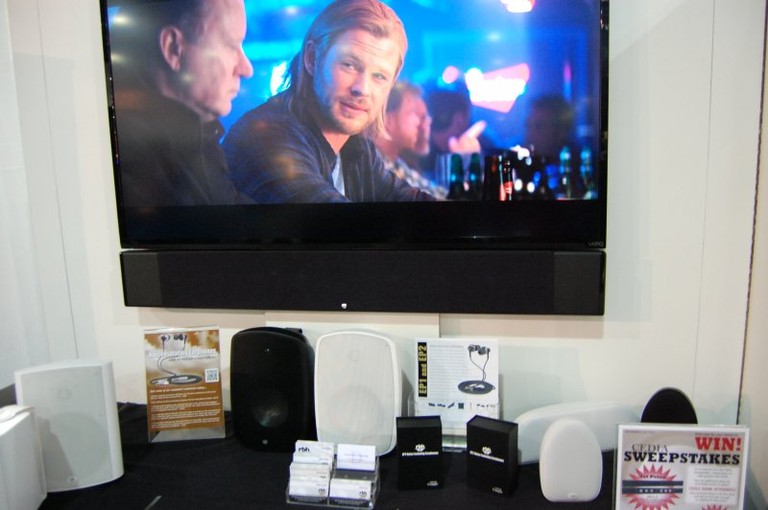 RBH Sound's Ultra-3 Passive Sound Bar At CEDIA 2014
At Audioholics, we love discrete multi-channel goodness. Unfortunately, we also understand that there are times when a full surround setup isn't practical. Many times, there just isn't space for five or more speakers, a subwoofer, and a receiver. Maybe you're just daunted by the prospect of dealing with the mess of wiring associated with such a setup. In these cases, sound bars are the answer.

Of course, if you've taken a walk through your local big box store lately, you'll have undoubtedly seen a wide range of sound bars to choose from. These bars can range from fairly sophisticated systems to cheap, disposable junk. To help you avoid the latter, we've come up with a list of our favorites from 2014. Also make sure to check out last year's roundup for some additional ideas.
Entry Level Sound Bar: Yamaha YAS-203
MSRP: $399.95 | Buy Now | Preview

Compared with the Yamaha YAS-101 we looked at last year, the YAS-203 represents a big step forward in a couple of respects. Starting with the driver complement, the sound bar itself boasts a pair of 2-⅛" full-range drivers. To supplement this, Yamaha has also included a wireless 6.5" bass module; we'd expect this to do a much better job filling in the low end than the built-in dual 3" bass drivers seen in the YAS-101. Power also sees a marginal bump, with the full range drivers receiving 50W apiece and the bass module getting 100W.

In terms of feature set, the YAS-203 has just about everything you'd want in an entry-level sound bar. Like the YAS-101, the YAS-203 is equipped with a remote learning function so you can operate it with your TV remote, as well as an IR repeater in case the sound bar blocks your TV's IR receiver. Physical connectivity is also fairly basic, with a pair of digital inputs (one coax, one optical), and a stereo analog input. However, the YAS-203 adds Bluetooth with aptX for wireless streaming to the menu, along with Yamaha's Home Theater Controller app for iOS and Android. Considering this as well as the inclusion of the bass module, we'd opine that the YAS-203 is well worth the $100 price hike over the old YAS-101.
Entry Level Pedestal Sound Bar: Pioneer SP-SB03

MSRP: $349.99 | Buy Now

If you're looking for a pedestal sound bar / speaker base on the cheap, Pioneer's SP-SB03 should be on your short list. Designed by Pioneer's resident guru, Andrew Jones, the SP-SB03 sports a pair of 1" soft dome tweeters, dual 3" midrange drivers, and two 4" down-firing woofers in a solid MDF cabinet. Each driver is backed by 28W of amplification, and the system utilizes an active crossover network to achieve better driver integration. What does all this mean? In simple terms, the SP-SB03 appears to have more in common with a sophisticated pair of active bookshelf speakers than a cheap sound bar.

Given that Pioneer has clearly focused on sound quality, you might expect that the feature set would suffer. While the connectivity options are pretty bare bones with one optical digital input and a stereo analog input, Pioneer has included Bluetooth for wireless streaming, and a remote learning ability for ease of use. Given the $350 price point (currently down to $300 on Pioneer's website), we're not sure what more you could ask for.
Midrange Sound Bar: Yamaha YSP-2500
MSRP: $999.95 | Buy Now | Review

The Yamaha YSP-2500 is a bit different from the other sound bars in this roundup: it's a digital sound projector. Instead of a conventional driver layout, the YSP-2500 boasts an array of 16 – 1-⅛" beam drivers. The array is capable of steering sound towards your walls via wave interactions, and the resulting reflections fool your ear into thinking you're listening to a full surround system instead of a single speaker. To be sure, it's a neat trick to hear. To fill out the low end, the YSP-2500 comes with a wireless bass module that utilizes dual 4" drivers backed by 75W of amplification.
So what else does $1,000 buy you? Starting with connectivity, the YSP-2500 boasts a trio of HDMI inputs plus one output, a smattering of digital inputs (1 coax, 2 optical), and a stereo analog input. What this means to you is that the YSP-2500 can function as your system hub, as opposed to connecting everything to your TV and then running a cable to your sound bar. As with the less costly YAS-203, the YSP-2500 also features Bluetooth with aptX, control app for Android and iOS, and an IR repeater. Where the YSP-2500 steps things up is with the inclusion of an auto-calibration system to make setting up a snap. Want to know more? Make sure to read the full review to see our listening impressions and other details.
Spoiler: Midrange Sound Bar: Pioneer Elite SP-ESB53W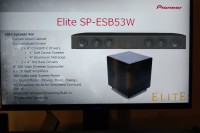 MSRP: TBD

Technically the Pioneer Elite SP-ESB53W isn't for sale yet…and technically we aren't really supposed to know about it. Due for release at CES 2015, Pioneer Elite's new sound bar was on display at CEDIA this year. While details are still a bit sparse, we do have some information to share. The SP-ESB53W is slated to utilize a pair of 4" concentric drivers as seen in Pioneer Elite's new speaker line, supplemented by a pair of 4" mid-bass drivers. An 8" wireless subwoofer is included to fill in the low end.  Each of the six drivers in the sound bar (don't forget the tweeters!) will receive 28W of power, while the subwoofer is rated at 100W. In terms of features, the SP-ESB53W seems fairly basic; like the SP-SB03, the Elite sound bar is equipped with a Bluetooth antenna for wireless streaming, as well as IR learning capability. Needless to say, we're interested to learn more about this sound bar at CES.
Passive Sound Bar: RBH Ultra-3

MSRP: $1,069 | Buy Now | Preview

While we've looked solely at active sound bar solutions thus far, the RBH Ultra-3 breaks that trend. The Ultra-3 is a passive soundbar featuring a trio of 1" aluminum dome tweeters and no less than six 4" inverted aluminum cone woofers. Essentially, it is a space saving replacement for your left, center, and right channel speakers, and requires an A/V receiver for power. What's to recommend RBH's solution? For starters it's razor thin at 1-⅝" deep and the Ultra-3 can be cut to size from 47" to 63" wide to complement your flat screen TV. There's also the matter of RBH's sound quality to consider. However, buyers should take note that with a -3dB point of 100Hz, a subwoofer is necessary for full range audio.
High End Sound Bar: Paradigm Soundscape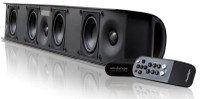 MSRP: $1,499.99 | Buy Now

If you recall our review of the Martin Logan Motion Vision, the Paradigm Soundscape should look at least a little familiar. It's not a surprise really, given that Martin Logan and Paradigm are both owned by ShoreView Industries. However, the Soundscape is not a clone by any stretch of the imagination. OK, yes, there are three tweeters (1" S-PAL domes versus the Vision's Air Motion tweeters) and four 4" woofers in a TWWTWWT layout, and they're both priced at $1,500. Yes, there's a wireless subwoofer transmitter built in and a wireless receiver included as well. BUT…the Soundscape includes Bluetooth with aptX for wireless streaming, while the Vision does not! The Soundscape also sees a boost in power, with 7-25W amplifiers versus the 100W total system power of the Vision. Not convinced? That's OK. Given how much we enjoyed the Vision, a family resemblance is a good thing.
Conclusion
No space for lots of speakers in your room? Just don't want to deal with the hassle of setting up a surround system? One of the sound bars we've covered here might just be what the doctor ordered. Even the least expensive models will provide a noticeable improvement over TV speakers, while higher end sound bars like the Paradigm Soundscape and the RBH Ultra-3 have the potential to impress your audiophile friends. Have a favorite sound bar that we didn't mention? Make sure to let us know your honorable mentions on the forums.