MartinLogan Motion Vision Soundbar Review
MartinLogan Motion Vision Soundbar Review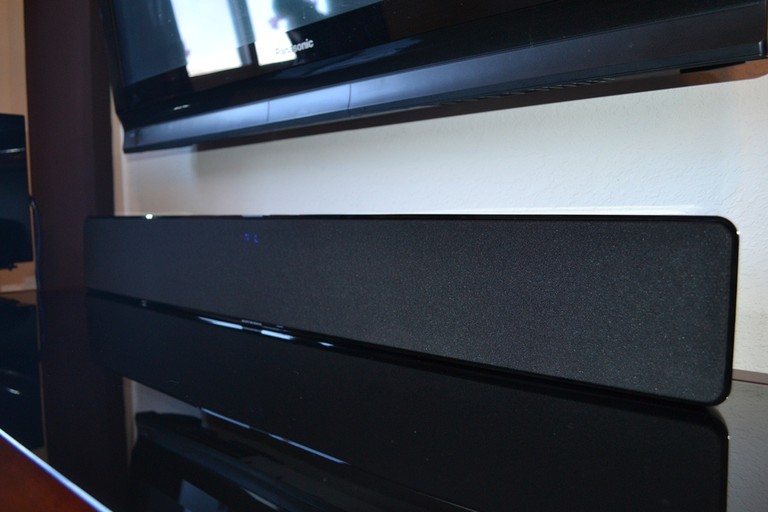 MartinLogan Motion Vision Soundbar Review
Frequency Response: (+/- 3dB) 43Hz to 23,000Hz
Amplifier Power: 100 Watts (200 Watts peak) combined total output across 7 amps.
Crossover Frequency: 3000 Hz
Components & Decoding: DSP based preamplifier, Dolby® Digital, DTS Digital Surround™.
High Frequency Transducers: Three 1" × 1.4" (2.6cm × 3.6cm) Folded Motion Transducers with 5.25" × 1.75" (13.3cm × 4.4cm) diaphragms
Low Frequency Drivers: Four 4" (10.2cm) fiber cones with extended throw drive assembly. Non-resonant asymmetrical chamber format.
Cabinet: Ported
Controls: Top mounted controls and included remote control.
Inputs: (2x) Optical SPDIF (digital optical), (1x) Coax SPDIF (digital coaxial), (1x) Analog RCA Right/Left, (1x) AC Power
Outputs: (1x) Subwoofer Out via analog RCA
Wireless Output: Built-in SWT-2 Subwoofer Wireless Transmitter compatible with equipped subwoofers. External SWT-2 receiver available for wireless connection to other subwoofers.

Remote Battery: CR2025 3V
Power Draw - Max: 120 Watts - Idle: 9 Watts Standby: < 0.3 Watts
Weight: 20.5lbs. (9.3kg) each
Overall Dimensions(HxWxD): 5 x 39.9 x 5.85 (12.7cm x 101.3cm x 14.8cm)
Pros
Excels with music
Stunning detail and natural sound
Soundstage extends well beyond soundbar
Compatible with wired and wireless subwoofer(s)
Cons
Limited bass controls
No AirPlay, Bluetooth, or USB
Martin Logan Motion Vision Soundbar Introduction

Love 'em or hate 'em, soundbars (or sound bars) are here to stay. If you already love soundbars, then the MartinLogan Motion Vision will make you fall head over heels. If you hate soundbars, then the Vision will shatter your universe and make you reconsider every decision you have ever made in your life. Okay, that might be a little dramatic; it will at least make you reconsider your stance. The Vision is MartinLogan's first foray into the soundbar market, but they utilized many of the technologies found in their other Motion series speakers. It represents their effort to create a solution for customers who want high quality sound but don't have the room for (or don't want the clutter of) a typical component sound system.
Overview
The first thing you will notice when you take a look at the Vision is that it's a serious piece of equipment. Most soundbars feel like a toy when you pick them up: thin, light, and made of cheap plastic. The Vision weighs a respectable 20.5 lbs and is 5" H x 40" W x 5.9" D. At nearly 6" deep, the Vision is much thicker than most soundbars, which are designed to be mounted as close to the wall as possible and hand off all bass reproduction to a subwoofer. The added depth means that the Vision might stick out from a wall a little farther than some alternatives, but it also allows MartinLogan to squeeze out some extra bass from the cabinet. With a -3dB point of 43Hz, the Vision can definitely benefit from a subwoofer (more on that later). Even so, I ran it without a subwoofer for almost all of my listening tests and was pretty impressed. Additionally, most subwoofers that come with soundbars, or cheap home theater systems, can only play down to about 40Hz anyway. For people who want to get slapped around by bass, the Vision has a sub pre-out and works wirelessly with the company's Dynamo 1000w and 700w subwoofers. We are a big fan of the ability to hook up an external sub, as this allows greater flexibility so you can buy a subwoofer solution that fits your needs.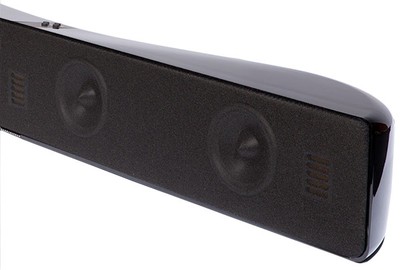 Faded front view of MartinLogan Vision soundbar
The Vision sports three 1" x 1.4" Folded Motion Tweeters and four 4" fiber cones. The arrangement of the drivers is T-M—M-T-M—M-T, with the outside tweeters on the far edges of the soundbar. This arrangement allows for a true left-center-right soundstage without the need for DSP. The Folded Motion Tweeters utilized in the Vision are the exact same that are used in the other Motion Series speakers, including the flagship Motion 40 towers ($949.95/ea) and the Motion 15 bookshelf speakers ($799.95/pr). I liked the Folded Motion Tweeter in my review of the Motion 15's, so I was pretty jazzed to find out that the Vision had three of them. Each of the seven drivers has an independent digital amplifier, which combined can produce 100 watts (200 watts peak). Wattage ratings without information about a driver's sensitivity don't do much good, so let me say this: the Vision plays plenty loud with very little compression or distortion.

Confused about what AV Gear to buy or how to set it up? Join our Exclusive Audioholics E-Book Membership Program!
Recent Forum Posts:
Epsonfan posts on October 08, 2019 11:57
Don't understand why a SB review from 2013 is appearing Oct 8 2019
William Sommerwerck posts on May 09, 2018 14:03
A sound bar has two basic functions – to fit where conventional speakers won't fit, or to provide a center channel. So most of the criticism makes no sense.

By the way, the correct term is "switching amplifier", not "digital amplifier". All digital amplifiers are switching, but switching amplifiers can be either.
Mikado463 posts on February 17, 2018 09:31
Cygnus, post: 975781, member: 8777
Likewise, Hocky.

There's no way that a little bar will ever be able to replace some high quality bookshelves and a sub. Just ain't gonna happen.
I get the whole 'bar thing', but $1400 can easily buy you a better 'separate scenario' ……
Calvert posts on February 17, 2018 01:25
I am disappointed this seemingly great soundbar does not have neither HDMI inputs or an output. This, of course, limits the sound fields supported.
PcPopcorn posts on February 06, 2017 16:11
I need a center channel speaker the size of one of these soundbars.
Post Reply