MartinLogan Motion 15 / LX16 Bookshelf Speaker Review
MartinLogan Motion 15 / LX16 Bookshelf Speaker Review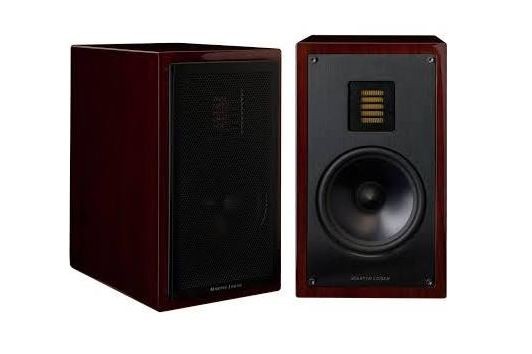 Frequency Response: (+/- 3dB) 60Hz to 25,000Hz

Impedance: 4 ohms

Sensitivity: 92 dB

Recommended Amp Power: 20-200 Watts

Tweeter: 1" x1.4" Folded Motion Tweeter

Woofer: 5.25" Aluminum Cone Woofer

Driver Configuration: 2-Way

Enclosure Type: 3/4" MDF, Rear Ported

Dimensions: 11" H x 6.5" W x 9.5" D

Weight: 12lbs ea.

Warranty: 90 Day Warranty, 5 Year Warranty with product registration
Pros
Impeccable aesthetics
Surprising bass in compact cabinet
Crystal clear Folded Motion Tweeter
Cons
Fragile grill
Have to register for full warranty
May be too bright for some listeners
Introduction

MartinLogan is known for making hybrid-electrostatic loudspeakers; however, that might be changing. Over the past couple years MartinLogan has started to roll out an entire series of speakers based off of their Folded Motion Tweeter. They have reached a new price point, and consumer demographic, with the Motion Series, with satellite speakers starting at $199 ea., which is a far cry from their discontinued $100,000 Statement E2s! I have been a fan of Martin Logan Electrostatic speakers for quite some time, so I was excited to see what they could do with something outside their forte. Hence, I got my hands on a pair of their LX16 bookshelf speakers. The results were quite pleasing. The Motion 15's have just been released which are identical in performance to the LX16's but cosmetically refreshed.  So this review applies to both speakers though our samples were the older LX16's.
Design Overview

The MartinLogan LX16s came packed individually. They were well packaged, with a fancy sock to keep them pristine during shipping, and considering the beautiful finish on these, I can understand. You do have to be careful unpacking the grills, as they are made of very thin perforated metal. Unfortunately, the edge of one of my speaker grills has a slight crease. I am not sure if the speaker came this way, or if it bent at some point, so be wary.
It is apparent that one of MartinLogan's main design concerns with the LX16 was looks. These speakers look great! The high gloss finish is flawless, and comes in either Piano Black or Black Cherrywood. Our demo unit was Piano Black, but the Black Cherrywood is supposed to have undertones of wood grain, and fade to black in low light situations. MartinLogan has been playing around with new finishes on some of their speakers, like Zebrawood and Flamed Teak, and they nailed the finish on these speakers. The front of the speaker is fitted with a blank-anodized brushed aluminum baffle, which is just as classy as the finish on the rest of the speaker. The grill attaches magnetically, which is a nice touch, and floats about ¼" off of the front of the baffle. My only complaint with the grill is that it is fragile, and has a tendency to bow a little bit.
MartinLogan Motion LX 16 Speaker
New MartinLogan Motion 15 in Premium High Gloss Finishes: White, Black Cherrywood, & Piano Black,

On the back of the speaker is a set typical Martin Logan five-way bindings posts. They have a unique shape to make tightening them down by hand a little nicer than traditional five-way binding posts. There is also a threaded insert to mount the speakers, and a port for increased bass response.
MartinLogan Motion 15 / LX16 Bookshelf Speaker Introduction cont.
The Folded Motion Tweeter
The pride and joy of the entire Motion Series is the Folded Motion Tweeter. The premise behind the Folded Motion Tweeter is not new, as it is actually an Air Motion Tweeter. Think of a folded ribbon tweeter. A thin diaphragm is taken and folded into an accordion type shape. The diaphragm moves back and forth, like an accordion, and pushes the air out into the room. The diaphragm only moves a small amount, so the overall surface area of the diaphragm is quite large, about 8 times that of a typical dome tweeter. Martin Logan claims to have taken the technology behind a typical Air Motion Tweeter, which until recently has been uncommon in speakers, and improved it.
It is very fitting that MartinLogan would choose to use the Folded Motion Tweeter because they are similar to an electrostatic speaker in a few ways. They use a thin diaphragm, which is supposed to create "lighting fast response." The diaphragm travels a small distance, which is supposed to decrease distortion when compared to traditional dome drivers. And they offer controlled dispersion, something Martin Logan is very proud about in their Electrostatic speakers. Controlled dispersion allows for less room interaction; however, dispersion patterns that are too tight can create a small sweet spot. The Folded Motion Tweeter has a dispersion of 80° x 80°, which should provide for limited room interaction, while still creating a wide listening area. Below the tweeter is a 5.25" aluminium cone woofer, with a cast polymer basket. Both the tweeter and the 5.25" woofer are slightly recessed behind the front baffle.
The Crossover
I was unable to disassemble the LX16's to get a peek inside. According to their literature, the LX16's use Custom air core coil and low DCR steel laminate inductors, polypropylene film capacitors in series and low DF electrolytic capacitors in parallel. It sounds to us like Martin Logan did their homework. Using costlier air core inductors in critical circuit paths and low ESR poly caps in series with the drive elements is a proven way of designing high quality crossovers while minimizing component losses. Martin Logan claims the XL16's are crossed over at 2700Hz and include thermal/current protection on the tweeter.
Setup
I performed listening tests on a very straightforward system. All CDs and Blu-ray discs were played by a Sony PS3 Slim, hooked up to a Harman Kardon AVR-247 via HDMI. The PS3 handled the decoding to PCM. The LX16s were set to "Large". The center speaker and subwoofer were disabled. I found that the speakers did not need to be toed in much. They were 4'7" (to the tweeter) away from each other, and 10" from the back wall to the back of the speaker. I was sitting about 6' from the speakers. As I moved the speakers closer to the wall, the bass was reinforced, but this was expected because of the rear-facing port.
MartinLogan Motion 15 / LX16 Bookshelf Speaker Listening Tests
Music
CD: Ben Folds – University A Capella
This CD is full of rich vocal harmonies that will bleed together on a low quality speaker; luckily that wasn't the case here. Ben Folds traveled around the country recording a capella versions of some of their most famous songs sung by university choirs. The result is a well recorded CD that offers a lot of local variety.
Track # 3 "You Don't Know Me" This song isn't particularly complex, but it offers a back and forth between a male and a female singer. As the chorus, "You don't know me at all", is repeated over and over, the first syllable in "don't" is almost palpable. The Motion LX16's were able to evoke the emotion with this song that I have heard in much larger and more expensive speakers.
Track #8 "Magic" – This track starts out with haunting male bass singers, which come in and out throughout the song. Male and female vocalists singing at the same time, in harmony, allowed the LX16s to show how smooth of a midrange they have. Each voice was clear, not getting mushed together with other singers. Towards the latter half of the song a female singer takes center stage, her voice floated delicately right in the middle of the soundstage, in front of the chorus.
CD: Jack Johnson – In Between Dreams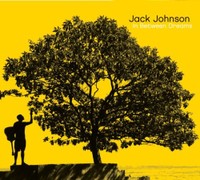 Jack Johnson doesn't write the most complex music out there, but it is well recorded and is a joy to listen to.
Track #5 "No Other Way" The acoustic guitar in this track came across very clear. As Jack Johnson slides his finger up and down the strings, you can almost feel the texture of the strings. Although that statement may sound odd, if you play guitar you should have the same feeling. The vocals floated in the middle of the soundstage, the drum kit just inside the right speaker.
Track #9 "Crying Shame"The song starts out quietly with a few soft strums of the acoustic guitar, and then Jack's vocals come into the mix and the pitter patter of a high hat sets the beat. The soundstage was very open, each instrument was clearly held in one spot, not muddled with other instruments. I also tested a little bit of the output capabilities of these speakers; I had them around 90db, and didn't notice any driver breakup.
CD: Dave Mathews Band - Best of What's Around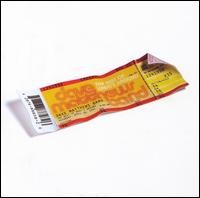 Track #4, Disc #1 – "So Right" – This song, like many DMB songs, has a lot going on. A whole host of different instruments fills the soundstage, and keeping each instrument distinct and separate can be a difficult task for a speaker. The LX16s did a commendable job, but missed some of the detail that more expensive speakers can bring out. The imaging was excellent, with Dave Mathew's voice locked right in the middle of the soundstage. I didn't notice any major coloration, but the bass started to lose some clarity at higher volume levels.
Track #2, Disc #2 - "Warehouse/Louie, Louie" starts out with the crowd chanting, and slowly picks up pace and adds instruments. There is a rapid ascending and descending bass rift that the LX16s simply could not handle. The bass guitar would come in strong, then fade away completely with the descending notes. This track really showed the low-end limits of the speakers, hence why they should be bass managed and supplemented with a subwoofer.
Movies
Blu-ray: The Incredible Hulk
The Incredible Hulk is a re-launch of the Hulk franchise. It is an entertaining movie, especially when compared to The Abomination of a film (see what I did there?), Hulk. There are a number of great acti
on scenes in this movie, and the soundtrack is DTS HD Masteraudio. During chapters 10 & 11, Bruce Banner is surrounded by General 'Thunderbolt' Ross and his troops. Bruce transforms into the Hulk and absolutely obliterates all of Ross's forces. This scene has plenty of explosions, gun shots, and vehicles being thrown around like ragdolls. The LX16s were able to handle everything the soundtrack offered. Even though the speakers sounded slightly bright, they were never harsh. The dialogue floated right in front of the screen, providing for a convincing phantom center. They handled the dynamic swings with ease, and never bottomed out even though I fed them a full-range signal. The bass response was surprisingly accurate and full. I never felt like I was missing something, adding a sub would certainly make a difference, but the speakers rallied up enough bass to be satisfying for casual use.
Blu-ray: Inception
Inception is one of those movies you need to watch at least twice to really understand everything that is going on, similar to films like Donnie Darko and Stay. Not only is Inception an intriguing and engaging movie, the soundtrack can be considered reference level. During chapter 3, Cobb enters into a shared dream with Ariadne. As she starts to realize that they are in a shared dream, the dream world begins to collapse. Everything in the scene starts to shoot around and explode. The bursting plates were especially crisp and realistic. The exploding pavement can be a demanding load for any speaker, but the LX16s held their composure. The bass was by no means thunderous, and the speakers were at their limit, but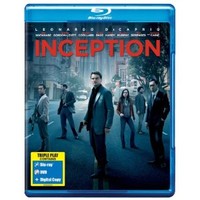 distortion was very low and not blatantly obvious. Still, I could start to tell there was supposed to be more bass. Adding a subwoofer to take the strain off of the LX16s allowed them to open up, and isin fact an obvious necessity for heavy movie use. For the sake of comparison, I powered on my MartinLogan Theos to compare how the LX16s held up against Martin Logan's own electrostat hybrids. There was quite a difference in overall fidelity, timbre, and bass response, which should be expected as the Theos cost six times more. The LX16s are certainly no replacement for the electrostats; although, the entire Motion series is supposed to be voiced to work in unison with MartinLogan's electrostat speakers.
Editor's note – Although most Audioholics reviews include detailed measurements, because of issues with the measurement equipment we were unable to take measurements at the time of this review. Measurements may be added later.
MartinLogan Motion 15/ LX16 Bookshelf Speaker Recommendations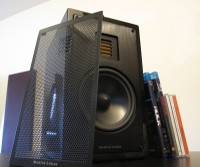 The LX16s are versatile speakers because they have enough bass to work decently as a standalone system, but are also timbre matched to work with the rest of the MartinLogan Motion Series. Paired with smaller Motion Series speakers, the LX16s would do a great job at anchoring down a surround sound as the main speakers. They could also be used as height (Does anyone actually use ProLogic IIz?), surround, or surround back speakers in a larger system with the Motion20s ($749ea.) or Motion40s ($949ea.) as the main speakers. The speakers look modern, but still have enough class to fit well in almost any room. But, be careful, these speakers might make the rest of your system look ugly!
If you are going to use these speakers for anything other than casual listening, then you will want a subwoofer. I never had problems with distortion, but the speakers are relatively small and because of an annoyance called physics, they can't produce that much bass. By crossing over the speakers around 80Hz, they will open up and be able to sustain higher playback levels with much less strain.


Conclusion
It is evident that MartinLogan is going after a new demographic with their Motion series. At the same time, they are trying to maintain their image as a premium loudspeaker manufacturer, and as the leader in hybrid electrostats. The Folded Motion Tweeter, perforated metal grill, and over sound quality are evidence of this balance. Martin Logan seems to have hit a nice balance with the LX16s, the first speakers of their kind from Martin Logan, there is a lot to like here. If you really want the sound of Martin Logan's electrostats, but want something in a smaller form factor, then look no further, go out and buy a pair of these. If you are starting to build a 2.1 or 5.1 system, the LX16s are at least worth a good listen. 
Review Update Nov 5, 2012: The Motion 15's have just been released which are identical in performance to the LX16's but cosmetically refreshed.  Expect the same performance and even better looks. 
MartinLogan Motion 15 / LX16 Scorecard
MSRP: $799/pair

MartinLogan
2101 Delaware St.
Lawrence, KS 66046
(785) 749-0133
About Martin Logan
Martin Logan is a premium loudspeaker manufacturer, based in Lawrence, KS. They make a full array of home theater speakers, but their claim to fame is there electrostatic hybrid speakers. They have made many advances in loudspeaker technology, including their Xstat Transducer, Curvilinear Line Source (CLS), Advanced Thin Film (ATF) tweeter, and Folded Motion Tweeter. Martin Logan is well respected in the audio community, with a very loyal following largely of their Electrostatic speakers. For more information visit Martin Logan

The Score Card
The scoring below is based on each piece of equipment doing the duty it is designed for. The numbers are weighed heavily with respect to the individual cost of each unit, thus giving a rating roughly equal to:
Performance × Price Factor/Value = Rating
Audioholics.com note: The ratings indicated below are based on subjective listening and objective testing of the product in question. The rating scale is based on performance/value ratio. If you notice better performing products in future reviews that have lower numbers in certain areas, be aware that the value factor is most likely the culprit. Other Audioholics reviewers may rate products solely based on performance, and each reviewer has his/her own system for ratings.
Audioholics Rating Scale
— Excellent
— Very Good
— Good
— Fair
— Poor
| Metric | Rating |
| --- | --- |
| Build Quality | |
| Appearance | |
| Treble Extension | |
| Treble Smoothness | |
| Midrange Accuracy | |
| Bass Extension | |
| Bass Accuracy | |
| Dynamic Range | |
| Performance | |
| Value | |