9 Great Soundbars For Any Budget: TV Speakers Be Gone!
9 Great Soundbars For Any Budget: TV Speakers Be Gone!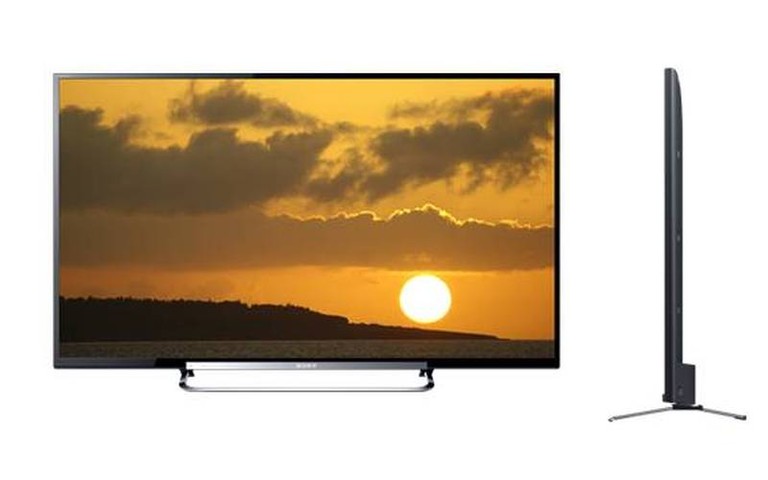 Flat panel TV's look nice and are getting to be nearly paper thin. Unfortunately, they're not well suited to deliver good sound.
As someone who owns a half-decent 5.1 setup as well as a conventional 2.0 setup, I'll admit that the whole idea of a soundbar was initially anathema to me, as it is with many audiophiles. However, over the July 4th holiday, I had a bit of an epiphany. I was in a hotel room which boasted a flat panel TV and HTIB system. Unfortunately, all the satellite speakers of the HTIB were uselessly tossed on a shelf otherwise meant to hold a Blu-ray player or similar piece of electronics. It struck me: if these guys (or gals) had wall mounted the flat panel TV and placed even a basic soundbar where the TV had originally sat, it would have dramatically improved the sound and the overall aesthetics. Newfound respect for soundbars in hand, Audioholics' Content Manager, Cliff Heyne, coincidentally pinged me on my interest in writing an article about…wait for it...soundbars!

Now it goes without saying that there's no great shortage of soundbars on the market to choose from, and at a variety of price points to boot. Fortunately, we here at Audioholics have gotten our mitts on several models, and can help narrow the choices down to a few that represent the cream of the crop at various price points. Without further ado, we present to you…
Entry Level Soundbar Picks

Sony HT-CT260 - MSRP: $300

With an MSRP of $300, the Sony HT-CT260 is a respectable, well featured soundbar that could have easily improved the situation in my hotel room. It also sits at a point where you don't have to sit and wonder whether the jump in sound quality was worth it, as some bargain bin models might. So what does $300 get you? The bar itself includes a pair of full range 2.25" x 3.25" drivers (one per side) fed by a liberally rated 85W RMS of amplifier power. To supplement the low end, Sony also includes a wireless bass module (no, it's not a subwoofer, we'll I guess it is, they just don't call it that) with a 5.13" driver in a vented enclosure and fed by an additional 130W amplifier. While Sony doesn't provide much in the way of specifications like frequency response (soundbar manufacturers rarely do, until you get into the higher end units), there's not a whole lot of doubt in our minds that handily outperforms the built in speakers of a paper thin flat panel TV, and it doesn't look too bad to boot.

In terms of features and connectivity, as you might guess, Sony doesn't leave you high and dry. Inputs include a pair of digital connections (one coaxial and one optical) as well as a 3.5mm mini-jack for connecting iPods and other portable devices. The HT-CT260 also offers Bluetooth connectivity, which means you can wirelessly stream music from a smartphone or tablet. Like pretty much every soundbar on the market, the Sony also offers virtual surround technology to help deliver a more enveloping experience than you'd otherwise expect from a single 36" wide speaker. Don't expect too much from the virtual surround mode though, they are never as good as a true surround sound. The last noteworthy feature is IR passthrough. A common problem with soundbars it that when they sit in front of the TV, they can physically block the TV's IR remote sensor. With IR passthrough (an IR receiver on the front of the soundbar and an IR repeater on the rear) you can block the remote sensor on the TV and still use the TV remote like normal. Overall, we really like what Sony brings to the table for the money. The HT-CT260 can offer a nice bump in sound quality over TV speakers and is well suited for smaller spaces such as a bedroom, dorm room, etc.
Yamaha YAS-101 - MSRP: $300; Street Price: $250

The Yamaha YAS-101 takes a significantly different approach from the aforementioned Sony. First and foremost, the YAS-101 is designed to deliver good sound from a single, attractive box and ditch the subwoofer (or bass module). At first glance, you'd be forgiven for thinking that Yamaha had failed spectacularly, as the face of the YAS-101 only sports a single 2.5" full range driver per side. However, neatly hidden on the YAS-101's underbelly is a pair of down-firing 3" woofers in a bass reflex enclosure which work to extend bass response down to a claimed 50Hz. Unfortunately, no tolerance is provided for that figure, so we'd recommend taking it with a grain of salt. Still, like the Sony, we feel that that the Yamaha does have the goods to deliver a significant improvement over the built in speakers of a flat panel TV. Of course, if you'd like an extra helping of bass, the YAS-101 is fitted with a subwoofer output. Add a respectable low cost model such as the Pioneer SW8MKII, and you've got a system that can potentially deliver a satisfying audio experience in a svelte package. Not to mention that the $159 Pioneer sub we mention will kick the pants off any soundbar/subwoofer package under $600.  Unfortunately, there is one fly in the ointment here: utilizing an external subwoofer disables the built in 3" drivers, so you will need to utilize a fairly high crossover point (we'd guess about 200Hz) and be careful with placement to achieve good integration. Basically, keep the subwoofer close to the soundbar, not 15' away on the other side of the room. 

On the feature side of the equation, the YAS-101 again takes a different approach from the Sony. Connectivity is limited to a trio of digital inputs (1 coaxial, 2 optical), and there's no Bluetooth. On the other hand, Yamaha does deliver a few features that users and installers alike might appreciate, including UniVolume to keep commercials from shouting at you, Lip Sync to adjust the timing of audio vs. video, and IR passthrough and learning functions. The IR learning feature allows the YAS-101 to be controlled directly by any IR remote, meaning you can still use your TV or cable/sat remote to control the soundbar. It also includes its own remote if you would rather use that. As mentioned with the Sony soundbar, IR passthrough compensates if the bar is located such that it blocks the signal to your TV. Taken all together, the YAS-101 is well suited for those who love simplicity: setup pretty much consists of plugging in the soundbar and running a single optical cable from your TV. Add a sub and you've got a pretty decent system for the money.
Pioneer SP-SB23W – MSRP: $399

Due out for fall, Pioneer is also releasing an entry level soundbar. So what, you might ask? If it's not out yet how can we even know it's good enough to recommend. Oh, we know. This is a soundbar designed by Andrew Jones, the same guy that made magic with Pioneer's latest, well received low end loudspeakers. The soundbar follows the same design principles that have made his other products so well received. All the details aren't out yet, but what we do know is that the Pioneer will feature an MDF enclosure containing a 1" soft dome tweeter and a pair of 3" woofers per side as well as a bass module sporting a 6.5" driver and 50W amplifier. Suffice it to say, we have high hopes.
Lower Midrange Soundbar Picks

Harman Kardon SB16 - MSRP:  $600; Street Price: $500

For double the price of our entry level offerings, you'd be right to expect big things from the Harman Kardon's SB16. Fortunately, the Harman Kardon isn't likely to disappoint. For starters, there are no Bose-esque full range drivers here; the SB16 sports a 0.75" tweeter and a pair of 3" woofers with 25W RMS of amplification per side. The SB16 also ups the ante by stepping up to a wireless 10" ported subwoofer with a 100W RMS amplifier. Bluntly, this isn't a setup anyone would ever mistake for TV speakers, and with that (relatively) big 10" subwoofer, the SB16 is putting the bass output of the entry level options to shame as well. We actually reviewed the SB16, and in addition to impressive output capabilities, we also found it to actually sound good with a surprisingly wide soundstage.

Now, in terms of feature set, the SB16 isn't the end all/be all. You get basic connectivity options including a stereo analog RCA input and a pair of digital inputs (one coaxial, one optical), but there's no streaming options to be found. Like the YAS-101, the SB16 is programmable to recognize the commands of your TV remote (on/off, volume up & down) to simplify setup. Naturally the SB16 also offers a virtual surround mode (which the step up SB30 at $800 radically improves upon). However, if you're looking for more than this at a street price of $500, you're going to be disappointed. Beyond the above details, the relatively short feature list is mostly composed of items like "video shielding" and "elegant design". No biggie in our books. In the end, the SB16 is for the user who wants a simple soundbar with a focus on sound over nifty features.
SpeakerCraft CS3 – MSRP: $599

The SpeakerCraft CS3 is a bit different from the soundbars that we've looked at thus far in that it is a dedicated table top model that you physically rest your TV on, as opposed to something suitable for wall mounting with a flat panel TV. So how does it stack up? Like the YAS-101, the CS3 is a single box solution; however, the driver array is considerably more capable. On the face of the SpeakerCraft, you've got a 1" silk dome tweeter and a pair of 3" treated paper cone drivers per side staring you down. Fortunately, like the Yamaha, the CS3 also has a hidden woofer compliment, in this case a pair of 5.25" drivers in a bass reflex alignment. SpeakerCraft claims this array will deliver low end output down to 35Hz, but with no tolerance provided, we'd NOT bet good money that it will do so with authority. Nonetheless, as compared with TV speakers or even our entry level picks, the CS3 represents a clear step up in practically every measure.
It includes a useful compliment of inputs to connect to a TV including a pair of digital inputs (one coaxial, one optical), as well as a stereo analog RCA input. In most cases, like the Harman Kardon SB16, we'd expect you'd just hook this up to your TV and let it act as the hub of your A/V system. However, unlike the SB16, the SpeakerCraft also offers Bluetooth connectivity for streaming music from a smartphone or tablet. Ultimately, if you'd like sound quality and power that's a solid step up from our entry level picks, but are more comfortable with a single box solution, the SpeakerCraft CS3 is a great option.
Confused about what AV Gear to buy or how to set it up? Join our Exclusive Audioholics E-Book Membership Program!
Recent Forum Posts:
Tim DH posts on July 26, 2013 16:04
Solus Audio Soundbars

You should also check out the Solus Audio Speaker products designed by Philip Clements. I've been in A/V sales and installation for many years and am very impressed with their line of speakers! Very dynamic, efficient, great sound, good looks, and don't cost a fortune.

Their new H-Pas technology is in use by a couple speaker manufacturers already, I think we will be hearing a lot of good things about it in the future!!!

I've always enjoyed sharing and helping people find the truly great values in the A/V industry! The friends you make and the smiles on peoples faces make it so rewarding!!
boydzfv posts on July 24, 2013 03:37
For the same price as the Panorama 2 you could do the ML + a $700 stand alone sub.





Cliff_is posts on July 19, 2013 10:17
bootman, post: 978103
Any chance on doing a roundup on passive soundbars like the Goldenear SuperCinema, Phase Technology Teatro or Atlantic Technology FS-7.0?
Only way to currently get HD Audio is via a AVR.
One of the slim AVRs from marantz would pair up nicely but the overall price would be well above this group.
(but you do get much higher performance even rivaling in some cases separate speaker systems.
I agree with you on all counts
And that's a a good idea for an article.
Consider it added to the list.
bootman posts on July 19, 2013 10:04
Any chance on doing a roundup on passive soundbars like the Goldenear SuperCinema, Phase Technology Teatro or Atlantic Technology FS-7.0?
Only way to currently get HD Audio is via a AVR.
One of the slim AVRs from marantz would pair up nicely but the overall price would be well above this group.
(but you do get much higher performance even rivaling in some cases separate speaker systems.
Cliff_is posts on July 18, 2013 18:29
I actually just personally don't like the sound of the XTR lineup…that's why it didn't make it on there.

Granted, I haven't listened to their powered lineup, only their passive 3 and 5 ch. soundbars , and they look really cool.

The Panorma 2 is great, but it didn't make it for one reason. For the same price as the Panorama 2 you could do the ML + a $700 stand alone sub.
Post Reply