Outlaw Audio LFM-1 EX Subwoofer Review
Outlaw Audio LFM-1 EX Subwoofer Review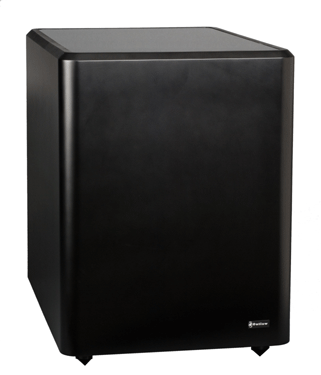 12" downward firing long throw woofer
Vented cabinet with dual 3" flared ports
Amplifier: BASH 350 watts rms
Frequency Response: 22-180Hz +/-2dB (2 port mode), 16-180Hz +/-2dB (1 port open mode)
SPL: 118dB (Subject to placement and room gain)
Finishes: Ebony black
Dimensions (H/W/D): 22.75" x 17" x 24"
Weight: 80 lbs.
Warranty: 3 years (Bumper to bumper)
Driver features
Rubber surround
Inverted dust-cap
Double sacked magnets
Bucking magnet
Vented pole piece
Bumped back plate
Additional Features
Variable low pass filter, 30-180Hz, 4th order Linkwitz Riley (Defeatable)
Phase: Variable from 0 to 180 degrees
Selectable power mode: On, Auto-On, Standby
Selectable operation mode, 1 port or 2 ports
Detachable power cord
Detachable floor spikes
Plexi-glass top
Inputs/Outputs
Unbalanced (RCA) input
Speaker level left and right inputs
Speaker level left and right outputs
Pros
Overall measured performance
Huge bang for the buck
Real 20Hz output
Cons
Driver / enclosure system is not quite optimized to each other
Limited connectivity
Basic controls only
Introduction
The Outlaw Audio LFM-1 EX is a moderately large 12" ported powered subwoofer with a built in 350 watt rated amplifier. Based on our extensive testing, the LFM-1 EX proved to be an overachiever at its mere $650 price tag. We did find the sub to be slightly mistuned but keeping both ports open produced the best overall sound and measured results. Two ports open also allowed us to achieve its most dynamic output while minimizing port chuffing. The fit and finish was good, though the product wasn't quite as buttoned up as some of the multi thousand dollar units we've tested. The Outlaw Audio LFM-1 EX receives the Audioholics "Bassoholic Large Room" rating, which means that this sub is recommended as maintaining adequate headroom in rooms or spaces of 3,000 to 5,000 cubic feet and/or for users who usually listen at moderate to high volume levels. The LFM-1 EX does a lot right and makes no major mistakes all while providing huge bang for the buck value and meaningful 20Hz extension. Outlaw has knocked this one out of the park as far as I'm concerned. Budget conscious sub shoppers looking to fill a large space take note.

See also:
Confused about what AV Gear to buy or how to set it up? Join our Exclusive Audioholics E-Book Membership Program!
Recent Forum Posts:
jaramill posts on January 28, 2012 19:41
Yeah I just purchased it after recommendation from guys on the AVSForum and they were selling like hot cakes! So hot that they're on back-order and the sale isn't over yet 'til Monday. Luckily I got my order in time.
its phillip posts on January 20, 2012 10:35
GEN II posts on December 24, 2011 14:32
Ok, I got 2 LMX plus's on it sounds much better to me. I found it sounds and feels better with the positioned in the rear vs on the front in the traditional place. So right now one is in the back left corner and the other is 3/4 done the right wall ( 4' from the corner).

Is it odd to find it to sound better in these places?

Crossover
Front 90hz
Center 90hz
Surround 60hz

Frts -2.0
Center -1.0
Rears -3.0
Sub -4.0

Sub at 10 o'clock
DVDIT posts on December 05, 2011 15:28
I am wondering if I give up much at all if I went with the LFM-1 Plus over the EX in my 20 x 18 x 8 HT room for 100% movies only use. I live in a town home so I don't get to crack volume nowhere near reference and the size of the EX is a real issue around here. Suggestion ?
GEN II posts on November 30, 2011 07:56
Are both drivers on the Empire working? Yes

If you put your hands on both while its playing can you tell if they are in phase with eachother? Yes

What are the knob settings on the plate amp & what are the settings for it in your receiver?

Subwoofer=Crossover is all the way to the right (LFE input being used, so this should not matter). Output level is 10 o'clock, phase is @ 0.


Receiver = Level is 3.0, crossover is 120hz, LFE+main, placed about 8-10' from primary listening area and currently underneath TV / Front mains. ( I have also placed it in the rear of the room)
Post Reply