Klipsch SW-311 Subwoofer Review
Klipsch SW-311 Subwoofer Review
Klipsch SW-311 Specifications
10" forward-firing driver
Dual 10" side-firing passive radiators
Amplifier: BASH® Digital Hybrid, FTC Rated Power: 500w continuous @ <2% THD / Dynamic Power: 1200w
Frequency Response: 22-120Hz +/-3dB
Maximum Acoustic Output: 118dB @ 30Hz 1/8th space, 1 meter
Finishes: Black satin
Dimensions (H/W/D): 13" x 13" x 14"
Weight: 37 lbs.
Warranty: 2 years (Bumper to bumper)
Driver features
Die-cast aluminum frame
4 layer copper voice coil
Aluminum former
Highly damped, non-resonant woven fiberglass driver and passive radiator cones
Inverted rubber surround on driver and passive radiators
Vented pole piece
Dual stacked ferrite magnets
Additional Features
Patented Adaptive Room Correction II (ARC) with 12 active filters
DCS: Digital Control System with built in LCD screen and adjustable DSP controls
5 system setting presets
3 EQ settings: Flat, Depth and Punch
1 watt power consumption in standby mode
Universal voltage: 100-120V / 220-240V~50/60Hz 5A (Auto-voltage switching)
Volume level: -60-+10 in 1dB increments
Low Pass X-over: 40-150Hz with selectable: 12, 18, 24, 36 and 48dB octave slope (Can be disabled)
Phase: 0 to 180 degrees
Selectable power mode: On, Auto-On, external trigger
Inputs/Outputs
Unbalanced (RCA) left (LFE) and right inputs
Unbalanced (RCA) mono subwoofer output for daisy chaining
12v trigger
Microphone input (ARC II)
USB input for advanced ARC II management (Not typically utilized by user contact Klipsch)
IR sensor for control via AV remote
Pros
Very compact
High WAF
Easy to set-up and use
"Bulletproof" design
Cons
No grills for passive radiators
Limited low frequency extension
A.R.C. corrects one listening position only
Expensive
Klipsch SW-311 Introduction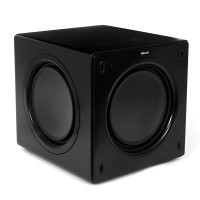 Klipsch is a brand that should be familiar to most audio enthusiasts and is commonly equated with highly efficient and dynamic speakers utilizing horns in some form or another. Klipsch has been in official operation since founded by its namesake Paul W. Klipsch way back in 1946 and is one of the longest operating American speaker companies. 65 years later the outfit has gone from handmade batches in a small garage to being a large global company with products in what seems like every conceivable market niche. They have developed a large and dedicated community of owners and fans over the years, with a lively discussion forum and yearly pilgrimages for Klipsch users. I myself have been using Klipsch main speakers in my HT system for the last 3 years or so, (Two pairs of CF-4's and a KV-4 center channel.). However the subject of this review is not any of their current model speakers, but is instead their SW-311 subwoofer which sits at the top of their current Reference line of subwoofers.
Unpacking and Initial Thoughts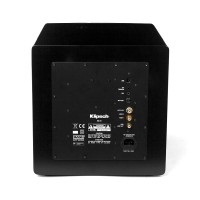 After receiving the SVS PB13-Ultra and having to deal with its 180lb weight as shipped I was grateful when the box containing the SW-311 showed up weighing in at about 45lbs and roughly a 6th of the size. Unpacking the subwoofer was uneventful and straightforward. The SW-311 came is a heavy gauge single layered box, with reinforced corners and cardboard corner inserts. There is the usual large recessed top and bottom foam pieces which fit the subwoofer like a glove. The subwoofer itself was enclosed in a cloth bag also. The rest of the contents consisted of the detachable power cord, owner's manual, ARC II microphone and grill. The packaging is not the heaviest or most protective that I have seen but in light of the small size and relatively modest weight of the unit it should be more than adequate. Once I had the SW-311 unpacked the first thing that struck me was that this was a seriously small subwoofer. It comes in under 1.4 cubic feet in total external volume taken up. That is smaller than some bookshelf speakers and smaller than my KV-4 center channel! It is very compact as far as home theater subwoofers go and is more akin in size to what you might usually see coupled with a 2.1 computer audio setup. You should be able to fit the SW-311 in just about anywhere. The SW-311 only comes in one finish apparently, which is the satin black proudly worn by the review unit. It is a classy and understated appearance that should not call attention to its self, but looks nice when, or if it does happen to become the focal point of attention. The fit and finish is good and the DCS control system sporting its blue LCD screen, along with the textured slightly reflective surface of the 3 10" cones, give it a high tech look.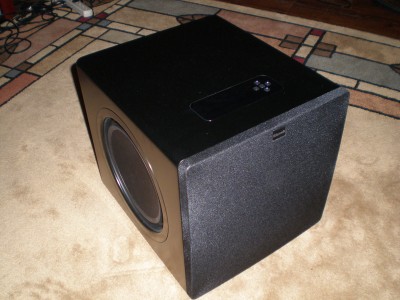 See also:
Confused about what AV Gear to buy or how to set it up? Join our Exclusive Audioholics E-Book Membership Program!
Recent Forum Posts:
Ricci posts on September 06, 2012 13:14
KEW, post: 904560
I would say ARC could easily be worth $500 if there is no other EQ system in play - especially if location possibilities for the sub are limited, but does Audyssey leave us short such that ARC adds an audible improvement?
ARC is one of the better built in auto-EQ systems that I have encountered thus far and I would agree with your assessment. If you already have EQing capabilities whether automatic in a reciever, or manual through an EQ unit with measurements, then ARC is not so important. However if you have neither of these, such as with many 2 channel systems, ARC could make a very large improvement in the response in that case.
gtpsuper24 posts on September 02, 2012 15:08
KEW posts on September 02, 2012 15:04
Can you comment on the benefit realized from running ARC after Audyssey (and which version of Audyssey you used) for your listening test?

The weight and appearance suggest that the Klipsch SUB-310 may be essentially equivalent in cabinet and drivers to the 311 - except without ARC and 400W instead 500W. If this is the case, it begs the question of whether the ARC system is worth $500 to people who already have Audyssey.

I would say ARC could easily be worth $500 if there is no other EQ system in play - especially if location possibilities for the sub are limited, but does Audyssey leave us short such that ARC adds an audible improvement?
robc1976 posts on October 17, 2011 21:01
agarwalro, post: 834464
This sub hot on the heels of the SVS review simply reminds me of…


Not that it is a slouch, but at $1600 it leaves a lot to be desired.
I have a entire 9.1 system klipsch reference sysytem but I must say there subs are terrible! I returned this sub the instant I heard it. You can get a A5-350 for 1/2 that price and it will make the 311 look like it is off. Only okay sub they made is the RSW-15.
shadyJ posts on October 05, 2011 04:31
It doesn't look bad for a sub of it's size and shouldn't be compared to something like the PB13. It should be compared to the correspondingly priced/sized subs from Velodyne, Sunfire, JL Audio, and so on. Not many people can fit a PB13 in their living space, we don't all live in large houses in the suburbs.
Post Reply