Is the Netflix Empire Built on a House of Cards?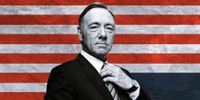 The company that started life as a subscription DVD rentals has built an entertainment empire on award winning but expensive original content on a bleeding-edge streaming service. Earnings statements for Netflix have been rosy as revenue and subscribers grow at an incredible pace. But how much longer can Netflix continue to grow at its present rate? With high powered competitors like Amazon, Apple and Google moving into its market, some analysts think it may only be short lived.
From a Q3 2017 earnings report, Netflix is at an all-time high in almost any meaningful measure. The online entertainment service has over 109 million subscribers worldwide but can it be maintained?