Anthem Updates ARC Genesis Room Correction Powerful NEW Features
Anthem Updates ARC Genesis Room Correction Powerful NEW Features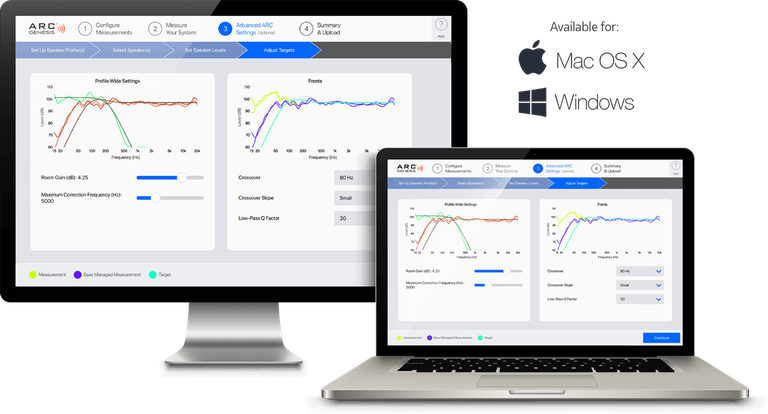 Anthem ARC Genesis
Available for both Mac and Windows, ARC Genesis is the most advanced room correction system available today and offers a comprehensive set of tools to optimize audio performance.
New for ARC Genesis Beta Ver 1.6.5 (as of 5/16/22):

Anthem Auto Phase, Distance, and Time Alignment for up to four independent subwoofers on the MRX x40 and AVM 70/90 (model dependent).


With the addition of phase, distance, and time alignment, ARC:G will now precisely integrate subwoofers into your system using an All Pass Filter.
Anthem ARC Genesis Beta Improvements YouTube Discussion

Anthem Electronics just made a good thing better with the launch of ARC Genesis™, the third generation of their critically-acclaimed Anthem Room Correction (ARC®) software. Available for free from AnthemARC.com, this proprietary digital signal processing technology works with compatible 2-channel and home theater audio products and offers advanced measurement functions, powerful acoustic correction algorithms, user-configurable target curve customization, a streamlined user interface, and support for both Mac and Windows.
Anthem AVM60 11.1CH Atmos/DTS:X Processor

Anthem ARC is really one of our favorite room correction systems...
Anthem Room Correction puts the sophistication and power of an advanced audio lab in your hands so that you can achieve "perfect sound" at home. Anthem claims their PHDs did the hard work, so you don't need an engineering degree to use it. Anthem claims ARC is sophisticated enough to produce real results that you can hear, easy enough to be used by anyone, advanced enough to allow you to customize the settings, and professional enough to give you the kind of results you'd expect from software and hardware costing thousands of dollars. With our extensive review experience using ARC enabled products like the AVM60 and STR Preamp, we'd have to agree with their statements. It really is one of our favorite room correction systems on the market.
When used with compatible receivers, processors, and preamplifiers with built-in bass management functions, ARC Genesis also analyzes the frequency response of speakers and subwoofers to calculate and upload custom high-pass and low-pass filter settings that ensure natural-sounding levels of deep, well-blended bass throughout an audio system.
Anthem engineers developed ARC Genesis utilizing groundbreaking research from the National Research Council of Canada (NRC), Canada's premier research and technology laboratory. Their research into replicating audio-lab measurements in home environments has allowed Anthem engineers to develop a system that understands the acoustic performance of speakers and the adverse sonic effects of listening spaces.
For more information check out our: Anthem ARC Interview
An audio system's performance is always negatively affected by a room's unique characteristics. The size and shape of the room, its construction, the furnishings, and other factors cause standing waves, resonances, and reflections that can color the sound played by loudspeakers. Utilizing proprietary algorithms developed by Anthem engineers, ARC Genesis is said to create custom correction curves that retain the favorable acoustic signature of speakers and remove negative room contributions. These custom filters are then used to program high-quality digital signal processing (DSP) technology embedded within compatible audio products.
ARC Genesis also understands how room boundaries reinforce low-frequencies, an effect called room gain, and automatically incorporates these contributions to retain natural, powerful, and dynamic bass and mid-bass.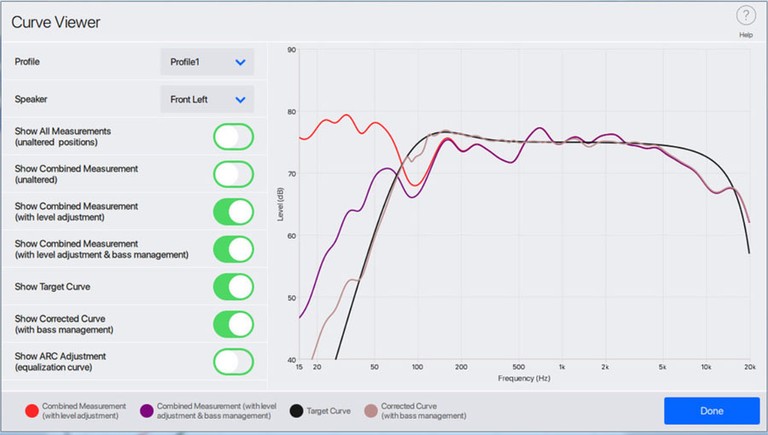 Anthem ARC Genesis Curve Viewer

ARC Genesis Key Features:
NEW—Support for Multiple Platforms and Legacy Products: With the launch of third-generation ARC Genesis software, what was once only possible with a PC is now compatible with both Mac and Windows and offers convenient connections via USB, Wi-Fi/Ethernet, or Bluetooth (depending on the product). ARC Genesis software is backward compatible with many legacy Anthem, MartinLogan, and Paradigm products released during the last decade.
NEW—Performance Enhancements: ARC Genesis incorporates performance enhancements that speed up the optimization algorithm and improve the quality of results. Further refinements enhance the software's ability to detect and automatically select crossover points, analyze room gain, and calculate target curves for each speaker within a system. When used with Anthem's STR Series products ARC Genesis aligns the phase of loudspeakers and subwoofers—a significant advancement.
NEW—Streamlined User Interface and Multiple Languages: The ARC Genesis user interface was redesigned from the ground up to offer a seamless experience across Mac and Windows platforms. Improved UI features include a guided workflow, descriptive and straightforward language, in-line help menus, and interactive acoustic graphs. ARC Genesis has also been designed to support multiple languages.
NEW—Demo Mode: ARC Genesis includes a robust demo feature. Before the release of ARC Genesis, the only way to see the feature set in action was to have an ARC compatible product physically connected to your computer or have an existing ARC file from a previous measurement.  ARC Genesis seeks to demystify the ARC process by incorporating a full-featured demo mode which allows any user to explore Anthem's powerful room correction software, even if they don't have access to an ARC compatible product. This demo mode incorporates measurement data from a variety of receivers, processors, preamplifiers, and subwoofers, allowing you to walk through the configuration, run a simulated measurement, make adjustments, and run a simulated upload. It also allows you to explore features such as the Quick Measure tool, the Curve Viewer, the PDF export function, and Automatic Phase Adjustment.
NEW—Customizable Target Curves: With ARC Genesis' Professional Mode, the target curves for the system as a whole, are adjustable using room gain, deep bass boost, and tilt controls. Individual sets of speakers allow for the adjustment of high-frequency roll-off and crossover frequencies and slopes.  Subwoofers allow for the adjustment of high-frequency extension, low-frequency extension, and low-frequency extension slope.
NEW—20 Hz to 20,000 Hz Full-Range Room Correction for Each Set of Speakers: For products such as Anthem's MRX audio/video receivers, AVM home theater processors, and STR preamplifier and integrated amplifiers, ARC Genesis allows you to set a different maximum correction frequency for each set of speakers, up to 20,000 Hz. For example, you may want to use room correction on your front speakers up to 400 Hz and use corrections on your small in-ceiling height effect speakers up to 5,000 Hz.
NEW—Remeasure: If you've spent time working with ARC to dial in the performance of your system and later decide to upgrade some of your speakers, ARC Genesis allows you to open a saved configuration file, remeasure only your new speakers, and update your target curves without needing to start over from scratch.
NEW—Graph Pan and Zoom: ARC Genesis allows you to examine graphs in great detail by zooming in on graphs and dragging them around to change the view.
NEW—Automatic Backup and Restore and Cross-Platform Compatibility: ARC Genesis minimizes the risk of losing user-configured settings and measurement data should something unfortunate happen when using the software. Saved files are also cross-platform compatible to allow the free exchange of files between Mac and Windows users.
IMPROVED—Quick Measure: ARC Genesis' Quick Measure tool puts the power of a professional RTA audio analyzer in your hands. By connecting an ARC compatible microphone and device to your computer, you're able to run a continuous series of tone sweeps on an individual speaker or subwoofer and see the resulting acoustic curve and SPL level in real-time. While the Quick Measure feature is not new to Anthem Room Correction, ARC Genesis enhances this feature with a Snapshot function that freezes the current measurement curve and preserves it, allowing you to see it overlaid with subsequent measurement curves resulting from changes to the positions and controls of your speakers and subwoofers.
IMPROVED—Curve Viewer: The interactive Curve Viewer tool displays what ARC Genesis is doing every step of the way, generating graphs that display measurements for each speaker and allows users to overlay measurements with bass management settings applied, target curves, and correction curves.
IMPROVED—PDF Export: An improved PDF export tool allows users to share ARC settings in addition to before and after measurement curves.
Multiple Measurements: ARC Genesis allows the creation of multiple sets of measurement data (up to four, depending on the device), which is useful when a significant transformation predictably takes place within the room that can alter the room's acoustic response. For example, take one set of measurements with a drop-down video screen deployed and another with the screen hidden, drapes up or down, doors open or closed, and so on.
Multiple Profiles: Some ARC compatible devices allow you to create and upload multiple system profiles (up to four, depending on the device). For example, one profile can optimize your system as a multi-channel home theater with sub and another as a 2-channel music system without a sub. Once uploaded to a compatible product, these profiles can be mapped to inputs to switch between them rapidly.
Assign Amp Channels: For products such as Anthem's MRX audio/video receivers and AVM home theater processors, ARC Genesis allows you to configure the assignable amp channels from within the software, making quick work of setting up your receiver for zone 2 or height effects channels.
Set Up Bass Management: For products such as Anthem's MRX audio/video receivers, AVM home theater processors, and STR preamplifier and integrated amplifiers, ARC Genesis not only optimizes the performance of your system, it also lets you set up bass management from within the software.
 Conclusion
Anthem ARC has been a pretty solid room correction system from our past experiences. We love the fact the EQ could be bandwidth limited so you can just apply correction at and below the room transition frequency or whatever your preference may be. In our own testing using the STR Preamp in the Audioholics Showcase system, we achieved the best results limiting correction to 500Hz. You're speaker to room interaction may be different and thus you may choose a different stopping point. Something slick we love about Anthem ARC is you don't have to make a physical connection to your AVR meaning you could set up the electronics in a different room other than the speakers and display are in and run the correction via ethernet from your laptop. This is something you can't do on many of the competing room correction systems.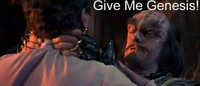 ARC Genesis appears to offer great upgrades to the user interface and usability of the software. We plan on giving this a full spin via the STR preamp in our primary theater room and will report the results back soon. In the meantime, Star Trek fans should be on Red Alert and on the lookout for Khan and Commander Kruge if they find out you've got ARC Genesis in your home theater.
About Anthem
Anthem is a leading manufacturer of award-winning high-end electronics for music, home theater, and distributed sound systems sold internationally under the brand names Anthem™ and Anthem™ Statement. Anthem products are used at all levels of music reproduction and allow you to virtually "be there" every time you listen to a favorite piece of recorded music or experience the excitement of surround-sound home theater.