Audioholics Celebrates 20 Years of Online Success
Audioholics Celebrates 20 Years of Online Success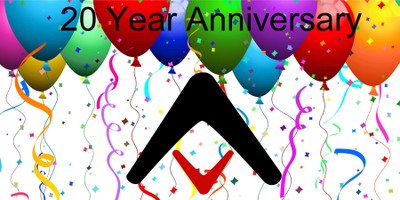 Audioholics 20 Year Anniversary
It occurred to me recently as I was renewing the domain name for Audioholics that we are celebrating our 20-year anniversary this April 18th. Wow, 20 years! It seems like a lifetime ago when I came up with the idea of starting my own audio focused website from the comforts of my bedroom. My then girlfriend and future wife thought it would be a great idea and encouraged me to pursue it. My initial plan was to have a place to offer people buying advice while also debunking much of the industry nonsense that was running rampant in the print magazines and online. As a recent college graduate, I didn't have a lot of disposable income to buy audio gear so as an ancillary benefit, having an official website would provide me an excuse to contact manufacturers to loan me equipment to review and evaluate. I was also in competition with my older brother Steve DellaSala, a musician and engineer like myself, to own the best home theater system. We were always trying to outdo each other and he got so involved that he wound up writing articles for us along the way.
Be sure to watch our recently added YouTube video with special guest commemorating our 20 year anniversary.
Audioholics 20 Year Anniversary Celebration with Special Guest

Pursuing the Truth...
As time progressed, I cut out a niche with my brutally honest style of reviews and accurate, detailed technical analysis of equipment that was sorely lacking in our industry. After a few years, I amassed enough AV equipment to open a small cineplex, but all of these efforts weren't proving fruitful financially. Thank God I was a degreed electrical engineer working at a major defense company that paid well and had good benefits. I leveraged my career to my advantage, learning as much as I could designing audio communication circuits and using this knowledge to continue to elevate the technical content of Audioholics.
As an engineer, I was more interested in debunking the latest audio snake oil or measuring differences in amplifier performance than I was at turning Audioholics into a legitimate for-profit business I could call a career. A few key industry folks I was very close with gave me the kick in the ass to take this website to the next level. I have to personally mention the late Tony Federici of Aragon, Bruce Bernstein of Yamaha and Shane Rich of RBH Sound. Those folks were instrumental in nudging me to turn this into a business model I could eventually call a career. Of course my lovely wife Berta DellaSala was always there to support me by being the driving force behind making our social media a success. We'd also like to give a shout out to our puerto rican friend Jose Muñoz for his support in maintaining our Facebook page.
Today we have the largest, most engaged Facebook and Youtube channels in our category and I have Berta to thank for this. Our Youtube channel alone has 80k subscribers and reaches more than 500k viewers/mo!
See: Audioholics Ranked #1 in Social Media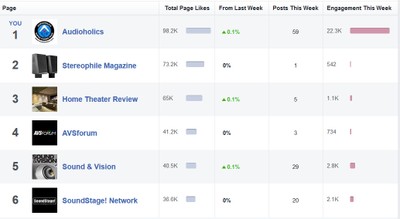 Facebook Insights Comparison of AV Magazines
Note how we are just killing it both with likes and engagement.
Over the course of two decades we've had some missteps, most notably licensing our name to an online storefront, but you live and learn and we've always remained focused on our "Pursuing the Truth in Audio and Video" mantra by keeping a tech-focused theme to the website. This was achieved by a staff of very knowledgeable audio industry veterans and guest writers such as Paul Scarpelli formerly of Triad speakers, Steve Feinstein formerly of Atlantic Technology, Panasonic and Boston Acoustics, Dr. Floyd Toole formerly of Harman as well as many others.
The Secret to a Good AV Publication is a Great Staff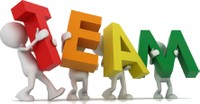 I'm very proud of our current lineup of writers that really keep the engineering, no-non-sense focused theme going for our site, such as:
We also have some occasional heavy hitters in the tech department offering very high technical level content for designers, AV pros and installers to benefit from, including David Waratuke, Matthew Poes and guest writers from some of the most trusted brands in the industry.  Over the years I've been fortunate to work with very talented audio engineers such as Josh Ricci of data-bass and Ed Mullen from SVS to author a subwoofer measurement and room size rating protocol that has earned industry acclaim. James Larson and the folks of Harman were instrumental in helping us apply these same principles in a loudspeaker measurement standard and I've worked with the fine folks at Audio Precision to devise an amplifier measurement standard as well.  It's always been our goal to objectively measure and analyze audio gear with consistency and fairness and I believe we've done a pretty good job of it thus far but are always looking to improve.
Times are Changing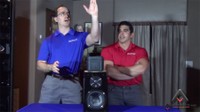 Realizing reader habits are changing in the advent of social media and mobile device obsession, we've also turned our attention towards providing insightful and entertaining YouTube reviews, how to's and educational videos to supplement the content of our editorial site. Hugo Rivera helped reinvent our Youtube channel through his humorous engagements with me by breaking down complex subject material into a more digestible and entertaining format. We discovered  Marshal Guthrie when he won a video contest in our forums for an SVS subwoofer.  He did some incredible work on our Youtube channel with how-to's and trade show coverage.  His production skills were so good that we deemed him our videographer extraordinaire. As many things change with work, Marshall had to say goodbye and embark on a new path in his career and as a family man.
Don Dunn from HD2020 has recently come on board to help us bring a more custom installer / home integrator perspective and we're proud to have other featured musicians and industry guests from time to time. Our newest edition to Youtube is Shane Bolin from Spare Change. He's doing a great job covering products for us and elevating the production quality of our videos. We will also be adding more guest speakers to our channel in the near future, so stay tuned.
Over the last two decades, we've evolved from a hobby site to one of the industry's most read and respected home theater resources. You can see how the editorial site has transformed over the years in the History of Audioholics. We've tried to stay ahead with best SEO practices, but Google has proven to be erratic and deliberately vague and many medium-sized websites like ours have paid the price in traffic as a result. To circumvent this, we've strengthened our social media avenues, which are growing daily.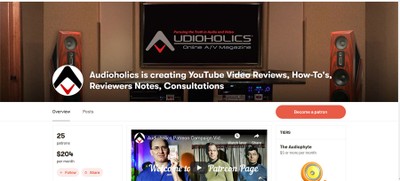 Audioholics Patreon Page - become a member, get exclusive perks

The Audioholics properties include our editorial site, discussion forums, Facebook, YouTube and Instagram. Our multi-faceted approach ensures we reach every type of demographic and age group in our genre. We've even recently added a Patreon page for our most loyal fans that wish to help us increase the production quality of our YouTube videos or suggest topics they'd like to see covered.
Some of the most memorable moments I recall in our 20-year history include:
coming up with the first jury-rigged biamp mode on a Denon AVR-5803 (back in 2003) and the AVR-3805 (shortly after) that created such a frenzy on our forums that Denon eventually made it a product feature going forward in their receiver lineup while other brands soon followed.
uncovering the Oppo cloned Lexicon BD-30 Blu-ray player.
exposing Monster Cable frivolous lawsuits that got them to back down and pay the legal fees to local company Monster Mini-Golf.
attending the various private press conferences for manufacturers like Denon, and Yamaha.
covering the various trade shows including CES, CEDIA, and AXPONA.

meeting industry legends at the various trade shows throughout the years (ie. Andrew Jones, Bob Carver, Dr. Floyd Toole, Dr. Sean Olive, Thomas Holman, etc).
debunking the Dolby Atmos reflection (aka. Bouncy House) speakers with Hugo on YouTube.
reviewing the $50k/pair Status Acoustics 8T speaker system. It's the most epic speaker system I've had in my own theater room.

doing on-location tours of manufacturer facilities such as RBH Sound, MartinLogan, JL Audio, Audyssey Lab, Axiom, etc.
The Road Ahead
So where are we going to next? My goal is to get more involved in smart home integration and custom installation. I'd like to get more AV pros involved with our website to help other installers and integrators with their businesses while also giving consumers ideas on how to smarten up their home theater systems through automation. Control4 has really opened my eyes on the power of home automation and how important it is to have a robust wifi network.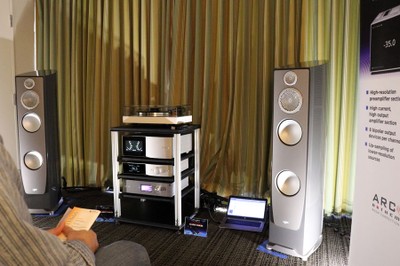 2019 Florida Expo Show Paradigm / Anthem Demo Room hosted by MaximumAV

Audiophiles fear not as we also plan on covering more two-channel stuff, including vinyl. The local 2019 Florida Expo show demonstrated just how thriving two-channel audio still is and what a joy it can be to get a really good audiophile system set up in a dedicated room. In fact, we're even bringing on a new reviewer (Xavier Burgos) we met at the 2019 Florida Expo show to cover more two-channel gear, particularly turntables and how to optimize their setup.
Of course along the way we will continue to debunk snake oil in the industry, especially when it pertains to cables. Slap a battery on a cable or fire a speaker up at the ceiling or down on the floor and market it as "the greatest breakthrough in 20 years" and we will be all over that like white on rice.
That's All Folks
I'd like to thank our readers for all of the great support and feedback you've given us through the years. I am extremely touched when people come up at trade shows or even the local grocery stores recognizing me from YouTube. I hope we continue to meet our readers expectations in quality of content delivered across all of the latest platforms people like to digest. I'm very appreciative of my supportive family and the volunteers that help moderate our forums. A special shout out goes to our web developer Bryan Davis who has been helping me update the look and operation of this website for nearly 15 years though email and phone support as I've never physically met him in person.
Please share your most memorable experiences visiting the Audioholics website in the related forum thread below and let us know for how long you've been a fan of our website.  If you think you have what it takes to write for Audioholics, hit us up. Many of the most talented writers on this site were discovered on our forum so there are always possibilities. As always, keep listening!
Confused about what AV Gear to buy or how to set it up? Join our Exclusive Audioholics E-Book Membership Program!
See also:
Recent Forum Posts:
Miro posts on April 18, 2019 13:03
Happy 20th anniversary!!!
Thank you for your dedication, independence,
knowledge and amazing reviews!!!
All the best!!!!
afterlife2 posts on April 17, 2019 13:19
jVwSAMktM58
rson0294 posts on April 17, 2019 05:04
congratulations for making a wonderful journey of 20 years amazing achievement hope you complete more 100 years of success
Ponzio posts on April 16, 2019 07:24
Great video on the history of your endeavor and inner workings of the "plan".

And Bertica is looking very gangster, in a good way, with the shades

Congrats again! And to another 20 years.
gene posts on April 15, 2019 20:25
t4ZakL2IR2M
Post Reply