Audioholics 9th Annual State of the CE Union Show Report
Audioholics 9th Annual State of the CE Union Show Report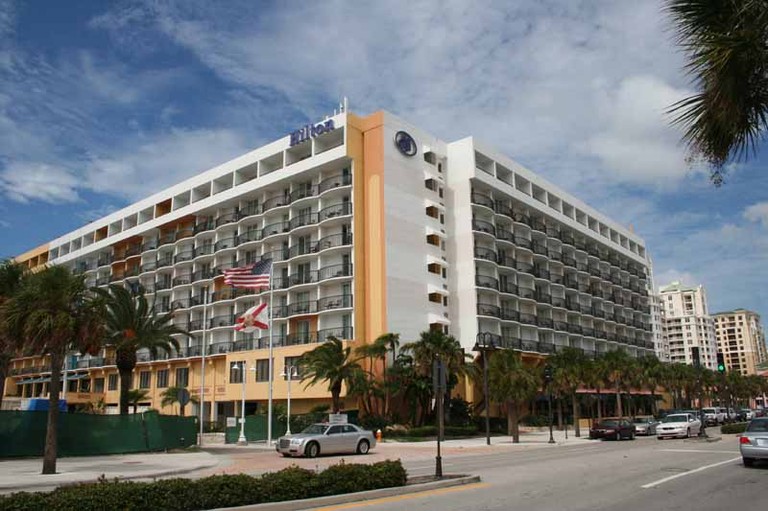 Hilton Hotel
On October 6th in Clearwater Beach, Florida, Audioholics hosted its 9th Annual State of the CE Union event which was opened to the public for the very first time in its history. With 15 exhibitors, 10 guest speakers and nearly 200 attendees, our Party/Event had all the makings of a mini trade show.
So you may ask, what did we do at this event? The two days during which this event was hosted seemed to fly by, at least for my wife and myself since we were the hosts and did the majority of the registration and coordination. Many thanks to some of our forum moderators Majorloser (Dave Phares) and Wife (Yvette Phares) and Jim Robbins, Gary Benfield, as well as my wife's family and mutual friends who helped fill the registration packets and register everyone. During the course of the two days, I can certainly remember running around like a chicken without my head, and I certainly recall blowing off much of the great food that we had catered (something I normally never do), but it was all for a good cause – ensuring the success of this event so that we can do it up even BIGGER next year.
Manufacturers in Distress Set-up & Registration – Friday October 5th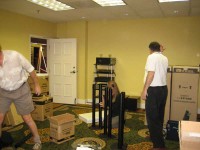 All day Friday, the manufacturers scurried to get their demo rooms and exhibits all setup. I never gave it much thought to the amount of effort these folks put forth during tradeshows like CES or CEDIA since I usually arrive once the shows have already began and all the equipment has been setup. These guys and gals were sweating bullets. David Giles from Carada was working to build false walls for screen systems in 3 separate demo rooms. Epson was working hard to calibrate their projector systems for the Axiom, Emotiva and Yamaha/RBH Sound rooms while Impact Acoustics was also providing cabling ensuring snake oil free connections.  The Impact Acoustics RapidRun cabling system was a particular hit among all of our exhibitors due to its endless flexibility, performance and convenience.  Axiom Audio was packing a roughly 400 sq foot demo room with over 20 speakers and subwoofers from their giant RV they drove all the way down from Canada. Now that's commitment! RBH Sound, well, they couldn't find their speakers till nearly lunch time and once found, had to figure out how to mount and wire up 11 speakers and two subwoofers to a Yamaha flagship receiver they've never seen before. Luckily some folks from Yamaha were at our event to lend a hand. This room had a very special video system featuring a brand new Epson Pro Cinema 1080 UB projector with anamorphic lens system that costs more than the projector itself. The new "UB" designation on the under-$5000 1080p Epson Professional Series projector stood for "Ultra Black" and the picture certainly lived up to the name. Kevin Miller from ISFTV was on hand to calibrate all of the Epson systems prior to the show and the results were amazing. The Carada Criterion screen was configured to accommodate a 2:35:1 aspect ratio to highlight feature films and the anamorphic lens option applied to the Pro Cinema projector. The room was treated by Auralex who used select Sonosuede panels to provide the necessary treatment to make the room acoustics more palatable while still aesthetically blending well in the room.
Dolby and AIX records had their hands full unpacking 7 full-range B&W 803-series speakers, B&W 805D satellite speakers for height channels, and a stack of equipment to run their very unique demo. We were honored that AIX Records produced a special discrete 7.1 surround mix that featured "height" channels. Dolby applied PLIIx Music Mode to demonstrate a 9.1 surround sound spectacle. Last but not least, Emotiva was nowhere to be found most of the day. Perhaps they were tired from the long drive down from Tennessee? Sure, their equipment was all nicely laid out on a table, ripe to be carried away by anyone perusing their demo room. Luckily there seemed to be a lot of good honest folks that attended our event and this wasn't a problem.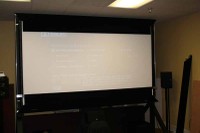 It was already mid-afternoon and nobody's demo rooms were fully set up. We were still, however, determined to shoot all of the video interviews that day as we knew there wouldn't be any time on the main event day (Saturday) to shoot them. Dolby/AIX were the first to officially make noise at our event. Their room was belting out tunes while others were still finagling with their projectors. The others quickly caught up and by appetizer/registration time, everyone pretty much had their demo rooms setup. Ironically the Emotiva crowd seemed to fly through their setup as I popped my head in only hours after I initially found them missing in action (MIA), to find their complete setup was configured and ready to go. Impressive! Needless to say, we shot all of our exhibitor video interviews by 11pm Friday night and we were ready to partake in the show activities the following day with one of our many worries scratched off the list.
Audioholics Main Event (Demos, Seminars, Food) – Saturday October 6th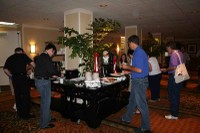 At registration, we offered plenty of swag including Audioholics memorabilia (T-shirt, pens, notepads, etc) demo discs from DTS, AIX records, HQV HD/Blu-ray and standard DVD test discs from Silicon Optix all neatly stowed in an official DTS beach bag with our mutual logos on them.
If you didn't make it to the Audioholics State of the CE Union event in Clearwater Beach, you not only missed out on a fantastic dinner, but also on a day filled with informational seminars and the chance to mingle with some of the top manufacturers from the AV world. Add to all of this the introduction of new products, and of course, demo rooms. And we all love a great home theater demo, right?
The four demo rooms set up at the Clearwater Beach Hilton did not disappoint. A stellar lineup of companies combined forces to bring us four cutting-edge rooms, each highlighting a new product or technology. In no particular order, here is a rundown of what each room had to offer.
Axiom Audio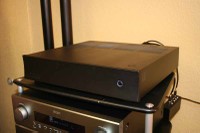 The gang from Axiom loaded up an RV and DROVE from Canada to Florida, and the result was a slammin' room full of great gear. Talking to Amie & Ian, I could only imagine the fun they had making the 29 hour drive down. In fact, every time we talked to someone from Axiom, the drive time got longer! The room featured the Axiom Epic 80 v600 7.1 speaker system with 4 subs. Axiom was introducing their new A1400-8 amplifier, and the new EP400 DSP-driven subwoofers. When you look at the gear list below you will notice that the room had a total of EIGHT subwoofers! The answer to your question is no, they did not play all eight at the same time. They switched back and forth between the coffin-sized EP600s and the new compact EP400s to showcase the benefit of multiple subwoofers and how 4 small subs can be equally effective as 4 large subs if they have enough output capability to fill the listening space.
The Axiom Audio A1400-8 8CH digital amplifier promises to be a technological marvel in its genre of amplifiers but it comes at a hefty price tag of $3,850. Will this amp become the next Audioholics reference amp to judge all others against? We shall find out soon. It ships October 16th so start saving your pennies now, or more appropriately dollars, if you want to add one of these cool running amps to your rack.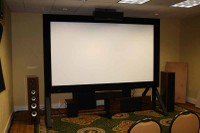 Axiom Demo Room Gear List:
2 - Axiom M80 tower speakers - $1,330/pr
2 - Axiom VP150 center channel speakers - $408 ea
4 - QS8 surrounds - $540/pr
4 - EP600 subwoofers - $1,810 ea
4 - EP400 subwoofers - $1,100 ea
Axiom A1400-8 multi-channel amplifier
Sherwood Newcastle P965 tuner/preamp/processor - $1,500
Sherwood SD-860 universal CD/DVD/DVD-A/SACD player - $500
110" Carada Masquerade Masking System and Criterion Screen - $2,500
Epson Home Cinema 720 LCD projector - ~$1,500
Panasonic Blu-ray player
Impact Acoustics cables
Axiom turned some heads with their demo. Although they had the volume turned up quite loud, it didn't stop people from flooding their demo room. It was nearly impossible at times to enter since it seemed those who did, never wanted to leave. Axiom knew how to work their exhibit well by hosting their own prize giveaways outside of their demo room and drumming up a lot of interest for their products.
Emotiva Audio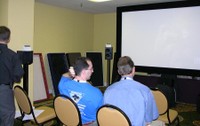 The Emotiva room created quite a buzz, as they were not only showing their latest amps and pre/pros, but also loudspeakers. Yes, you heard that right, speakers! The first thing you noticed as you entered the room and checked them out was the build quality that Emotiva is famous for with their hardware. These relatively small bookshelf speakers are rock solid, and quite wicked looking. They are certainly great companions to their line of amplifiers and processors.
Their new DRS-1 subwoofer system is most impressive. For $999 you get two subwoofers, each with a single 12" high excursion driver in a sealed high pressure small enclosure and an 800 watt power amplifier with room correction. Upon listening to these subs play clean, deep, unadulterated bass, it was apparent to us that they are positioned to be a top contender of our subwoofer product of the year award.
The new Emotiva speaker package was also incredibly impressive, not to mention priced to sell. From their straight-up build quality, to their excellent driver and component selection (no stamped baskets, and real vented rear chambers on the tweeters, all air core inductors and polypropylene caps) and their rock bottom pricing; these were some real head-turners. We're eagerly anticipating a review of their new speaker line up in the next couple of months.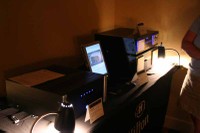 Emotiva also showed some new amplifiers, namely the LPA-2 (125wpc x 7) and their new high power XPA-5 (200wpc x 5). Because both units feature a large power supply common for all of the channels, you can expect that these babies will deliver far greater than their all channels power rating with one or two channels driven, especially at low impedance loads. At their asking prices, we don't think anyone on the market can compete. We are looking forward to putting them to the test in formal reviews once samples become available.
Overall the Emotiva demos were quite good, though we all found ourselves wanting to hear more demos favoring music over movies to really understand just how well their system performed. I think people were enjoying this demo room so much that Emotiva just let the movies play (Pirates of the Caribbean 3) allowing our attendees to get immersed in the experience.
The room was acoustically treated by Ready Acoustics, perhaps a tad too much, but still making for a most impressive demo that many of our attendees raved about.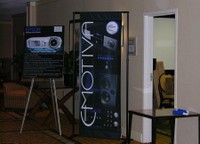 Emotiva Demo Room Gear List:
3 - ERM-1 Emotiva Reference Monitors (LCR speakers) - $299/ea
4 - ERD-1 Emotiva Reference Surrounds - $349/pair
Emotiva DRS-1 subwoofer/amplifier set (2 subs plus amp) - $999 / 3 piece set
Emotiva LPA-2 multichannel amplifier - $599
Emotiva XPA-5 multi channel amplifier - $799
Emotiva MMC-1 AV preamp/processor - $1,199
Carada projection screen with Masquerade Masking System - $2500
Epson Home Cinema 1080 projector - $2499
Sony BDP-S300 Blu-ray player - $499
Oppo DV-981HD upconverting DVD player - $229
Yamaha / RBH Sound

There was plenty of interest in this room, marrying Yamaha's groundbreaking new 11.2 receiver, the RX-Z11, with the impressive RBH Signature Series of speakers debuting their new T2-SER flagship towers. And wow! Within minutes of setting up the room and getting going, the hotel received noise (read: bass) complaints from people TWO FLOORS above the demo room! I quite enjoyed the fact that the Hilton told these people to "deal with it." In addition to the impressive sonic experience to be had in this room, Epson was showing off a package including their Pro Cinema 1080 UB projector paired with an 2.35:1 anamorphic lens kit and Silicon Optix HQV video processor. The processor allowed the Epson to utilize every single pixel on its LCD panels, providing an image that was 30% brighter and noticeably clearer. This amazing package (projector/lens kit/processor) will retail for less than $15k and should be announced soon. The result was a 2:35:1 widescreen display that was nothing short of stunning. My jaw dropped when I saw the clip from King Kong - the video quality was among the best I have ever seen. Carada's 2.35:1 Criterion screen made the experience complete. This room was showcasing approximately $55,000 worth of equipment! There were more source devices in this room than in all the other rooms combined. From looking at the stack of players it was apparent that somebody needs to make a Blu-ray or HD DVD changer - and quick.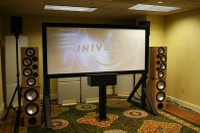 RBH Sound debuted their T2-SER Signature flagship speaker system, a modular cabinet version of their venerable T-30LSE System (which remains our benchmark floorstanding loudspeaker system). It's packed with the very same drivers and crossover components of the T-30LSE's but sports a 500wpc RMS built-in amplifier to power the bottom end. This system proved a bit too much for their demo room but still put on a great performance no less. I had several of our show attendees express to me that this was bar none their favorite demo experience.
Auralex acoustical treatments did a nice job at providing more acoustical balance in the room while not taking up too much critical demo space.  Their Sonosuede system looked great and wasn't obtrusive just like good room treatments should be.
Yamaha/ RBH Sound Demo Room Gear List:
2 - RBH T2-SER tower speakers (L & R) - $10,000/pair
1 - RBH 661 SER center channel speaker - $999/ea
8 - RBH 61-SER bookshelf speaker (surround channels) - $1800/pair
Yamaha RX-Z11 AV receiver - $5,499
Epson Pro Cinema 1080 UB projector w/outboard HQV video processor & anamorphic lens kit - ~$13,000
Carada 2.35:1 Criterion screen - $815
Auralex Sonosuede room treatments
APC S20 power conditioner - $1,999
Sony BDP-S300 Blu-ray player - $499
2 - Toshiba HD-XA1 HD DVD players
Dolby Labs / AIX Records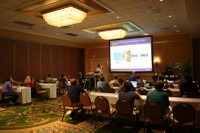 The Dolby/AIX room was a bit different from the other 3 demos in that they were showcasing technologies and source material rather than specific gear. This demo was in a larger room than the others (roughly 2000 sq ft), and had more seating. There was a large plasma display, speakers and Auralex panels surrounding the seating area. Before Auralex applied the room treatment to this room, it was very echoey.  Upon first glance, I had no idea how they were going to pull it off.  After all was said and done, the listening space turned out better than I expected.  The result was an amazing sonic experience. I quite enjoyed hearing the entirely music-based demo which ran for nearly 30 minute sessions.  The B&W speakers made a valiant effort at filling the large listening space though I couldn't help to wonder what that room would have sounded like with more dynamically capable speakers and subwoofers.
Mark Waldrep from AIX records produced discrete 7.1 channel music tracks with 5 discrete main channels and 2 discrete front height channels. The signal was then fed into the Denon AVR-5805 which applied PLIIX Music Mode to re-create a full 9.1 channel surround spectacle never before done in the realm of consumer audio. Dolby and AIX records gave us the honor of debuting this format at our event and the show attendees as well as our staff were most appreciative.
Serious music aficionados raved about this demo and I even got a few calls from upscale local dealers praising us for having Dolby/AIX host such an impressive and unique demo experience.
Dolby/AIX Demo Room Gear List:
6 - B&W 803 speakers (LR & surrounds) - $5,000 ea
B&W 803 center channel speaker
2 - B&W 805 height channel speakers (front) - $2,000/pr
Denon AVR-5805 10CH AV receiver - $5,999
Sony Playstation 3 - $699

Monster voltage & conditioner, cables - $ a lot
Auralex room treatments
Show Wrap-Up
The demo rooms were all incredible. Each had something unique to offer that made for a fantastic day of listening. The educational seminars were a big hit among the show attendees, so much so that we had scheduling problems towards the end of the event because they went on longer than we anticipated. Projector People did a superb job of setting us up with a huge 9ft screen to ensure all of the attendees, no matter how far they were sitting from the screen, could clearly see the slide shows furnished by the guest speakers. We even managed to record a 30 minute podcast during the lunch break which went off very well considering one of our star speakers Tom Andry wasn't present to participate.
For those who wanted a deeper education Audioholics style, Sencore was on board hosting a full 2 day ISF course with the President of ISF Joel Silver as the instructor no less.  This class was sold out and a popular attraction to our event by serious installers and A/V enthusiasts alike.
Outside of the demo rooms and educational seminars were some fantastic static and interactive displays such as:
a very impressive HDMI demo from DVIGear which showed off a new optical HDMI solution that is good for distances over 1000 feet and active copper cable solutions for up to 150 feet
a lineup of the latest RapidRun products from Impact Acoustics
a demo of a plethora of HiVi speakers and Sim Audio electronics
an all in one media projector / home theater system from Epson
and some very comfy theater chairs from a local company called Seats & Chairs.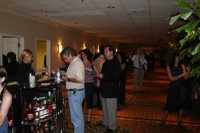 Well there you have it.  Our event was a success bringing forth some of the industries finest manufacturers to collectively work together and produce state of the art demos and displays.  The evening concluded with a very tasty dinner complimented with a professional belly dancer (pic too hot to be shown), music and dance, and plenty of great door prizes and auction items. My lovely wife Tica kept the event moving, ensuring everyone was where they were supposed to be and I addressed the crowd after I downed a Long Island Iced Tea and break-danced in front of 200 stunned onlookers. Clint gave us a great demographics report revealing just how well entrenched Audioholics has become online over the last 9 years.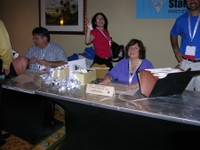 As I stated, this party/event had all the early makings of a mini trade show. Next year we plan on taking this to a higher level by making it a multi-day event hosted at Disney. We are shooting for more demo rooms, more sponsors, more prizes and more fun and entertainment. This was a most enjoyable event for all whom attended and participated and we are certainly looking forward to the next one!
Many thanks to our sponsors of this event and the hard work and efforts of the Audioholics staff, Molinares family, my wife Tica, my close friend Dominic Miranda, and the volunteers that helped make it the success it was.
I'd also like to give special thanks to our sponsors of this event. For without them, we would have likely held it at my home, which wouldn't necessarily be a bad thing as I collectively probably have about as much equipment laying around the Audioholics Showcase Home as what was exhibited here, but I am sure my wife wouldn't be too fond of the clean up.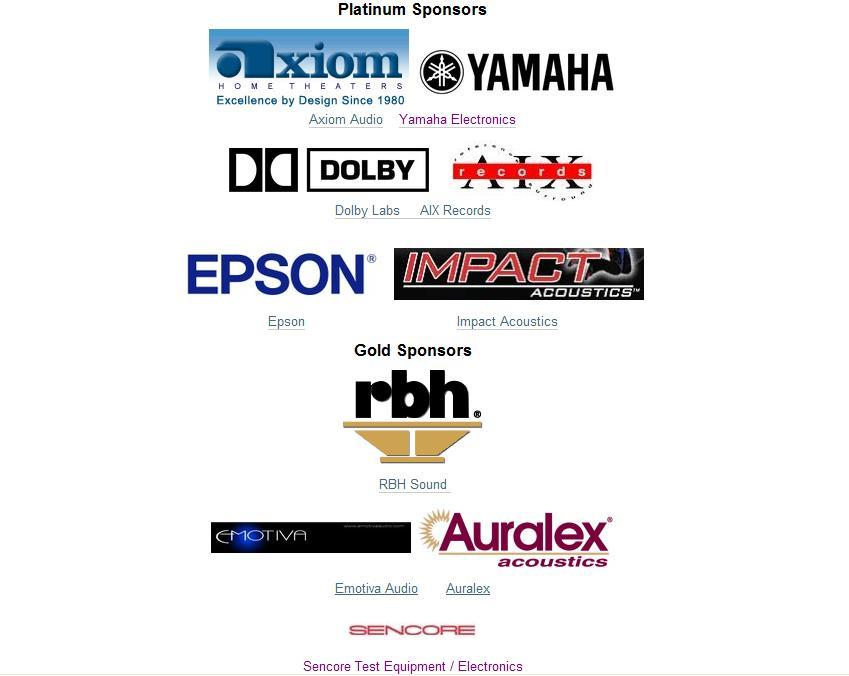 Contributing Sponsors
DTS
DVI Gear
Carada
Projector People
Silicon Optix
Ready Acoustics
Media Sponsors
Hometheateralliance.com
Hometheaterforum.com
AVRant.com
Confused about what AV Gear to buy or how to set it up? Join our Exclusive Audioholics E-Book Membership Program!
Recent Forum Posts:
Jim Robbins posts on October 14, 2007 20:15
I really enjoyed the party this year. It was great to meet everyone. Thanks a ton for the great event and banquet. I even enjoyed working with the audioholics staff as a volunteer. The demo rooms were fantastic, too. I am really looking forward to next year's event! Later all…
Audioholics posts on October 14, 2007 12:47
TICA, post: 319451
I enjoyed very much organizing and arranging all the details of the event
Yes, without Tica none of this would have happened. Thanks so much, Tica - you really are a trooper and single-handedly took this from a big mess into a well-organized event that was organized, well-attended and looked great. Kudos and congrats on a job well done.
Without Tica, we would have been sitting around on the floor eating pretzels and listening to CDs on a boom box. She is the WOMAN! Gene is a lucky man and we were fortunate to have her around to handle all of these crazy event details, arrangements and issues.
Great job!
avaserfi posts on October 13, 2007 22:38
I really wish I could have made it guys from the looks of it the event was a blast. Glad to hear it went so well!

Next year is planned to be off from school so I am going to try my best to make it, who can say no to Disney Land? Besides I won't be able to use school as an excuse .
TICA posts on October 13, 2007 22:32
Thank you Dave
Davemcc, post: 319261
My wife and I also enjoyed this event a great deal. Thank you to all involved, particularly Tica for handling all the details of the event. Everything seemed to function flawlessly from my point of view. Excellent job.
Thank you so much for the compliments.
I enjoyed very much organizing and arranging all the details of the event, alongside my many helpers (or should I say babysitters) so I could catch up with my work.
Thanks again, very appreciated!
Tica
Davemcc posts on October 13, 2007 00:49
My wife and I also enjoyed this event a great deal. Thank you to all involved, particularly Tica for handling all the details of the event. Everything seemed to function flawlessly from my point of view. Excellent job.
Post Reply