2007 State of the CE Union Axiom Audio Interview
Summary
Interviewer: Gene DellaSala

Ian Colquhoun, President of Axiom Audio

Tom Cumberland with Axiom Audio

Produced by Clint DeBoer, Editor-in-Chief of Audioholics
Videography & Editing by Eric Shelton

Executive Overview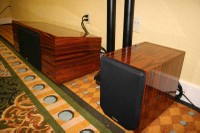 Gene DellaSala interviews Ian Colquhoun and Tom Cumberland on the new A1400-8 amplifier and the new EP400 subwoofer. Axiom Audio loaded up their demo room with 4 EP400s as well as 4 EP600s in order to show that additional subwoofers can even out bass response - and that a smaller subwoofer can and will sound the same as a large subwoofer in a smaller room. We can attest to this fact as the EP400s and EP600s were switched back and forth and there was not much difference between the two in the demo room. Now, if you have a larger room, the "coffin-sized" EP600s will do the trick, having more output capability to fill a much larger area.
Tom Cumberland impressed us with his discussion of the new Class-D amplifier and how its analogue power supply differentiates it from the crowd and allows this amp to pull, efficiently tons of power (nearly 1400 watts to a single channel if needed) from a standard 15A circuit in the home. The new finishes shown at the Show were amazing - I found that I could basically groom myself in the reflection from the VaSSallo finish chosen for this particular room.


Confused about what AV Gear to buy or how to set it up? Join our Exclusive Audioholics E-Book Membership Program!
Recent Forum Posts: