Auralex SonoSuede System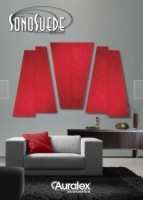 Auralex Acoustics introduced a new product series called the SonoSuede HT System. A highly decorative and complete do-it-yourself room treatment system targeted specifically for home theater applications, the SonoSuede HT System is designed to tame reflections and low frequency anomalies.
Consisting of four 16"x48"x2" thick back-beveled panels and eight trapezoidal-shaped square-edge panels 16"x48"x1" for a total of 54 square feet of coverage, the SonoSuede HT System's distinctive design is a cost-effective solution offering a multitude of decorative options. Additionally, the system's unique mounting blocks provide acoustic as well as aesthetic benefits.
The SonoSuede HT System's synthetic suede fabric provides both the acoustical transparency and visual allure that really fits in well with today's home theater applications.
Priced at $1,199 suggested retail, the SonoSuede HT System is immediately available in the following stock color combinations: black/red; black/tan; and brown/tan. Other color combinations as well as individual panels are available as custom orders.
For more information please visit the Auralex web page at www.auralexelite.com .