Emotiva ERM-1 & ERD-1 Speakers First Look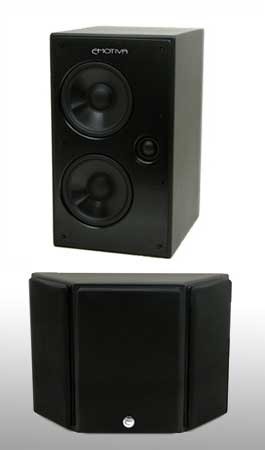 Emotiva Speakers First Look
Summary
Product Name:

Emotiva Reference Speakers

Manufacturer:

Emotiva

Review Date:

October 13, 2007 20:00

MSRP: $1249 (5 channels)
First Impression:

Pretty Cool
Emotiva ERM-1 (Emotiva Reference Monitor-1)
Price: $299.00 ea.
2 x 5.25" woofers
Proprietary Tri-Fiber composite cone is light weight and rigid with low resonance
NBR Surround for enhanced cone edge termination
Proprietary high performance motor structure
Integrated Copper and Aluminum shorting rings to reduce distortion and 2nd and 3rd order harmonics
Flat progressive rate spider with venting under spider
Cast Aluminum Frame
25mm tweeter
Wide surround Silk dome diaphragm
High power motor structure
Integrated Heat-Sink mounted on Motor structure
Ferro-Fluid cooled voice coil
Internally damped, low resonance rear chamber
Asymmetrical 4th order Linkwitz-Riley crossover
Switchable tweeter level adjustment (+2, 0, -2db)
Switchable Boundary Effect Compensation
Precision Metal Film Capacitors
Low DCR Air Core inductors
Dimensions: 13.5 High, 7.75" wide and 10" deep
Frequency response: 80-20Khz +/-2db
Sensitivity: 89db (2.83volts @ 1 Meter)
Recommended amplifier power: 50-250 Watts RMS
Emotiva ERD-1 (Emotiva Reference Surround-1)
Price: $349.00 pr.
2 x 5.25" woofer
Proprietary Tri-Fiber composite cone is light weight and rigid with low resonance
NBR Surround for enhanced cone edge termination
Proprietary high performance motor structure
Integrated Copper and Aluminum shorting rings to reduce distortion and 2nd and 3rd order harmonics
Flat progressive rate spider with venting under spider
Cast Aluminum Frame
2 x 25mm tweeters
Wide surround Silk dome diaphragm
High power motor structure
Integrated Heat-Sink mounted on
Motor structure
Ferro-Fluid cooled voice coil
Internally damped, low resonance rear chamber
Asymmetrical 4th order crossover
Precision Metal Film Capacitors
Low DCR Air Core inductors
Selectable Bi-Pole/ Di-Pole operation
Dimensions: 9.5" high, 13" wide and 4.25" deep
Frequency response: 80-20Khz +/-2db
Sensitivity: 87db (2.83volts @ 1 Meter)
Recommended amplifier power: 50-250 Watts RMS
Executive Overview
Emotiva introduced a new line of reference speakers at the Audioholics 2007 State of the CE Union event in Clearwater, Florida.   Yes, you read that right - speakers.  Emotiva, known for it's high-quality amplifiers and pre/pros, has unleashed yet another set of products that raise the bar for quality and value. 

Not only were these products announced, but they were also displayed and demoed at the Audioholics event, and were met with enthusiasm from everyone in attendance.  The speaker line consists of two products - the Emotiva Reference Monitor 1 (ERM-1), which is designed to be used in LCR applications, and the Emotiva Reference Surround 1 (ERD-1) selectable bi-pole/di-pole speaker. 

The ERM-1 consists of two 5.25" woofers constructed from a proprietary Tri-Fiber composite cone that is light weight and rigid.  The high end is handled by a 25mm silk dome tweeter.  The crossover is a Asymmetrical 4th order Linkwitz-Riley crossover with a switchable tweeter level adjustment (+2, 0, -2db).  It features an offset array with optimized horizontal and vertical polar response, allowing the speaker to be mounted vertically for left / right main channels or horizontally as a center channel.


The build quality is classic Emotiva - rock solid, heavy duty.  They include dual speaker terminals for bi-amped operation.  The cabinet is critically braced and highly damped, constructed of MDF.  The front of the speaker is highlighted by a 6mm milled aluminum low diffraction front baffle plate which gives the speaker a decidedly high-end, yet understated look.  One of the more simple yet genius features is the magnetically mounted, acoustically transparent fabric grill.  There is nothing flimsy about this product. 

The speaker boasts a frequency response of 80-20Khz +/-2db, and has a sensitivity of of 89db (2.83 volts @ 1 meter).  Emotiva recommends 50-250 watts RMS to power these beauties.  And the price?  How about $299 each? 

Equally as impressive is the ERD-1 surround speaker.  Sporting the same 5.25" tri-fiber composite cone woofer, and dual 25mm silk dome tweeters, these surrounds will match perfectly with the ERM-1.  They have selectable bi-pole/di-pole operation, allowing the flexibility to set them as your room or listening habits dictate.  They have solid MDF cabinets with a non-reflective black satin finish, as well as magnetic grills. 

The ERD-1 also has a frequency response of 80-20Khz +/-2db, and has a sensistivity of of 89db (2.83 volts @ 1 meter).  Emotiva recommends 50-250 watts RMS of power.  They are priced at $349 per PAIR.
The speakers are expected to be available in January of 2008.  For more information, visit:  http://www.emotiva.com/
Confused about what AV Gear to buy or how to set it up? Join our Exclusive Audioholics E-Book Membership Program!
Recent Forum Posts: