J. Walker Clarke, Jr.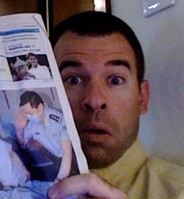 J's love of music started early in life as chronicled in his own words:
"When I was a kid I visited an older cousin who lived out of town. I remember going into his room and seeing a stack of gear and huge speakers. On the turntable was THE WALL by Pink Floyd. He had it cranked. It was as if I was hearing music for the first time. This was my introduction to high fidelity, and it left a mark. My record player at home was immediately obsolete. I began mowing lawns, working odd jobs - anything to earn a few dollars that could be saved towards a system. I think my first purchase was a Technics receiver and some Infinity speakers. I have been adding to and upgrading my gear ever since..."
Thus began J.'s passion for music, which led him to Belmont College (now Belmont University) in Nashville, where he enrolled in the Music Business program and eventually received a communications degree with a focus in broadcasting. During this time his love for music and working with artists led him through a maze of internships that eventually landed him a gig as road manager for Amy Grant on a sold-out tour of arenas all over North America. He went on to spend over 10 years in the music business, touring and managing the careers of many notable recording artists.

Over the years J. has constantly found himself to be an "early-adopter," spending way too much money on "new" technologies such as Compact Disc, LaserDisc, and DVD. He is one of the few people who actually purchased (and still owns) a CORE programmable remote control (bonus points if you remember this product). Finishing out a dedicated room for his home theater in 1998 was a pivotal moment - he can count on two hands how many times he has been to a movie theater since. He is constantly tweaking and upgrading gear in his room, as well as helping others build-out rooms and solve audio/video problems in their homes. A healthy fascination with film and music, as well as anything concerning the making or reproducing of either, continues to fill his free time.

J. now lives a much slower-paced life in a small town on the coast of South Carolina, where he spends most Friday nights in his home theater with his wife and two kids watching family movies. He no longer owns any Technics products.
Follow me on Social Media
Latest content created by J. Walker Clarke, Jr.