NHT Verve IV 5.1 Speaker System Review
NHT Verve IV 5.1 Speaker System Review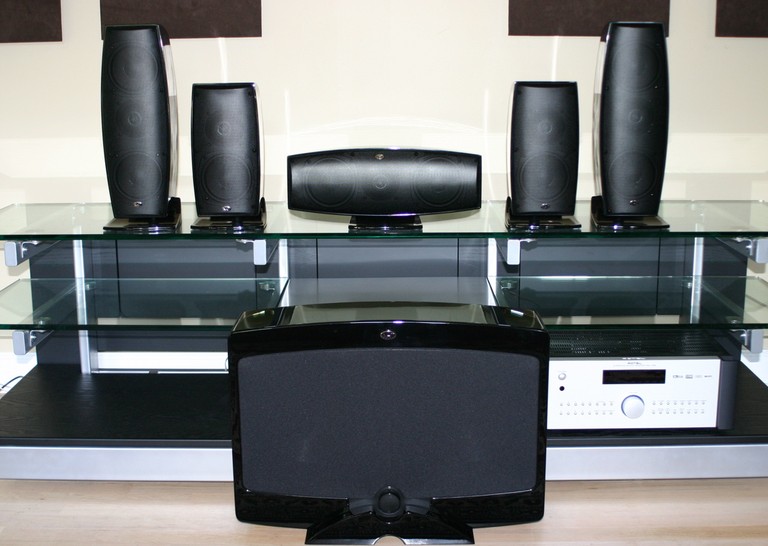 NHT Verve IV Speaker System
With flat panel TV displays dominating the marketplace, NHT has decided to jump into the game with a compact system designed to be wall mounted around such a display.  The system is called Verve and I recently received a Verve IV to evaluate.

There are several flavors of NHT's Verve including the Verve I, Verve II, Verve IV, and Verve V.   (Don't ask me what happened to III...)  Verve I & II include a processor/controller and amp, as well as a 5.1 speaker system.   Verve V includes a 5.1 system that has in-ceiling surrounds.   The Verve IV is a 5.1 channel home theater speaker system, but I would not call it traditional.

Design and Features
I spoke with Jack Hidley, NHT's Director of Engineering, about the system soon after I received and set it up, and found our discussion very enlightening.  Jack explained that the Verve IV is a matched speaker set that was engineered to work together.  It was NOT designed to be mixed and matched.  (For example, the V-smalls should not be used for the front channels.)  The target audience is the consumer with a flat panel display mounted on a stand or wall who wants a compact speaker system that compliments the display, but does not sacrifice sound quality.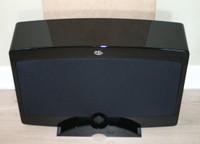 The first thing you will notice about the Verve system is the V-woofer, which is the included powered subwoofer.  For starters, it looks like a black flat panel TV.   It is vertically oriented, standing about 17" tall by 23" wide.  It is just over 7" deep.  Behind the black fabric grill you will find twin anodized aluminum 10" cones mounted side by side.  In the center at the base of the unit is a large black level control that looks like a huge volume knob from a high end amp or processor.  A small indicator lamp above this control is the only other item found on the black, high-gloss cabinet.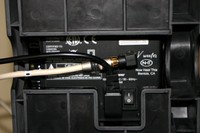 Flip the sub over to view it's underside and you will find a power cord connection and a single LFE audio input.  The included power cable is of the right-angled variety, and NHT includes a right angle RCA type adapter for your subwoofer cable.  I found this design to be a bit flawed, as it causes a 90 degree intersection of the two cables, which both need to be routed out of a wire tunnel to the rear of the sub.  I discussed this with Jack, and he acknowledged that this is a design item that could be improved.  I suggested that if the input jack was moved even an inch, it would not be an issue.  Jack was candid enough to thank me for the input, allowing that many times the engineers are not privy to "real world" feedback like this that helps to improve products.  In fairness, if you were to run your sub cable out of the wire tunnel on the front side of the sub, you would not have this issue.  But most people will want to hide the cables behind the sub, not have them coming out of the front, unless the sub is installed behind a table or other piece of furniture out of view.
Noticeably absent from the sub is a phase control and crossover adjustment.  Jack explained that this is by design.  Since most A/V receivers have a time delay adjustment, this in essence performs the same duties that a phase switch would on the sub itself.  Likewise, crossover duties are also handled by your A/V receiver's setup options, and there are no full-range line or speaker-level inputs that would require an adjustable crossover.  NHT wanted to keep the system and the V-woofer's controls as simple as possible. 

The V-woofer is designed to be placed against a wall, or very near a wall.  The flat design allows you to do so with minimal effort, and it uses much less real-estate than a typical powered sub.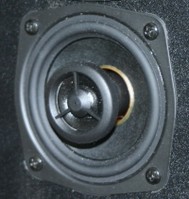 The rest of the system is comprised of two V-small surround speakers and three V-large bookshelf speakers.  The V-smalls have 4.5" paper cone drivers and a coaxial combination midrange (3" paper cone) and tweeter (1" mylar) assembly.  The V-large speakers have two 4.5" drivers and the same combo mid/tweeter assembly.  The V-large stand 15.5" tall by 5.5" wide, and the V-small is 10.75" x 5.5".  Both are 6.25" deep.  The cabinets are magnetically shielded and have keyhole type mounts on the rear for wall mounting, and come with matching base stands that can be easily removed if you are not using the speakers on a shelf or TV stand. 

The cabinets are compression molded from a bulk molding compound that consists of polyester resin with fiberglass and wood particles.  The result is a dense, stiff cabinet with reasonable damping.  This process and the materials used allow for a very thick (5-6mm) wall.  The speakers are quite stout, weighing 13 (large) and 9 (small) pounds.  They have removable black steel grills, though the instruction manual suggests you not remove them.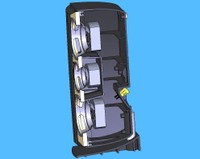 Oddly enough, the NHT logo badge is not applied at the factory, but rather included for you to position on each of the speaker grills.  They are wrapped in individual little bags and have a self-stick adhesive on the rear.  The manual gives very precise instructions on the placement.
The system arrived in three boxes - one with the V-woofer, one with the pair of V-smalls, and the third containing three V-large.  Each speaker was individually boxed within its larger box, and the packaging is as meticulous as I have seen for a set of speakers, which will keep the risk of damage during shipping at a minimum.  For the center channel large, I had to unscrew two phillips screws on the base, rotate the speaker to its horizontal orientation, and then put the screws back in and tighten it up.  Very simple, yet solid construction. 

As for placement, Jack explained to me that the speakers should be no further than 18" from the wall for optimum performance.  I experimented with this, and indeed the further from the wall, the thinner the sound.  If you need to thicken up the sound, move them closer to the wall.  Lows and mids improved the closer I positioned the speakers to the wall.  I settled on 100Hz as the crossover point.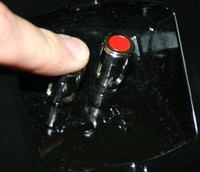 One advantage to speaking with an engineer of a product is that they get a chance to explain their rationale if you have a criticism.  Such was the case with the spring post-type speaker connectors.  At a glance, they look like traditional (albeit steel) binding posts.  I actually got out my pocket knife and began to pry what I thought was the red plastic nub in the banana plug hole on the positive pole.  I soon discovered that it was a red sticker, and that these were not 5-way binding posts, but push-pin type connectors!  So I asked Jack why, on a $2,000 set of speakers, would you use this type of connector?  He explained that much of the target market for this product does not know what binding posts are.  Furthermore, NHT expects wall mounting will be the typical installation for these, so banana plugs are not practical anyway.  He went on to explain that it was certainly not a cost-savings move, as the quality of the strong spring and size of the inner post is superior (and just as expensive as 5-way posts).  And truth be told, it is. These are the most killer spring post connectors I have ever seen.

I set up the front speakers flanking a Samsung 46" HL-S4676S Slim DLP HDTV on top of the brand new StudioTech E-1 TV stand I am currently reviewing, and placed them about 16" off of the wall.  I tried the sub to the left and right of the E-1, and eventually settled on placing it in the front left corner of the room.  I positioned the V-smalls on StudioTech SP-36 stands in the rear corners of the room.

Listening Impressions

Cars - DVD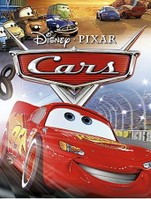 This is one of my current favorite discs to try out with a new set of speakers, and the first 15 minutes or so of this movie has it all.  Dynamic volume shifts, pounding rock music, throaty NASCAR engine sounds, and the center channel play-by-play call from Bob Costas and Darrell Waltrip. 

The system sounded very good, although I did not get quite enough rumble out of the sub for my taste.  (I should note that I am used to a much larger and beefier sub.)  The system had cohesive imaging across the room throughout the action sequences, and the surround effects of cars zipping by was exciting.
The theme song from Sheryl Crow moves from the front of the mix to a comfortably snug place underneath the action and then back again, and the mid and upper range of the song and her layered vocals sounded smooth throughout the room on the NHTs.
The Queen - DVD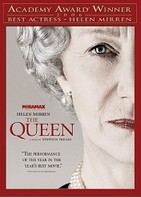 Okay, I have to ask,  "An Oscar?  REALLY???"  I mean the actress was fine, the story was mildly interesting, but... REALLY?  It seemed more like a made-for-TV docu-drama to me. 

While there was nothing much to offer in terms of dynamic audio, the score was a very lush orchestral number, just as stuffy as the royal family on screen.  But it sounded great, as classical music should.  I moved around the room and found that the dialogue (which the movie was full of) never collapsed, and the midrange stayed consistent across many listening positions.
Steely Dan - Two Against Nature DTS - DVD
On the phone, Jack gave me the tidbit I mentioned earlier about NHT's musician employees.  He said that one of the results of this statistic is that they make speakers that you can crank.  He said they enjoy nothing more than to think that people who purchase their speakers push them to the limit.  So my natural thought was to pop in this disc and listen to some slammin' musicians tear things up.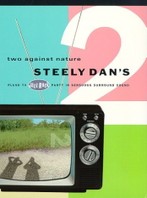 I consider the mix on this disc to fall into what I would describe as a "gimmicky" surround mix.   Horns in the rear channels, maybe a background vocal coming from behind you, or a guitar solo panned rear and left, etc.  It may not be an authentic experience, but it sure is fun, and it sounds GREAT on this disc. 

The background vocals from the three chick singers in the song FM, for example, are excellent as they are pumped in from behind you.  And throughout the program, the Verve IV handled the crisp hi-hat work and horns with precision.  I found the sub to be very well suited to the material as well.  Tight kick drum and warm bass guitar throughout.
Lyle Lovett - Joshua Judges Ruth - CD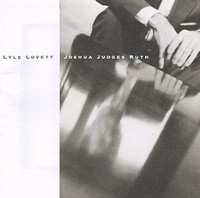 This is another one of my favorites, as it is so well recorded.  If you want to hear what a piano should sound like, what a piano should really sound like, try this disc.  The intro to the first song, "I've Been To Memphis", is nothing but Matt Rollings pounding on the ivories, and it is splendid.  The NHT's reproduced it with astounding clarity and captured the full dynamics of the piano. 

North Dakota  was another standout track.  The detail in the V-large/v-woofer combo was on par with that of much larger speakers, and I felt the blending of the sub/satellite was seamless compared to many other satellite systems I have heard. 

Conclusion
I enjoyed my time with the Verve IV.  Which is saying a lot, because I normally do not enjoy satellite systems, especially when it comes to music.  I did feel that the system was thirsty for power, although I don't think I would go as far as to say that it is inefficient, because it is not.  My Rotel receiver had no problem powering it, but I had it turned up higher than I ever have with any other speakers that have come through the room.  I asked Jack about this, and he said that the system was designed to be used with "lower-cost" receivers, and that even if your volume knob is a few notches higher, you will still get distortion-free, high quality sound.  That indeed was my experience.
I think that the NHT Verve IV system will be of interest to several different types of consumers. The musician or enthusiast who wants a compact system for their flat-screen but insists on audiophile-quality sound will want to check this out.  Consumers who purchase high-quality plasma or LCD displays from higher-end dealers will also appreciate the value in this system.  And being an Audioholics reader, I am sure you will too.
Category
5.1 system

Recommended For
rock/country
acoustic/folk/blugrass
jazz
classical
home theater

Styling
"unique"

Price
pricey!

Specs
Price:  $1,999
Warranty:  5 years
Frequency Response:
V-large:   100Hz - 20kHz
V-small:  100Hz - 20kHz
V-woofer:  38Hz - 240Hz
Impedance:  8 ohms
For more information:
NHT - Now Hear This
6400 Goodyear Road
Benicia, CA  94510
www.nhthifi.com

About Gear Corner:
Welcome to the Gear Corner, where we give you a quick but comprehensive look at consumer electronics from several different categories.  All products in the Gear Corner have been individually evaluated through hands-on testing by our reviewers in order to give you a quick but detailed overview that we hope will help you in your purchasing decisions.

Confused about what AV Gear to buy or how to set it up? Join our Exclusive Audioholics E-Book Membership Program!
Recent Forum Posts:
Adam posts on July 04, 2007 13:36
davidtwotrees, post: 281430
In the past year or two I have read a LOT of stuff on the internet regarding audio gear, and I don't think I have ever read anything bad about NHT.
As the owner of a pair of tower speakers with side firing subwoofers, I have been interested in reading about NHT's version of the side firing towers.
Are there any NHT owners here and if so can you share what you think of the NHT line?!
I've been very happy with my 1.5 bookshelves over the past nine years. I decided to pair them with a powered sub instead of getting the 2.5 towers (with the side firing woofers) just because the cost was the same, and I figured that the external sub would work better for home theater. Back when I used to listen to music through them, I thought that they were great. I've been less thrilled with my NHT center channel, mostly because it doesn't seem to blend in with the 1.5s (even though the dealer said it would). I don't know anything about their new systems, and I like that Audioholics is reviewing their products.
Pencilsmasher posts on July 03, 2007 22:02
I picked up a pair of the Classic 3s a few weeks ago. I'm no expert but I will say that they have exceeded my hopes. I think the thing I like the best about them is just how relaxing it is to hear them. What I mean by that is that your ears aren't turned off by anything you hear unless it's in the recording.
davidtwotrees posts on July 03, 2007 19:40
In the past year or two I have read a LOT of stuff on the internet regarding audio gear, and I don't think I have ever read anything bad about NHT.
As the owner of a pair of tower speakers with side firing subwoofers, I have been interested in reading about NHT's version of the side firing towers.
Are there any NHT owners here and if so can you share what you think of the NHT line?!
Post Reply