Denon DHT-487DV Home Theater In a Box Review
Denon DHT-487DV Home Theater In a Box Review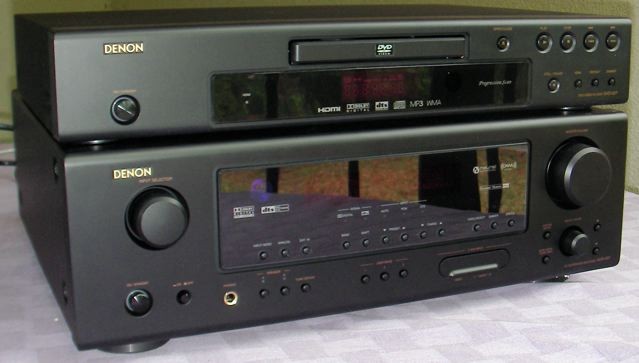 The AVR-487 receiver & DVD-557 are the heart of the system.
With the DHT-487DV, Denon takes a different approach to the home theater-in-a-box segment. While most manufacturers cram amps, processor, DVD/CD players and tuners into one chassis and then add chintzy speakers and a lame subwoofer to the package, Denon has chosen to offer a full-featured AV receiver and a standalone DVD player bundled with 5 speakers and a powered subwoofer for their offering. So who exactly is this product geared toward?

Audioholics readers are well aware of the quality and reputation of Denon's receivers and DVD players. The company has always offered high quality and the latest technologies in their gear, and has typically priced it fairly. So what to make of Denon, best known for these highly-rated components, offering a "home theater-in-a-box" system, which most people think of as an all-in-one solution?
Features & Listening Impressions
The DHT-487DV comes in a large box, that once opened greets you with several smaller boxes including the AVR-487 A/V receiver, the DVD-557 progressive scan DVD player, the subwoofer and five satellite speakers. I was immediately impressed with the fact that you are getting full-blown components. The AVR-487 receiver comes in a standard Denon box and has it's own remote control and manual, as does the DVD-557 player.

Setup is certainly a bit more complicated than a typical HTIB system, but I found this to be a strength of the system. From the front panel display you can adjust speaker settings including distance, crossover, size and subwoofer modes, as well as activate test tones. You can make adjustments for Digital In assignment, iPod assignment and FM presets. You can also store settings for volume and surround modes.
Speaking of surround modes, the system can handle DTS 96/24, DTS NEO:6, Dolby Digital/Pro Logic II and XM Neural Surround. As far as inputs, the AVR-487 includes 8 analog audio, 6 analog EXT (for multi-channel audio), and 3 digital audio. On the video side, there are 3 component inputs, 3 S-video inputs, and 4 composite inputs. There is one component video output, 2 composite and 2 S-video. It is iPod-ready with the available ASD-1R control dock for iPod, and is XM Mini-Tuner ready. The remote control is silver and is not back-lit. It is laid out in a logical manner and can control other components (such as the included DVD-557) from Denon and other manufacturers. This is an excellent entry-level A/V receiver with the quality you expect from Denon, and I had no problem powering not only the included speakers, but a surround setup from another manufacturer worth over $1000.
The included DVD-557 is a progressive scan, single disc player that includes HDMI output with scaling to 1080i. In addition to DVDs and CDs, it can also handle playback of DVD-R/RW, CD-R/RW (including audio, MP3, WMA, JPEG, and Kodak Picture CD). It has both coaxial and optical digital audio outputs, as well as composite, S-video, component and HDMI video outputs. The remote control provided is not back-lit.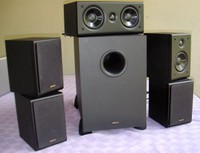 The included speaker system is comprised of four matching satellites with 3.6" mid-bass drivers and a small dome tweeter, a center channel that has dual drivers and a tweeter, and front-ported 100 watt powered 8" subwoofer. The satellites and center channel speakers have removable fabric grills and push-pin type connectors on the rear. The sub is sturdy and well-built, with level and crossover adjustment dials on the rear, as well as phase and auto standby switches.
The literature for the DHT487-DV system claims that the acoustically matched loudspeakers "feature Denon design and engineering with the added benefit and expertise of European Sound Designers tuning," whatever that is. I admit, I was very skeptical and was not expecting much from the diminutive speakers. But once I fired up Pirates of the Caribbean, I had to eat a little crow. This little speaker system did a respectable job. I set the system up in my great room, using a Samsung 46" HL-S4676S Slim DLP HDTV for my listening and viewing evaluations. This is large room with 16' ceilings, and the system sounded really nice. It was easily the best sound quality of any HTIB system I have used. I tweaked a few speaker distance settings, and I began listening.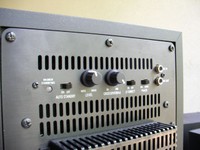 The sub created a nice little punch in the big room during action sequences in Pirates of the Caribbean and Cars, and dialogue was clear and easily understandable from my listening position on the couch.
Music was enjoyable too. I listened to several multi-channel music DVDs, including concert videos from Mark Knopfler and Emmylou Harris, Jonatha Brooke, and Sarah McLachlan, and found the system very pleasing, considering the size of the speakers. (Just for kicks, I hooked up a pair of tower speakers for some stereo listening, and the AVR-487 powered them with ease - more on this in my conclusion.)

Video quality from the DVD-557 was excellent, especially when I used the HDMI output. I guess you could question why the DVD player has HDMI out, but the receiver does not include HDMI switching. My response would be that if you are in the market for a receiver with HDMI switching, you probably don't need to be considering a HTIB solution such as this. Don't forget that this is very much an entry-level AV receiver, and it does not include features such as on-screen display, zone 2 outputs, or the aforementioned HDMI switching. In this light the player's HDMI feature is a bonus, rather than  detraction.
Conclusion
We have established that the receiver and DVD player included in Denon's DHT-487DV are of very good quality. It is fair to say that they are of much higher quality than most any single-chassis component from competitor's home theater in-a-box offerings. If you are looking for value and expandability, the Denon system is a better choice than an all-in-one system. It makes sense to me to consider what it would cost for you to assemble a component system from scratch, so I decided to do a little math.

I looked at Denon's current entry level A/V receiver, the AVR-587, which is priced at $299. It is a very similar product, which adds 2 channels of amplification (75 watts x 7 channels) for 7.1 surround formats such as Dolby Digital EX. Their current entry-level HDMI DVD player is the DVD-557, and it retails for $169. Although Denon does not sell individually-packaged speakers, let's say that a comparable subwoofer at a big box store could be found for around $150. If you add the cost of these components purchased separately, it would total $618. Which means that the 5 satellite speakers that Denon includes with the system are costing you about $79. (Although at the time of this writing, I found this system available from a big online retailer for $599) Now, unless you are buying speakers out of the back of an unmarked white van in a parking lot, you will be hard pressed to find five speakers of ANY quality for $79. And these speakers sound as good (if not better) as those from any HTIB system I have tested.

In my opinion, a good entry-level set of speakers will cost you around $600, not including subwoofer. The AVR-487 A/V receiver would power that set of speakers without any problem, and the DVD-557 with it's HDMI output is a very capable DVD player for a respectable home theater. So if you are planning on diving into a REAL home theater, but only have a budget for a HTIB, this Denon system could be a great start. For some people, the size and quality of the speakers included with the system will be fine. But to fully realize the potential of the included components, I suggest you consider saving up to upgrade the speakers.

Price: $697
bargain!

Features:
loaded

Performance:
better

strength? expandability and value
weakness? setup can be complicated for a novice

Specs:
Speakers: 6-ohms, 2-way
Number of speakers: 5 plus powered subwoofer
Watts per channel: 5 x 75/receiver, 100/subwoofer
Features: component DVD player with HDMI output, full featured A/V component receiver
For more information
Denon Electronics
100 Corporate Drive
Mahwah, NJ 07430
201-762-6500
www.denon.com


Welcome to the Gear Corner, where we give you a quick but comprehensive look at consumer electronics from several different categories.  All products in the Gear Corner have been individually evaluated through hands-on testing by our reviewers in order to give you a quick but detailed overview that we hope will help you in your purchasing decisions.

Confused about what AV Gear to buy or how to set it up? Join our Exclusive Audioholics E-Book Membership Program!
Recent Forum Posts:
birdonthebeach posts on May 01, 2007 08:52
That's a great point - Denon is in no way watering down their core business, rather they are offering entry level consumers an alternative to chintzy products.
westcott posts on May 01, 2007 08:17
There are a lot of buyers out there that are purchasing HTIB's and I am sure Denon's market research has identified this as a very big market. Several other upper end manufacturers are responding similarly to try and capture a part of this very lucrative market.
Here is a link from an interview with Michael Klipsch with similar visions.
http://www.soundandvisionmag.com/interviews/2222/michael-klipsch-of-klipsch-audio-technologies.html
I think it is a good thing as long as manufactuers like Denon continue to provide upper end products, as well.
Post Reply