invisibleSHIELD Scratch-Proof Film for Gadgets Review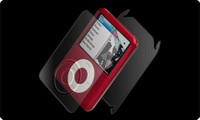 invisibleSHIELD for Apple iPod nano
Summary
Product Name: invisibleSHEILD
Manufacturer: ZAGG
Review Date: June 18, 2008 15:04
MSRP: $ 19.95 - $54.95
Package Includes:
instructions, squeegee, bottle of SHIELDspray application solution, and invisibleSHIELD film pre-cut for your device
Pros
invisible protection for your gear
leaves no sticky residue if removed
over 2,000 designs available
Cons
offers no shock protection
you need to wait 24-48 hours for it to dry after installation
care must be taken to keep application solution out of your electronics
Gear Corner Review
invisibleSHIELD by ZAGG is billed as "extreme scratch proof transparent film - the ultimate gadget protection."  Rarely do I buy such marketing-speak, but in this case, I would have to say that the product actually lives up to the hype.  When I first heard about the product, I went to ZAGG's website and watched a few of their videos.  They are pretty convincing - various devices such as iPods and cellphones are dropped into a tupperware container full of drywall screws.  The container is sealed then shaken vigorously, and the phone or iPod is removed without a scratch.  And then you are informed that the product comes from military technology, and as you well know, any red-blooded American gadget guy is gonna be interested in a product that began life in the military.  With invisibleSHIELD, the protective film was originally designed to protect the leading edge of helicopter blades. 

One could argue that some people's cell phones or iPods take abuse that would rival that of a military helicopter.  Take my friend JD, for example.  Quite often when we are hanging out, he will suddenly fling his Blackberry to the street.  He swears this is not intentional, but I have never seen someone so consistently abuse his gadget!   (I have told him that he is not allowed to purchase an iPhone, as he will no doubt break it within a day of getting it)  Everyone I know who has heard of invisibleSHIELD or who has it on their device, loves it.  When I tell people about it, they want to see it.  My friend Matt is a police officer, and he went nuts for it.  As his wife rolled her eyes, he began to list all of the things around their house he would like to cover with invisibleSHIELD.  

If you like the look of your gear as is, or "naked," invisibleSHIELD gives you the best of both worlds.  It will keep your brand new iPod, phone, PDA or laptop scratch-free without adding any bulk or apparent modification for a very reasonable price.  

Features & Installation
The package includes the invisibleSHIELD film pre-cut for your device, a small rubber squeegee, and a bottle of SHIELDspray application solution.  The included instructions are very easy to understand and have great illustrations.  ZAGG makes invisibleSHIELD for over 2000 devices, so chances are whatever you own, they've got you covered.
Installation is pretty straightforward.  First, you peel the invisibleSHIELD from it's paper backing, holding it in your hand with the sticky side up.  Next, take the included application solution and spray it on both sides of the film.   (It is recommended to spray your fingertips and hands before handling the film, to prevent fingerprints)  Then apply the film to your device, sliding it around until it is properly placed.  Using the supplied squeegee, push the excess fluid and bubbles out from under the film.  Finally, use a paper towel to soak up any excess fluid, taking care to not let any moisture get into your machine.
For my review installations,  I started with a third-gen Apple nano.  My daughter agreed to let me use her special (PRODUCT)RED iPod nano as the guinea pig.  I started by soaking my hands in the solution (which I am convinced is just water, possibly with a touch of alcohol) and peeled the large section of film designed for the rear of the nano.  This appeared to the be the easiest to place to start and get a feel for the process.  It has tiny "wings" at each corner, that allow for a form-fit on the rounded edges of the stainless steel back of the iPod.  It was fairly easy to manipulate and move around until I felt it was positioned properly.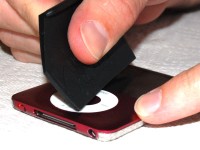 I then squeegeed the solution and bubbles out pretty quickly.  The wings were a bit tricky.  As described in the instructions, I let them dry out a tad, so they became more tacky.  One corner in particular did not want to stick down completely, so I tried another tip I found in the instructions, which was to cup the corner of the nano into my palm and hold it for a minute or so.  Eventually, it grabbed and I moved to the front.  Next up was the center button, then the ring for the click-wheel, and finally the large front piece.  The entire process took about 15 minutes, and the only tricky part was the corner, which I came back to about an hour later and cupped some more before it finally stayed in place for good.   I set the nano aside to dry overnight.  After a full day of drying out, the invisibleSHIELD had snugged up and wrapped itself around the nano like a second skin, and it looks great.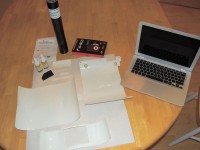 I am the proud owner of a brand-new MacBook Air.  I had only had it for a week prior to receiving the invisibleSHIELD kit, and had gone to great lengths to try not to scratch it on my trip to California for the Denon line show.  But alas, as I got ready to install the invisibleSHIELD, there was a slight scratch on the bottom of the AirBook, just mocking me.  Really?  Yes.  Oh well, it was otherwise pristine, and ready for some military-grade protection...
The Air kit had two large pieces (top and bottom), as well a medium sized piece for the wrist rests under the keyboard, then two small pieces for the click bar and trackpad, and finally a tiny little rectangular piece for the hidden port door on the side of the machine.  Also included were two large spray bottles of solution, and the rubber squeegee.  This was all packaged in a sturdy mailing tube labeled "MacBook Air - Full Body."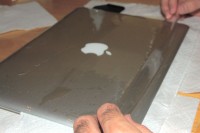 This time I started small first, with the click bar piece, followed by the trackpad and then the wrist rest piece.  I must admit, this was the most harrowing part of the installation, as I was a bit wigged out by the prospect of fluid dripping into the innards of my new $1799 investment.  I was not so worried about the trackpad and click bar as I was the front edge of the wrist rest film, which slopes down to the keyboard keys.   I kept a paper towel there to catch any drips, which was no easy task.   I should note here that ZAGG recommends that you do not turn on your devices for 24-48 hours after application, and this is no doubt to allow time for any moisture to evaporate from the logic board or any other sensitive areas.  And trust me, with the AirBook, I waited for almost 48 hours just to be safe.  This is probably the only negative I can come up with about this product.  You have to really be careful with certain devices to not let the solution get inside the device, and you best be patient and give it time to fully dry out.
The two large pieces went on pretty easily, with a moderate amount of sliding around to properly position them.   At one point I removed the bottom piece completely and started over with it, as I felt I was just not getting it where I wanted it.  A few sprays of the solution, and I was back in business.  The film is really pretty easy to work with if you take your time.  And time it did take to cover the AirBook.  It took all of an hour to get it properly covered with the invisibleSHIELD.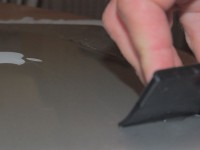 As the film dries, it seems to contract just the slightest bit, grabbing the form and shape of the device.  I have just a tad bit of overhang on the leading edge of the top of the AirBook, which I probably could have corrected had I taken it off and reapplied it again.  But it was so close, I decided to leave it, especially considering I would have to soak things down with the solution again.   And after a couple of weeks of use, it is fine, and has not peeled at all.  Which leads to another question I am often asked - can you remove the invisibleSHIELD?   Yes, you can just peel it off.   The company website has some links to videos of people peeling it off of their devices to show you just how easy it is.  But not so easy that it peels when you don't want it to.  

Conclusion
Performance has been great.  People love the look of both devices covered in the invisibleSHIELD.  I showed it to my friend who owns a local Apple Reseller shop, and he is planning to order the product into his store to sell for laptops and iPods.  If you do not want to put a leather or silicone case on your phone or iPod, this is a no-brainer answer for you.  I like the fact that it adds just the slightest bit of grip to the device, yet not enough that it impedes the ability to slide it in and out of a pants pocket or padded sleeve.  Of course, it adds zero shock protection, but you will not scratch your device with your keys or coins.   The company website has videos showing people trying to puncture an uninstalled invisibleSHIELD with a pen or pair of scissors, which my wife Dina very much wanted me to try, but the videos are convincing and I was more interested in getting it installed on my devices.  It is certainly tear and scratch-proof.
Simply put, invisibleSHIELD is one of the coolest products to come across my desk in a long time.  ZAGG has sold over one million invisibleSHIELDs.  If you own an iPod, laptop, cellphone, or small digital device of almost any kind, you will want to join the ranks of those who are protected. 

For more information:  http://www.zagg.com/
The Score Card
At Audioholics Gear Corner we give you a quick but comprehensive look at consumer electronics from several different categories. All products in the Gear Corner have been individually evaluated through hands-on testing by our reviewers in order to give you a quick but detailed overview that we hope will help you in your purchasing decisions.
| | | |
| --- | --- | --- |
| The Price: | Bargain | |
| | About right | |
| | Pricey | |
| | | |
| --- | --- | --- |
| Drool Factor: | One drop | |
| | Dripping | |
| | You'll need a towel | |
| | | |
| --- | --- | --- |
| With This Gadget, You Will Be the Envy of: | Anyone who sees it | |
| | Your IT guy from work | |
| | Your buddies | |
| | The soccer mom down the street | |
| | | |
| --- | --- | --- |
| Is it Easy to Use?: | If you have a pulse | |
| | It helps to be a bit geeky | |
| | Not unless you are a rocket scientist | |
Confused about what AV Gear to buy or how to set it up? Join our Exclusive Audioholics E-Book Membership Program!