Logitech Pure-Fi Anywhere Compact Speakers for iPod Review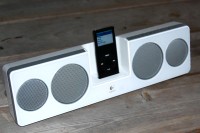 Logitech Pure-Fi Anywhere
Summary
Product Name: Pure-Fi Anywhere
Manufacturer: Logitech
Review Date: October 27, 2007 07:41
MSRP: $ 149.99
Dimensions: 5.5 x 2.5 x 16.5 inches
Weight: 3 pounds
Compatible iPods: All dockable iPod, iPod Mini and iPod Nano
Power: International voltage (100–240 volt) AC adapter and rechargeable battery
Battery Life: 10 hours of play
Driver size: Max-X active drivers and 3-inch pressure drivers
Warranty: 2 years

Pros
Big sound
Perfect for travel
Built-in rechargeable battery
Gear Corner Review
Lately I find myself traveling quite a bit, which means lots of time in hotel rooms away from my home theater. I take my iPod for the flights, but in my room I tend to just turn on the TV, or if I am working, just play music through my laptop speakers. Logitech has just released a new portable speaker system designed for iPod called the Pure-Fi Anywhere, and after testing it over the past month I can tell you that it is worth considering if you are looking for something that sounds big, yet can be packed in your carry-on.

Design & Features
I have played with several "portable" speaker systems designed for the iPod, and everything seems to be either too small or too large for travel. For example, there are several products out there that are very compact and zip into a case for easy transport, but they really don't sound much better than your laptop's built-in speakers. So in my mind, what's the point? Then there are speaker systems that are the size of the old boom-boxes so popular in the 80's (dare I risk dating myself? Oh well, too late...) Many of these products sound great, but are just not meant to be thrown in a suitcase, and are way too big to carry in your
backpack or briefcase.
The Logitech Pure-Fi Anywhere has a lot going for it right out of the box, primarily its size.
The Pure-Fi Anywhere comes with a zippered (pseudo-hardshell) case, and while it might fit in your backpack or briefcase, it fits easily in the standard size, wheeled carry-on luggage that I almost always travel with. It weighs around 3 pounds, and measures 16.5" long x 5.5" tall x 2.5" deep. My review sample arrived in white, but Logitech also offers the Pure-Fi Anywhere in black. The unit will stand up on a tabletop via two very sturdy fold-out legs. The included remote will control volume as well as the functions of your iPod. (The product is certified "Made For iPod" and works with most iPod models from the mini forward) Also in the box you find an international AC adapter that works with 100-240v, which is great for someone like me who travels overseas often. My iPod Nano fit perfectly in the travel case, along with the remote and the adapter. Overall it is a great package, made to travel.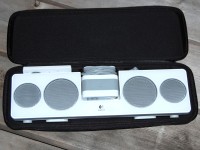 The Pure-Fi has an internal lithium-ion rechargeable battery that is rated for 10 hours of use per charge. I never used it for a full 10-hours straight to test this claim, but it seemed to be in that ballpark over a couple of days use. One nice design feature is that when you pack the unit up in its travel case, the AC adapter fits nicely in the area that you dock the iPod. The adapter also has built-in "wings" for you to wrap the power cord around for neat and easy transport.
As for controls, they are located on the top of the unit, and there is a AC power LED next to the power button that lights up when the speakers are plugged in. The battery level LEDs blink green while charging, and stay solid once the battery is fully charged. They will turn red when you need to recharge the battery. There are also buttons for shuffle, repeat and "stereo XL," which according to Logitech, "widens the sound field" (although I did not feel it changed things much). Rounding out the buttons are the volume controls.
The included remote control has all of the same buttons, as well as iPod navigational controls. The remote is the weak link in this product. It is small and the build-quality is cheap. The plastic is very lightweight, and the buttons felt chintzy. I also had trouble with it from short distances. From less than ten feet I had to really pay attention to my aim to get the remote to work. Even up close, it seemed very hit or miss. My advice to Logitech is to "finish what 'cha started!" The Pure-Fi Anywhere is a very cool product, except for the remote.
The system comes with a set of Universal Dock Adapters for your iPod. An included chart tells you which one to use for your particular model, including: iPod mini, iPod (4th gen), iPod w/color display, iPod nano, iPod w/video, and the iPod nano aluminum. Pop in the proper adapter, and your iPod will dock snugly into the Pure-Fi.
But how does it sound? Well, the design includes a pair of 2-inch Max-X active, high excursion full-range drivers, as well as a pair of 3-inch (passive) pressure drivers to add to the bass response. And indeed, the system sounds much bigger than it is. I used the system in a variety of locations, and found it to be very good at filling small spaces with decent sound.
I was cleaning out our master bedroom closet, which is adjacent to our master bathroom, so I set the Pure-Fi Anywhere up on the countertop next to the sink and hit shuffle on my iPod nano. For the next hour, as I worked in the closet, our master bathroom suite was filled with music that sounded full and rich. I was surprised at the volume level I was able to get out of the unit without distortion.
I also frequently set the unit up in my office on my desk to listen to music while I worked. That room is large, and opens into our great room, and has high ceilings. The Pure-Fi worked well sitting on my desk or the bookshelves behind me providing background music. It was certainly not capable of filling the entire living area of this large space, but that is not what it is intended for.
A hotel room is a perfect space for the Pure-Fi Anywhere system. It will provide plenty of volume to keep you jammin' without creating the kind of noise that will have hotel security knocking at your door. It is a perfect companion for a road warrior who logs time alone in a hotel room.
Conclusion
Although this product is "Made For iPod," it can also be used with other audio sources via a 3.5 mm auxiliary input on the rear. The design is an improvement on Logitech's MM50, which was a bit more boxy and did not have the battery life or sound quality of the Pure-Fi. My main suggestion for Logitech would be to improve the quality of the remote control.
I also think that at $149.99 it is a bit pricey. Although there are many products like this that hover around this price, it would be nice to see a product like this for around a hundred bucks.
The Logitech Pure-Fi Anywhere is a great product for a traveler who wants to take their music with them, but is not satisfied with the limited abilities of their laptop speakers. The system plays much bigger than it actually is, packs up neatly in its zippered travel case and doesn't take up too much space in your luggage, resulting in a winning design that will please many road warriors.
The Score Card
At Audioholics Gear Corner we give you a quick but comprehensive look at consumer electronics from several different categories. All products in the Gear Corner have been individually evaluated through hands-on testing by our reviewers in order to give you a quick but detailed overview that we hope will help you in your purchasing decisions.
| | | |
| --- | --- | --- |
| The Price: | Bargain | |
| | About right | |
| | Pricey | |
| | | |
| --- | --- | --- |
| Category: | Bookshelf | |
| | Tower/Floorstanding | |
| | 5.1 System | |
| | Subwoofer | |
| | PC/multimedia/cube | |
| | | |
| --- | --- | --- |
| Recommended For: | Acoustic/folk/bluegrass | |
| | Rock/country | |
| | Classical | |
| | Jazz | |
| | Home theater | |
| | | |
| --- | --- | --- |
| Styling: | Boring | |
| | Nothing special | |
| | Gorgeous | |
| | Unique | |
Confused about what AV Gear to buy or how to set it up? Join our Exclusive Audioholics E-Book Membership Program!