AV123 x-mtm Tower Speaker Review
AV123 x-mtm Tower Speaker Review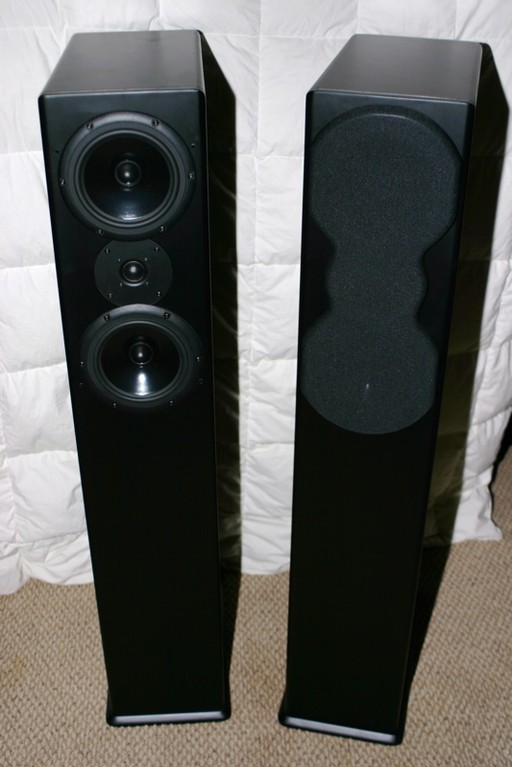 Bang for your buck might be the best way to describe these towers, because if you are into bass, they will certainly not disappoint.  At $449 a pair, these are easily the most aggressively priced (low-priced, that is) speakers of this size I have seen.  And has been the case with every other speaker I have seen from AV123, the build quality and finish of these speakers is outstanding.  So the question is, how do they sound?
Design & Features
Earlier this year I received a pair of Onix x-ls 2-way monitors from AV123.  I was simply astounded at the build quality of this bookshelf speaker.  They arrived in a White Shadow Maple finish that was incredible.  At first glance it was hard to determine if it was a hardwood cabinet or a veneer.  Easily furniture-grade quality, it was in fact one of the most impressive veneers I have ever seen - not only on a speaker, but on any piece of furniture!

The AV123 x series of speakers continues to draw attention with its affordable pricing and excellent quality.
The x-mtm tower speakers carry on the tradition of furniture grade cabinets at a headscratchingly low price.  The review samples I received were clothed in a Satin Black finish, and these are some of the largest tower speakers I have had through my listening rooms over the years.  They stand at an imposing 46.7" tall x 8.5" wide x 16.5" deep.  They weigh in at 50 pounds each.  The MDF-framed grills are an unusual shape that you will probably either love or hate.  They have flimsy plastic connectors that did not always fit right and will be prone to breaking.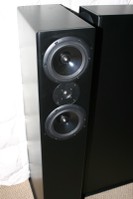 Removing the grills revealed the Dual 6.5" long throw woofers and a treated fabric domed tweeter.  The speakers are a vented design with dual rear ports.  It is a D'Appolito configuration, with a driver-tweeter-driver vertical arrangement (hence the mtm nomenclature in the model designation).  There is one set of 5-way binding posts on the rear above the dual ports, so don't expect to biwire or biamp these speakers.

AV123 includes brass floor spikes that can be screwed into threaded receivers on the base, as well as rubber bumpers if you plan to use the speakers on hardwood, tile or concrete floors.  The cabinets are constructed of 3/4" braced MDF.  The cabinet is rock solid - there are seven braces inside keeping this thing rigid. 

The drivers are custom-built Peerless India curvilinear shaped, treated paper cone woofers.  They have polymer (plastic) chassis.  The tweeter is a ferro-fluid cooled design, with a treated fabric 1" dome.          

Listening Impressions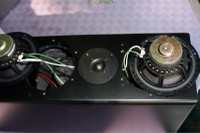 Do you like bass?  Do you REALLY like bass?  Because if you do, you are going to have a smile on your face when firing up these monsters.  They have deep bass extension.  They are big.  They look big, they sound big, they ARE big.

At times in my room, I found them to be boomy, muddy, and lacking clean high end.  Their imaging was average, and I found them to have a small soundstage.  I had better results after toeing them in slightly.  The treble clarity and extension was an issue for me throughout my listening tests. 

They handled power well but were not terribly efficient.  When listening to them with some of the other Audioholics writers, we found that they had difficulty imaging, and we all agreed they were a bit too bassy.  We actually tried plugging the rear ports with socks, and felt this helped. A nice piece of dense foam will work just as well and look nicer.

I had much better results from the speakers when I set them up as front mains in a full AV123 home theater rig, which included a pair of x-subs, an x-cs center, and a pair of x-ls surrounds.  The bass output in action movies was excellent, and the front soundstage worked well with this combo. 

Night At The Museum - DVD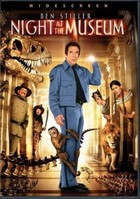 Night at the Museum was a fun DVD that my kids loved.  It is always great to find a movie that you can watch with your kids and actually enjoy, not to mention use while reviewing speakers!  One of my favorite characters was the Easter Island Head that would talk to Larry (Ben Stiller) from time to time.  The x-mtm towers had no problem with the deep bellowing voice asking Larry, "Hey!  dum-dum!  You give me gum-gum.  Oh, you in trouble, dum-dum.  You better run-run.  From Attila the Hun-Hun."

Rush - Snakes & Arrows - CD
It's hard to believe that Rush has made it past their 30th anniversary as a band and continue to churn out records.  And good records, at that.  Some may say that they are not breaking any new ground, but fans would tell you that it doesn't matter because few bands have maintained such a high level of musicianship over the years, much less stayed together.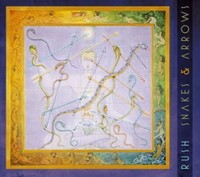 Their new recording is a very respectable set that is flavored with songs reminiscent of their work from albums such as Hemispheres or Moving Pictures.  The opening song, "Far Cry", has a very familiar feel full of pounding drums and monstrous guitars.  The x-mtms have no problem with powerful rock music such as this, but I found myself wanting to pull back the bottom end just a tad, and at first wondered if I had my sub turned on (which I did not).  The mtm's do not lack punch, I would just like to hear them tighten up a bit on rock music such as this.

Conclusion
Compared to other speakers I have reviewed, the x-mtm towers are very dependent on the room you use them in.  Depending on your room, this can be a very finicky speaker.  I had problems in the two different rooms I used in my house.  When I took them to Audioholics Reference System 1 in Florida, they displayed different characteristics, and seemed happier in this fairly "dead" acoustical space.

It is hard to criticize a speaker at this price, especially such a well-made one.  The cabinets alone are worth the cost of these speakers.  While I feel that they could use a little more balance in their sonic characteristics, for man, the bassy character of these towers will be welcome.  And as the front mains in a home theater rig, they will provide you plenty of punch and power.

 

Price:
x-mtm - $449/pair
   
Style:
tower

Recommended For:
rock/country
home theater


Specifications
Impedance:  8 ohms
Frequency Response:  40Hz-20KHz
Dimensions:  8.5" W x 46.7" H x 16.5" D
Weight:  50 lbs. each
Sensitivity:  90.5 dB


For More Information
AV123
1001 Delaware Ave. Suite C
Longmont, CO 80501
303-543-7500
www.av123.com

 
About Gear Corner
Welcome to the Gear Corner, where we give you a quick but comprehensive look at consumer electronics from several different categories.  All products in the Gear Corner have been individually evaluated through hands-on testing by our reviewers in order to give you a quick but detailed overview that we hope will help you in your purchasing decisions.


Confused about what AV Gear to buy or how to set it up? Join our Exclusive Audioholics E-Book Membership Program!
Recent Forum Posts:
jcPanny posts on February 27, 2008 12:03
AV123 X-series Encore

FYI,
The currently shipping X-series "Encore" speakers have an upgraded tweeter and crossover. This improves the performance of the MTM and other X-series models. There will als be an upgrade path for owners of the "classic" X-series speakers.
3db posts on February 27, 2008 07:00
TLS Guy, post: 381036
No, I have not auditioned them, but I have a couple of comments. Finicky in a speaker = trouble in a speaker. From the description, sock in the port etc, I would suspect the bass is misaligned as well. I regard the review as poor, and if I was in the market, that review would not tempt me to put it on the audition list.
I agree with you. I would put them in the same caliber of speaker prior to my PSB upgrade; those speakers being Technics SB-T200 . They were almost identical in configuration, excpet they used 5 1/2" drivers instead of 6 1/2" and they had a port in the front and one in the back.
TLS Guy posts on February 26, 2008 16:30
No, I have not auditioned them, but I have a couple of comments. Finicky in a speaker = trouble in a speaker. From the description, sock in the port etc, I would suspect the bass is misaligned as well. I regard the review as poor, and if I was in the market, that review would not tempt me to put it on the audition list.
Fancypants posts on February 26, 2008 16:10
If these were to be used with a sub, or subs for that matter, and had the crossover set to 80Hz or so, would they still be as power hungry?

I ask because I am looking at several speaker options in this price range, and currently own an Onkyo TX-SR503 which is rated at 75W/ch @ 8ohm, would this be sufficient? or a bad idea?

I do plan on upgrading my receiver to a more modern receiver with HDMI switching, and possible pre-amp outputs/more power, but I really wanted to get new speakers first, and get the new receiver when I make a display upgrade into the world of HD.
majorloser posts on September 05, 2007 11:05
gene, post: 293684
I have no reason to doubt their specified sensitivity. Since I didn't measure impedance/phase, I can only guesstimate that they must be a difficult load. I forgot to mention that when the amp was clipping, the woofers were bottoming out like mad so you definately shouldn't drive them so hard. The woofers in these speakers and especially in the xls bookshelf can't take much punishment which is why they need to be bass managed and mated with a good sub or two.
I have to agree with the MTM's being power hungry. I ran them using a pair of bridged Berhinger A500's. They happily gobbled up the extra power.
The cabinet is large considering the drivers but not overly huge. If you have room for any towers then these will fit in as well. The speaker finish was superb and the cabinets were solid. My only beef with the set I tested was the grill. The grills were the old "snowman" style that I believe has been replaced.
As far as sound, they did quite well. I was only hoping for "brighter" highs. But I believe this is because of my bias toward metal dome tweeters. I had to remind myself that these were budget priced speakers. Can't expect high priced exotic components at this price level.
Again, as Gene stated, I too would recommend that these are used with a powerful receiver or amplifier to really get the most from them.
Post Reply