Booq, be.ez & Lowepro Laptop Bag Roundup
Booq, be.ez & Lowepro Laptop Bag Roundup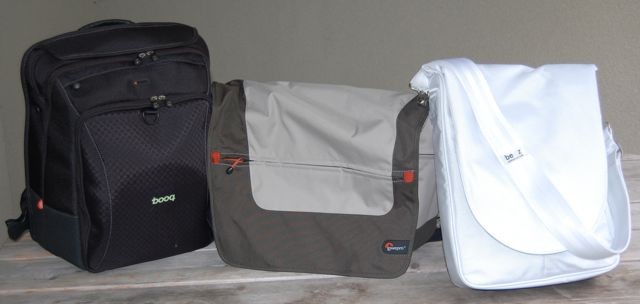 Laptop Bags from Booq, be.ez & Lowepro
As the annual CEDIA Expo rolls around again I find myself getting ready for another trip across the country with my laptop and accessories.  I thought this would be a great time to take a look at a variety of laptop bags to find out what is on the market.  For my review, I decided to cover three new bags from manufacturers offering three distinct styles.   Each has it's own appeal and function, not to mention unique styling.   Times have changed - these aren't your nerdy computer cases from yesterday, but rather colorful and functional totes that get the job done in style.

Booq Boa XM
I prefer a backpack-style bag for my laptop.  I tend to travel with a fairly large amount of accessories, magazines, paperwork and usually a book.  Especially on international trips, my backpack is my office, and I need something with plenty of space.  Booq's Boa XM is a high-end backpack aimed at professionals who need a rugged, spacious pack.  At $165, it is not cheap, but I found it to be worth every penny. 
The build quality of the Boa is excellent, with high-quality materials used throughout.  It is constructed with 1680D Ballistic Nylon, and is equipped with seatbelt nylon webbing and straps that are all heavily stitched at the seams.  The back padding is constructed of high-density foam that is contoured and allows for breathability.  The straps are padded and contoured for smooth load distribution, and they each have nylon web-loops for attaching reflectors or accessory pouches.   There is a 1.5" seatbelt nylon waist strap that can be removed, which is a great feature, since I rarely use these waist straps and they inevitably just add bulk to a backpack.  There is a nice padded handle area at the top of the shoulder straps which makes grabbing the pack a breeze.  The bottom of the pack has a textured rubberized-type coating to protect it from moisture should you inadvertently set it down in a puddle of water.

The pack is incredibly sleek looking.  When all zipped up and locked down, it is almost looks like a smooth rounded shell.  But indeed, there are 3 main zippered compartments.   Nearest the rear is the laptop compartment, which is zippered at the top and is entirely separate from the rest of the pack.  There is a flap that covers the zipper and stays in place via two round magnets that are sewn into the edges.  Getting to your laptop is as easy as popping open the flap and unzipping the compartment.   The compartment itself is lined with smooth, non-scratching microfiber, and has a rigid frame covered with 0.5" high-density foam.  It will accommodate 14-15" laptops, and can even handle the 17" MacBook Pro from Apple (Booq calls it a "snug" fit). 
The main zippered center compartment has dual zippers that unzip all the way to the bottom of the pack, which allows you to completely open it up and spread it out, which is great when packing for a big trip.  Fully unzipped and opened up, this thing is cavernous!  Inside you will find a large rear pocket for magazines and documents, with a smaller mesh half-pocket on the front of it.  On the front wall of the compartment are 3 more nylon pockets with flaps that have velcro to keep them closed. 

The front pocket is also zippered all the way to the bottom of the pack, again allowing for easy loading.  On the rear wall of this compartment is a plastic hook for your keys, and a zippered pocket that is wide enough, but not quite tall enough to handle a standard sized magazine.  Under that is another pocket (that will handle a magazine, since it is not zippered), and below that are a few pen slots and smaller pockets, including two mesh pockets.  Again, this area has plenty of room for filling up with any kind of "stuff" you might throw in there.  There is also a zippered compartment on the front of the bag for an iPod, and it has a water-resistent grommet for your headphones and the interior is lined with super-soft microfiber.

Now that you have an idea of the lay of the land, let me tell you what it has been like to live with this thing.   I should start out by saying, it has become my primary bag.   I use it day-to-day, and I use it for trips.  The bag weighs 3.25 lbs., and feels good.   I am able to get as much or as little as I need in it, and it looks great. 

I strongly suggest purchasing a laptop sleeve for your laptop, as my MacBook Pro swam around in the computer compartment without one.  Booq offers several products designed for this purpose, and I own a heavily padded sleeve I purchased from Waterfield that fit perfectly. 
The workmanship on the bag is excellent, and every stitch and seam was tight.  The zippers are very high quality as are the pulls, but I would suggest that Booq enlarge the pulls just a little.  They are just a tad too small, and at times my fingers slip off when pulling them.  And I really miss having a water bottle pocket on the side of the pack.  My only other complaint with the bag is the quality of some of the interior pockets.  The smaller pockets with the flap-closures and the pen pockets are very thin and the nylon fabric is not of a quality that matches the rest of the bag.  But I can easily say that this bag is the best laptop backpack I have seen.  It approaches perfection, and currently occupies the highly scrutinized position of "best laptop backpack I have found." 

be.ez LEvertigo
Whether you fancy yourself a metrosexual or happen to be a fabulous babe,  have I found the bag for you.  The French brand be.ez (pronounced "be-easy") has taken a look at the computer accessory market and decided that it was missing style and design, and decided to create something for people who are fashion conscious and want something different.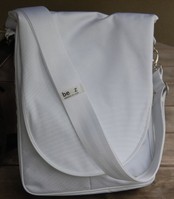 The LEvertigo is a cross-shoulder vertical style laptop bag available in a wide variety of colors with cool names such as Ebene, Prune, Street, Kakee, and in the case of my review sample, Pearl.   This slim bag can accommodate laptops up to 15.4" and has room for a magazine or two and your computer accessories. 

The exterior of the LEvertigo is constructed of a very tough ballistic nylon that is waterproof, and the bottom and sides are finished in a smooth rubberized coating.  The shoulder strap is constucted of the same size and material as that of the nylon seatbelt in your car.  The hardwear is very high-quality metal with a smooth nickel-colored finish. 

The giant front flap stays closed snugly with a cool velcro closure that is shaped like the company's logo, which is a period followed by a lower-case letter "e" that is reversed.  Once open, you will find the laptop compartment in the rear of the case, and it is lightly padded and has an adjustable strap at the top to keep your lappy strapped down snugly.  Normally I would suggest a sleeve for your machine in a bag such as this, but then again I don't think the intended audience will necessarily be slinging this bag around too much, and the padding here should protect your laptop pretty well from normal travel to and from the office (or photo shoot).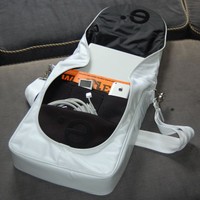 There is a sleek mesh pocket in front of the laptop area that is very cool (super-fine mesh) that can easily handle several large magazines or folders of paperwork, and yet another full size pocket in front of that one for more of the same.  There are two zippered compartments that are large enough for your power supply and a portable mouse, and maybe a few cables.   Three smaller pockets (that are a perfect fit for your iPods) finish out the storage.

The LEvertigo is trim and slim, is perfect for someone who wants a stylish vertical case for their laptop and a few magazines.   While there is not a ton of storage, this bag meets it's intended audience and gives them what they want - a no fuss solution.  Within minutes of arriving home from school and seeing the bag on my desk, my fashion-concious 14-year old daughter immediately took possession of it and has no plans to return it to me! 

The LEvertigo retails for $69.99.

Lowepro Factor M Messenger Bag
Long known for their quality camera bags, Lowepro enters our roundup with a messenger styled laptop bag called the Factor.  Messenger bags are wildly popular for carrying laptops, in part because of the huge amount of space for all of your stuff.   Lowepro's Factor M is a stylish version with a well-padded compartment that will accept most 15.4" widescreen notebook computers.  The Factor is also available as the Messenger L (for larger laptops).
Our sample was a colorful Parsley/Green Tea version that is very cool and would be suitable for both men and women.  I love messenger bags and feel that they are sort of a hip version of the traditional briefcase.  It is great to be able to open the big flap and just load it up with papers, notebooks, magazines, a camera, and even your lunch.  

The Factor Messenger's laptop compartment is adequately padded and has a velcro flap to keep the computer secure.  Inside the massive main compartment are three deep, expandable pleated pockets for keeping your power adaptor and cords tucked away, and there is also a key holder clip.  On the front of the main the pocket there are some small pockets for business cards, two small pockets with soft, non-scratching interiors for your iPod and phone, and a zippered mesh pocket.  The front flap covers all of these pockets when locked down with the two adjustable plastic clips.  The front flap has a zippered exterior ticket pocket with plenty of room for maps, tickets, or even a paperback novel.  There is an expandable mesh side pocket that will hold a full sized water bottle, and a nice zippered pocket on the opposite side wall.  All of the zippers have great zipper pulls, and there is a grab handle on the top of the bag with a rubber grip.

The exterior styling is really cool, and I loved the two-toned color scheme.  The exterior is a water-resistent nylon with two distinct, very pleasing textures.  The fit and finish of the bag is very good, and the rear of the bag has a breathable padded mesh panel stitched with the Lowepro logo.  There are mesh airflow channels to keep the bag comfortable against your skin on hot, sticky days.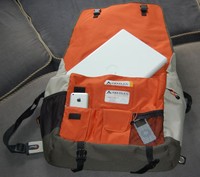 With an MSRP of $69.99, it is hard to find anything to complain about with this bag.   I was able to load it down with a MacBook or a 15" MacBook Pro as well as loads of paperwork, magazines, and even my digital SLR.   If I had a complaint it would be that the shoulder strap is lightly padded and not very wide compared to other models, which makes a difference when you are carrying a fully loaded bag.  Otherwise, it was a joy to use.
Conclusion
There is a bag out there for every personality.  Are you a backpack guy?  Or maybe you prefer a slim tote or stylish messenger bag?  There are plenty of choices available to keep you happy.  Each of these bags have plenty going for them.  The Booq is a premium bag, and you get what you pay for.  The be.ez offers great style at an affordable price.  And it is hard to beat Lowepro when it comes to bang for your buck.   Go check these bags out - I am confident one of them will be right for you.

For More Information:
BOOQ, LLC
64 E. Montecito Ave
Sierra Madre CA 91024 U.S.A.
877-292-1773
www.booqbags.com
be-ez
www.be-ez.com
Lowepro
1003 Gravenstein Highway North Suite 200
Sebastopol, CA 95472
Phone: 1.707.827.4000
www.lowepro.com


About Gear Corner
Welcome to the Gear Corner, where we give you a quick but comprehensive look at consumer electronics from several different categories.  All products in the Gear Corner have been individually evaluated through hands-on testing by our reviewers in order to give you a quick but detailed overview that we hope will help you in your purchasing decisions.




Confused about what AV Gear to buy or how to set it up? Join our Exclusive Audioholics E-Book Membership Program!
Recent Forum Posts:
birdonthebeach posts on September 05, 2007 12:23
sholling, post: 305297
I actually have a Lowepro CompDayPack and I'm impressed with the quality and the design. This is the one with compartments for both a laptop computer and a DSLR camera and a couple of lenses. It's a nice concept and pretty well executed in the product. Being split use design it's camera compartment isn't big enough for a lot of lenses but for what it is I like it.
I reviewed that bag here at Audioholics:
http://www.audioholics.com/reviews/portables/lowepro-compudaypack/?searchterm=lowepro
It is a great bag, and I have been impressed with Lowepro's products…
sholling posts on September 05, 2007 11:50
I actually have a Lowepro CompDayPack and I'm impressed with the quality and the design. This is the one with compartments for both a laptop computer and a DSLR camera and a couple of lenses. It's a nice concept and pretty well executed in the product. Being split use design it's camera compartment isn't big enough for a lot of lenses but for what it is I like it.
Clint DeBoer posts on September 04, 2007 21:42
Rule #1 - name your products sensibly - holy cow it's like they're from planet Zyphlon and are visiting earth for the first time.

What is a booq, and how do I pronounce be.ez ("bee easy?")

I know that next time I want to name a product, I'm going to have my four-year-old do it for me - that'll be the bomb!
Post Reply