Griffin Accessories for iPhone Review
Griffin Accessories for iPhone Review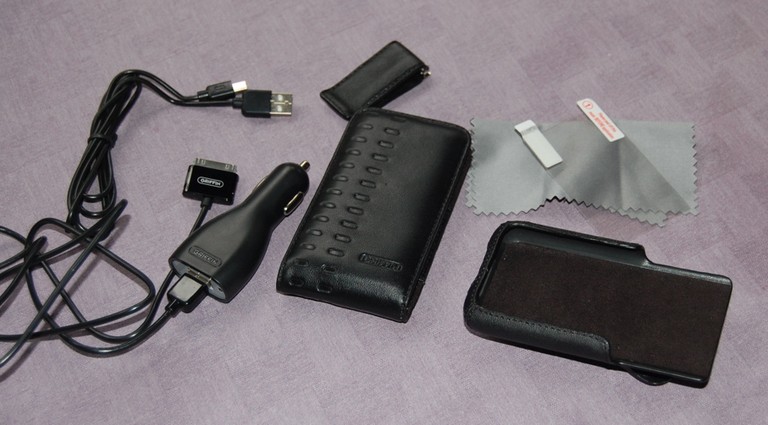 Griffin Accessories for iPhone
Griffin has gained a reputation for making quality iPod accessories, ranging from speaker systems, to headphones, to power adapters, to protective cases. The release of the iPhone from Apple signals yet another boon for iPod accessory makers, as users of the iPhone will certainly need many of the same products for their new purchase. And Apple, never one to miss opportunity to separate us from our hard earned cash, has made the iPhone just different enough from similarly-sized iPods that new cases and chargers are needed.
Over the past few weeks I have been testing three new products from Griffin just released for the iPhone, including a car charger called the PowerJolt, and two protective cases, the Elan Snap-In and the Elan Holster.
PowerJolt Car Charger for iPhone and iPod
Anyone who spends a lot of time on the road probably has a car charger for their iPod and one for their wireless phone. If you now own an iPhone, you need a new car charger. The good news is that the very popular PowerJolt has now been updated specifically for the iPhone. It is also backwards-compatible with iPod models that use the full-sized Apple dock connector, as well as the first generation Shuffle.

The PowerJolt retails for $19.99, and is widely available at Apple and AT&T retail stores, as well as many online outlets. It works in any 12V accessory socket or car cigarette lighter. It uses an easily replaceable, standard 2 Amp automotive fuse to protect from spikes or surges. The plug that goes into your 12V socket has a standard USB port for the included dock connector cable. As a result, the cable is detachable from the plug, providing you with the convenience of having an extra cable which is handy for when you are on the road and have forgotten your sync cable. There is also a USB Type-A to mini-B cable which enables charging while using other devices that have built-in pass-throughs such as an FM transmitter. There is a charge indicator light that changes color to indicate charging status.
On a recent trip I was able to charge my iPhone while also using my iPod nano with a Griffin iTrip FM transmitter. I frequently travel around the state on all day business trips. On a heavy day where I am using my iPhone for a lot of email, web browsing and phone calls, the battery gets drained. Having the PowerJolt in my truck allowed me to stay charged up, and I had a great experience with it. This is a great little product that is a must-have for iPhone users, as Apple does not yet offer a car charger.
Elan Snap-In
I shook this thing like a wet dog escaping from a bath, and the iPhone stayed snugly in place.
It seems to me that you fall into one of two groups when it comes to your wireless device. You are either a belt-clip guy or a pocket guy. If you are really nerdy, chances are you have two or more phones/Blackberries/Treos/walkie-talkies hanging off of your belt. If that is the case, go ahead and admit it to yourself - you are a bit nerdy. It's okay, you can laugh. Come on, it's funny! And don't be ashamed - there is a HUGE market out there created by the likes of you. Enter the Griffin Elan Snap-in for iPhone.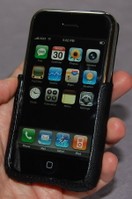 If you are a the belt-clip guy I have described above, this product is made for you and your iPhone. It allows you that quick-draw ability you are used to with your portable devices, and is a custom fit for your brand spankin' new iPhone! The case is a molded-leather, snap-in design that holds your iPhone firmly in place and has a 90 degree swivel belt clip. The clip is tight, and has a very satisfying "click" as you adjust the angle you need to perfect your draw.

I am not a belt-clip guy, but the first thing I thought I should do to test it was to give it a serious shake-test. In hindsight, I should have done this over a pillow or something, but thanks to the quality of this product, there was no problem. I shook this thing like a wet dog escaping from a bath, and the iPhone stayed snugly in place. I clipped it to the outside of a side pocket on my cargo shorts one day, and it stayed in place without any issues.

The Elan Snap-in comes with a static-peel screen protector, a microfiber cleaning cloth, and the interior of the case is lined with microfiber as well to protect the casing of your precious iPhone. The sleek design of the iPhone combined with the snug fit of the Snap-in can make answering your phone without muting it or sending the call to voicemail a bit tricky one-handed, but this is more about the slender phone than the case, and will be a problem with any case for the iPhone. The Elan Snap-in retails for $24.99.

Elan Holster
The Elan Holster is a full coverage leather case for the iPhone that has quickly become my favorite iPhone accessory. Why? Because I like to carry my phone in my pocket or throw on the dashboard of my truck, and as a result I like a full coverage case. The Elan Holster is constructed of very high quality, soft black leather that looks and smells great. (I did NOT just admit to sniffing my iPhone case. Um, yes, I did...)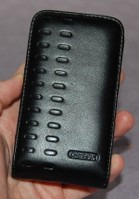 In case you are one of the above mentioned nerds who likes to wear your iPhone on your belt (lighten up, I'm just giving you a hard time...), the Elan Holster comes with a removable clip that can be oriented horizontally or vertically for your belt, laptop case, or backpack strap. As with the Snap-in, and every other case I have tried with the iPhone, it is actually tricky to remove the iPhone with one hand without pressing the side rocker switch or the ringer mute/send to voicemail button on the top of the phone. Again, this is a phone issue. The case is very snug, and it held the phone pretty well during my shake test. Eventually, with ridiculously overkill shaking, I was able to get the iPhone to begin to slide out, but I think that if you have this clipped on your belt and you experience a jolt this severe, you will have bigger issues to deal with than your iPhone falling out of it's holster. In my day-to-day use, the Elan Holster provided a very classy and practical solution for protecting my iPhone.

Like the Elan Snap-in, the Holster comes with a static-peel screen protector and a microfiber cleaning cloth. The interior of this case is also lined with a suede-feeling microfiber to protect your investment. The Elan Holster retails for $29.99.

Conclusion
Griffin continues to make high quality accessories for iPods and now the new iPhone. I found the quality of the new PowerJolt and the Elan cases to be excellent, and I highly recommend these products if you are looking for power and protection for your new iPhone.

For more information

Griffin Technology
1930 Air Lane Drive
Nashville, TN 37210
615/399-7000
www.griffintechnology.com


About Gear Corner
Welcome to the Gear Corner, where we give you a quick but comprehensive look at consumer electronics from several different categories. All products in the Gear Corner have been individually evaluated through hands-on testing by our reviewers in order to give you a quick but detailed overview that we hope will help you in your purchasing decisions.

Confused about what AV Gear to buy or how to set it up? Join our Exclusive Audioholics E-Book Membership Program!
Recent Forum Posts: