Delphi XM Premium Sound System Review
Delphi XM Premium Sound System Review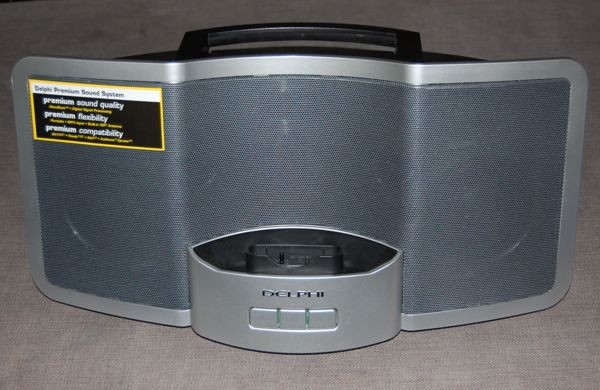 Delphi XM Premium Sound System
My first XM radio was a Delphi SkyFi, and at that time I also bought a portable speaker unit to go with it.   It was sort of a modern boom box that allowed me to use my XM radio outside of my car.
Delphi has updated that speaker system with the new Delphi Premium Sound System, which they recently sent me for review.   They also included a SkyFi 3 for me to test it with.  After a few weeks with the system, I found it to be very similar to the original, and very simple and easy to use.
The Delphi Premium Sound System is targeted to people who have bought a portable XM radio for their car and want to use it elsewhere.   It is essentially a portable set of speakers, designed to for use with several different compact XM receivers.
Out of the box, the system is compatible with Delphi's SkyFi3, Roady XT and MyFi, as well as Audiovox's Xpress.  Included are adaptors for docking any of these models.  With another adaptor that is sold separately, the Premium Sound System is also compatible with the Pioneer Inno and Samsung's Helix.
Design & Features
The unit itself is very simple.   It is constructed of sturdy black plastic with a silver trim on the front around the grey metal grill that runs across the entire face of the unit.  There are only 3 buttons on the front:  Volume Down, Bass, and Volume Up.  Just dock your receiver and turn it on, and the system comes to life.  On the rear of the unit there is a headphone jack and a 1/8" auxiliary input jack that allows you to connect an MP3 player or CD player, etc.  There is also a battery on/off switch, and an 18v DC input for the included power supply.
There is fold-up handle built into the top of the unit, and a top cover (that is remarkably difficult to remove) that reveals the included antenna and cable.  The literature available on Delphi's website claims that the integrated XM antenna "works right out of the box in most locations," but I could only get it to work indoors if I had the unit sitting in or by a window, which is always the case with satellite radio.  So I think they mean that it works "right out of the box in most OUTDOOR locations."  The home antenna has a 20 foot cable that allows you to place it in a window, with the cable running to your speakers on a nearby table, for example.   Outdoors, the unit works well without having to remove the top and unwind the cable.  On the bottom of the unit is a battery compartment that houses eight "C" cell batteries for portable use.
The unit maximum power output is rated at 20 watts.  The cabinet is not shielded, and Delphi warns against it being placed near CRT computer monitors and TV's.  The battery life is rated at 6-8 hours of use from alkaline cells.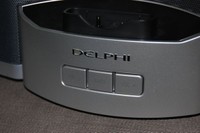 From what I could see, the speakers appear to be a pair of 3" drivers that both have tuned ports.  During my testing, I spent quite a bit of time on XM's classic rock stations, such as Top Tracks (channel 46).  Sound quality was decent for a product of this type.  The "BASS" button on the front is Delphi's MaxxBass system which is purported to provide "full sound, even at lower volume levels."  Indeed, it boosts the bottom end and warms up the tone considerably.  The effect reminded me of the old "loudness" button found on many old receivers in the 90's.  When listening at lower levels, I found it to be an improvement.  For example, listening to Norah Jones' "Be My Somebody" on Starbuck's XM Cafe (channel 45) sounded much better with the MaxxBass system engaged.  Towards the end of the song, I turned off the BASS and the song sounded thin and tinny, especially at higher volumes.  ESPN Radio (channel 140) was crisp and clear and sounded great as I worked out in my garage or driveway with the volume turned up listening to sports talk.
Overall, the sound quality of the system was average, at best.  While I have heard much worse from portable speaker systems, I have also heard much better.  But the purpose of a system like this is convenience and portability, not critical listening.  For straight up utility, the Delphi gets the job done with convenience and ease.  But with a MSRP of $179.99, I think it is overpriced considering it's limitations.
Conclusion
I had a few gripes with the system that I want to address.  Just as with my original, similar system from several years ago, the top cover that hides the home antenna and cable should not be so difficult to remove.  You have to use two hands, or thumbs, to press down on the marked areas and then slide the cover off.  I could never do this easily or without wanting to cuss.  This is a design issue that should be addressed.  Secondly, why is the headphone jack located on the rear of the unit?   Am I the only one who thinks that if this unit is sitting on your desk, and you decide to listen via your headphones that it would much more intuitive to plug them into the front panel of the unit, rather than pick it up or turn it around to access the jack in the rear?  My third and final gripe is a bit unfair, because it is not with the speaker unit itself, but with the SkyFi3 receiver that was sent to me to use for the review.  I found it unnecessarily complicated to operate.  It took me a while to figure out how to quickly scan or tune into specific channels.  After I while I finally got it, but it was pretty clumsy.   But again, this review is for the speaker system, not the SkyFi3, and there are plenty of other receivers that are compatible with the Premium Sound System.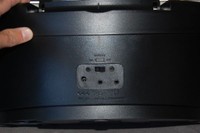 As for the good news, this is a must-have product if you have a compatible portable XM receiver in your car.  It is incredibly convenient to pop it out of your car and into the dock and listen to XM in your office, on the beach, or while you work in your yard or garage.  For any of those circumstances, it delivers quality sound and does the job with ease, and without a complicated array of unnecessary buttons or controls.  Dock it, turn it on, and set the volume.   That is the kind of simplicity we need, and the Delphi Premium Sound System hits the mark.
Specifications
Frequency Response: 30Hz to 20kHz
Headphone Connector Type: 3.5mm Stereo Jack (1/8")
Auxiliary Connector Type: 3.5mm Stereo Jack (1/8")
Battery Type/Qty: "C" Cell / 8 Total
Overall Dimensions: 15.7" x 7.8" x 8.3"
Weight (Without Batteries): 4.11 kg
Operating Temperature: 32 to 131 degrees F

Sound Quality
boom box

Portability
you need a free hand to carry it

Is It Easy To Use?
if you have a pulse

Price
pricey!

For More Information:
5725 Delphi Drive
Troy, Michigan 48098-2815
248.813.2000
www.delphi.com
About Gear Corner
Welcome to the Gear Corner, where we give you a quick but comprehensive look at consumer electronics from several different categories.  All products in the Gear Corner have been individually evaluated through hands-on testing by our reviewers in order to give you a quick but detailed overview that we hope will help you in your purchasing decisions.
Confused about what AV Gear to buy or how to set it up? Join our Exclusive Audioholics E-Book Membership Program!
Recent Forum Posts:
lifamily posts on August 23, 2007 21:56
What were they thinking?

This is probably the first boom box ever to incorporate a headphone jack in the rear. Definitely not a product for me. What was the designer smoking. This unit appears to be kind of awkward to carry around as well. I have the 2nd gen skifi w/the 2nd gen boombox that has a CD player on the flip side and I love it. I think I'll stick with what I have…
Post Reply