Jamo C803 Bookshelf Speaker Review
Jamo C803 Bookshelf Speaker Review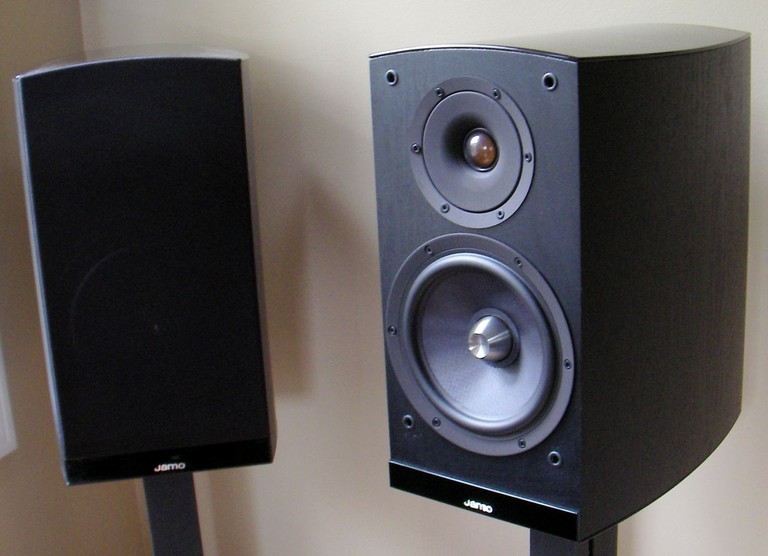 Jamo C803 Speakers
The quality of loudspeakers being produced by most companies these days is pretty good. Rarely does a set of speakers come in for review that just sound awful. Each pair generally has strengths and weaknesses, but overall, I have found that there are many quality products out there to choose from. You can almost always find a speaker that combines good performance with a size, shape and aesthetic appeal that suits your personal taste in most any price range. With that being said, it has been a while since a product just blew my socks off. Enter the Jamo C 803 bookshelf speakers.

Features & Listening Impressions
I contacted Jamo and inquired about getting a pair of speakers to review. Visiting their website, I found that the Danish company has quite a large range of speakers. After some discussion, they suggested I audition a pair from their Concert line, and they sent me the lone bookshelf from the C 80 series (the top of the Concert line), the C 803. The Jamo Concert series is designed to deliver "a thrilling performance." Jamo also describes them as being built to recreate the perfect concert experience. Of course, this all sounds great on paper, but what would the reality be?

The 803's arrived wearing a Black Ash finish with black fabric grills. This is a large bookshelf speaker, best suited for mounting on a stand. I put them on 23" stands in my listening room which aligned the tweeters at ear level from the listening position - the desired placement for any bookshelf speaker.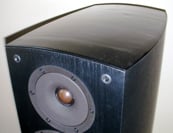 The cabinets are rock solid, and have an interior cross brace, positioned just below the bass port near the back of the speaker. Each speaker weighs 21.8 lbs. The cabinet has a sculpted design that curves gracefully on the top and sides. The resulting look sets this speaker apart from other bookshelves before you even hook it up. The top of the speaker is capped with a glossy piano black plate that accents the unique shape and adds a touch of elegance. The cabinet itself measures 8.9" wide by 15" high and is 13.4" deep. It is a rear-ported, 2-way, bass reflex design. The fabric grill has a thin, low-profile plastic grill that is easily removable, and tapers slightly at the bottom, again adding a subtle touch of style to the overall appearance of the speaker.

The beefy 7" drivers are black rigid cones that are built to handle high power and a wide range of low and midrange frequencies. (The speakers have a rated frequency range of 45-24kHz.) According to Jamo, the cone consists of two layers of fiberglass, glued together air-tight around a paper honeycomb mesh. This creates an ultra-light and very hard cone that is perfectly suited for a driver. Unlike typical drivers with a dust cap in the center of the cone, the 803's feature Jamo's Centre-Plug, which is a silver, hard metallic stationary "bullet-style" plug that the cone moves around. In addition to cooling the voice-coil, it also allows the cone itself to be lighter and more responsive which results in higher power-handling capability.
The 1" dome tweeter incorporates Jamo's Decoupled Tweeter Technology, which actually decouples the tweeter from the cabinet to reduce transmitted vibrations that can color the sound. This technology reduces vibrations by more than 20dB. Jamo has also incorporated a specially shaped faceplate for the tweeter, which results in a wider axis of dispersion when listening to the speaker. It was not difficult to position the 803's for an optimum stage.
One of my favorite songs for a listening evaluation is Rat by Train, which is on their self-titled debut record from 1998. The recording is spacious and laid back, with a fantastic groove. It begins with a simple hat-snare-kick, warm bass line, and clean, bluesy guitar with a mellow vocal that all builds up to a chorus that gets pretty busy. I love to crank this up and push a set of speakers as hard as they will allow. At the end of the chorus as vocal, guitar and cymbals are crashing together, a harmonica lick comes in, at which point the mix gets a bit cluttered and crowded. There are very few speakers that I have listened to this song through that can keep it sounding decent. The soundstage usually falls apart and gets pretty harsh. As the verse begins again everything smoothes back out. The Jamo's made me feel as though I was in the studio as the track was being laid down. The bass was very well defined and warm, and you could almost hear the room the guitar amps and drums were recorded in. As the chorus came, it all held together better than I have ever heard. I still find the mix a bit harsh at that point of the song, but I realized how telling this section is when it comes to speakers.
I continued to put them through the paces of disc after disc, genre after genre of music and found them to be consistently balanced. Early in my career I spent many years in the music business, and logged plenty of hours in the recording studio. There is nothing quite like sitting in a control room listening to live tracks being laid down. You are hearing music as it is meant to be heard in that environment. The best way I can describe the C 803's is that they are the most musical speakers I have heard in long time.

When I think of home theater speakers, I always think of the main left and right speakers as towers. Ever since I bought my first Dolby Digital receiver, I have had tower speakers up front. Sort of that "big speakers equals big sound" kind of mentality, I guess. So I was interested to see how the C 803's would sound anchoring my 5.1 system. Again, I was not disappointed. I love the score from Disney's Pirates of the Caribbean. I love how big the sound stage is in movie scores, and this one of my favorites. It is just HUGE. I popped in the disc and went straight to the end credits and to my delight it was as big as ever. I could just picture Hans Zimmer and his symphony spread out in front of me. The Jamo's actually surpassed my older tower speakers in clarity and definition. Going back to some action scenes in the movie, the speakers handled things well enough that I am convinced you would not be disappointed having them as your mains in a 5.1 system, ideally matched with other speakers from the Jamo Concert series.

Conclusion
At any given time I have several sets of speakers in my listening room that I am evaluating. Several buddies and family members will drop by from time to time and want to see and hear what I am working on. Over the past month the Jamo's have been the consistent favorites of all who have heard them.
Sometimes it's hard to write such a glowing review of a product - the impression is always that there is some kind of alternative motive. The fact is, I had never heard Jamo's speakers before now, and I had never met anyone from the company. What can I say? I loved these speakers, and I am thrilled to have a forum to tell people about products that I love. I have never been so reluctant to pack up some gear and return it to the manufacturer, but so it goes.

Are there any negatives? Well, it depends. You certainly will want a big boy amp or receiver to drive them, as they are 6- ohm speakers. But if you are considering a pair of $800 speakers, I would expect that you already have a respectable power source. And at $800/pair, these are not inexpensive speakers. The price will be out of reach for many people. But I feel they are well worth the money - they are certainly not overpriced considering the quality of their construction and performance. If you are in the market for speakers in this price range, you owe it to yourself to at least take a listen to the 803's. I think you will be glad you did.
Price: $799/pair
pricey!
Style
large bookshelf
Recommended For
rock/country
folk/acoustic rock/bluegrass
jazz
classical
home theater
What Sounded Great
Mark Knopfler

what sounded not-so-great?
um...mono podcasts?
Specs
Woofer: 7" Hard Conical Cone
Tweeter: 1" dome
Frequency response: 45 Hz to 24kHz
Sensitivity: 87 dB
Maximum input power: 125 w
Crossover frequency: 2000 Hz
Exterior dimensions: 8.9" (W) x 15" (H) x 13.4" (D)
Weight: 21.8 lbs.
For More Information
Jamo
3502 Woodview Trace
Indianapolis, IN 46268
877-456-JAMO
www.jamo.com


About Audioholics Gear Corner
Welcome to the Gear Corner, where we give you a quick but comprehensive look at consumer electronics from several different categories. All products in the Gear Corner have been individually evaluated through hands-on testing by our reviewers in order to give you a quick but detailed overview that we hope will help you in your purchasing decisions.

Confused about what AV Gear to buy or how to set it up? Join our Exclusive Audioholics E-Book Membership Program!
Recent Forum Posts:
TjMV3 posts on April 13, 2010 14:14
manlystanley, post: 708738
Hello TjMV3,
Thanks for the posting. I tried this out, but it made no real improvement. That's not to say the my Jamo 809's sound bad. On the contrary, of all the speaker's I've tried in my listening room, they sound the best.

I'm working on reducing the standing bass waves in my listening room. Let me get that resolved and then I'll give your suggestion a second try.

Best Regards,
Stan
Hi Stan.
I found that with the C809 three gripper pads (about 1/2" thickness worth) was required. The weightr of the C809 compresses the pads and quickly reduces the lift.
But like I said earlier, in some rooms and in some setups; no beneficial difference may be heard. If it doesn't work to your liking, it's easy to remove the pads. And cheap, too
I don't have the C809 setup yet. After moving into a new house late last summer and having some work done, new carpeting aqnd the semmingly neverending shopping and buying of new furniture and area rugs; I'm not going to move those bad boys around five or six times. When we're finally finished with it all, then, the C809 will be brought out and setup.
They're too heavy and big to be setting up and breaking down….several times.
For now, the C607 and C807 are doing the job. The Dark Apple C807 are sold, now. Just have the C807 in the Black finish.
Looking forward to your review.
manlystanley posts on April 13, 2010 08:47
Hello TjMV3,
Thanks for the posting. I tried this out, but it made no real improvement. That's not to say the my Jamo 809's sound bad. On the contrary, of all the speaker's I've tried in my listening room, they sound the best.

I'm working on reducing the standing bass waves in my listening room. Let me get that resolved and then I'll give your suggestion a second try.

Best Regards,
Stan
TjMV3 posts on April 03, 2010 12:23
My apologies for the delay in getting this up here.

This is the way I do it. Note: These pics are not final placement and completed setup. We've been and continue to re-carpet (and shop for new accent rugs/area rugs), shopping and buying new furniture and reorganizing to do (furniture and stuff). So we're not even half way done, yet. Still a lot of work to do and shopping to do. but these pics should give you an idea of what I'm talking about.

The pads under the bamboo boards are only used in this office room. The floor in here has a dip, so for now…..I use the pads under the bamboo boards, too. When I decide on which area rug (and matching accent rugs), I'll use two wedges under the rug. Then, bamboo board over that and decline will be eliminated.




1) I set the speakers up on the bamboo boards with the Gripper Pads under the front feet. I make sure each speaker is pulled close to the front of the bamboo board and evenly placed on the bamboo board.

Jamo C607:


2) Then I work on distance between the speakers, distance from the sidewalls and off the backwall. I listen every time I make a change.

3) When I finally get the placement right. I measure the distance of the feet from the front edge, side edge and back edge of the board; and make note of it.

Jamo C607:





I take small area/accent rugs (2 x 3 …etc), have my friend lift the speakers for me and place the rug evenly over the bamboo board. Then I he places the the speakers a top the area/accent rugs. Finally I measure to place the speakers exactly where they were on the board.


I like oval or round rugs over the sqaure rugs. But that's just me

I've have even used inexpensive table mats.

Jamo C807:


rnatalli posts on April 01, 2010 09:16
A few months ago, my dentist re-modeled their waiting area. As I waited, I noticed the classical music sounded quite a bit better than the typical restaurant or elevator. I looked up and to my surprise saw Jamo speakers.
manlystanley posts on April 01, 2010 07:30
TjMV3, post: 704945
I'm interested to see if you hear the same improvements I do and if you like it that way.
I teleworked yesterday, so spent 10 hours of trying different speaker positioning. I'm still in the evaluation mode, I'll get back to you on this.
TjMV3, post: 704945
I use 11" x 14" and 12" x 18" bamboo cutting boards (a half inch thickness and 5/8 " thickness, respectively), depending on which speakers (and their dimensions); as their base/foundation atop the carpeting.
Cool. Did raising the entire speaker improve anything??
TjMV3, post: 704945
I have some pictures on the digital camera of the way I do it. I'll come back later and upload some picks for you to see. Right now I have to recharge the batteries of the camera.
If you get a chance, that would be nice. I'll also get some pictures of my setup.
Best Regards,
Stan
Post Reply