Creative Aurvana LIVE! Headphones Review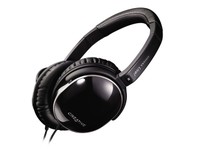 Creative Aurvana Live! Headphones
Summary
Product Name: Aurvan Live!
Manufacturer: Creative
Review Date: August 08, 2008 00:40
MSRP: $ 99.99
Driver Units:  40mm Neodymium magnet with composite bio-cellulose diaphragm

Frequency Response:  10Hz-30kHz

Impedance:  32ohms

Sensitivity (1kHz):  103dB/mW

Cord Length:  1.2m Oxygen-Free Copper cable

Input Plug:  3.5mm gold-plated stereo mini plug with 6.3mm (¼") stereo adapter

Net Weight:  210g (without packaging)

Warranty:  12 month limited

Box Contents:   

1 pair of Creative Aurvana Live! Headphones
travel pouch
6.3mm (1/4") stereo adapter
1.5m (5ft.) extension cable
Pros
classy, understated styling
lightweight
full range sound
Cons
mostly plastic construction
not very portable
sound bleeds out of headphones
Gear Corner Review
The Creative Aurvana Live! headphones are designed for people who are looking for a comfortable and full ranged headphone that is priced right.  They are lightweight and are equally suited for your two-channel rig at home or your iPod, as long as you don't mind a big set of traditional cans on your ears. 

The iPod has made wearing headphones cool again, and often cool includes big, traditional sized full range headphones like I used to wear while listening to my stereo rig as a kid.  In the late 70's and early 80's, if I wanted to rock out at night, I could always put on these Princess Leia looking things on my ears without getting in trouble with mom and dad.  Well, I dare say big headphones are back in style - although big is not as big as it used to be.  The Creative Aurvana Live! phones are lightweight and look pretty cool.
Design & Features
The Aurvana Live! headphones appear as though they are much heavier than their 210g (which is about 7.5 oz), which makes for a very comfortable headset.  Each earpiece is black, with a very subtle chrome trim that I would liken to a black nickel color.  They are finished in a high gloss, giving the product a higher end look.  The outer shell of the earpiece is made of plastic which keeps it lightweight, but also gives it a less substantial feel.  When I pick them up, I am always expecting them to be heavier, but they appear to be made entirely of plastic and thus feel, well, a bit "plastic-y."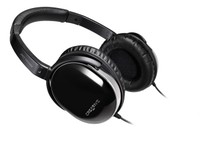 The headband is mostly a matte black plastic, while the the soft earpads and headband pad are black leatherette.  When adjusting earpieces (or length of the headband, as it were) you are treated to a very pleasing racketing sound, indicating the available adjustment notches.   I like this - it feels very solid and the sound reinforces the tactile sensation while adjusting the headphones to fit your head and ears.  The black cord is about 4 feet long, and it extends from each ear just over a foot before yoking together.  The cord itself has a nice rubbery feel and won't bunch up or tangle as a result.  Creative includes a nice microsuede travel pouch with a drawcord closure, as well as a 5 foot extension cable and a 1/4" stereo adapter for use with your "big" gear at home. 

The Aurvana Live! headphones do not fold, but the earpieces do swivel left and right, which in conjunction with the headband adjustment allows for a nice and snug fit.  They do not isolate external noise the way active noise canceling headphones do, but because they are full sized, over the ear headphones they do give you a nice immersion in your music.  The same cannot be said for the person sitting next to you, as there is considerable bleed through the thin plastic enclosures when listening at moderate to high volume levels. 

Overall, I very much like the understated styling of the headphones, and find them to be very comfortable.  They do not feel like a very substantially built piece of gear, but they also do not feel "cheap."  I think Creative has struck a very nice balance between classy looks (rather than flashy) and comfort, which in this case is lightweight.  I certainly would not consider them portable, since they do not fold easily, and the included travel pouch offers zero protection from bumps or drops.
Listening Impressions
The Aurvana Live!  headphones have a lot of high end detail.  I could hear the original source tape hiss on the Tom Petty & The Heartbreakers track Breakdown.  Old songs like this, that were well recorded in all their analog glory still sound amazing.  Everything sits in it's place and the result is a really killer song, the likes of which are few and far between these days.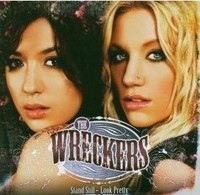 Way Back Home from The Wreckers is full of tasty mandolin, dobro and blended vocal harmonies.  The Aurvana Live! headphones presented a full, rich soundstage, allowing all of the music to spread out and and sound great.  The separation was excellent and the overall sound was warm and easy on the ears.  Stand Still, Look Pretty is a well recorded project that is full of layered vocals, with plenty of nods to The Eagles and other "California country" music.  There are some excellent songs here, including a Patty Griffin cut entitled One More Girl that is just amazing. 

Equally as inviting was When The World Ends by The Bittersweets.   It starts with a nice kick drum and high hat groove, accentuated by a shaker before the guitar comes in.  Soothing vocals and a subtle organ round out a killer tune, and the Creatives reproduced everything with nice detail.  I was also able to get a very loud volume out of them, with some headroom to spare before my ears could not take any more.
The Aurvana Live! headphones have a very natural and accurate sonic quality.  They performed very well across a wide variety of music.  I listened to hard rock, pop, Americana, country and even classical selections, and I was always met with pleasing results.  Even the highly compressed modern music I listened to sounded good - I never felt the headphones colored the sound in any major way.  I compared them to other over-the-ear headphones I have, and confirmed that their strength is in the upper-mids and highs.  Great detail at the top of the Aurvana Live! headphones that makes them worthy of their $149.99 retail price.

Conclusion
The Creative Aurvana Live! headphones are lightweight, comfortable, sound great and are reasonably priced.  They never sounded harsh to my ears, which to me is a critical test for headphones.  While they do not offer any active noise canceling, the over-the-ear design combined available high volume levels will let you escape into your music. The retail price of $99.99 is fair for the performance, and a quick check on the net indicates a street price of closer to $$75, which is a great deal. If you are looking for full-sized, full range over-the-ear style headphones, these need to be on your short list.

The Score Card
At Audioholics Gear Corner we give you a quick but comprehensive look at consumer electronics from several different categories. All products in the Gear Corner have been individually evaluated through hands-on testing by our reviewers in order to give you a quick but detailed overview that we hope will help you in your purchasing decisions.
| | | |
| --- | --- | --- |
| The Price: | Bargain | |
| | About right | |
| | Pricey | |
| | | |
| --- | --- | --- |
| Recommended For: | Acoustic/folk/bluegrass | |
| | Rock/country | |
| | Classical | |
| | Jazz | |
| | Home theater | |
| | | |
| --- | --- | --- |
| Styling: | Boring | |
| | Nothing special | |
| | Gorgeous | |
| | Unique | |
Confused about what AV Gear to buy or how to set it up? Join our Exclusive Audioholics E-Book Membership Program!