Denon Line Show 2008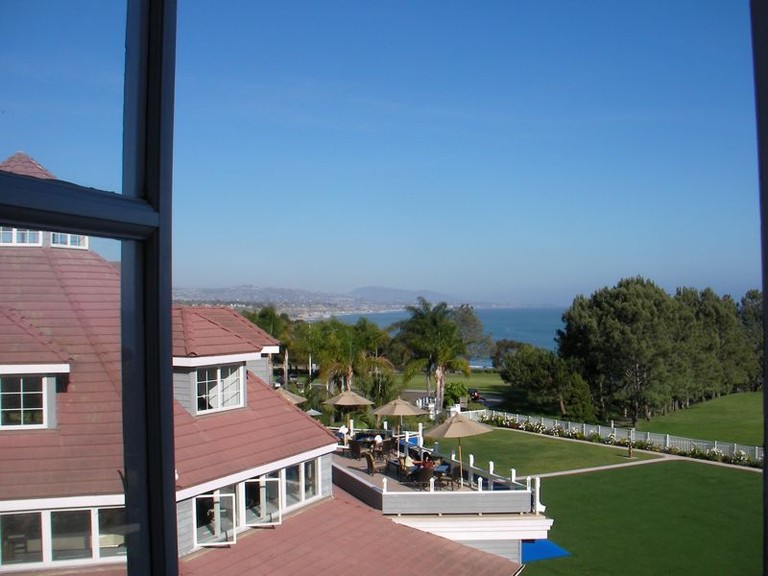 Dana Point, CA
This week I had the privilege of attending the Denon Line Show & Press Event in Dana Point, California.  A top floor room that looked out over the Pacific Ocean from the Laguna Cliffs Marriott Resort & Spa was my home for a couple of nights while attending, and it proved to be a great trip full of demos and information.   I arrived the afternoon before the event, and had plenty of daylight left to enjoy a warm Southern California day, walking down to the beach.  The Dana Point Harbor was to my right, and the beach was to my left as I sat and watched jet-skis, sailboats and surfers, not to mention armies of seagulls combing the beach and skies, keeping an eye on everyone.  The hotel sits above the beach and harbor, offering incredible views up and down the coast, with mountains visible in the distance.  An idyllic setting by any measure, and it provided me a great evening of relaxation prior to my day of work - yeah, we call this work.
Soundscaping in Tustin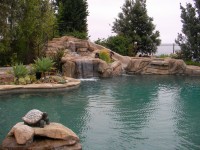 Tuesday morning after breakfast, I joined about a half dozen journalists in the lobby where we were picked up by a van and taken to a gorgeous gated community in nearby Tustin, CA.  (For those of you somewhat familiar with Southern California, this is near Santa Ana and Irvine)  We drove up to the beautiful home of Terry Mullin, President & CEO of Creative Stream, Inc.  Terry is a custom integrator who specializes in outdoor audio.   He and his wife opened up their amazing home to us and showed just how impressive outdoor audio can be. 

Many typical outdoor speaker systems consist of a pair of rock speakers hooked up to the second zone of an AV receiver, sometimes as an afterthought.  Terry believes that outdoor audio should surround you with sound, and that sound should be full of fidelity.  His backyard consists of a huge outdoor living space that includes a large pool, complete with a rock waterfall, spa, and waterslide, as well as a covered, full outdoor kitchen.  The tile counters of the kitchen area provide plenty of space to pull up a bar chair and enjoy the big flat panel display while eating.  There is also a large open air eating area complete with a fireplace and fountain.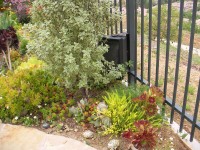 Of course, the reason we were there was the music.  Terry does not have a showroom for his business - his home is his showroom.  "There is no way a client can understand what a set of outdoor speakers will sound like from listening to some speakers mounted in a small showroom wall."  When he brings prospective clients to his back yard, the deal practically closes itself.   The sound in his backyard rivals most indoor systems I have heard.
The system includes 16 speakers and two subwoofers, and is a stereo setup.  A Niles SI-1260 amp powers the speakers while a Boston SA1 amp powers the subs.  The speakers consist of two Boston RK-8 "rocks" that Terry's wife custom painted in a faux finish to match the surrounding stones, tile and walkways, and seven pairs of Boston Voyager 7 outdoor speakers that are hidden in the landscaping.  A pair of Boston Sub-12 subwoofers anchor the bottom end of the system.  The Voyager 7's really do the heavy lifting in the system, and successfully create an amazingly detailed soundstage throughout the entire yard and pool.  Terry chooses to mount speakers lower to the ground, and when necessary, facing up to provide a clearer sound.  This also helps keep the music contained in his yard, preventing complaints from the neighbors.  When speakers are mounted on trees facing down, or under the eves of a house, the sound tends to carry out of the yard.  One of the questions asked to his wife was how often they get complaints from the neighbors.  She laughed and said "not much - he has installed systems for most everyone that lives around us!"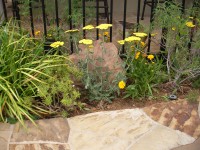 The system is fed from a Yamaha music server inside the house, and the display mounted overhead in the outdoor kitchen is used to navigate through the music library.  Alicia Keyes was playing over the system for most of the morning, and later he played "High" from James Blunt to demonstrate just how loud and clean the speakers will play.   It was truly amazing.   With a well powered and balanced system such as this, background music takes on a much more prominent role at a party, without being exhausting (as is so often the case with a pair of underpowered, cheap outdoor speakers blaring at you from one easily pinpointed location).
Outdoor speaker systems such as this can range from $7,000 at the entry level to upwards of $90,000.  Business is good in Orange County despite the horrible real estate market.  According to Terry, "people seem to be nesting" in their homes, realizing that they are not gonna move for a long time, if at all, so they want to improve their living spaces.  I really enjoyed the demo and was impressed with what you can do with audio outdoors.  It was a great start to the day.
Denon Line Show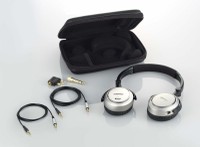 After returning to the hotel and grabbing a quick lunch, we met back up in a conference room for a presentation from Joe Stinziano, Senior VP Sales & Marketing and Jeff Talmadge, Director, Product Development & Systems Integration, both from Denon.  They promised not to subject us to death by powerpoint, much to the delight of the gathered journalists, and they kept their promise, giving only very brief presentations before moving us into demos and then a reception in a large room with all of the new gear on display. 

Stinziano began with a review of 2007.  (He explained that since Denon is a Japanese company, the fiscal year runs from April to March)  Highlights from last year included the introduction of several new products, including an iPod dock client, headphones, and the highly anticipated introduction of the world's only fully balanced multichannel system, the AVP XXXX.  2007 Also saw Denon shift more focus to marketing, in particular concentrated on Blu-Ray.  Stinziano said that sales of players has far exceeded their expectations, in part due to their marketing push, and "Denon is very bullish on Blu-Ray."  Of course, the failure of the HD-DVD format doesn't hurt either. 

Denon also saw success on the whole home audio front, and the 4308 AV receiver's networking features proved very successful.  Still, Denon feels that networking is confusing to many consumers, and is working to develop marketing and point of purchase displays to try and help alleviate some of the complexity.  Sales were also bolstered by the iPod client & networking products introduced in 2007.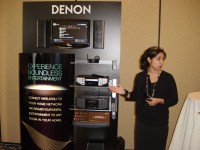 Probably most significant though, is the fact that for the first time in the US, Denon lead the market in AV receiver sales in February and March of 2008.  Stinziano closed on this, noting that Denon will aggressively pursue continued success in this area, striving to maintain and strengthen this lead moving into 2008.
Jeff Talmadge continued the presentation, picking up with Denon's key objectives for 2008.  He described five key areas of focus that included reinforcing the AV receiver as the core of the networked home, delivering a complete lineup of Blu-Ray products, continue to establish Denon as the #1 AV receiver brand in the US, to grow their business by 10%, and to position audio as a viable, profitable category.  That last one was of particular interest to those of us who love audio.   In recent years, the consumer electronic industry has been very video-centric, and Denon made it clear that they believe that audio should stand on it's on as a profitable category, and not just be "attached to video" as has been the case in recent years.
Talmadge then dove into the new product overview, which included new and enhanced AV receivers, a new, lower-priced Blu-Ray player, and a set of on the ear noise canceling headphones.
AV Receivers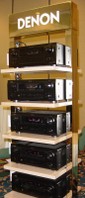 Never a company to be happy to let a successful AV receiver remain unchanged over the years, we were treated to an opportunity to learn about and see a whopping TEN new AV receivers!  Denon has incorporated leading-edge image- and sound- enhancing technologies in all ten of its new high-performance receivers.  These features include HDMI 1.3a capability with support for Deep Color, Audyssey Dynamic EQ, Audyssey MultEQ and Audyssey Dynamic Volume in all. 

Most notably, all new Denon A/V receivers feature a host of key lifestyle features geared toward helping people enjoy exciting new capabilities and home entertainment benefits. For example, all new receivers in Denon's lineup feature Audyssey Dynamic Volume, a volume leveling technology that frees listeners from the disruptive changes in volume levels when broadcast material changes between television shows and commercials or even while watching a movie. Audyssey Dynamic Volume constantly monitors the volume of program material moment-by-moment, maintaining the desired listening level for all content while optimizing the dynamic range to preserve the impact. With this innovative technology, the user no longer has to constantly reach for the remote control volume button.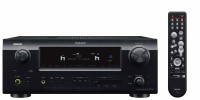 Two other lifestyle-enhancing Audyssey technologies, Audyssey Dynamic EQ and Audyssey MultEQ, are included in all new Denon receivers, significantly enhancing the overall entertainment experience.  Audyssey Dynamic EQ is the first loudness correction technology to solve the problem of deteriorating sound quality of movies and music as volume is decreased. At a lower playback volume, voices tend to change, bass disappears, and the surround soundstage becomes less enveloping. By selecting the correct frequency response and surround volume levels moment-by-moment, Dynamic EQ lets users enjoy the full palette of original rich sound at any volume. It's the first technology to carefully combine information from incoming source levels with actual output sound levels in the room, a pre-requisite for delivering a loudness correction solution.
In all new Denon receivers, Audyssey Dynamic EQ works in conjunction with Audyssey MultEQ, the in-room acoustic measurement and correction system that fine-tunes the listening space via the supplied microphone, with up to six measurement points to ensure even tonal balance throughout the listening room.  Once the ideal sound pressure level measurements have been established by MultEQ, Dynamic EQ then determines the proper loudness compensation, while Dynamic Volume prevents unwanted overall disruptive volume changes. This combination provides the optimum listening conditions for every listener at any volume level. 


All new models feature multiple HDMI inputs. Models AVR-2809CI, AVR-2309CI, AVR-1909, AVR-989, AVR-889 and AVR-789 offer upconversion and scaling to 1080p from all analog sources, as well as support for Dolby TrueHD and DTS- HD Master Audio decoding.  In addition, all CI models include "Secret CI Modes," a feature set for certified Denon Integrators that allows them to access special functionality not available to end users.  Other custom-installation friendly features included in all Denon "CI" models include RS-232 and assignable high current DC trigger outputs.  In addition, all new models feature setup and room correction from Audyssey which can calibrate the receiver rather than having to go through the time staking process of manual calibration (All Models feature Audyssey MultEQ, the AVR-2809CI and AVR-989 feature Audyssey MultEQ XT.)

Recognizing the demand for receivers capable of delivering audio and video to multiple zones within the home, Denon's new AVR-2809CI (like the company's existing AVR-5308CI, AVR- 4308CI and AVR-3808CI) offer three-zone, three-source capability.  All other new models feature dual-zone, dual-source capability.  For enhanced control flexibility, more models, including the AVR-1909, AVR-2309CI, AVR-2809CI, AVR-789, AVR-889, and AVR-989, are compatible with the company's RC-7000CI / RC-7001RCI Remote Control System.


Featuring an all-new, elegantly styled cosmetic design, Denon's new Retail Home Theater Series receivers, including the models AVR-989, AVR-889, AVR-789, AVR-689, and AVR-589 offer many of the same high-quality features found in Denon's companion models, including compatibility with HDMI 1.3a throughout the line, as well as Dolby Digital, dts ES Discrete and Matrix 6.1 decoding, 24-bit/192-kHz Analog Devices DACs, multi-zone distribution capability and much more. Denon has increased the number of HDMI inputs in its Retail Home Theater Series receivers (2 in the AVR-589, 3 in the AVR-689 and AVR-789, and 4 in the AVR-889 and AVR-989), and now includes dual source and zone capabilities on all models. 

The surround section of each Retail Home Theater Series receiver features the same precision 32 bit floating point DSP technology found on Denon's top-line models, and includes a full array of surround sound decoding functions, including Dolby Digital EX as well as DTS ES 6.1 discrete and matrix decoders for the most thrilling, theater-like surround sound experience. Models AVR-989 and AVR-889 offer Dolby and DTS-HD decoding. In addition, all models offer integration features such as dedicated iPod dock accessory control ports that provide command and control capability for iPods via the on-screen GUI and more.

The new receivers include the multi-zone Models AVR-2809CI (SRP: $1,199), AVR-2309CI (SRP:$849), AVR-1909 (SRP: $649), AVR-1709 (SRP: $449) and AVR-1609 (SRP: $349), as well as five new high-performance, high-value  receivers in its Retail Home Theater Series line, including the models AVR-989 (SRP: $1,199), AVR-889 (SRP: $749), AVR-789 (SRP: $599), AVR-689 (SRP: $399), and AVR-589 (SRP: $299).

Blu-Ray
Moving on to Blu-Ray, Talmadge explained that Denon wanted to introduce a lower-priced Blu-Ray player.  Now before everyone out there gets excited thinking about a BD player to break the $400 mark, slow down.  This is Denon we are talking about, and they are not going to release a "cheap" player.  The third entry in its very successful and critically acclaimed Blu-ray DVD line, the Model DVD-1800BD (SRP: $749) features HDMI 1.3a with Deep Color and  Bonus View support (BD Profile 1.1), Full bitstream output of Dolby and DTS-HD audio formats, 1080p scaling from SD DVDs, and 2-channel analog audio output.  So while this might not be the $200 BD player many of you are looking for, it is indeed a value-priced DENON player that brings serious quality and features within reach.

The DVD-1800BD will natively output an HD audio bit-stream to a connected receiver via HDMI.  Once this signal is accepted in the receiver, it can then be decoded into its native format including Dolby Digital Plus, Dolby TrueHD and DTS HD Master Audio.  For those listeners who want to use the DVD-1800BD as a step-up CD player, this unit features a dedicated 2-channel analog output, equipped with high-class Burr-Brown D/A convertors and superior analog components to ensure the high level of sound quality for which Denon is renowned.

In keeping with the guidelines mandated by the Blu-ray Association for BD-ROM Profile 1 version 1.1 players, the Denon Model DVD-1800BD incorporates a secondary audio and video decoder.  This allows for simultaneous playback of a secondary audio and video track which may be used for interactive audio and commentary and for picture-in-picturecapability (respectively).  Additional information (subtitles, audio streams, camera angles, trailers, games, etc.) can be downloaded from the Internet via computer and stored on a SD card that the player will accept.  This content can be played with the original content of Blu-ray Discs. The Denon DVD-1800BD is scheduled for availability in October 2008.
Noise Canceling Headphones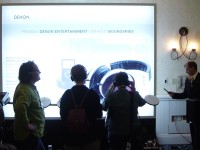 Next up was the new AHNC732 On-Ear Noise Cancelling Headphones (SRP: $299), which are perfectly positioned as Bose-killers (my words, not Denon's.  They went to great lengths not to mention Bose by name when discussing the "market leader" that this product is designed to topple).  These nifty travel-mates get 40 hours of life from a single AAA battery, weigh less than 150 grams, and employ superior noise canceling of over 95%.  Unlike many other brands, when the battery dies you can still listen to your music through them.  They fold for storage in a nice, zippered case that holds the included accessories and is about the size of a day-planner.  I am also happy to report that they are iPhone compatible, without the need for an adaptor, which is a first for Denon headphones.
The demo they had set up for the headphones was fun - a listening station with about 6 pairs of headphones, flanked by Canton speakers and a sub at each end blasting the sound of a jet airplane at the listeners.  Babylon Sister (Steely Dan) was playing on the headphones, and when you clicked on the noise canceling feature the jet noise virtually disappeared.  The headphones sounded great, both with and without the noise (and the noise canceling feature).
Two Channel Components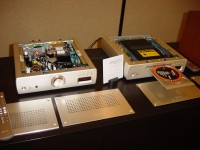 Probably my favorite new product line of the show was the previously announced but now shipping Reference Grade CX Series.  The line consists of three new CX Series products, including the Model DRA-CX3 Stereo Receiver (SRP: $1,200), the DCD CX3 SACD/CD Player (SRP: $1,200), and the SC-CX303 2-Channel Loudspeaker System (SRP: $1,200). "Created with audio specifications, style and details inspired by the company's legendary S-Series of Hi-Fi components, Denon's elegant new reference audio components are designed for the audiophile purist who harkens back with nostalgia to the heyday of two-channel stereo."  

The compact DRA-CX3 features a precision high-performance AM/FM tuner/pre-amplifier combined with a powerful amplifier section able to drive the widest range of audiophile loudspeaker systems. (Talmadge told me that he had just returned from Japan where at the Denon headquarters he was treated to a demo of the receiver driving a pair of B&W 805's with ease!).  Featuring 75 watts per channel into 8 ohms, the DRA-CX3 is equipped with generous headroom for the widest dynamic range, along with 150 watts per channel capability into lower impedance 4 ohms speakers, and features separate power supplies and ground circuits for each critical stage. A range of inputs includes a phono section with both MM and MC cartridge capability along with a dedicated CD input that features Denon's high grade gold plated machined brass input terminals for compatibility with audiophile interconnects, with 3 additional line level inputs for connection to other sources, along  with iPod dock control. The audiophile grade speaker connectors are gold plated machined brass for compatibility with quality speaker cables, and the Pure Direct mode turns off unnecessary circuits and disables the front panel display for maximum fidelity. The elegant slimline remote control is thoughtfully laid out for ease of use.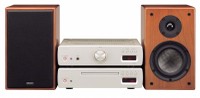 Styled to match Denon's DRA-CX3 AM/FM tuner/amplifier, the DCD-CX3 is a true audiophile CD player, with precision design and engineering to extract the maximum musical enjoyment from CDs, with Super Audio CD playback for the ultimate listening experience. Inside the DCD-CX3's elegant enclosure, the rugged vibration-resistant chassis features independent power supplies for the analog and digital sections including separate power transformers for each, eliminating interference for the widest possible dynamic range and musical detail. As well, the DCD-CX3 features Denon's renowned AL24 Processing, which extracts hidden details that transforms the listening experience. In addition, the Pure Direct mode turns off unnecessary circuits and disables the front panel display for maximum fidelity.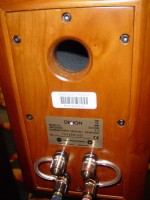 These components are really gorgeous, and have a unique form factor.  The receiver and SACD/CD Player measure 12" x 12", which just happens to be the size of an album.  Remember those?  The components are 2.5" thick, and are crafted from solid aluminum, including the long, slender remotes.  The volume dial on the reciever has quite a weighty feel to it, and has a walnut ring inlaid around it, adding a very elegant touch.  The components are offered in what I would describe as a champagne color.  There are very few buttons on the front panels, and a tiny display.  All in all it makes for a classy system that borders on cool retro.

Denon's SC-CX303 compact audiophile monitor loudspeaker system provides an incredibly smooth response that extends from the lower bass all the way to beyond the top of the audible range, and combines European speaker designer tuning with Denon's engineering expertise. The 130mm carbon fiber composite cone woofer features a die-cast metal frame for rigidity, and is magnetically shielded to prevent mutual interference with the multi-element internal dividing network that features selected components. The precision 25mm soft dome tweeter provides response to well above the audible range for silky, detailed high frequency response with audiophile sources such as Super Audio CD. The SC-CX303's elegant cabinet is constructed of thick 30mm MDF non-resonant material to eliminate vibration-induced colorations, and features deluxe real wood cut veneer overlays with additional inlay details, and is equipped with Denon's audiophile grade machined brass gold plated speaker input terminals for full compatibility with the widest range of audiophile speaker cables. 

An interesting bit of trivia from Talmadge - Denon is Japan's #1 domestic speaker.  Who knew!
I found the speakers to be of excellent build quality - very solid and heavy, with an excellent veneer.  The grill was a bit on the flimsy side, with a plastic frame and nubs that might easily break off.  I only mention this because at $1200 a pair, I feel you had better deliver a stunning bookshelf speaker.  I will admit though, that in the huge conference room at the hotel, they sounded great playing a Diana Krall CD.  The CX series will be fun to evaluate as a serious two channel setup - let's hope we get the chance to review it down the road.
Audyssey Demos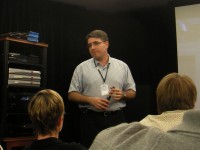 After the presentations from Denon, we were ushered into a small room for some demos of the new Audyssey technologies, Audyssey Dynamic EQ and Audyssey MultEQ.  Chris Kryiakakis of Audyssey welcomed us and explained both Dynamic EQ and MultEQ and demoed them.  Dynamic EQ could be called a modern version of the old "loudness" button found on the receivers of yesterday.  In simple terms, it keeps a full, rich sound coming from your speakers even when listening at lower levels.  For the demonstration he showed us a clip of Joan Osborne singing "Heatwave," and indeed it was amazing how much bass response, as well as frequencies across the entire spectrum there was. 

Dynamic Volume is a technology that takes the edge off of sudden sonic transitions.  Imagine you are watching an action movie late at night, and a scene begins with subdued conversation, then suddenly gunfire erupts.  If you have kids sleeping, most of the time you find yourself rushing for the remote to turn down the volume.  Dynamic Volume "looks ahead" and cuts 12-17db off of the volume, but does so very naturally and the effect is seamless.  The "look ahead" is not so much as to cause sync issues, but does an amazing job of silencing sudden or loud passages. 

Obviously, this is the perfect technology for watching TV.  How often have been sitting in your theater watching Idol with your kids when the show cuts to a commercial.   And the dreaded local Fox affiliate commercial - maybe a local car dealership - blasts you out of your chair?  Dynamic Volume solves this problem.  Chris showed a clip from the BCS Championship game earlier this year, and when Dynamic Volume was turned off, an annoying Verizon commercial blasted into the room during a timeout.   With Dynamic Volume engaged, the commercial was still just as annoying, but the volume stayed consistent with the game - the commercial's volume was reduced by 20 db!  An amazing and long overdue technology that even your parents can appreciate!   You should expect to see this licensed to display manufacturers in the future, although Chris would not get specific.  Dynamic Volume always includes Dynamic EQ, so you will find both in all of Denon's new AV receivers.   The partnership between Denon and Audyssey continues to bear fruit that we all benefit from in our home theaters.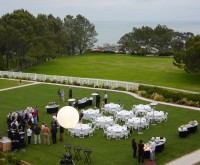 So for all you Denon fans out there, you have plenty to look forward to this year.  Expect to see Denon continue to lead the pack in sales as well as new technology in it's AV receivers.  They will also continue their quest to serve consumers through mainstream outlets, and also look to the enthusiasts at smaller mom & pop dealers who choose to carry their new stereo components.  Their headphones, iPod and networking products will surely continue to gain momentum as more and more consumers become aware of these offerings.   Look for more news and reviews on many of the products in this report in the coming months here at Audioholics.  And know that you can count on me to continue to sacrifice for you, the reader, by taking on these tough road assignments (such as the evening dinner party in the photo to the right)...
For more information on new Denon products visit:  http://www.usa.denon.com

Confused about what AV Gear to buy or how to set it up? Join our Exclusive Audioholics E-Book Membership Program!
terror_beast posts on May 24, 2008 13:26
Great write up! Clearly, the Audyssey technologies are the big addition to the feature set this year. It should be noted though that Onkyo is adding these same Audyssey technologies to their newest receivers (the TX-SR576 and TX-SR606 for example) so Denon won't be the only receiver company to be offering them
majorloser posts on May 23, 2008 17:02
All I want to know is how to pronouce the company's name!
j_garcia posts on May 23, 2008 16:16
Dana Point ROCKS! I went ocean fishing there with some work buddies, paid for by work. We got a project done on time and 100% functional and the customer was so pleased, they setup the trip for us. It is a wonderful little town.
Seth=L posts on May 23, 2008 12:25
AVRat, post: 415621
This sux!! Still no word on a Pre/pro for Joe Microbrew! Marantz's AV-8003 pre/pro seems a little lacking in features to compete with the Onkyo/Integra pre/pros.
What do you expect from a company that rebadges an el-cheapo Funai Blu-ray player and marks it up to ridiculous prices?
Seth=L posts on May 23, 2008 12:23
Look to Marantz for performance when cabinet depth is a factor. They are 16" deep, if memory serves me correct, on all their recent models.
Post Reply