Denon & Boston Acoustics Line Show
Denon & Boston Acoustics Line Show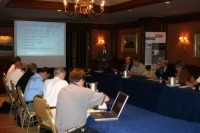 Denon Boston Acoustics Line Show
I sat with Boston Acoustics' new Senior Vice President, General Manager Eli Harary. Harary has had a long and successful career in consumer electronics and came to Boston Acoustics earlier this year from Harman. Over lunch we discussed the challenges he is facing as he seeks to re-energize the Boston Acoustics brand, which has been recently acquired by D&M Holdings. I commented that while many years ago I remember Boston Acoustics being a familiar brand with a good reputation, they seem to have been off the radar for a while. He agreed with the assessment and sees a fantastic opportunity to grow this brand and return to the strong reputation their products deserve.
Harary commented that it amazes him that with all the current technology and advances in home audio & video, that most people still purchase large black rectangular boxes (speakers) that sit in their living rooms. He and his team are looking to rethink what a speaker looks like and how it fits in to the décor of a room. Perhaps foreshadowing the event we were about to walk into, he suggested that colors, textures and shapes are all things that could be approached in a fresh way.
After lunch we gathered around a U-shaped table in a conference room to view the presentations. Bob Weissburg, President of D&M Holdings welcomed us and explained that they had picked Cleveland for the event because of the Rock & Roll Hall of Fame and Museum, since our industry is (or at least used to be) all about music and audio. (The day would culminate with a dinner and private tours at the museum - but more on that later). He then gave an overview of the D&M family of companies. D&M Holdings, Inc. owns the following brands: Denon, Boston Acoustics, Snell Acoustics, McIntosh, Marantz, ReplayTV and Escient, as well as the Denon Pro and Marantz Pro lines for the professional audio market.
D&M is a global company, focusing on managing the house of brands under its roof. They feel that global brand consistency is the key to success, and that "one brand fits all" is no longer relevant in today's marketplace. Their key objectives for the coming year are to continue to diversify with their "house of brands" approach, expanding their reach and breadth of products in the premium home A/V market. They seek to build strong brands, respond to customer trends, grow faster than the market, and to continue to acquire brands that will diversify and compliment their portfolio, thus satisfying a broad range of consumers.
Throughout the day, service and training were stressed. This company appears ready to aggressively grow through excellence in their product line and especially in customer service, support and satisfaction. Everyone who spoke stressed training and service, and it was pointed out that "premium price/class products deserve premium service." Some trends that Weissburg sees coming include the fact that home theater will continue to grow through flat panel sales and HD content. Audio will grow based on the receiver becoming the "master control device," as well as media manager-type devices that will grow as consumers become more comfortable with technology. Application-specific speakers such as in-wall, built-in and outdoor types continue to increase in popularity. Overall, premium audio sales are recovering and should continue to improve in the coming year.
Weissburg then introduced Phil Cohn, Senior VP Sales & Marketing for Boston Acoustics. Cohn stressed a fanatical commitment to customer satisfaction and dealer support, and discussed "The Boston Sound," which he described as "honesty in the sonic performance, the way the artist intended." Regardless of price, there should be a consistency in performance. He stated that one out of every four employees at Boston Acoustics is an engineer, and pointed out that all products are engineered in-house.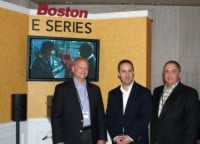 Eli Harary, Senior VP & General Manager, described that under the D & M system, they have implemented a new product development process that will accelerate time to market, thus enabling greater innovation. This new process will cut time to market by 50% from their pre-D & M days. He was very excited to announce a new design partner focused on end-user solutions. The partner company is ELEVEN, which he pointed out was not ten, but one better - eleven! I expect that they are working on the things he hinted at earlier during lunch, such as textures, fabrics, finishes, shapes, etc.
Jeff Cowan, Director of Training and Product Support, introduced two new product categories, both of which were in development prior to the D & M acquisition. He further described "The Boston Sound," stating that regardless of price, form factor or intended application, all Boston Acoustics speakers should share a pure neutral balance, accurate and color-free sound, and have a wide power response (which he described as a uniform wide dispersion for a big "sweet spot" and more life-like sound). Boston Acoustics is an engineering-driven company that uses advanced computer software and hardware in the manufacturing process. All products are built to extremely exacting standards for 100% quality assurance to ensure precise duplication of the reference standard.
Confused about what AV Gear to buy or how to set it up? Join our Exclusive Audioholics E-Book Membership Program!