Tom Petty: Highway Companion (2006)
Tom Petty: Highway Companion (2006)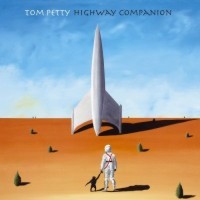 Label: American Recordings
Price: $18.98 | Get the Best Price
Tom Petty was recently quoted in USA Today as saying that he feels "relevant." And for a 55 year-old rock star to feel relevant in today's "flavor-of-the-month" music scene is really saying something. We should all be thankful that Petty's music continues to rise above the noise of a marketplace filled with TV show contest winners masquerading as recording artists. American music needs Tom Petty. And he has just turned in a masterpiece that begs for (and deserves) a place in your music collection.
The Songs
1. Saving Grace
2. Square One
3. Flirting With Time
4. Down South
5. Jack
6. Turn This Car Around
7. Big Weekend
8. Night Driver
9. Damaged By Love
10. This Old Town
11. Ankle Deep
12. The Golden Rose
Review
On my recent trip to the Rock & Roll Hall of Fame Museum, I spent quite a bit of time immersed in the Tom Petty exhibit. Among the guitars and other memorabilia, there were several simple spiral notebooks, some beginning to yellow around the fringes with age, that were full of handwritten lyrics to many of the Tom Petty songs I have grown up listening to. I felt like a kid that had uncovered a dusty trunk full of treasure in the attic. It was fascinating to catch a glimpse of the creative process behind a lyric like Refugee - words crossed out and notes scribbled around phrases. It struck me as the modern equivalent to a peek into da Vinci's sketchbook. Petty has amassed a stockpile of songs that have withstood the test of time. And here we are, thirty years since the release of Tom Petty & The Heartbreakers , with last month's arrival of Highway Companion . This is not a footnote to a great career - rather, it feels like the genesis of one. How is it that, at age 55, Petty has just released a record that makes you feel as though he has a long and promising career AHEAD of him? An artist that has managed to sustain a career for over 30 years is a rare thing indeed. To release a record that could arguably be considered one of his greatest works is nothing short of amazing. And this record is amazing.
Petty is a quintessential songwriter, creating art from feelings we all recognize, but are not equipped to express. Have you ever made mistakes and found yourself off-track before finding your way? Try "Square One" on for size - "Last time though I hid my tracks/So well I could not get back/Yeah my way was hard to find/Can't sell your soul for peace of mind." Or maybe you know a woman who has been "Damaged By Love". See if this rings a bell - "She's got nothing to hide/And she hides it so well/Keeps broken dreams/To fix up and sell."
Calling on his old Wilbury buddy Jeff Lynne to produce, Petty plays the bulk of the instruments on this record, including drums on all of the tracks. He is joined by Heartbreaker Mike Campbell on lead guitar. Lynne rounds out the musical trio playing bass, some guitar and keyboards, and contributing backing vocals. This ensemble succeeds in creating the perfect mix for a classic Petty record. And that sums up the musical style of the record best - it is pure, classic Tom Petty. The mix is fantastic, with plenty of room for the well-placed instruments to live, breathe and spread out. Big acoustic guitars, harmonica, a touch of electric piano and a huge dose of Mike Campbell's slide guitar fill the songs with a familiar groove. The record has an intimate, uncluttered feel that properly frames the songs in way that allows the subject matter to be conveyed in an almost conversational manner.
I love everything about the packaging of this record, from the quirky cover painting by Robert Deyber to the cardboard keep-case with a smooth matte finish that has a nostalgic appeal similar to that of an old LP sleeve. You know it will look great with age as it begins to wear and fray a bit on the edges. Inside there is a gorgeous little 12-page booklet styled like a small journal, with lyrics and production notes.
For the long time fan, this is a slam-dunk addition to your collection. If you have never explored Tom Petty's music, this is a great place to start that I guarantee will have you digging back into his catalog wanting more.
Confused about what AV Gear to buy or how to set it up? Join our Exclusive Audioholics E-Book Membership Program!