MB Quart Alexxa B-One Bookshelf Speaker Review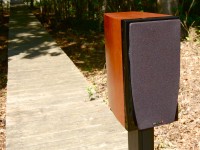 MB Quart B-One
Summary
Power Range: 70 to 130 Watts
Freq Response: 41Hz-32kHz
Impedance: 4 or 8-Ohms
Shelf Weight: 28 lbs each
Height: 14.65"
Width: 7.76"
Depth: 11.82"

Pros
incredibly detailed sound
gorgeous styling
extremely well-built
Cons
expensive
mids & highs overshadow the bass
best served with a sub
Gear Corner Review
Could the MB Quart Alexxa B-One speakers be manufactured in Hades?   I ask this because, as I am sure you know, the devil is in the details.   And detail is what these speakers are all about.   They present a very detailed reproduction of music, and fit and finish is top notch.  But fear not, I will not be forced to consider damnation after all, as the Alexxas are not the handiwork of Beelzebub, but rather that of a storied team of engineers in Germany.   (But they are one hell of a pair of bookshelf speakers.)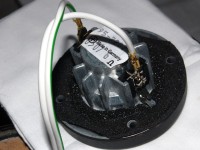 So who is MB Quart, anyway?   Founded in 1965 and later named MB Peerless in 1975, the company specialized in the engineering and development of a wide variety transducers, including headphones, microphones and professional loudspeakers.   In 1983 the company began to narrow it's focus to the development of high-end loudspeaker products, and changed it's name to MB Quart.  Located in Obrigheim, Germany, the company began distribution of it's home and mobile audio products in North America in 1987, and was an immediate success story in the world of auto-sound competitions. 

The company built on its success in the mobile audio world after regularly capturing trophies at the IASCA World Finals, and over the next decade built a loyal following from both retailers and consumers.  The company struggled after being purchased by Rockford Corp. in 2001, but was rescued in 2005 by Lake Zurich, Illinois, Maxxsonics USA, a company specializing in development, engineering and marketing of premium mobile, home and professional products, whose brands include Hifonics, Crunch and Autotek.  In 2007, MB Quart re-introduced their home loudspeaker lineup, and part of that lineup includes the Alexxa B-One bookshelf speakers.
Not only does MB Quart manufacture their own line of speakers, but they have also supplied components to several high-end brands such as Thiel Audio, Halo, Aerial Acoustics, Totem Acoustics and Avalon Acoustics.  So while you may not have yet heard of MB Quart's home loudspeakers, it is likely that you are familiar with some of their work over the years.
Design & Features
The Alexxa B-One is a gorgeous loudspeaker.   My review samples were finished in a rich Cherry veneer, with a high-gloss black front baffle.  The high-quality front grills were covered in black fabric, with the tasteful MB Quart logo centered at the bottom.  (They look great without the grills.  A nice touch is the MB Quart logo located on the faceplate as well as the grill, so people will know what they are even without the grills.)  The grill frames are rigid, and are finished with chromed metal connectors that mate snugly with rubberized receivers on the front baffle of the speaker.  The grill tapers slightly on each side towards the bottom, and is really attractive, although these speakers beg to be displayed without the grills.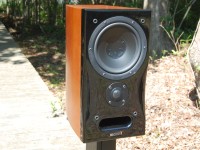 The two-way, front-ported speaker is arranged with the woofer on top, tweeter in the middle, and the slotted-port at the bottom.  The high gloss black baffle also tapers slightly between the woofer and the port, making for a speaker that almost appears to be hiding a corset under it's skin.  The woofer is a 6-1/2" Titanium damped cone with a dust cap that curves inward with the shape of the woofer.  It is all black, including the resonance-free polyamide basket, which is reinforced with fiberglass.  The tweeter is a 1" ferrofluid cooled Titanium dome, hidden behind a black mesh grill.  It is equipped with a neodymium magnet, and is housed in a die-cast aluminum enclosure with specially designed cooling ribs.  The assembly is weighty and solid - very well crafted. 

The fit and finish of the speaker is flawless.  This is one of the many areas of this speaker that screams "you get what you pay for."  The magnetically shielded cabinet stands over 14-1/2 inches tall, and is just under 12 inches deep.   The front face of the speaker is 7-3/4 inches wide, tapering to just 5 inches at the rear.  This very elegant cabinet weighs in at around 28 pounds, and is beautiful.   It is available in Cherry, High Gloss Piano Black, and Gloss White (for those of you with a Sprockets-inspired mod decor). 

While the unique shape of the cabinet no doubt adds to the sonic quality of the speaker, it is also a welcome relief from the parade of shoebox-styled bookshelves on the market today.

On the rear of the Alexxa you will find MB Quart's new FlexxConnect terminals, which are another stroke of engineering brilliance.  MB Quart designs with intelligent solutions in mind, such as horizontally offset inputs, so even those with hams for fists can get their big fingers around the connectors with ease.  The speaker is bi-wiring capable, and includes both 5-way terminals, and also a pair of unique flush-mounted gold-plated banana plug sockets.  The 5-way terminals are also gold-plated, and are covered with clear plastic nuts that remove the clumsiness of loosening and tightening.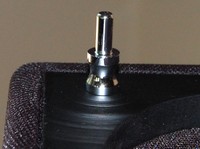 The cabinets are constructed of thick MDF, and very well braced between the woofer and tweeter.  There is ample damping material stuffed all around the enclosure, and the crossover is securely mounted behind the woofer, just above the terminals.  The bottom of the speakers have flush-mounted receivers for screw-in vibration decoupling spikes (which are included) should you wish to use them.  For my listening tests I mounted the Alexxa B-Ones on 24" StudioTech Ultra Series stands.   The speakers are rated to handle power from 70-130 watts, and have a listed frequency response of 41-32.000Hz. 

One suggestion I have for MB Quart is to redesign and improve the way the speakers are packaged.   The pair comes in a single box, and the first pair sent to me were damaged.  They were a demo pair and the box had some wear and tear, and once I opened it I found that the speakers had slipped out of their foam footprints and were leaning against each other, with the tweeters jammed together.  The metal grill over the dome was crushed in, damaging the tweeter.  Both speakers suffered this damage, effectively ruining the tweeters.  A brand new pair was shipped to me with tight packaging and arrived in pristine condition, but over time if you have to pack and ship these speakers, this could become an issue as the box and packing materials loosen up with each use.  I strongly suggest putting a piece of thick and firm foam between the actual faces of the speakers.  I seriously doubt you will have this problem when purchasing a new pair of these speakers fresh from the factory.
Listening Impressions
It was immediately apparent in my listening tests that the Alexxa B-Ones are designed for the critical listener.  They immediately projected a focused, detailed sound that was pleasing to my ears.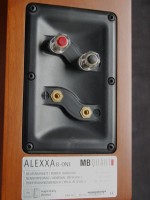 Listening to a reference quality disc such as Mark Knopfler's Kill To Get Crimson, the speakers came to life.  "Punish The Monkey" opens with congas, building into a wonderfully smooth signature groove carried by Knopfler's tasteful guitar and richly textured vocal.  The Alexxa B-Ones reproduced the gentle click of the drumstick on the ride cymbal with astonishing clarity, and as I turned up the volume to reference levels, the warm, tight bass in the recording became apparent.  While a subwoofer would help, at high volumes the Quarts delivered some tactile bass that was pleasing while listening to this record.
A tasty little independent record from Kate Walsh, entitled Tim's House was up next.  The record is all about this young and gifted songwriter, and it is full of simple arrangements and sparse instrumentation.  The acoustic guitar that opens "Tonight" sounded as though it was being plucked right in front of me.  A clunky Rhodes sits subtly in the back of the mix, and by the second verse the song has claimed drums and some strings.  The Alexxa's presented a nice stage for Walsh's tender vocal, creating an appropriately airy space around it that was oh so nice.  In fact, listening to vocal music on these speakers was always a gratifying experience.
Tift Merritt's new release, Another Country, is filled with musical goodness, and her airy vocal proved to be quite enjoyable on the Quarts.  In addition to vocals, I found acoustic guitars to be another favorite of these speakers.  The big, beefy acoustics on "Broken" came through with excellent precision. 


There is an incredible amount of space in the opening bars of Shelby Lynn's Just A Little Lovin', the title track from her new disc.  A simple high-hat, kick and rimshot open the track before the rest of the band joins in.  Then comes Shelby's delicious voice.  She has opened up the Dusty Springfield songbook for this, her latest record, and has done it considerable justice.  The entire record was made on a 2-inch tape machine and produced by the legendary Phil Ramone.  So even though the resulting recording is a bit noisy, it sounds amazing.  I found it to be my favorite match for the Alexxa's.  I pushed them to their limits with the incredible material Shelby served up.  And it all sounded fantastic.  (Shelby has posted a great blog entry on her website titled "Analog Tape VS. Digital/ Vinyl vs. Ipod" where she explains why she recorded the project the way she did - it's great stuff.
I wanted to see how the MB Quarts would handle a highly compressed rock record, a sad example of how poor today's recording quality has become.   I put in Paramore's RIOT! disc, and began listening to "crushcrushcrush".  While the compression of the disc certainly brought out more bass, the mids and highs became muddled in the chorus and bridge.  Lead singer Haley Williams' powerful vocal got lost in the mash of cymbals and crunchy guitars.  The speakers easily reveal the loss in fidelity that results from the compression so common on today's records. 

Conclusion
There is no doubt in my mind that the Alexxa B-Ones are best enjoyed with a subwoofer.  At first listen, you might think that these speakers are a tad bit bright.  But for me there is a major distinction between bright and harsh.  And these speakers are not harsh.  Understanding this, the Alexxa's are some of most detailed speakers I have had the pleasure of listening to.  At lower levels I felt they lacked a bit of bass and warmth, but if you have a powerful amp and you push the volume up to reference levels when listening to a well recorded disc, you will be rewarded with a pleasant, tactile richness in the bass while still enjoying crisp and clean mids and highs.

At close to $1200/pair, these speakers are not cheap.  They are priced among some seriously strong contenders (and higher than some others).  But then again, there is nothing cheap about them.  They look expensive, and they are very well constructed with attention to details.   And they will deliver an incredibly thorough reproduction of well recorded music.  All I ask is that you not sell your soul to the devil as a means of financing a pair.

For more information:  http://www.mbquart.de/en/
The Score Card
At Audioholics Gear Corner we give you a quick but comprehensive look at consumer electronics from several different categories. All products in the Gear Corner have been individually evaluated through hands-on testing by our reviewers in order to give you a quick but detailed overview that we hope will help you in your purchasing decisions.
| | | |
| --- | --- | --- |
| The Price: | Bargain | |
| | About right | |
| | Pricey | |
| | | |
| --- | --- | --- |
| Category: | Bookshelf | |
| | Tower/Floorstanding | |
| | 5.1 System | |
| | Subwoofer | |
| | PC/multimedia/cube | |
| | | |
| --- | --- | --- |
| Recommended For: | Acoustic/folk/bluegrass | |
| | Rock/country | |
| | Classical | |
| | Jazz | |
| | Home theater | |
| | | |
| --- | --- | --- |
| Styling: | Boring | |
| | Nothing special | |
| | Gorgeous | |
| | Unique | |
Confused about what AV Gear to buy or how to set it up? Join our Exclusive Audioholics E-Book Membership Program!