WOLFMOTHER (2006) CD Review
WOLFMOTHER (2006) CD Review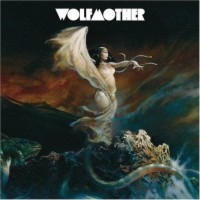 Label:
Modular Recordings
Price: $10.99 | Get the Best Price
So you find yourself in your 1970's kitchen hankerin' for some classic rock. Let's say you start with some Zeppelin, then stir in some Rush and Styx, and for good measure, a sprinkle of Spinal Tap. Mix it all together, then let it bake for about 30 years. The result? WOLFMOTHER, circa 2006.
The Songs
Dimension
White Unicorn
Woman
Where Eagles Have Been
Apple Tree
Joker & The Thief
Colossal
Mind's Eye
Pyramid
Witchcraft
Tales
Love Train
Vagabond
Review
This Australian trio jammed together for years before they began to play publicly in 2004, which led to an independent EP. Within a year they made their way to L.A. to begin recording this full-length debut project. They were most certainly helped earlier this year when Apple featured their ultra funky groove "Love Train" in an iPod ad.
The self-titled disc is dripping with the vibe of 70's AOR, all the way down to the cover artwork, created by illustration icon Frank Frazetta. These guys were born in the wrong decade. There is even a break in the song sequence listing on the back of the jewel case, as if to signify Side A and Side B. I found it hard not to smile - even laugh, while listening to the record. It's hard to know if they are serious or not - but I respect them either way.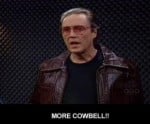 The record opens with Andrew Stockdale (vocals & guitar) emitting a sickly warble of a scream that launches into Dimension. From this point on, you are smashed in the face (and ears) with humongous drums (Myles Heskett) and a monster bass (Chris Ross - who also provides occasional keyboards) that underpin ridiculously stupid-cool guitar riffs. Considering how retro the music feels, it would be easy to write these guys off as ripping all the old great power-rock bands. But this is no gimmick - these guys are good, and rather than a rip, it feels like more of a homage to the great rock gods of days gone by.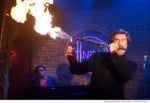 There are plenty of great moments, such as the tune "Woman", which has a rollicking groove that will have you subconsciously thinking "…more cowbell." I don't even know where to start describing "Joker & the Thief", but let's just say that it is the sonic equivalent to a time machine. There is no way you listen to the first minute of this song without a huge grin creeping across your face. And "Witchcraft" has a flute (yes, the quintessential rock 'n roll flute) solo that will have you thinking Jethro Tull …or maybe Ron Burgundy.
The disc sounds great. Not what you would call a reference recording, but for the material, it's just about right. Part of what makes music like this great is the raw quality of the recording - the way you can hear the little mistakes, feel the amp cabinets vibrating or smell the gear running hot in the studio. You will want to really push your system. The bigger and louder your speakers are, the better. The wacked-out feedback, nasty guitar riffs, and thundering backbeat will most certainly reward you with rolling eyes from your significant other. But trust me, it's worth it. WOLFMOTHER is a not-so-guilty pleasure that is so good, you won't even complain about having to clean up the kitchen.
Confused about what AV Gear to buy or how to set it up? Join our Exclusive Audioholics E-Book Membership Program!