2007 Electronic House Expo (EHX) Long Beach
2007 Electronic House Expo (EHX) Long Beach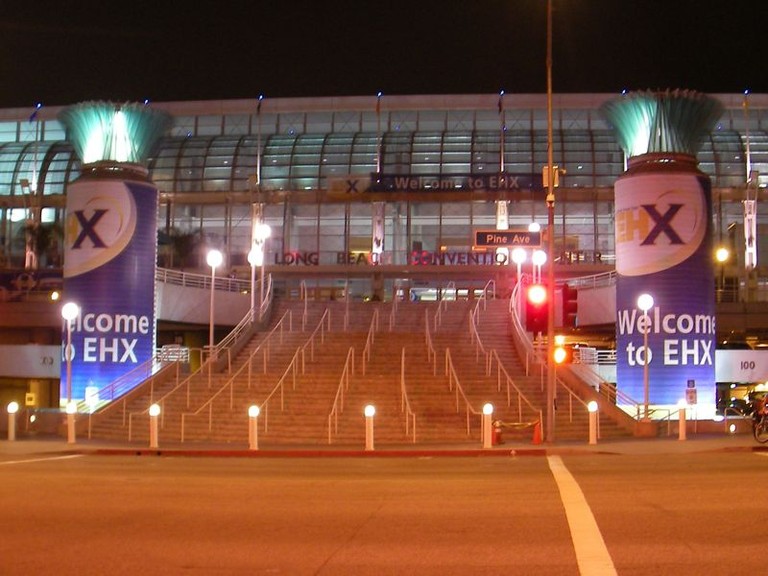 EHX 2007 - Long Beach, CA
I'm flying home from California today after spending the week at the EHX show in Long Beach this week.  Although the show is geared towards custom installers and integrators, I have never been to EHX and thought it would be interesting to take a peek at this slightly different area of our industry.  Plus, we are about to build a new house, and I wanted to see what I could learn about lighting systems, home automation, and whole house audio distribution. 

I arrived on Monday night and checked in to my hotel, just a few blocks from the convention center in Long Beach.  Although the show floor didn't open until Wednesday, I had decided to sit in on some seminars on lighting systems and distributed audio that began Tuesday morning.  The seminars started out pretty basic, but each course in the series built upon the previous one and after I had sat through four 90-minute sessions I felt I pretty much had a handle on things.  The classrooms were filled with attendees ranging from custom home builders to electricians and integrators.  (And one Audioholic.)  The information was good, and got better with each class.  There was a lot of question and answer time, and with the range of experiences in the room I found it all quite interesting, hearing plenty of war stories.  Without a doubt, both automated lighting and distributed audio are huge growth areas right now, and builders and integrators are rushing to get in on the action.
Wednesday morning the show floor opened, and although I knew it was going to be smaller than CEDIA, I didn't realize just how much smaller!   I would estimate that it was one-eighth the size of the CEDIA floor.  The show was dominated by booths from large a/v related product distributors, as well as custom home products such as lighting, distributed audio, mounts and lifts, as well as tools and cables.  There was an area just outside the show floor called "Demo Alley," which had a half dozen or so demo rooms set up, including home theater, gaming and automation (lighting, heat/air, security, etc.).  Polk Audio and Destination Audio were the only "traditional" audio companies there with a booth of any size, and both had great booth demos going throughout the show.  Every time I went by either booth there was something cool blaring from their speakers.  At Polk, the Godsmack DVD's dual drum solo was a highlight, and over at Destination Audio a live Rush DVD filled the room with the classic sounds of Tom Sawyer.  Later in the day I noticed a crowd had gathered to watch Transformers.  

JVC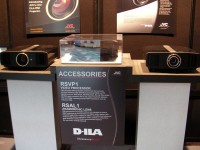 In addition to those booths, I did find a few things of interest for my fellow Audioholics.   JVC introduced their DLA-RS2, a new high definition projector that claims a native contrast ratio of 30,000:1.  Luckily, JVC was displaying this projector in Demo Alley, so I was able to jump into a simple, yet very effective demo room that was pitch black dark.  And yes, this $8000 projector looked amazing.  It was being shown with an array of add-ons, including the RSVP1, an advanced hub permitting single cable connection to the projector for a variety of HD and SD input sources. The RSVP1's embedded signal processing circuitry accommodates custom settings programmed by the installer. The projector was also outfitted with the optional RSAL1 (MSRP $6,495) motorized anamorphic lens, which enables 2.35 aspect ratio projection using all 1920x1080 D-ILA pixels. Constant screen height is provided when displaying 16:9 images.  Among other clips, I saw the trailer for the movie "Children of Men," which looked stunning on the system.  The DLA-RS2 is shipping in November with a retail price of $7,995.
Xantech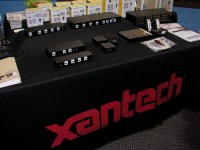 Xantech introduced a full line of HDMI products at EHX, which included cables, switchers, splitters, extenders and boosters.  The company is betting on HDMI technology as the wave of the future, and their products are focusing on high quality distributed content.  Among the interesting products I saw was the HDMIEXTEND, which is a point-to-point HDMI/CAT 5 extender, which allows installers to extend high-definition displays up to 200 feet (60 meters) from the source at 1080i and up to 150 feet (45 meters) at 1080p. 

Also on display was the HDMI4X4 switcher, which allows the interconnection of four sources to four different displays, with any of the four inputs distributable to any combination of the four HDMI output displays. The output supports resolutions up to 1080p, and computer resolutions up to 1920 x 1200.  The unit features discrete IR codes for all functions, a serial RS-232 remote port, and is HDMI 1.3 compatible and HDCP compliant.  A remote control and four 6-foot HDMI cables are included, and the the switcher has a MSRP of $2500. 

VisionWare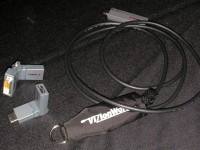 VisionWare's Hi-Wirez accessories, which included HDMI and DVI swivel adaptors, HDMI connector locking mounts and heavy duty pull through socks.  Aimed at custom installers, these products are simple in their innovations, but will be of interest to anyone who has ever tried installing flat-panel displays on a wall or various components in a tight cabinets or equipment racks, only to find that an expensive HDMI cable is too deep for the space once plugged in. 

A typical cable bend radius can require two to three inches of clearance, so VisionWare designed these Hi-Wirez HDMI and DVI Swivel Adaptors that rotate 170 degrees on both the X and Y axes minimizing the space required and making for a much cleaner installation that eliminates stress on the cables.  Perfect for applications such as wall-mounted flat panels or projectors with connector panels inside the outer case. These adaptors are available in HDMI-to-HDMI and HDMI-to-DVI configurations.
The VisionWare locking mounts for HDMI connectors allow you to firmly secure input and output cables to components, eliminating the possibility of the cable being pulled out by mistake.  I also liked the practicality of the company's pull-through socks (available standard on many of their longer length cables), which are little nylon booties that cover and protect the sensitive connectors at the end of HDMI & DVI cables when being pulled through walls and conduits.

Colorado vNet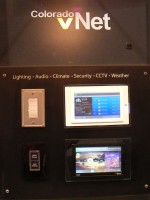 Without question my favorite thing from EHX in Long Beach was the Colorado vNet family of audio, lighting, climate, security and CCTV control systems.   The offerings from this company far surpass that of any others I saw on the floor in terms of simplicity, intuitiveness, and aesthetics.  While there may be a few other companies that combine both lighting, audio and other control systems, nobody has done it with greater results than Colorado vNet.
The system is anchored by a 7" touch screen that is flush-mounted to the wall, which offers the user a clean, intuitive interface from which to choose from lighting, audio, climate or security.  (The system is fully scalable up or down - you may choose to only have lighting and audio, for example)  Just touch the icon of the system you want to control and you can easily navigate through whatever function you might be interested in. 

The IP-based digital distributed audio system is called the Vibe, and it is simple yet very powerful.  If you can use an iPod, you can easily navigate through the Vibe system.  The Vibe audio server converts CD's into lossless WAV files, providing excellent sound quality combined with gorgeous artwork and full metadata information displayed on the Vibe color touchscreens.  Each Vibe Color Touchscreen contains a built-in 70 watt digital amplifier, so you can power in-wall or ceiling speakers right from the unit.  If you prefer to use your own amps for a larger room or multiple pairs of speakers, there is also a line-level or fixed output.  You can stream multiple independent programs to different rooms simultaneously.  Data and audio processing occur within each Vibe module offering flexibility and scalability.  The system accommodates a wide range of audio sources, including the Vibe Audio Server, Vibe Dock for iPod, AM/FM tuners, and nearly any other consumer electronic device.  It can be easily expanded by plugging additional components into the network router, and provides capacity for up to 40 zones and 20 different sources. 

The system is equally impressive with it's lighting control system, which is based around the innovative Colorado vNet Touchpad, which can be fully configured into a seemingly endless array of buttons, with unlimited labeling possibilities.  You can also integrate climate, security and CCTV systems, all controlled from the same elegant Vibe 7" touchscreens.  The system is constantly being updated with new features, such as a complete weather information screen for current and extended forecasts.   

Again, this system is light-years ahead of it's competitors.  There was nothing like it on the floor.  The best part is how simple it is to use.  I was told that everything they put into the system has to pass the mother-in-law test.  Mom (or in-law) has to be able to walk up to the system and understand how to use it without any explanation.  And trust me, it really is that good.  Anyone, from a child to a seasoned citizen, will understand how to use it.  There is no question that this system will turn up in my new home next year.
All in all, I had a great week at EHX.  It is always fun to meet new people in our industry, and it was very enlightening to see the trends emerging in the custom integrator market.  The digital home has arrived, and with each passing year the technology becomes more and more prevalent.  Whether you are remodeling or building a new home, you should be thinking beyond your home theater.  Total home automation is no longer a game for rich folks, but rather an affordable option for everyone.






Confused about what AV Gear to buy or how to set it up? Join our Exclusive Audioholics E-Book Membership Program!
Recent Forum Posts: